Griz, Cats set for 121st 'Brawl'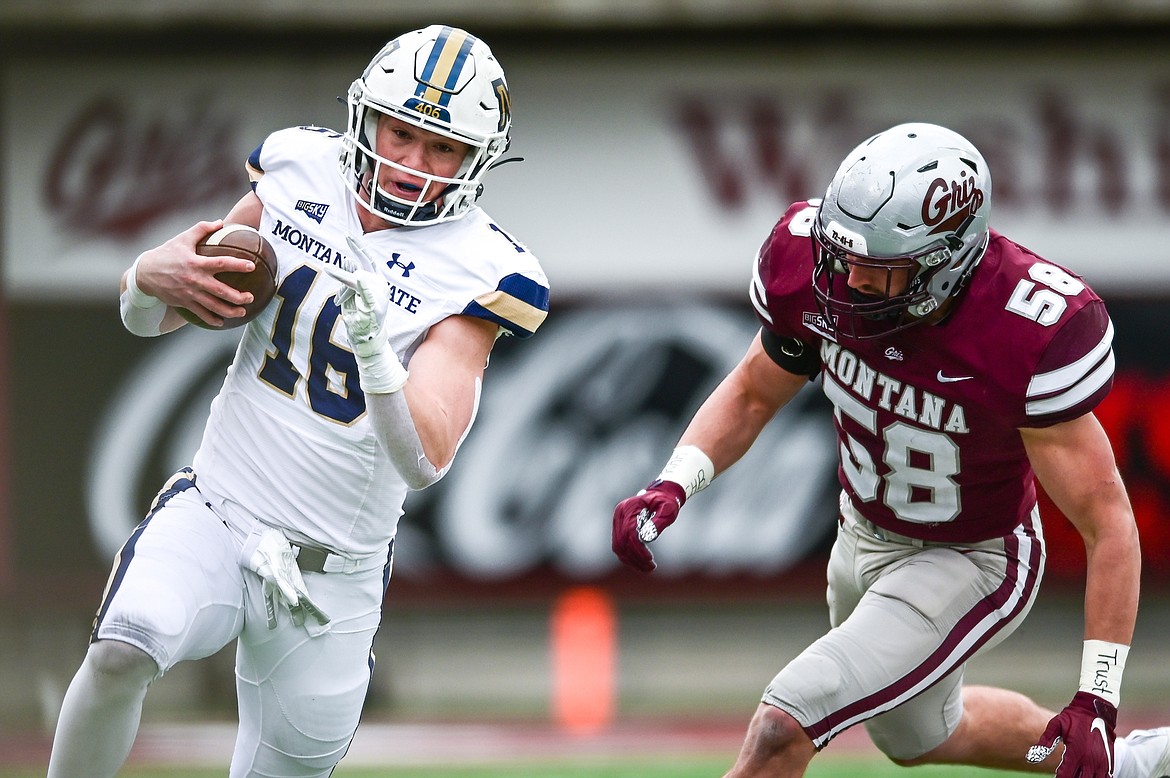 Montana State quarterback Tommy Mellott (16) tries to get past Montana linebacker Patrick O'Connell (58) during the 120th Brawl of the Wild at Washington-Grizzly Stadium on Saturday, Nov. 20. (Casey Kreider/Daily Inter Lake)
by
FRITZ NEIGHBOR
Daily Inter Lake
|
November 17, 2022 11:55 PM
The players for the Montana Grizzlies and Montana State Bobcats would like to treat the 121st "Brawl" as any other game, and the coaches feel the same.
But you have to be there.
"There," in this case is Bobcat Stadium in Bozeman, where the host Cats and Griz will kick off at noon Saturday in front of a statewide television audience — as well as some 17,000 fans on hand.
It is historic in that ESPN College GameDay will be on campus, its first appearance in Big Sky Country or the Big Sky Conference. It is forecast to be 4 degrees when the ESPN cameras click on at 7 a.m.; it is supposed to be sunny and 23 by kickoff.
Pretty good football weather for a very big game.
"I could tell that from the first day I got the job," said Brent Vigen, who was hired as MSU's coach in February of 2021. "It matters so much to so many. It's all the small towns with split loyalties, families with split loyalties. It's all of that that creates a rivalry like we have, and it's a great thing."
Vigen's Bobcats are ranked No. 3 in the Football Championship Subdivision, and 9-1 since a loss in last season's FCS title game. Since Vigen's arrival they've lost one Big Sky contest: To Bobby Hauck's Grizzlies, 29-10 last November in Missoula.
The Griz are ranked No. 13, 7-3 overall and, notably, 4-3 in the Big Sky. While Hauck might be successfully manifesting them into a postseason berth — "That (Eastern Washington) win puts us in the playoffs I think," he said again Monday — a win would certainly sew it up.
Both teams have dynamic quarterbacks who have missed time, and in MSU's case there are two: Both starter Tommy Mellott and No. 2 guy Sean Chambers seem to be healthy and have taken turns lighting up opponents in the Cats' run-heavy offense.
Montana counters with San Diego State transfer Lucas Johnson, who left the Grizzlies' 63-7 win over Eastern Washington last week with an apparent leg injury. He spent the second half of that game on crutches (though strangely, he still wore his helmet). His status is uncertain for Saturday; in mid-season he was injured in the first game of what became a three-week losing streak for the Grizzlies.
"I think when he's played they're been different; that's apparent," Vigen said. "When they're going, they're a good mix of running the football, play-action, RPO (run-pass option)."
While Daniel Britt, a redshirt freshman out of Las Vegas, filled in capably in that 63-7 win over Eastern, it's not exactly the two-headed QB monster that MSU has created.
Beyond that, it could come down to MSU's run game against UM's sturdy run defense. The Grizzlies held the Cats to 96 rushing yards last November, they averaged 220 on the ground that season.
This year they're averaging 316 yards on the ground and no team this side of Corvallis, Ore., has held them under 37 points.
"Well, they're rushing for a lot of yards and putting up a lot of points," Hauck said Monday. "I'd expect the quarterback to run it a lot. There's some option component to it.
"They ran all this stuff last year against us."
The Griz counter with a blitz-heavy defense that this year allows just 97 rushing yards on average. Weber State and Sacramento State rolled up 192 and 180 yards in wins over the Griz.
Those are the key stats; the rest is talk.
"You've got to disregard all the outside stuff, from all the people who don't really know what they're talking about," offered Patrick O'Connell, the Grizzlies' standout linebacker from Kalispell's Glacier High. "You've got to prepare like you've never prepared for a game like this. And in the game you've got to stay even."
More than four dozen Grizzlies are in-state recruits or walk-ons, and the Bobcats have 42 players with Montana roots. Most or all were raised on the rivalry; the out-of-state guys soon catch on.
"I think at first it's hard to tell them or show them what it's all about," O'Connell said, then laughed. "There's a lot of stuff you can tell them. I don't know if I'd want to say those things on camera, though. Just, 'Be ready.'"
Recent Headlines
---