Cats pile up 439 rushing yards in 55-21 rout of Griz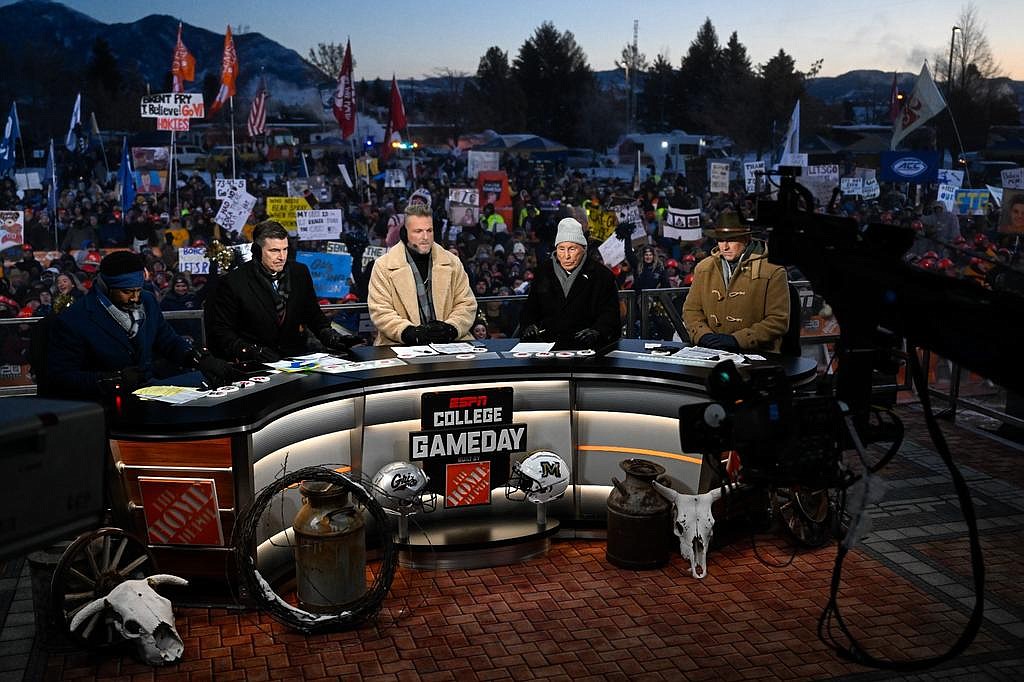 ESPN's College GameDay broadcasts before a college football game against the Montana State Bobcats at Bobcat Stadium on November 19, 2022 in Bozeman, Montana. (Tommy Martino/UM Photo)
by
FRITZ NEIGHBOR
Daily Inter Lake
|
November 21, 2022 8:03 PM
BOZEMAN — Tommy Mellott, Montana State's superb sophomore quarterback out of Butte, is as direct at a postgame press conference as he is hitting the gap on a zone running play.
"We're extremely detailed and extremely physical," he said Saturday, after he helped the Bobcats dismantle the Montana Grizzlies 55-21 in the 121st Brawl of the Wild.
"And that wins a lot of games."
Mellott ran 15 times for 141 yards and two touchdowns in front of a record Bobcat Stadium crowd of 22,037. Fellow QB Sean Chambers ran for 86 yards and a score.
Together they signaled the Grizzlies were in trouble early, each leading 75-yard scoring drives that went quick and didn't have a single forward pass. Add in a jailbreak snap that resulted in an MSU touchdown, plus a goal-line fumble by the Griz and it was a runaway by halftime.
Montana State won its eighth straight conference contest and a record 18th straight game at home. While the 10-1 Bobcats earned a share of the Big Sky Conference crown and a top-three seed into the postseason, 7-4 Montana will have to see Sunday if it made the 24-team FCS playoff bracket.
The selection show starts at 10:30 a.m. Mountain on ESPNU.
"Sure," Griz coach Bobby Hauck said, when asked if he considered his team a lock for the postseason. "We've got a good team. We're better than most teams in the country."
Playing without Junior Bergen — but with quarterback Lucas Johnson and standout linebacker Patrick O'Connell — the Griz did not look it. The Bobcats rolled up 439 rushing yards and 561 overall.
Bergen played a huge role in Montana's 29-10 win over MSU a year ago, but the sophomore doesn't play defense. Take away the special teams miscue and Johnson's fumble on second-and-goal — MSU then marched 81 yards to a Blake Glessner field goal to end the half — and it's still a tall hill.
Second-year MSU coach Brent Vigen called the jail-break snap a nice add-on; he was more pleased that his squad had answered a 30-yard touchdown pass from Johnson to Malik Flowers with that second, run-heavy drive to take the lead for good, 14-7.
The Cats went up 21-7 when Jory Choate — son of former Bobcat coach Jeff Choate — fell on that punt snap. It became 28-7 when Chambers, on fourth-and-goal, scored from a yard out at 7:52 of the second quarter to cap a 90-yard march.
Montana responded with an impressive drive, but then Johnson and running back Nick Ostmo botched a read-zone exchange and the ball fell at the 1-yard line. Callahan O'Reilly recovered for the Bobcats.
"That was a huge swing," Vigen said. "For us to get the ball and then get points at the end of the half, that's a 10-point swing at least. Whatever momentum they were gaining through that drive, we were able to take that back."
Montana started the second half with the ball, punted on fourth-and-short and watched the Bobcats go 78 yards in four plays. Sunburst product Treyton Pickering caught Mellott passes covering 27 and 24 yards before Marqui Johnson knifed through the Griz defense for a 27-yard scoring run.
Now it's 38-7, and there's 11:54 left in the third quarter. The Bobcats welcomed ESPN"s College GameDay and kept the heat on in sub-freezing temperatures.
"They can't throw very well," Hauck said. "They know that, we know that, and we still couldn't stop them.
"It was a similar game plan to what they did against Weber State: Plus-one run game with the quarterback, get an extra man at the point of the attack, and we didn't stop it."
Mellott's first touchdown covered one yard. His second came from 12 yards out, off a handoff from Chambers.
"First time we had them both healthy since Eastern Washington," Vigen said. "And it didn't last very long that day."
In the third quarter, after Missoula native Rylan Ortt picked off a Johnson pass, Glessner added a field goal for a 41-7 lead.
In the fourth Derryk Snell took a handoff and fired a jump pass to Pickering for 18 yards and a 48-7 gap. Fullback RJ Fitzgerald added a 3-yard TD run with 3:13 left in the game.
Daniel Britt, who came on after Johnson appeared to twist a knee, led too late scoring drives for the Griz. His 32-yard pass to Cole Grossman capped the scoring with 1:52 remaining. Isiah Childs scored the other TD.
Elijah Elliot ran for 126 yards on 18 carries for the Bobcats. Marqui Johnson had 74 yards on four carries.
Britt was UM's top ground-gainer, at 64 yards on nine carries. He threw for 82 yards.
Lucas Johnson was 14 of 23 for 137 yards before exiting late in the third quarter.
Mellott played into the fourth quarter, never giving ground.
"He is a playmaking quarterback in a different way from how most people see quarterbacks," Vigen said. "And that's ok by us."
Recent Headlines
---