College Center a welcome addition to the valley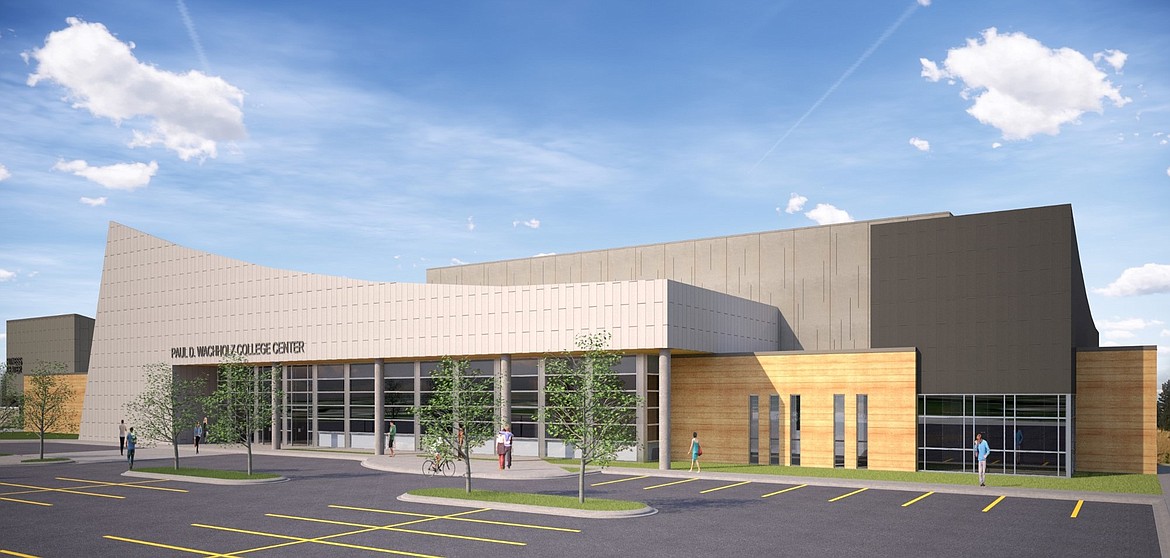 An architectural rendering shows the exterior of the Paul D. Wachholz College Center. (Courtesy FVCC)
by
Daily Inter Lake
|
November 20, 2022 12:00 AM
Flathead Valley Community College is in the spotlight this month as the public gets its first look at the Wachholz College Center, the new state-of-the-art performing arts and activity venue on the Kalispell campus.
A lively audience packed McClaren Hall for a concert by The Wailin' Jennys bluegrass band on Nov. 4, marking the first ever live performance in the grand theater. The following day, local foodies gathered in the Stinson Family Event Center for the always popular Festival of Flavors.
Since then, the event space has played host to the Kalispell Chamber of Commerce's annual gala, while famed author David Sedaris took the stage at McClaren Hall.
And there's more to come.
An impressive lineup for the remainder of the year and into 2023 includes performances by Clint Black, Marshall Tucker Band, Brandford Marsalis and the New York Philharmonic String Quartet. There's also the National Geographic Live series and the diverse WCC Speaker Series to look forward to.
Clearly, this valley is hungry for more arts and entertainment offerings, and the 58,000-square-foot College Center is well situated to fill the void, while serving as a major economic driver for the region. There's no doubt that the College Center is a destination venue.
But what makes this facility even more special is the community effort that brought it to reality. Funding for the project primarily came from donor support — approximately $22 million — with many of the larger contributors well known locally for their generosity. The donor list includes Paul D. Wachholz, Al and Lisa Stinson, Wanda Hollensteiner, the O'Shaughnessy Foundation and Lola Vulles, to name just a few.
Wachholz said it best when sharing his thoughts about supporting the fundraising effort early on. The building is more than an event space — it represents community.
"Throughout my life, I have not valued money by its worth, but rather by what it can specifically be used for," Wachholz said. "Investing in FVCC and the College Center is personally very gratifying to me, because it will become a focal point of the expanding college campus, bringing students and community members together."
Bravo to everyone who helped make the College Center a reality. It's a perfect representation of what this community is capable of when united behind a worthy cause.
Recent Headlines
---