Cryo Kalispell provides alternative health service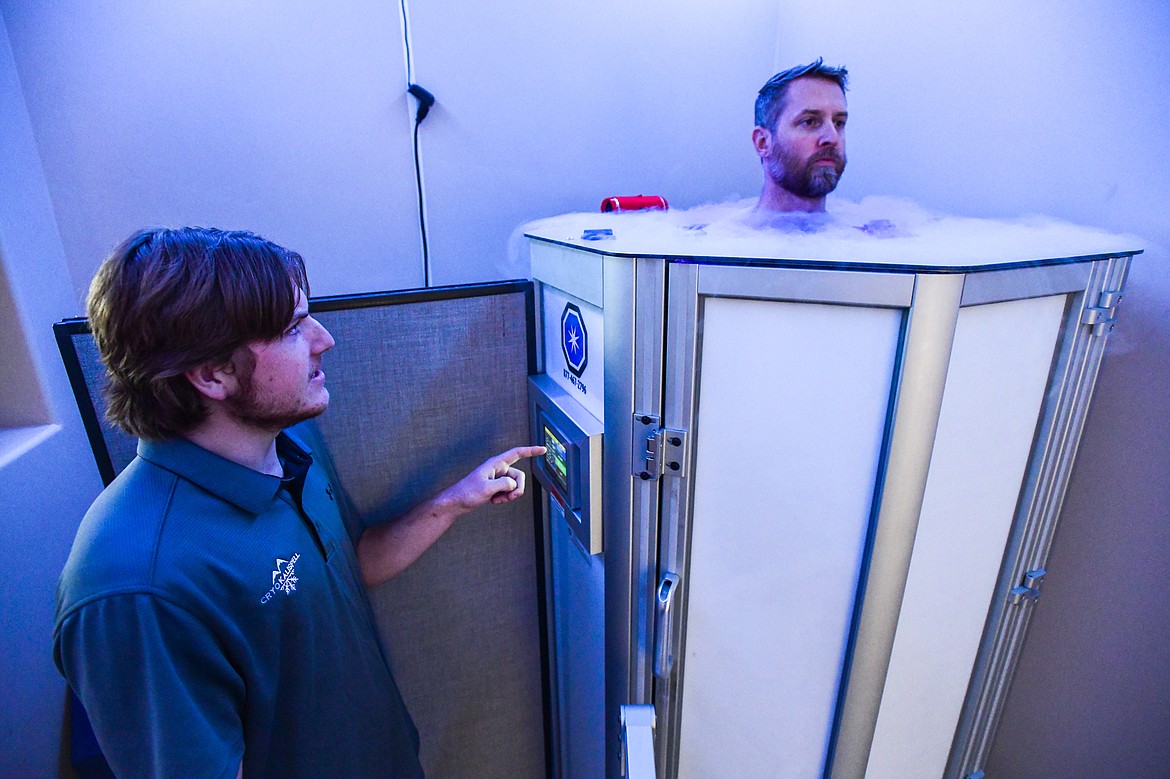 Owner Ethan Taft, left, treats Gary Downing inside the Whole Body Cryo Chamber at Cryo Kalispell on Friday, Oct. 28. (Casey Kreider/Daily Inter Lake)
by
SUMMER ZALESKY Daily Inter Lake
|
November 20, 2022 12:00 AM
Standing in a freezing cold liquid nitrogen chamber might not be everyone's idea of fun, but to Ethan Taft, the practice is essential to maintaining sports performance and recovery.
After becoming trained and certified in cryotherapy last year, Taft opened Cryo Kalispell to bring alternative health service to Flathead Valley residents.
"I got into cryotherapy for sports performance and recovery since I do mixed martial arts. I do it two to three times per week and it allows me to train at a higher level than I could without it," said Taft.
Using cold to treat injuries and promote healing is nothing new, but whole body cryotherapy did not start until 1979. According to Taft, cryotherapy has its origins in Japan to treat patients with Rheumatoid arthritis. Since then, cryotherapy has been used for sports recovery, to help with injuries, boosting the metabolism, and reducing inflammation.
During a session, patients stand in a chamber for 3 minutes while liquid nitrogen sprays their body. Temperatures can drop as low as —186 degrees fahrenheit and patients can lose anywhere between 500 to 800 calories during a single session.
"The body enters into thermogenesis in efforts to warm itself back up. In thermogenesis, blood goes from the extremities to the core to protect the organs. The blood that enters the core organs becomes reoxygenated and filled with antioxidants and then it releases throughout the bloodstream back into the body. The cold shock promotes healing within the body and the effects last 3 hours past the session," explained Taft.
After a single cryotherapy session, patients often experience enhanced energy and increased focus, noted Taft. It can also help with depression, anxiety and acclimatizing to the winter.
"Winter is my favorite time of the year. I love the cold," Taft smiled.
In November, Taft will offer a normatec compression system to his services and in December, he will add an infrared sauna.
Taft developed his passion for health and wellness after his own journey of battling gut issues and hopes to pass down his knowledge to Flathead Valley residents so they can get back to living their lives.
"I had one girl come in who had a severe ankle injury and she had been walking with a stretcher and couldn't stand up in the shower. She used the chamber and after just one session, she stood up in the shower," Taft said. "I want to help people who are struggling. If someone is dealing with a severe injury or dealing with a lot of pain, or chronic inflammation, I want to urge them that this could be of benefit to them and improve their quality of life. I just want to help as many people as I can."
Cryo Kalispell is located at 2593 U.S. 2 East, Suite 1 inside of Montana Spine and Neuro. To make an appointment, visit cryokalispell.com or call 406-952-3768.
Recent Headlines
---