Big Sky Notebook: Momentum is a win away for Griz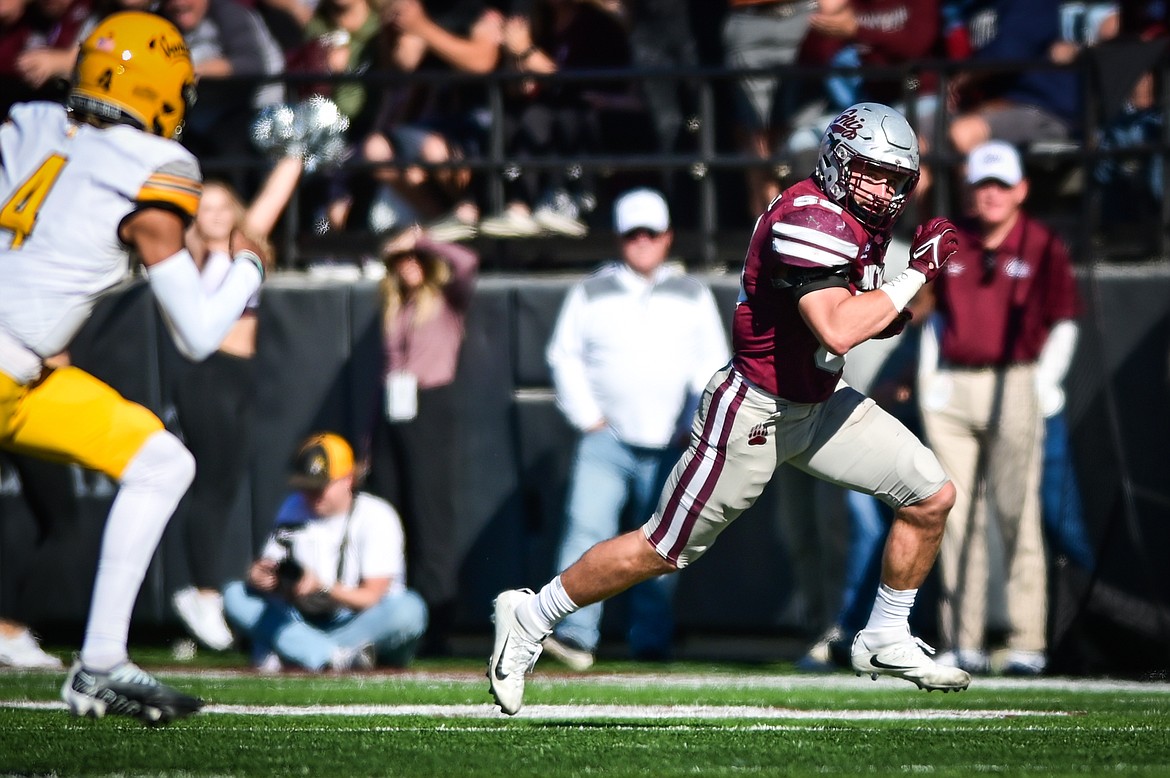 Montana linebacker Patrick O'Connell (58) returns an interception 42 yards in the second quarter against Idaho at Washington-Grizzly Stadium on Saturday, Oct. 15. (Casey Kreider/Daily Inter Lake)
The Montana Grizzlies head into the playoffs coming off a loss, which isn't all that unique, even to the Griz, and even under coach Bobby Hauck.
In 2003, 2005 and 2019 Hauck and the Grizzlies lost to the Bobcats and still made the FCS postseason. And in those days it was a 16-team grid, not the 24-team marathon we have now.
Add 2022 to the list: Montana fell 55-21 to Montana State Saturday, then squeaked into the playoff field Sunday.
"We're excited for some Thanksgiving football," said Hauck, whose 7-4 club takes on Southeast Missouri State Saturday at 8 p.m., at Washington-Grizzly Stadium. "Obviously it's great to be in the playoffs. Being the only FCS game that ESPN has chosen this weekend to show on national TV is also exciting."
The Redhawks out of Cape Girardeau are a bit of an unknown quantity, though six of them are first-team Ohio Valley Conference on offense alone. That includes running back Geno Hess and has 1,569 yards and 19 touchdowns on the ground.
It will be the first-ever meeting between the two programs.
"Tall order to get ready for this one, coming off sort of a short week coming off the rivalry game and it being Thanksgiving," Hauck said. "We're hopeful that our fans will be there Saturday night on national TV. We need them to help us get rolling again."
Hauck then pulled a call-back to 2021, when the Cats fell in the Brawl of the Wild in lopsided fashion (29-10).
"We'll take a page out of our rival's book from a year ago," he said. "Where you get beat down and then go on a nice little playoff run. That'd be great for us."
For the record Montana lost first-round home games in 2003 and 2005, then drew a first-round bye ahead of a 73-28 win over Southeastern Louisiana in 2019. The Griz lost at Weber State 17-10 the next round.
Top 5, again
Getting five teams into the Football Championship Subdivision playoffs is a good deal for the Big Sky Conference, and now the pigskin meets the pavement.
Montana and Weber State have home games Saturday; Idaho has a long road trip to Hammond, La., to play Southeastern Louisiana.
A year ago the Big Sky got five teams in and collectively went 6-5; three of those wins came from MSU, which advanced to the championship and lost to North Dakota State.
The inclusion of Montana grated on some; the award of a home game to Weber State annoyed North Dakota, which felt it had put together a solid bid.
Turns out bids aren't the be-all to hosting a first-round game; it just helps if everything else is equal. So Weber State may have not bid as high, but its 9-2 record and strength of schedule mattered more. This is according to FCS selection chairman Jeremaien Truax, in conversations with 406mtsports.com.
Truax also said bids were not opened until the pairings were mapped.
Meanwhile Montana State's No. 4 seed is a little shocking given the Bobcats ranking ahead of NDSU much of the season. But it seems likely the committee wasn't going to have NDSU and No. 1 seed South Dakota State on the same side of the bracket. Same with No. 2 Sac State and the Cats.
In the end, this is all still hard to predict. Montana State had some tight wins over lower-division teams, but should that matter? Wins are wins.
"We've got a good league," MSU coach Brent Vigen said Saturday, after the Cat-Griz win. "We can't help which teams we play or don't play, or where we play them, all that stuff.
"To go through the conference season and take care of business, week-in and week out, and overcome some adversity along the way. Being champions of this league is a big deal for our program."
Now there's 9
The Big Sky Conference has nine players and coaches nominated for the season-ending FCS awards, including Montana safety Robby Hauck and Montana State quarterback Tommy Mellott.
Mellott, a sophomore out of Butte, is among three Big Sky players to be named finalists for the Walter Payton Award.
Sacramento State's Cameron Skattebo, who is the Big Sky's leading rusher, and UC Davis running back Ulonzo Gilliam, Jr., are also among the 30 finalists for the award, for the top offensive player in the FCS.
Hauck, a senior, is among 30 finalists for the Buck Buchanan Award, the FCS' top defensive honor. He is joined by defensive back Marte Mapu of Sac State and linebacker Winston Reid of Weber State.
Hauck is Montana's career tackles leader and had 95 stops this season, four for losses. He's made 1.5 sacks and broken up one pass.
Marpe has 64 tackles and two interceptions for the unbeaten Hornets; Reid has 89 tackles, three sacks, an interception and four forced fumbles for the Wildcats.
Mellott's stats include 1,206 yards and nine touchdowns throwing, but he's also run for 705 yards and seven TDs, in eight games for the 10-1 Cats.
Skattebo has run for 1,251 yards on 169 carries (a 7.4 average), and Gilliam is at 1,182 on 196 carries (6-0).
These six join candidates that were announced Monday for the Eddie Robinson Award (MSU coach Brent Vigen and Sac State coach Troy Taylor) and the Jerry Rice Award (freshman punter Patrick Rohrbach of the Grizzlies).
Two Griz who made it to the final three for the Buchanan Award last season — linebacker Patrick O'Connell and cornerback Justin Ford.
Recent Headlines
---