Loss of public access to private land frustrates hunters in Mineral, Sanders counties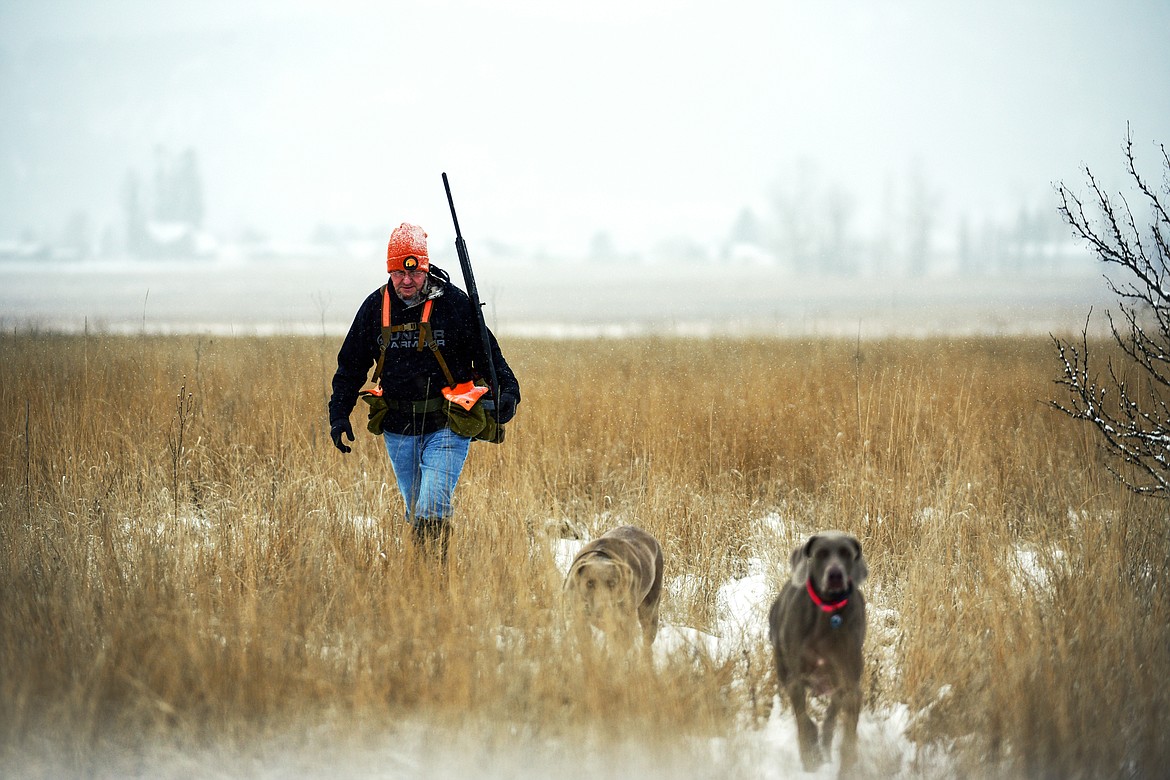 Matt Williams, of Kalispell, hunts for upland game birds with his Weimaraners Yega and Trinket at the Blasdel Waterfowl Production Area on Tuesday, Dec. 28. (Casey Kreider/Daily Inter Lake)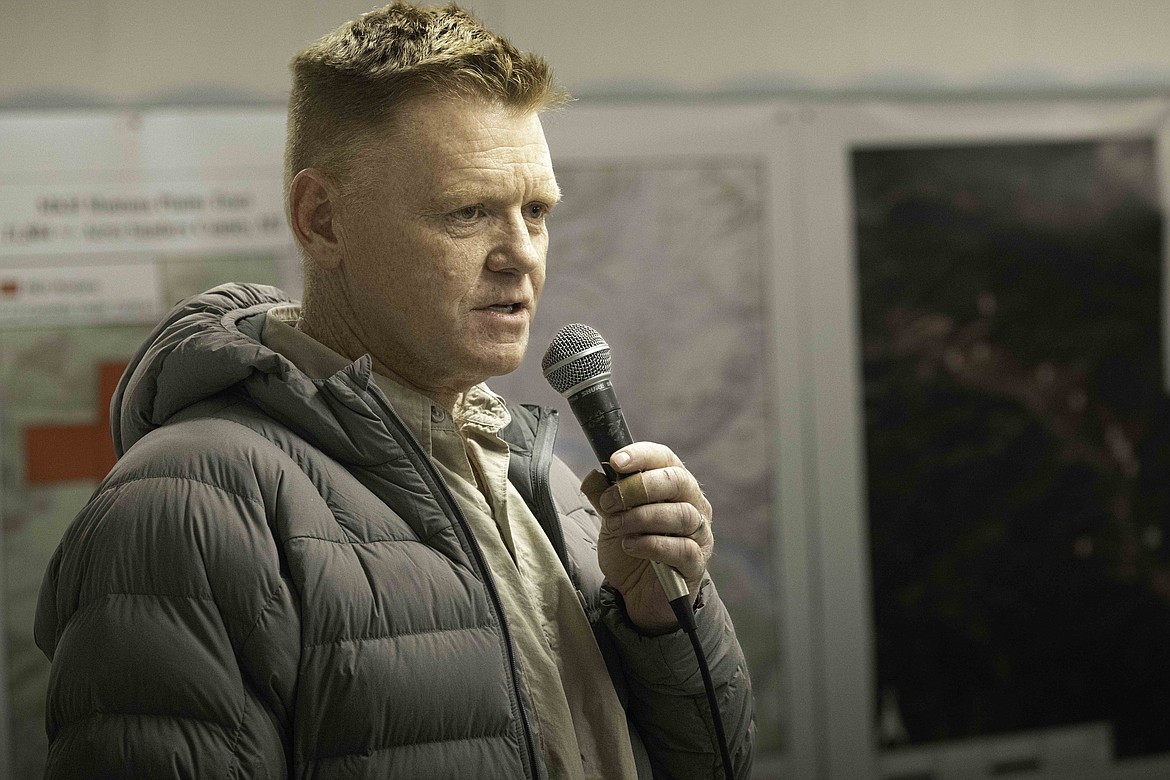 Lee Anderson, Region 1 supervisor for Montana Fish, Wildlife and Parks, speaks at a meeting held in Plains to discuss public access to private lands. (Tracy Scott/Valley Press)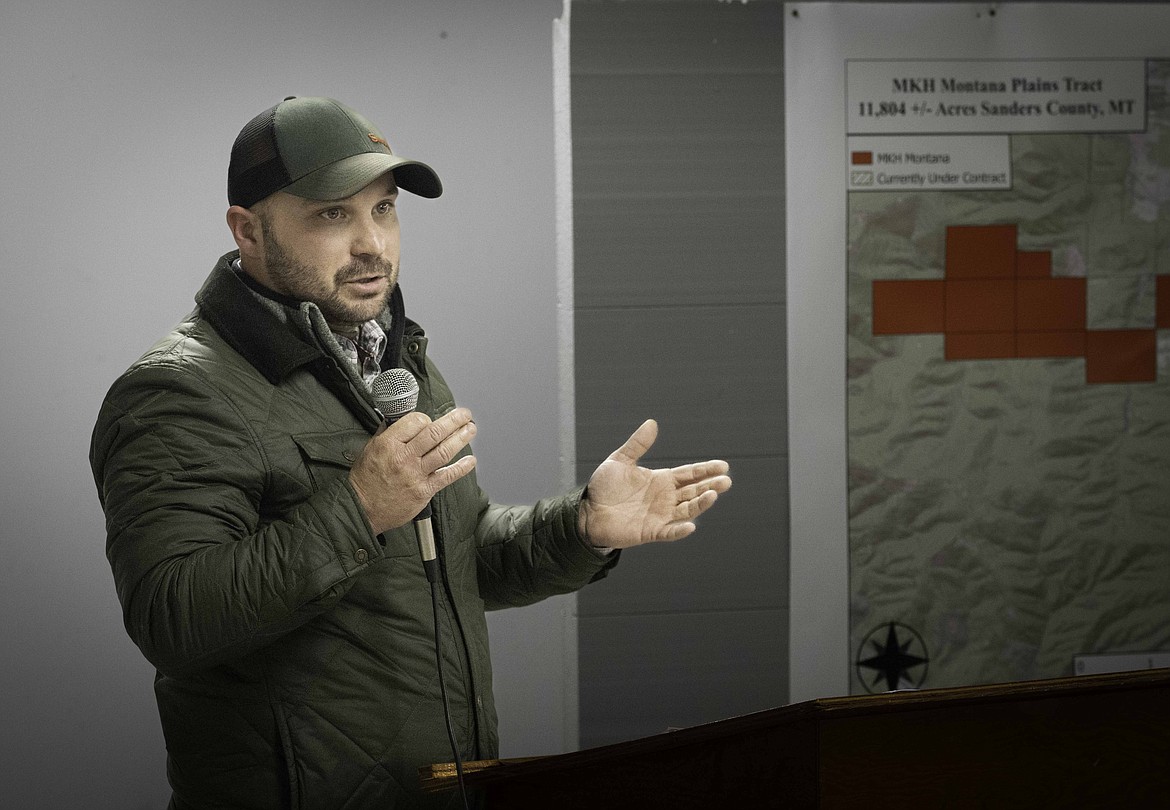 John Hickman, a representative of the firm marketing MKH Montana's land in Mineral and Sanders counties, speaks at a meeting in Plains earlier this month. (Tracy Scott/Valley Press)
Previous
Next
|
November 25, 2022 12:00 AM
When the general hunting season opened Oct. 22, longtime hunters in Mineral and Sanders counties were shocked to find some of their favorite grounds closed to the public.
With hundreds of thousands of acres changing hands over the past couple years, questions of access have routinely arisen since the sale of the former Weyerhaeuser land — 630,000 acres in all — in 2020. In Mineral and Sanders counties, the new owner of a chunk of former Weyerhaeuser property, MKH Montana, removed the land from block management in May, barring public access for hunting or recreation.
Block management is a Montana partnership between Montana Fish, Wildlife and Parks and voluntary private landowners. The partnership helps landowners manage hunting activities to provide the public with free hunting access to private land.
"Private property rights are really important," said State Rep. Denley Loge, R-St. Regis. "But what bothers me is that if some of the backcountry goes into private ownership, it could mean a permanent lack of access depending on what owner buys it."
Loge has become a conduit for concerned residents who want to express their frustration with the changing land access and seek legislative solutions.
Loge, like many Montanans, is an avid hunter. He understands the frustration that comes as popular hunting areas are closed, but he also understands that MKH Montana is selling the land to make a profit. At the end of the day, they are the owners.
Those frustrated residents also understand private property rights. But they are hoping to find a solution agreeable to all sides.
"This is just another example of rural America getting kind of punched in the gut by the urban," said Zach Whipple-Kilmer, an avid hunter and owner of Limberlost Brewing Company in Thompson Falls. "I understand it, but it is just frustrating."
While hunting is a popular activity among Montanans across the state, it also provides for a lot of people during the winter months. According to Whipple-Kilmer, many families in the Plains community use close access to public lands to fill their freezers.
As a result, the lack of public access to hunting will make it harder for families to "make it," he said.
Whipple-Kilmer and Cody Carr, a Montana outfitter and hunter, have held several public meetings highlighting the issue, the latest occurring Nov. 15 at the Sanders County Fair Pavilion. That gathering included residents, legislators and a representative from MKH Montana, Whipple-Kilmer said.
MKH MONTANA is an entity owned by the Missouri Department of Transportation (MoDOT) and the Missouri State Highway Patrol Employees' Retirement System (MPERS). When MoDOT purchases large tracts of land, a new subsidiary is created to manage it, limiting liability issues. MKH Montana was created to manage and sell the Montana land acquisition.
MoDOT buys assets and then those assets are bulked and sold. Often, those assets are timberland. The sales go to the MoDOT and the Patrol Retirement System pension fund, according to John Hickman, a real estate agent with Compass South Land Sales, which is tasked with finding buyers for the Montana property.

Compass South Land Sales has worked with MoDOT across the country. They plan to sell off property acquired in Mineral County first, Hickman said.
Plains has nearly 10,000 acres of MKH Montana land for sale. Mineral County has around 7,000.
Hickman said there is no intention of high density development on MKH Montana's land at present. He also said the company is working with the Trust for Public Lands to ensure access to some of the property.
THE NOV. 15 meeting went well, with about 100 people attending — among them Hickman as MKH Montana's representative — Whipple-Kilmer said after the gathering.
Hickman said that the get-together gave him an opportunity to meet with concerned residents.
"The reason people attended the meeting was to figure out what was going on,'' Hickman said. "I want to make it clear that MKH is willing to work with any buyer."
State Sen. Bob Brown, R-Thompson Falls, also made an appearance. He told the Inter Lake that he had spoken to Matt Freeman, the natural resource advisor to Gov. Greg Gianforte, to discuss ways to gain the most access within a reasonable timeline.
Whipple-Kilmer believes having an MKH representative in attendance was essential for people on both sides of the issue. The company could see and hear from the people affected by the change of access, he said, and residents were able to see that the company has a job to do — and that job is to make a profit.
In the meantime, there are burgeoning hopes about finalizing a deal to ensure the land remains public, Whipple-Kilmer said.
"We get it. Everyone needs to make money," Whipple-Kilmer said. "But how do we do that while maintaining public access?"
Whipple-Kilmer, who has paid close attention to the land deals in the region since Weyerhaeuser's big sale in 2020, said he hopes to prevent hacking up small towns while corporations make a bunch of money.
"It is frustrating having a foreign entity in your backyard," he said.
Reporter Kate Heston can be reached at kheston@dailyinterlake.com.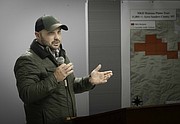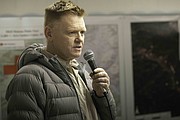 Recent Headlines
---