Griz rally past Redhawks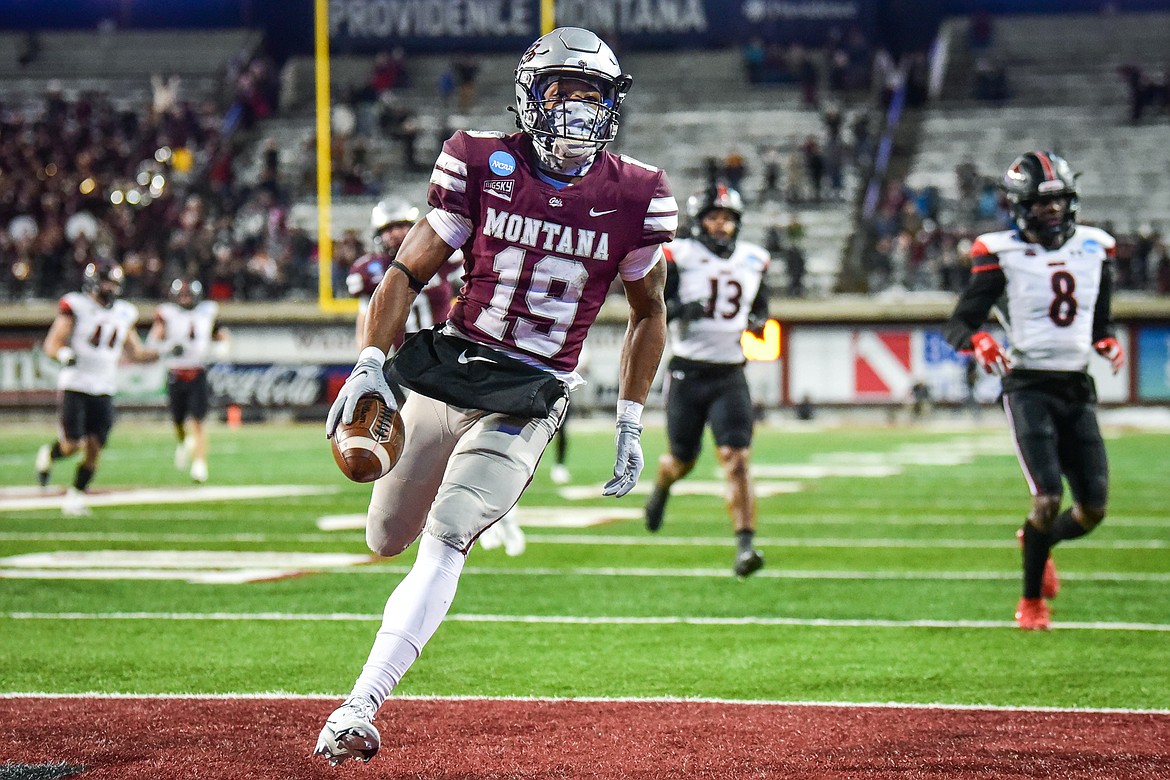 Grizzlies kick returner Malik Flowers (19) returns a kickoff 80 yards for a touchdown in the third quarter of an FCS playoff game against Southeast Missouri State at Washington-Grizzly Stadium on Saturday, Nov. 26. (Casey Kreider/Daily Inter Lake)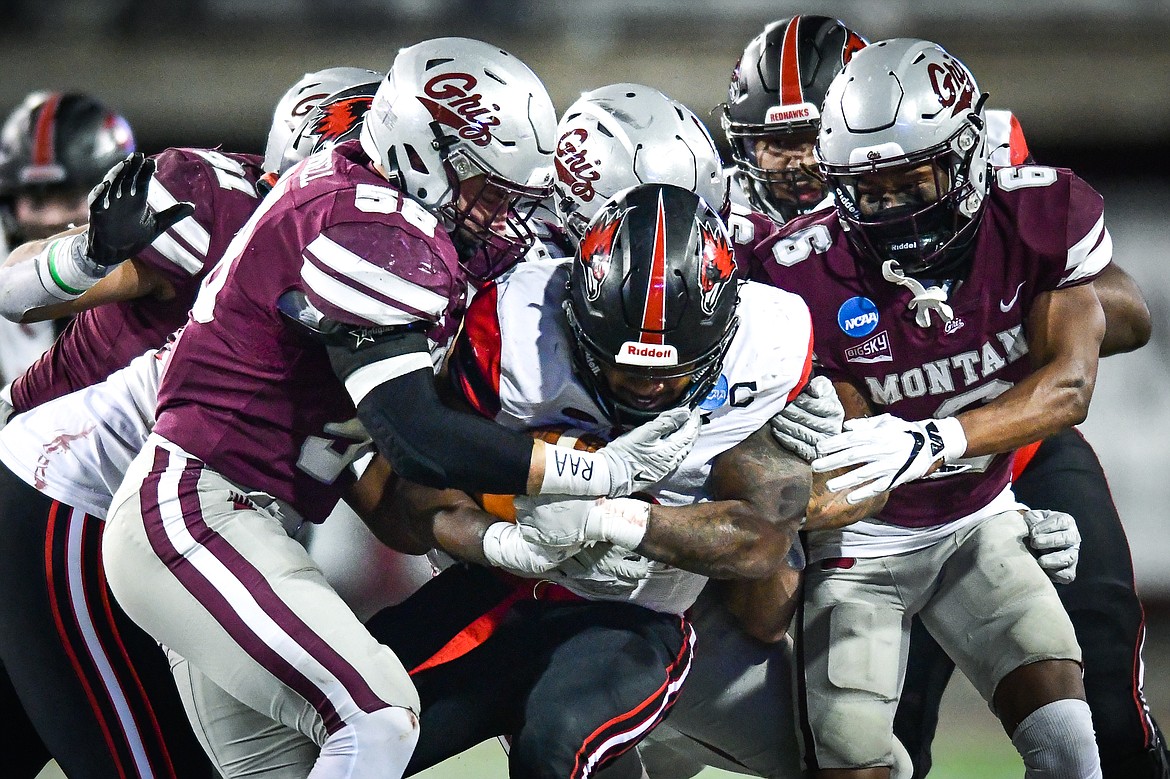 Grizzlies defenders Patrick O'Connell (58) and Justin Ford (6) stop a run by Southeast Missouri State running back Geno Hess (6) in the third quarter of an FCS playoff game at Washington-Grizzly Stadium on Saturday, Nov. 26. (Casey Kreider/Daily Inter Lake)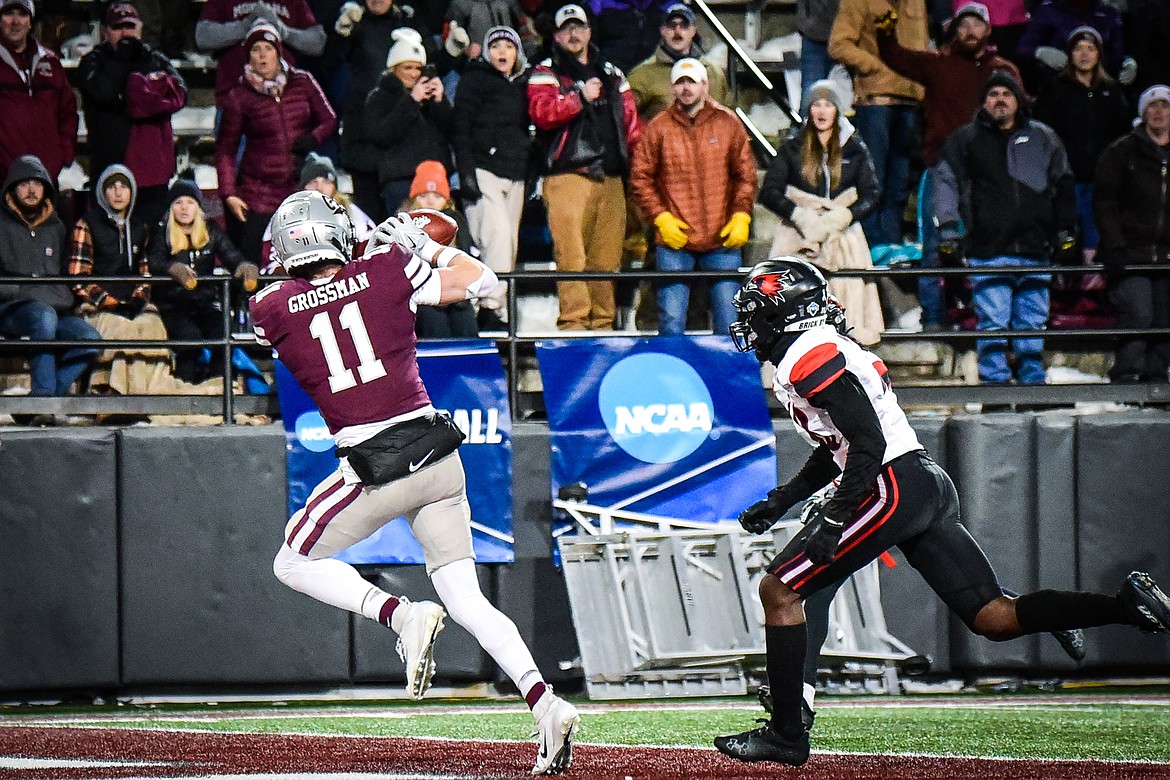 Grizzlies tight end Cole Grossman (11) catches a 19-yard touchdown reception in the fourth quarter of an FCS playoff game against Southeast Missouri State at Washington-Grizzly Stadium on Saturday, Nov. 26. (Casey Kreider/Daily Inter Lake)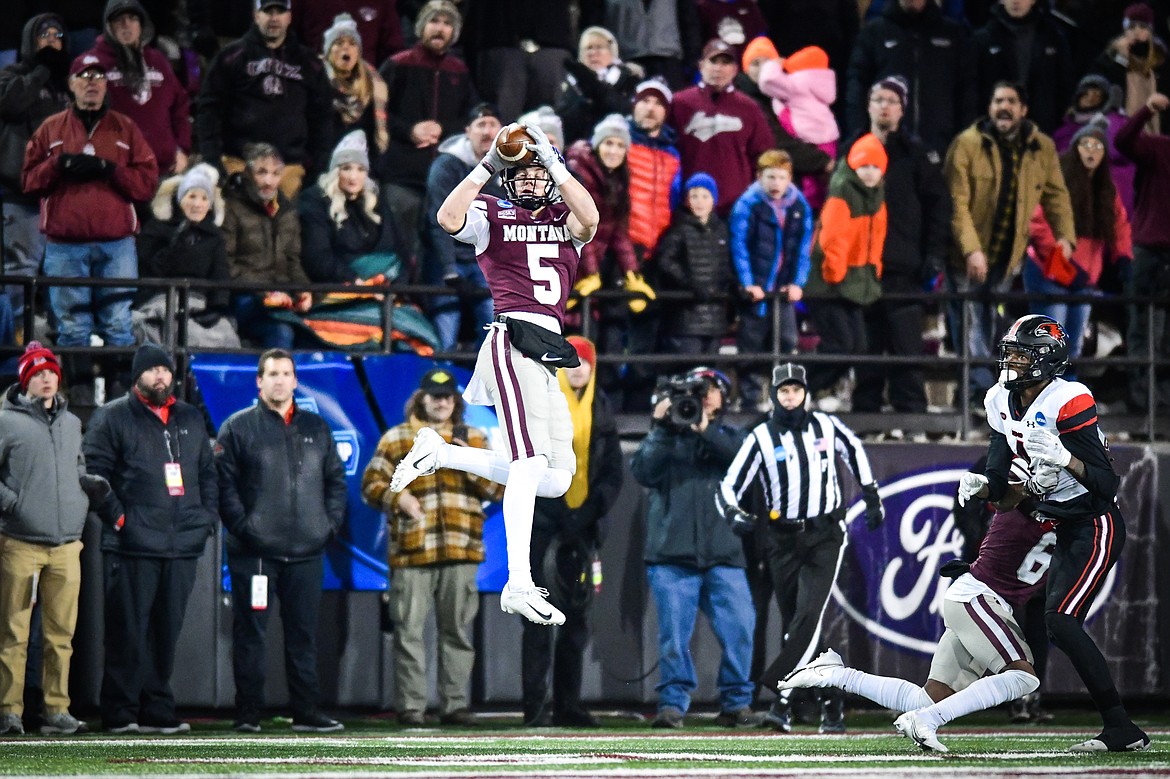 Grizzlies safety Garrett Graves (5) intercepts a pass in the fourth quarter of an FCS playoff game against Southeast Missouri State at Washington-Grizzly Stadium on Saturday, Nov. 26. (Casey Kreider/Daily Inter Lake)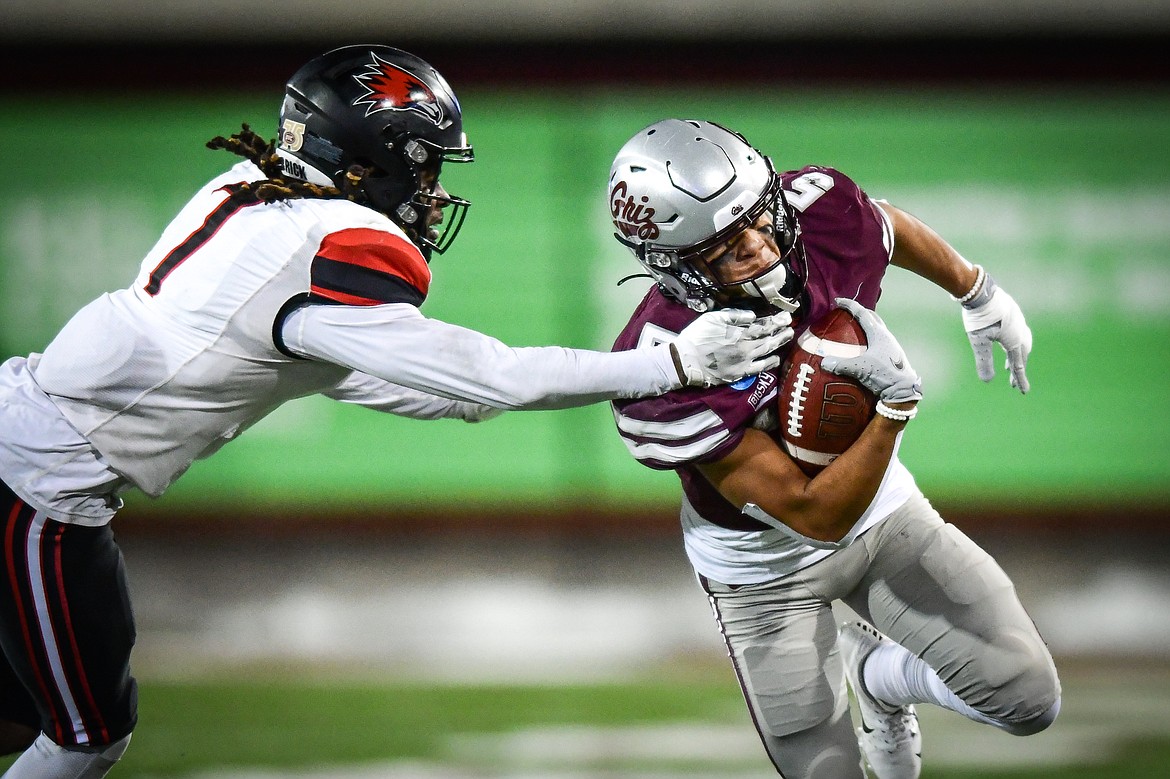 Grizzlies wide receiver Junior Bergen (5) sheds a tackle by Southeast Missouri State defensive back Lawrence Johnson (7) on a run in the fourth quarter of an FCS playoff game at Washington-Grizzly Stadium on Saturday, Nov. 26. (Casey Kreider/Daily Inter Lake)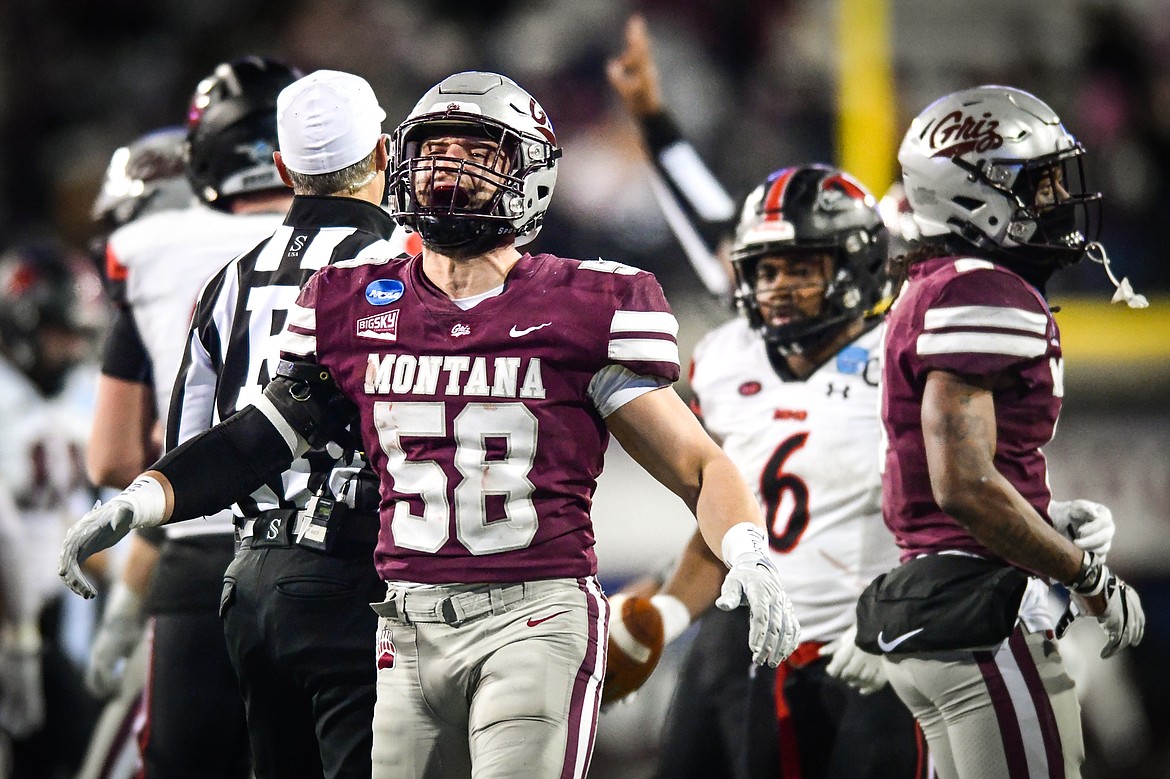 Grizzlies linebacker Patrick O'Connell (58) celebrates after stopping a run in the third quarter of an FCS playoff game against Southeast Missouri State at Washington-Grizzly Stadium on Saturday, Nov. 26. (Casey Kreider/Daily Inter Lake)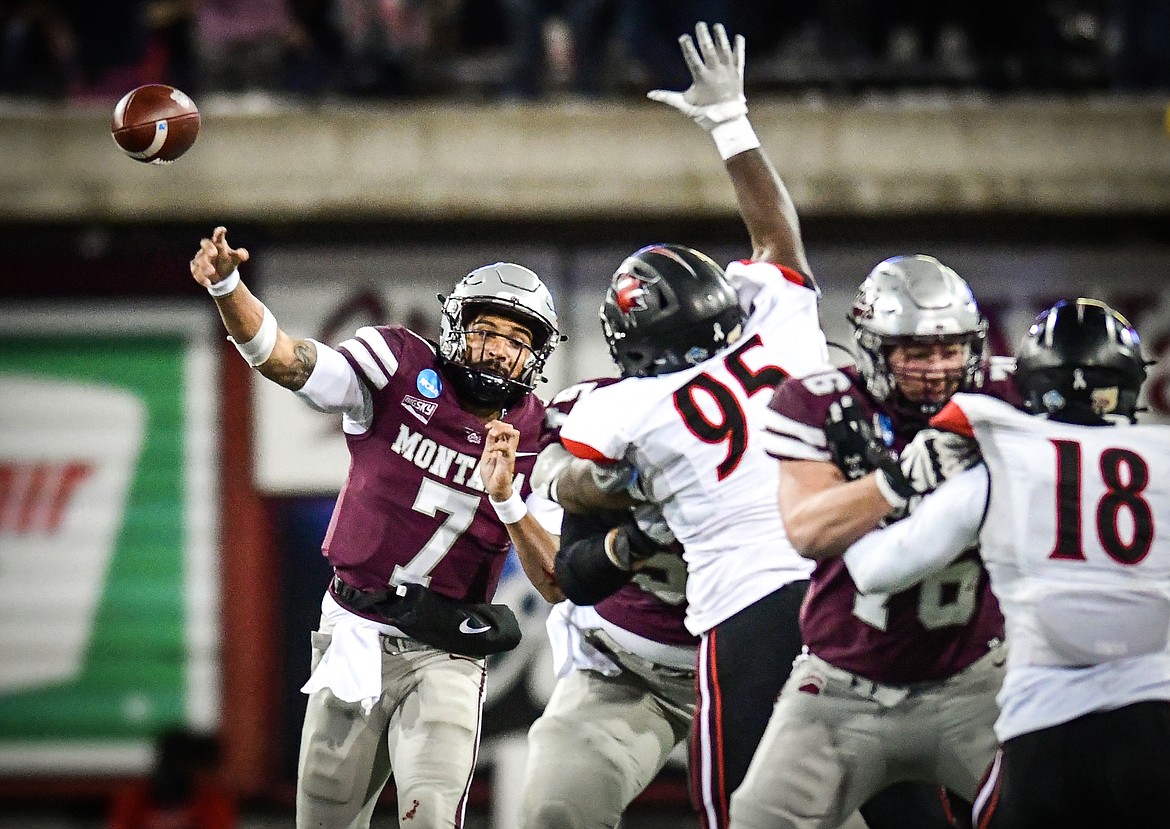 Grizzlies quarterback Lucas Johnson (7) throws in the second quarter of an FCS playoff game against Southeast Missouri State at Washington-Grizzly Stadium on Saturday, Nov. 26. (Casey Kreider/Daily Inter Lake)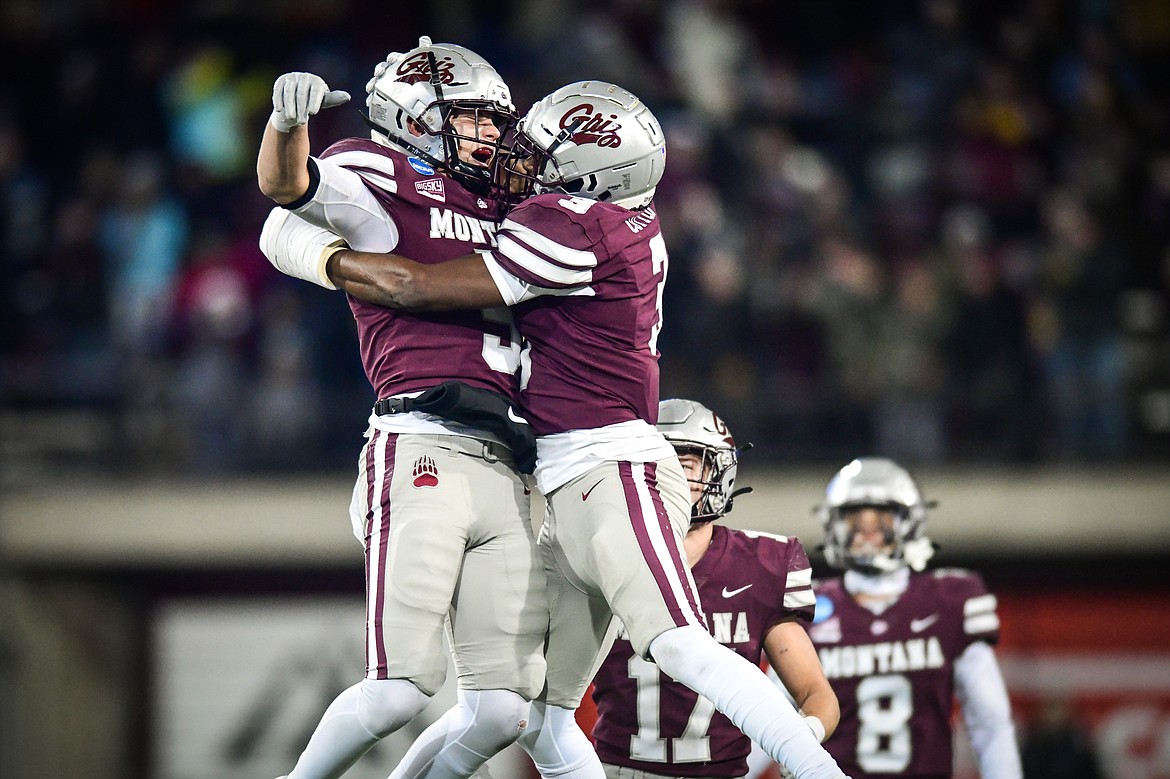 Grizzlies safety Garrett Graves (5) celebrates with Trajon Cotton (3) after intercepting a pass in the fourth quarter of an FCS playoff game against Southeast Missouri State at Washington-Grizzly Stadium on Saturday, Nov. 26. (Casey Kreider/Daily Inter Lake)
Previous
Next
MISSOULA — The Montana Grizzlies have been there before, down three touchdowns and threatening to send the third-quarter crowd back out to the tailgates.
Nothing a special teams touchdown or two can't fix.
Malik Flowers sparked a run of 31 straight points with a record-tying kickoff return, and the Grizzlies sped past Southeast Missouri State 34-24 in an FCS playoff game Saturday.
Lucas Johnson threw for 306 yards and two scores as the Grizzlies (8-4) advanced to a road game with No. 3 seed and defending national champion North Dakota State next Saturday.
It was reminiscent of 2009, when the Griz scored the last 40 points of a 61-48 win over South Dakota State, again at Washington Grizzly Stadium, again in the playoffs — and again sparked by a kickoff return (Marc Mariani).
This time the Griz weren't done: Not long after Flowers met the FCS career record with his seventh kick return TD, Junior Bergen took a punt 58 yards for another touchdown.
In between, Lucas Johnson found Keelan White with a 17-yard touchdown pass.
It was three touchdowns in 4 minutes and change of the third quarter, eating up a 24-3 deficit.
Nico Ramos' 32-yard field goal gave the Grizzlies (8-4) the lead for good, 27-24, with 12:28 left in the game.
Johnson's 19-yard dart to Cole Grossman with 6:42 capped the scoring.
A sparse but loud Washington-Grizzly crowd of around 15,000 saw the home team give up a scoop and score and a couple long drives. When Geno Hess scored his second TD of the game — set up by a 26-yard, scrambling, wobbly throw that Ryan Flourney caught at the Grizzlies' 17-yard line — it was 24-3 and it wasn't looking good.
Then the Redhawks committed a post-touchdown personal foul and — this is important — kicked off to Flowers.
The senior had the ball bounce off his facemask, but recovered it, spun around and almost instantly was in the clear. The return covered 80 yards and cut the gap to 24-10.
The Grizzlies followed with their first touchdown drive of the game, covering 69 yards. Johnson started it with a 25-yard scramble. His throw to a wide-open White trimmed SEMO's lead to 24-17.
Patrick O'Connell, back on the field after limping off in the second quarter, hurried Redhawks' quarterback Paxton DeLaurent into two bad throws and a 3-and-out on SEMO's next possession.
Enter Bergen, who hadn't played in two weeks: He got two great blocks and then found almost the entire Grizzly sideline open, and before cutting off one more block for the score.
It was quite the turnaround. The Grizzlies looked pretty cooked after a) SEMO drove 92 yards to a 1-yard touchdown run by Hess with :30 seconds left in the first half and b) Hess capped that drive to open the third quarter.
But that was then: Lucas Johnson also struggled early, including a fumble that SEMO's Lawrence Johnson returned 13 yards for a TD.
The Redhawks also bottled up Nick Ostmo (six carries, 9 yards) and the Griz run game, and out of necessity Lucas Johnson got it going. He completed 18 of 37 passes, though he had an end zone interception with 10:00 left.
But the Griz got the ball back on downs — Robby Hauck stopped another wobbly throw (Marcus Welnel had drilled DeLaurent) for a 2-yard gain to Flournoy — and then Johnson found Xavier Harris for 52 yards on a wheel route.
Grossman scored on the next play.
The game was basically over when Garret Graves picked off LeLaurent with 4:12 left. Isaiah Childs (47 yards) gained first downs against a softened-up SEMO defense.
Meanwhile the Grizzlies' D toughened. Hauck had 15 stops, becoming the Big Sky Conference's all-time leader in tackles along the way, and a sack. O'Connell had eight stops. Braxton Hill had 14 stops and Welnel, seven.
Recent Headlines
---