Vibe Wellness Lounge opens on Central Avenue in Whitefish
|
November 27, 2022 12:00 AM
When everyday stressors build up, shoulders rise and muscles get tense, a massage is one way to get relief. Now, there is a new place in Whitefish that aims to provide care for both mind and body.
Below The Toggery on Central Avenue in Whitefish is Vibe Wellness Lounge. The shop offers high-quality therapeutic services and retail sales of wellness products.
For Jessica Cooney, certified massage therapist and founder of Vibe Wellness Lounge, the business is a realization of a long-held dream to be able to service the community with a collective of holistic health care providers.
On staff are four licensed massage therapists, three licensed estheticians, a doctor of Chinese medicine and a Reiki practitioner. Vibe has also partnered with chiropractor Tim Dudley and naturopathic doctor Janna Hibler — both own businesses in the same building.
"We can help with a broad range of conditions," Cooney said of her team. "Everything from muscular, mood and gastrointestinal dysfunctions, acute or chronic pain, sleep disorders, allergies, and herbal and dietary education."
Cooney said she and her staff provide treatment with the goal of empowering people to achieve personal wellness.
She based her business on an all-natural health care facility in Chicago where she worked. It housed chiropractors, acupuncturists, massage therapists, nutritionists, physical therapists, life counselors, astrologists and someone trained in hypnosis, and the team worked closely with local doctors in the area.
"As a group, we would meet every week and talk about what we could do for each patient to further their healing process," Cooney said.
Having a mixture of health specialists under one roof allowed Cooney to learn from the other practitioners and see the difference this sort of clinic made for the patients it served. Now she is offering that kind of care here.
COONEY CAME to Montana from Chicago on a road trip with her brother in 2002 and decided to move to Whitefish. She worked in the Anapurna store on Big Mountain and was allowed to include her massage business information in the resort's check-in packets. She traveled to all the condos and houses on the hill, providing therapeutic massage to tired skiers.
Later, she set up her massage tent and worked at many athletic events, supplied massages for the Great Northern bike team and continued to work another job as a gardener. Soon, Cooney was able to open her own small massage office downtown.
"It was just me but I loved having my own healing space for the community," she said.
Although Cooney had been able to start her own business, it was still challenging to make a go of it in Whitefish, and in the fall of 2011, she made the tough decision to head back to Chicago. It was then she worked for the health care facility that inspired her to start Vibe Wellness Lounge.
In 2016, she returned to restart her career as a massage therapist. Cooney rented space above The Toggery from Dudley, who shared his knowledge as she continued to study the mind, body and spirit.
"I always had in the back of my mind that one day I would love to open up an all-natural health care facility similar to the one in Chicago," Cooney said. "One day, a co-worker told me that the space below The Toggery was available. I did not hesitate and jumped on it."
She said she loves the history of the old Skyles building and realized it would take a lot of resources to create a quiet healing space for her wellness center there, especially with the busy Toggery upstairs.
Cooney and the design team for the space succeeded in creating a comfortable, peaceful place with white walls and soft lighting that is conducive to relaxation.
Construction was completed in July and Vibe Wellness Lounge has been in operation since.
For more information, visit www.vibewhitefish.com.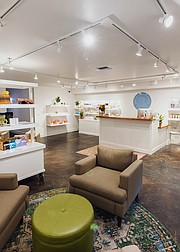 Recent Headlines
---