Bigfork Vikings' Jim Benn a coach on and off the field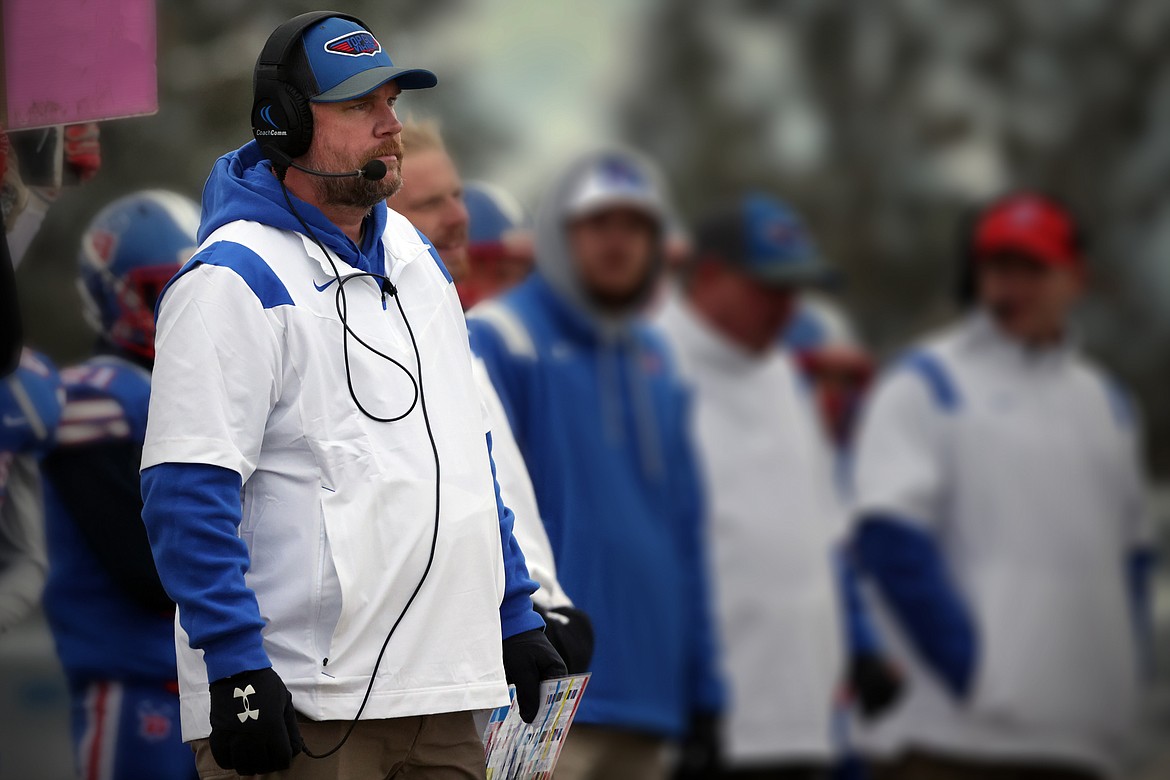 Bigfork head football coach Jim Benn on the sidelines during the State B playoffs this season. Benn has been helping guide his players both on and off the field for nearly 30 years. (Jeremy Weber/Daily Inter Lake)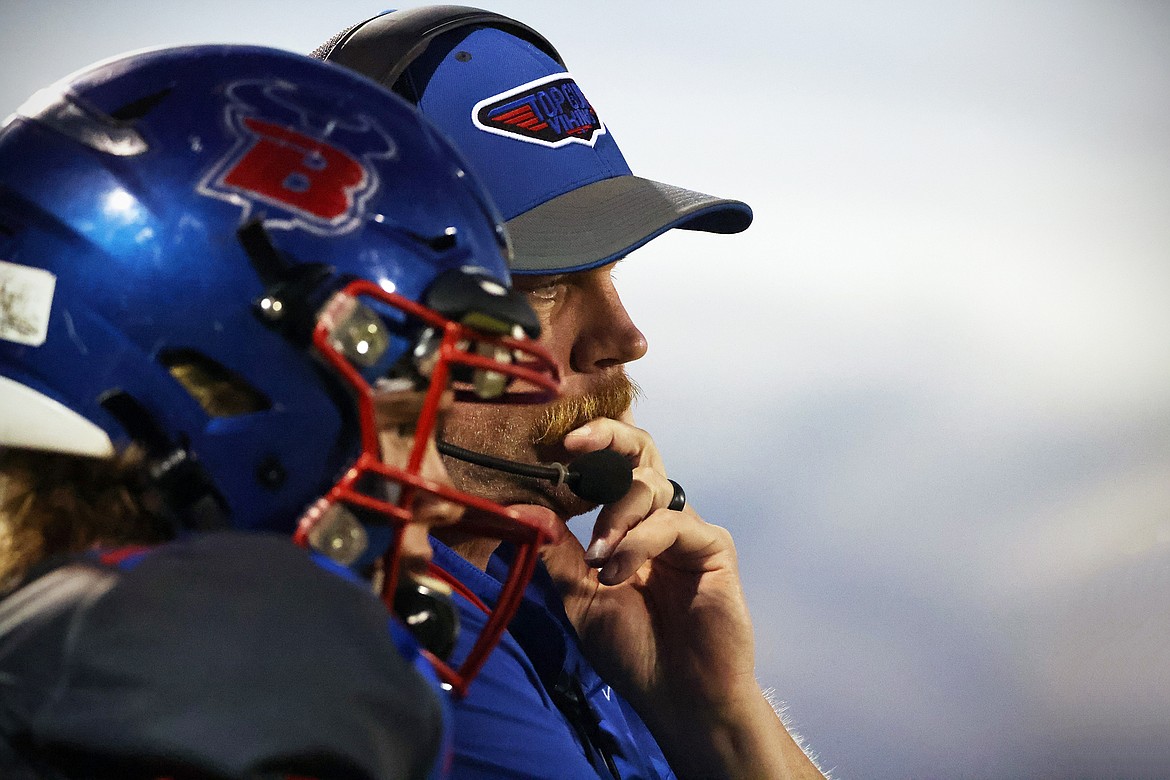 Bigfork head football coach Jim Benn confers with quarterback Tristen Herd during a game this season. Benn has been helping guide his players both on and off the field for nearly 30 years. (Jeremy Weber/Daily Inter Lake)
Previous
Next
by
JEREMY WEBER
Daily Inter Lake
|
November 28, 2022 12:00 AM
Jim Benn faced more than his fair share of challenges as the head coach of the Bigfork Vikings football team over the past few seasons.
From navigating the Covid-19 pandemic in 2020 to helping his players deal with the death of a teammate in 2021 and more, Benn's labors leading his athletes to success on the field have only been rivaled by his efforts guiding them off of it.
His core philosophies of love, camaraderie and accountability have helped his players, and those around them, make it through times that would test the toughest of souls.
"The last few years have been overwhelming at times, to be perfectly honest. Having the core philosophy we do may not have made things easier, but it gave us something to lean on because we could lean on each other," Benn said. "We had some moments that were very difficult for everyone involved, but I think what has come out of it all has been a closeness and maybe a greater appreciation of why we are doing this. It may be a sport, but it is about people and taking care of each other and loving each other."
Love might not be the first word that comes to mind when thinking of football coaches, but for Benn it is the guiding light of his career and his success. A love for the game, his players, his fellow coaches and for his job have helped lead him through the highs and lows of a 30-year career that began with answering a newspaper ad as a freshman in college.
Growing up the son of a hall of fame Montana Officials Association (MOA) referee meant that sports were always a big part of Benn's life even before he set on the path of becoming a coach. It was during his time in high school at Frenchtown — playing for legendary coach Tim Racicot — in the early 1990s that Benn found his destiny.
The winner of four state titles in his 32-year career leading the Broncs, Racicot had a way of connecting with and leading his players that encouraged Benn (and many of his other players) to follow in his footsteps.
"Sports were a big deal in my family when I was growing up and I had a great football coach in high school. He had this way of filling your cup and I wanted to be able to have that kind of impact on the world," Benn said. "(Racicot) knows how to treat people. He just has a way of making you feel like you can do it. His teams were always better than their individual parts. He taught us to be who we are. Don't compare yourself to anyone else, just be who you are."
Those lessons put a 16-year-old Benn on the path to becoming a coach.
"We all learned a lot from the way he treated us and there are a lot of us who played for him who went into coaching. He's just a great human being," Benn said. "It was a great jumping off point for me as a coach having been able to play for someone I just adored. My dad and I had a great relationship, but Tim is very much a father figure to me as well."
A freshman in college at Montana State University in the fall of 1993, Benn saw an advertisement in the Bozeman Chronicle: Manhattan Junior High School was looking for a basketball coach. The job was soon his.
When the school's athletic director found out Benn had played for Racicot in Frenchtown and was rooming with Racicot's son at MSU, he hired the pair to run the high school football team's offense.
At age 19, Benn called plays on the sidelines for the first time.
"It was one heck of a learning experience," Benn recalled. "It was on the job training, basically. We got to hang out with a bunch of high school kids and coach them. For someone who wanted to go into education, it was a heck of a training ground for me."
TWENTY-NINE YEARS and seven schools later, Benn is still spending his Friday nights each fall patrolling Montana's sidelines.
Along the way, he's seen success off the football field, winning back-to-back boys and girls state track titles at Huntley Project, but Benn's true desire was head football coaching position.
He got his opportunity when he was hired to lead the Ronan Chiefs in 2008. After eight years there, Benn made stops at Loyola and Malta before becoming the Vikings head coach in 2020.
His first season in Bigfork had not even begun when the Covid-19 pandemic had Benn facing one of the toughest challenges of his career, a situation he simply described as ridiculous.
With his son Cormac facing the real possibility of not having a senior season, Benn and his team quickly adopted the mantra of "Get to."
"That has been our biggest motto. We don't have to do the things we are doing, we get to do them. It has been a labor of love to get that across to my players, and they have really bought into it," Benn said. "We knew there were other places that weren't going to get to play sports, so we wanted to be appreciative of the fact that the MHSA fought very hard for us to have some semblance of a regular season."
To show their appreciation, Benn and his players began dedicating their practices and games to schools around the country that were not getting the opportunity to play, including the alma mater of Benn's parents in Ripon, California.
When one of the Vikings' standouts took his own life in 2021, Benn's players turned to the lessons they had learned about loving each other and only worrying about matters under their control to make it through the tragedy.
"You can't control everything that happens. There are a lot of things in life you can't control. You can't control how much talent you have, how tall you are or how much you weigh, but you can control how you approach practice and games through those three things. It's the same way in life," Benn said. "When it comes to the kids caring about each other, that is something that is very important to me. We want men to be enabled with the ability to talk about those kinds of things and take care of each other and ask for help if they need it. We teach those lessons again and again."
Nowhere is Benn's message of love more evident than during the introduction of the team's starting lineup before games, where his players are seen displaying "I love you" in sign language as they pass their teammates.
While Benn's search for a football state title continues, the legacy he has already left on the sport of football in Montana is already undeniable. Of the 16 teams in the Class B playoffs in 2022, Benn had coached at five of them.
"Coaching has been a really interesting adventure for me, but I think my favorite part of all this has been the relationships I have built with the people I have coached and coached with and against. Class B coaches here in Montana are a tremendous fraternity. I am really going to miss coaching against them when we move to Class A next year," Benn said. "Coaching forms bonds that last forever. You can run into a kid that you coached years ago and you get to see how their lives turned out. Those are great moments. It's hard to believe I am pushing 30 years of doing this. It is beyond my wildest dreams what I have been able to do and the people I have had the opportunity to work with."
Reporter Jeremy Weber can be reached at jweber@dailyinterlake.com.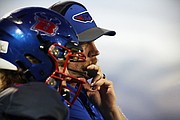 Recent Headlines
---