Speedway fan frontrunner with NASCAR collection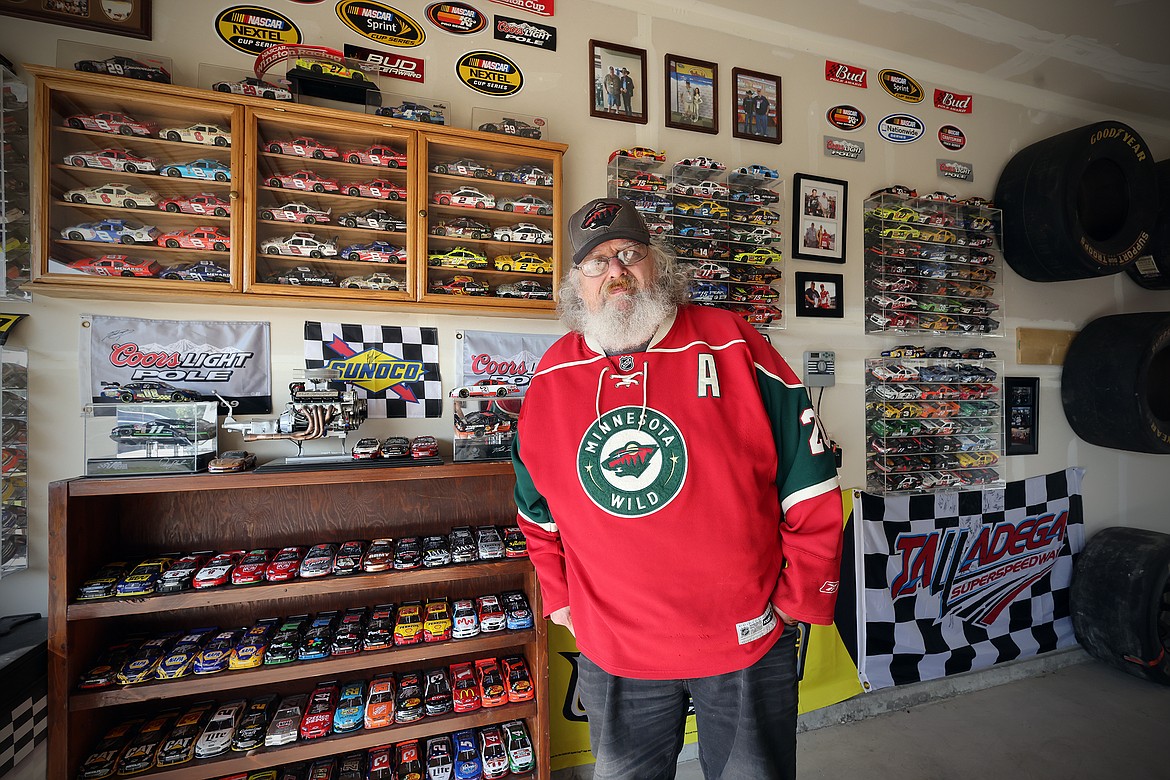 Kalispell's Kevin Bach has been collecting NASCAR memorabilia since attending his first race in 1980. (Jeremy Weber/Daily Inter Lake)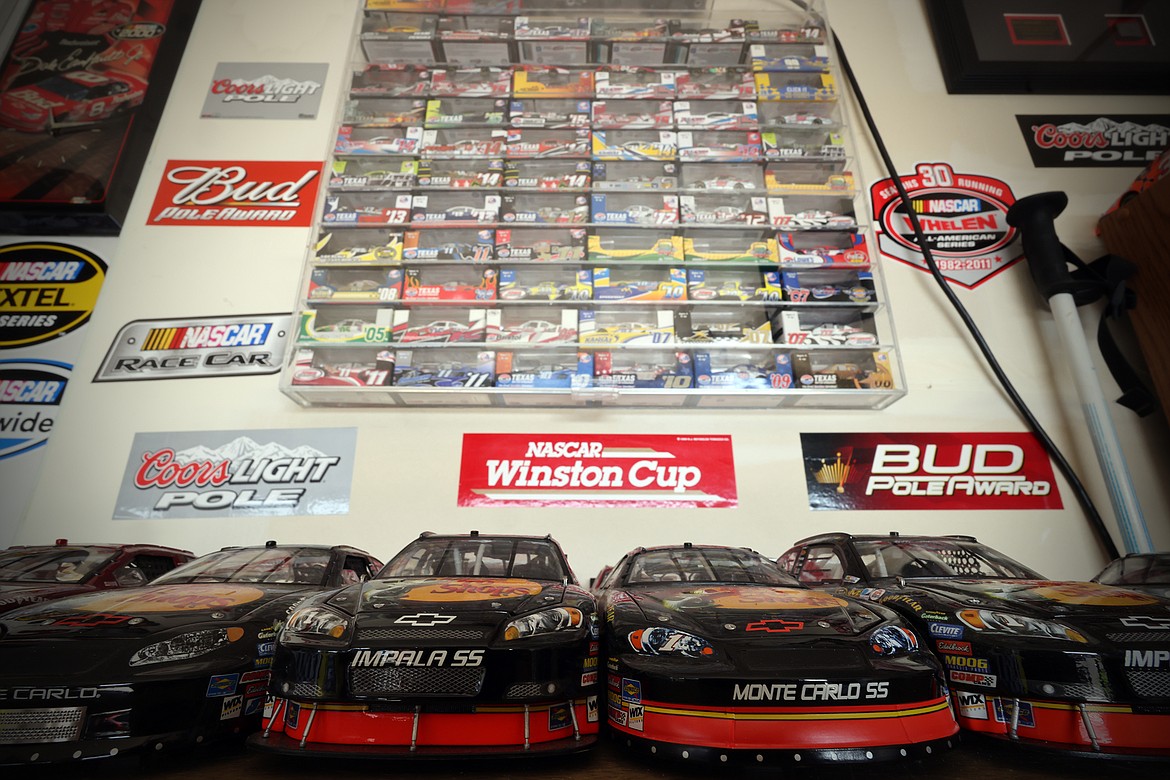 Miniature NASCAR race cars proudly displayed in the garage of Kalispell's Kevin Bach. (Jeremy Weber/Daily Inter Lake)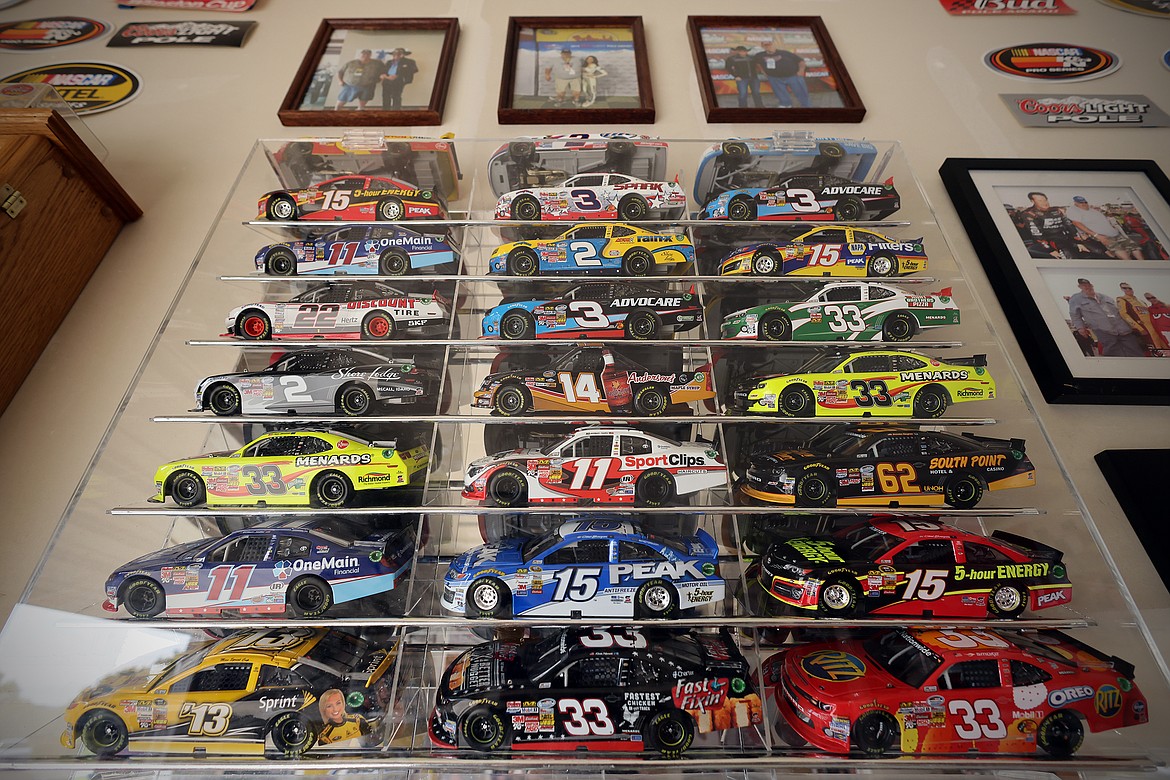 Miniature NASCAR race cars proudly displayed in the garage of Kalispell's Kevin Bach. (Jeremy Weber/Daily Inter Lake)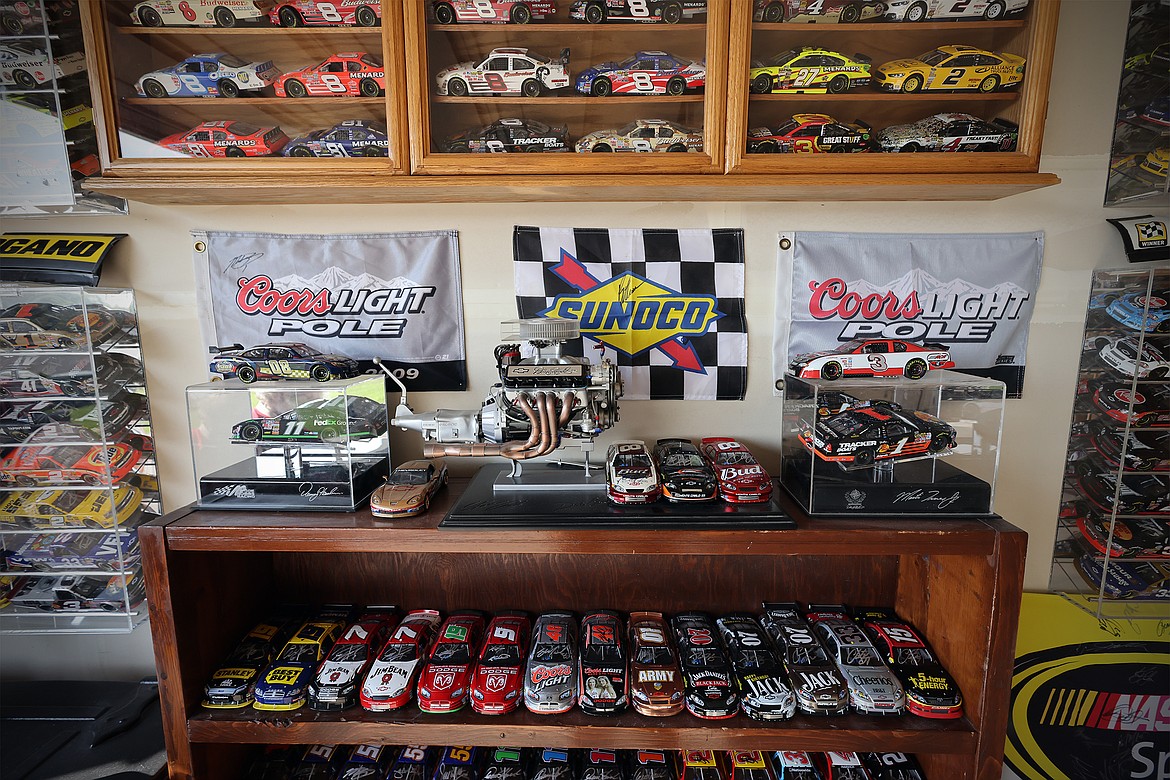 Miniature NASCAR race cars proudly displayed in the garage of Kalispell's Kevin Bach. (Jeremy Weber/Daily Inter Lake)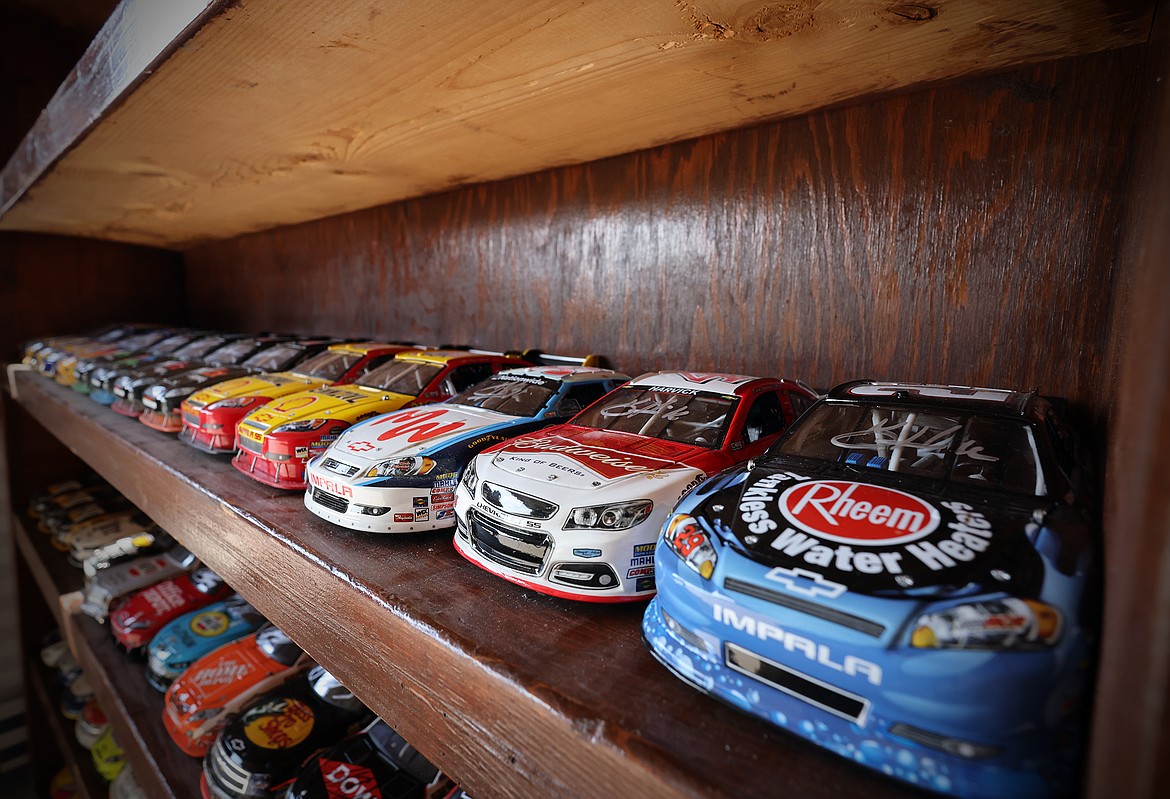 Dozens of miniature NASCAR racers, many signed, line the shelves in the garage of Kalispell collector Kevin Bach. (Jeremy Weber/Daily Inter Lake)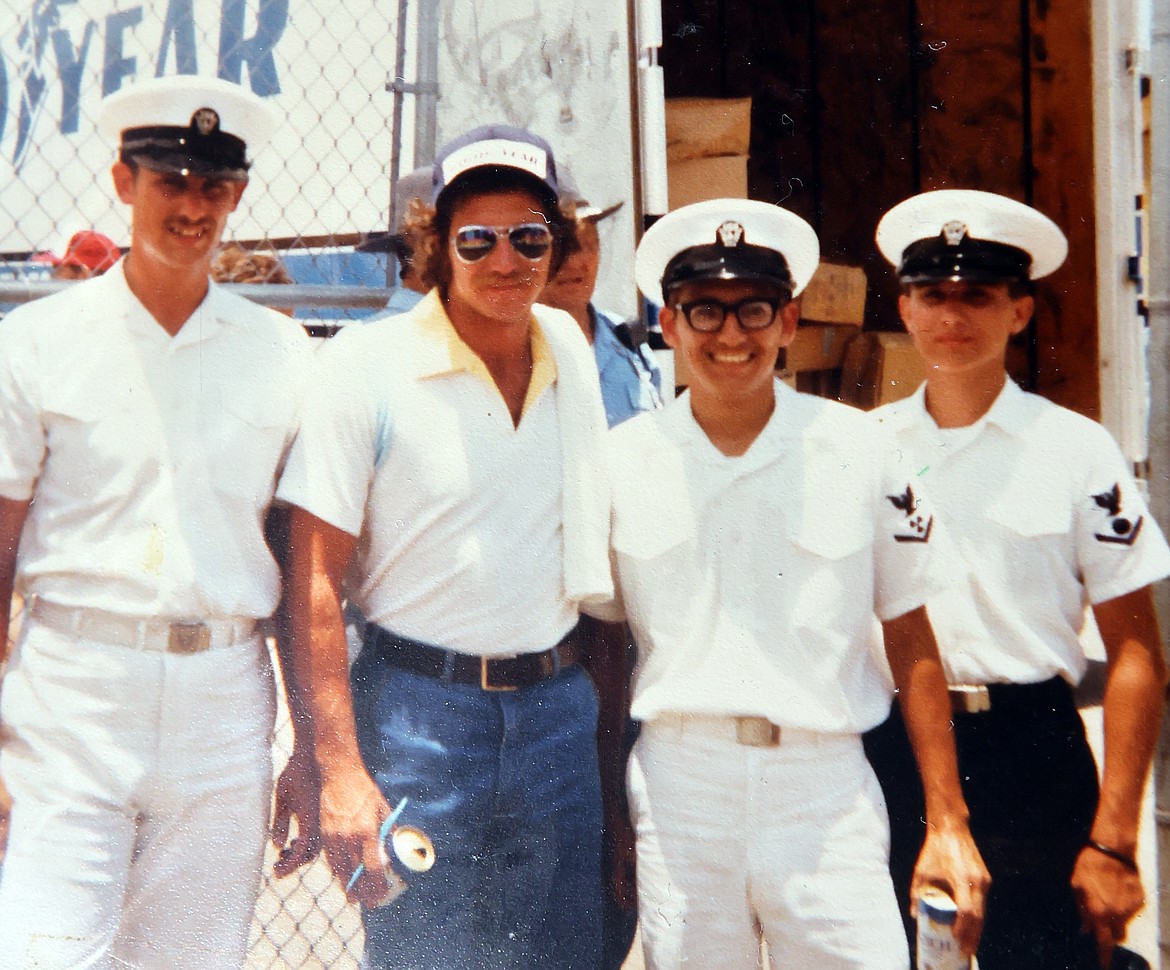 A 21-year-old Kevin Bach poses for a photo with Dale Earnhardt Sr. at Daytona Speedway in 1980. (photo provided)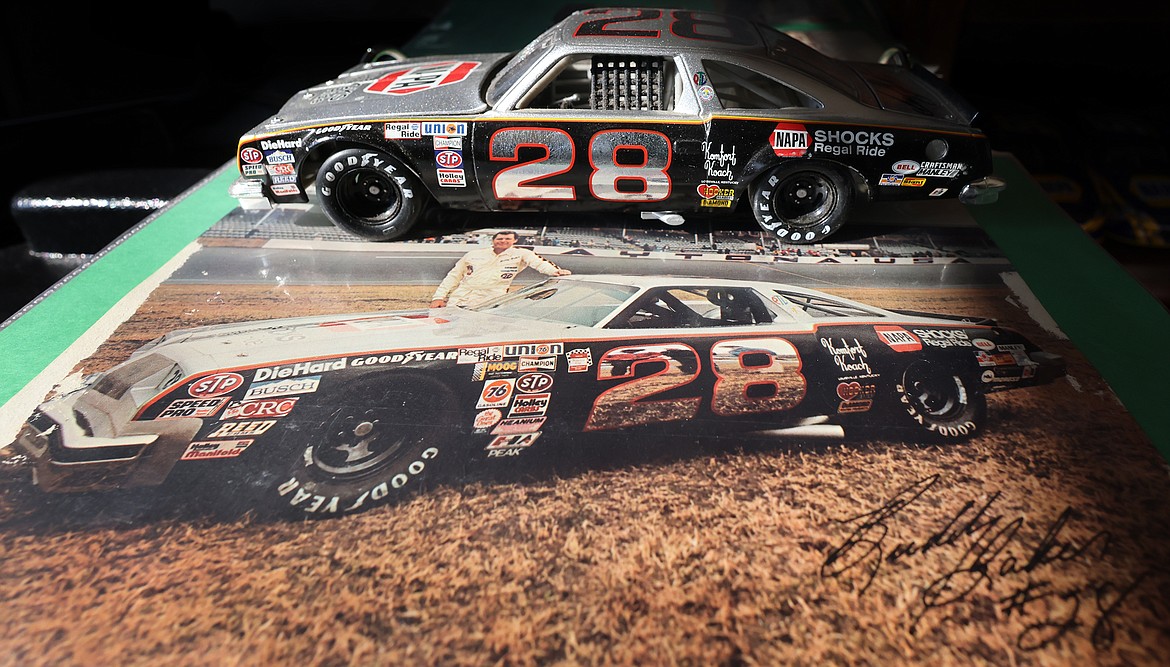 A miniature car and autographed photo from Buddy Baker are part of Kevin Bach's NASCAR memorabilia collection. (Jeremy Weber/Daily Inter Lake)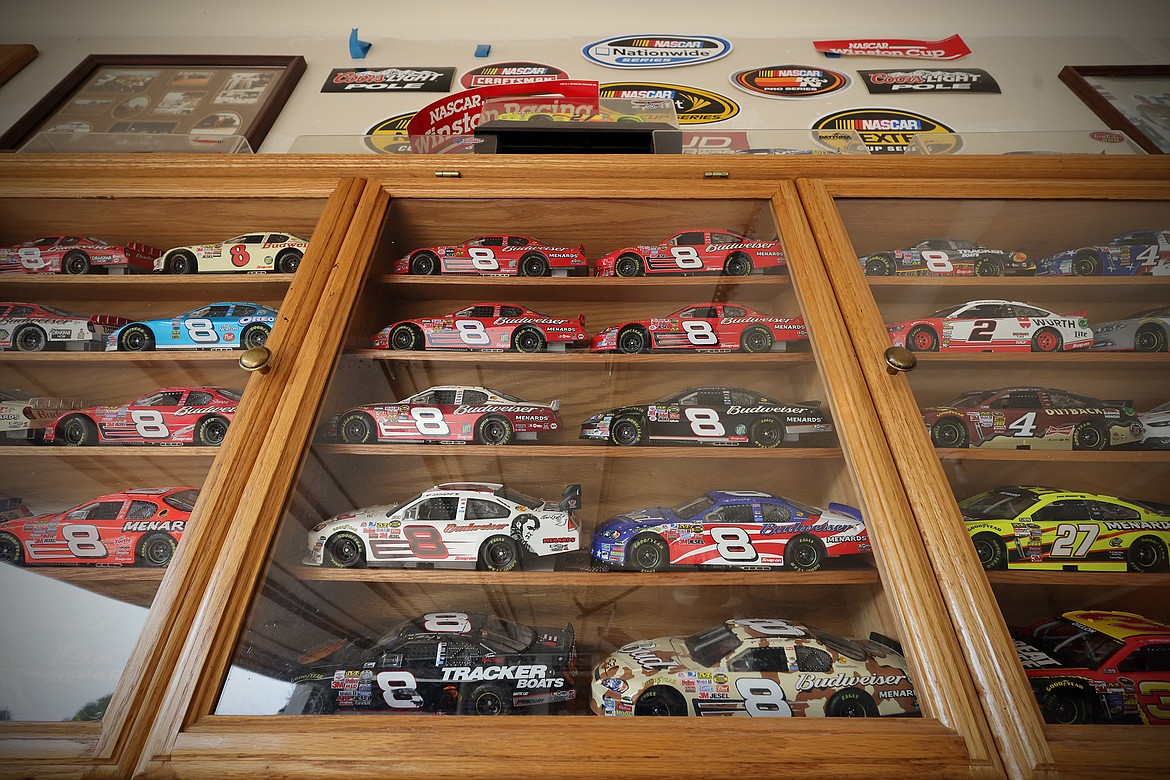 A display case of miniature NASCAR race cars, many of them signed, are just a small part of Kevin Bach's collection. (Jeremy Weber/Daily Inter Lake)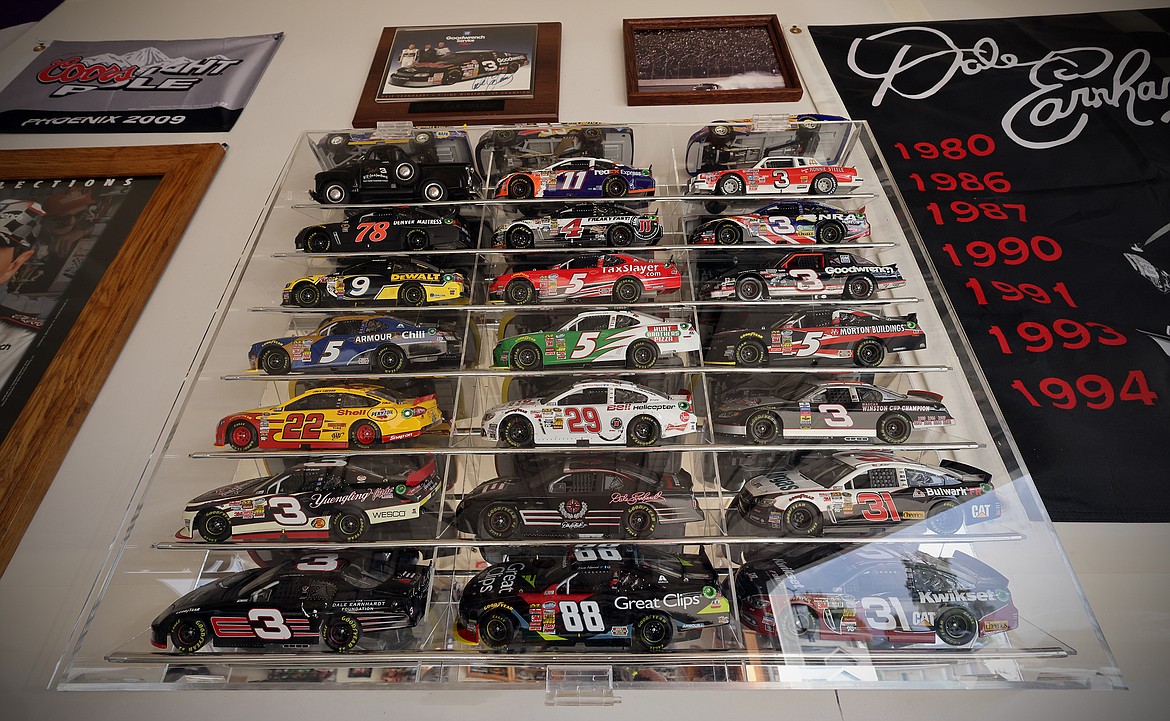 Miniature NASCAR race cars proudly displayed in the garage of Kalispell's Kevin Bach. (Jeremy Weber/Daily Inter Lake)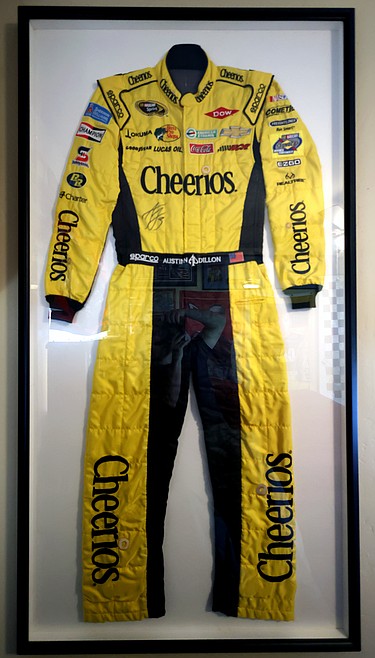 Kevin Bach's most prized collectible, a race-worn and signed Austin Dillon Fire Suit, hang in the bedroom of his home. (Jeremy Weber/Daily Inter Lake)
Previous
Next
by
JEREMY WEBER
Daily Inter Lake
|
October 9, 2022 12:00 AM
When Kevin Bach attended his first NASCAR race at Age 21 in 1980, he knew it was the sport for him.
Now, 42 years later, his love of racing has virtually turned his garage into a museum dedicated to NASCAR and its drivers.
"We got to the track and there were just so many people there. We walked in to get to our seats while they were practicing and we went to stand by the fence as the cars came around. As they did, the ground started to shake. When they passed us, the force blew the hat right off my head," he said. "That did it. The speed. The sound. The power. I was hooked."
Walking into Lawson's garage would leave any NASCAR fan in awe.
On the walls hang numerous autographed photos and posters featuring racers from Dale Earnhardt Sr. (who Bach met at Daytona in 1980) and Richard Petty to Kyle Bush, Kevin Harvick and more.
Sitting on shelves along two walls are dozens, if not hundreds, of miniature replica race cars, many of them autographed by their drivers.
Other wall space holds race-used tires and helmets as well as fire suits and more.
Over the years, Bach would pick up new items at auctions or when he was at the track during races (which was often) and over time the collection took over more and more space in his home.
With season tickets to Texas Motor Speedway and trips to other tracks, Bach also collected quite a few unique NASCAR memories through the years. While the 50th anniversary race at Daytona in 2008 was Bach's favorite event he has attended, he also enjoyed the 2004 race which saw Earnhardt Jr. win all three races that weekend.
By winning charity auctions, Bach was also able to ride along with Robbie Gordon, Kyle Bush and Kevin Harvick for parade laps and even got to wave the green flag at Michigan International Speedway.
"When I threw the green flag at Michigan, they told me not to wear my hat. They also told me to really hold onto the flag tight and they were right, the turbulence nearly took it right out of my hand," he laughed. "Richard Petty told me later that if I had dropped it, then it wouldn't have been the first time they needed to throw the yellow flag to get the green one back."
While Bach is a fan of many racers, he says he really roots for the drivers of Richard Childress Racing, explaining his most prized item of the collection, a signed race-worn fire suit from Austin Dillon.
While health issues have prevented Bach from attending races since 2017, he continues to add to his collection through auctions.
"I like to buy from the NASCAR Foundation or Speedway Children's Charities, because I know anything I spend will be put towards a good cause," he said.
Recent Headlines
---