Fishing family brings Alaskan halibut to Flathead Valley
by
SUMMER ZALESKY Daily Inter Lake
|
October 30, 2022 12:00 AM
As a devoted fisherman with over 40 years of experience, Steve Box and his wife Molly are excited to bring fresh, wild, and sustainably caught Alaskan halibut to their neighbors in the Flathead Valley.
Born and raised in Juneau, Alaska, Steve has spent most of his life exploring the pristine waters of Glacier Bay National Park in search of salmon, crab and halibut. His career started at just 13 years old when he crewed with a longtime family friend on a commercial fishing boat. In 1990, Steve bought his first boat and in 1997, he started his company Worthy Seafoods.
"When I bought my first boat, I was pretty committed. I wanted that lifestyle and to work hard and be my own boss," said Steve.
Steve and Molly have always had a special place in their hearts for Montana as their alma mater is Montana State University in Bozeman and love living in Whitefish when they are not catching fish in Alaska. The enterprise is a family endeavor as Steve and Molly's children, Corey and Nikki, also work on the boat.
"Not too many people get to work side by side with their kids. So that's a huge benefit," Steve said.
While the family's fishing grounds of Glacier Bay National Park were permanently closed to commercial fishing in 1999, Steve was granted a lifetime access permit because of his long history with the park. The permit, which cannot be sold or passed down to his children, was only granted to a handful of fishermen.
"What they did was they took anybody who had a history of fishing there for a specific number of years prior to the decision to close it, and allowed those people to be grandfathered in to finish out their fishing careers," Steve explained. "I was probably one of the five youngest people to get it and a lot of people have aged out [of the permit] and quit fishing, so for me, the fishing just gets better and better. It's like my own private fishing reserve."
According to Steve, Glacier Bay National Park was one of the last national parks in the United States that still allowed a resource to be taken out of it on a commercial level up until that point.
When Steve and other fishermen with a lifetime access permit inevitably retire, purchasing halibut from Glacier Bay National Park will no longer be possible. Hence, the Box family's unique fishing permit to the waters of Glacier Bay is a gift that they love being able to share with the Flathead Valley.
"We want to have a reputation of being good, fair, and honest and bringing in high-quality fish that I'm proud to hand to somebody," Steve said.
Worthy Seafoods is able to ship anywhere in the United States, but delivery can be expensive and the ultimate goal of the Box family is to offer their product to the communities in which they live.
"We take very good care of the fish and it's cleaned and iced within hours. Some trips last five to six days, but our trips are only one to two days. As soon as we get in, it's in the cold storage getting processed for us and we usually have it completely processed and frozen in packages within four to five days. It locks in the freshness of it," Steve said.
Steve and Molly's unique role in the valley as an ocean-to-table family allows landlocked Montana to access fresh and sustainably caught halibut.
"The whole farm-to-table model has transferred over to ocean to table," Steve said. "We basically cut out the one or two middlemen which means you get really high quality [fish]."
"We think it's very special to be in the middle of Montana and be a fisher family that has caught the fish and been with that fish every step of the process and be able to deliver it to your doorstep," Molly added. "It's a big deal because you can't get that everywhere."
The halibut is available for pick up in Whitefish or can be delivered anywhere in the Flathead Valley for a fee. To order, visit their website worthyseafoods.com, call 907-321-4444 or email worthyseafoods@gmail.com. To stay up to date on the Box family's fishing adventures or for recipes, check out their Facebook or Instagram @worthyseafoods.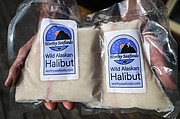 Recent Headlines
---