ImagineIF board nixes challenge of faith-based book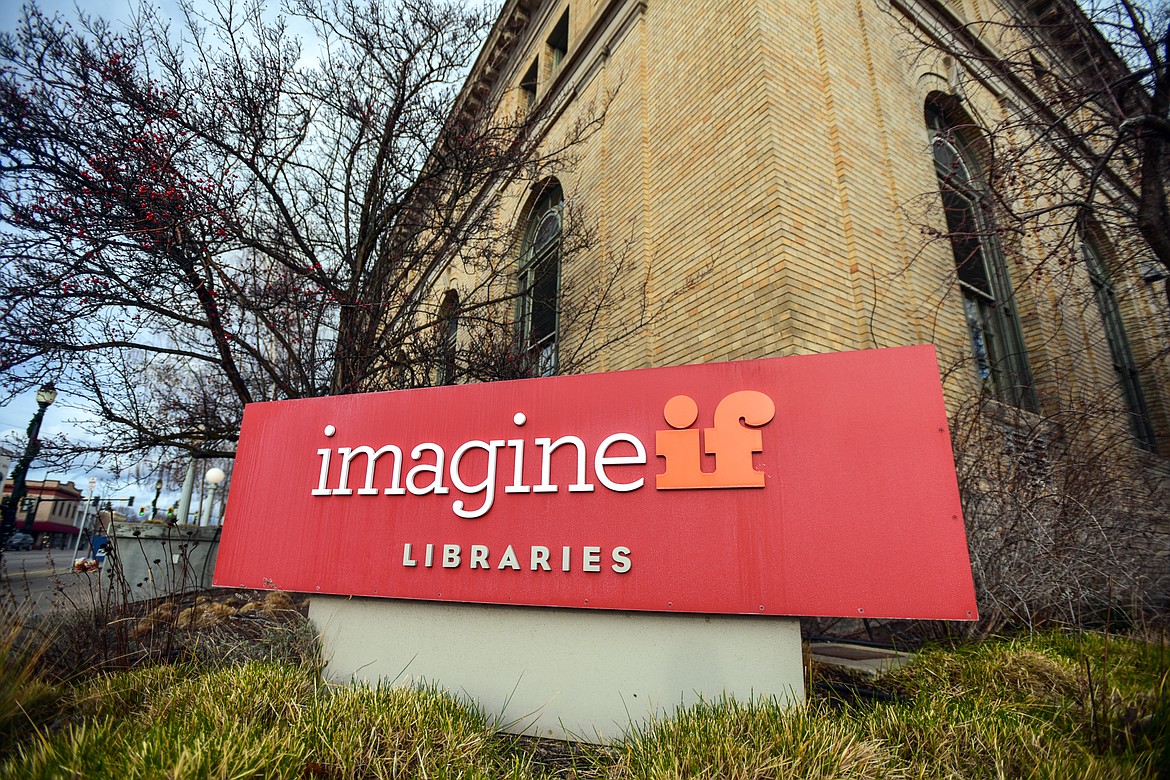 ImagineIF Library in Kalispell on Thursday, Dec. 2. (Casey Kreider/Daily Inter Lake)
by
TAYLOR INMAN
Daily Inter Lake
|
October 30, 2022 12:00 AM
The ImagineIF Board of Trustees voted Thursday to keep a Christian child rearing book in the library's collection after a challenge claimed the author's alleged close ties with a pedophile warranted its removal.
"Why Children Matter" by Doug Wilson has come under fire for his alleged connection to sex offenders he met through various ways in his ministry. These allegations come from Christian blogs and message boards. The person behind the challenge, Chany Reon Ockert, wrote in her complaint that the book should be removed under the county library's collection development policy, which takes into account the author's reputation and readability.
Compared to previous book challenges, discussion about "Why Children Matter" was minimal. Trustee Carmen Cuthbertson said she has no strong feelings about the book because it is in the library's adult section. Board Chair Doug Adams said he believed the book was "factually accurate" and was hesitant to remove books based on the author's life choices.
"If we start examining the lives of every author of every book, and holding their past sins against them, I'm not sure that we'd have any books," Adams said.
He criticized the quality of the writing, describing it as being disjointed at times, but said he wasn't going to look into "Wilson's criminal history."
ImagineIF Director Ashley Cummins told the board Ockert opted against discussing the removal request with her, which is part of their collection policy for a challenge. She said Ockert told her she was not satisfied with their solution and had her thoughts already laid out in book challenge form.
When a book challenge is submitted, library staff will make a recommendation for the board after discussing it with whoever submitted the challenge. In past challenges, staff has always recommended retaining the book.
The board ultimately voted unanimously to keep the book in its collection. Ockert, who describes herself as a conservative Christian, supports the principle of "pluralism," which she believes is key for religious freedom and is being undermined by book challenges. She said she submitted the challenge at the same time "Not My Idea, A Book About Whiteness," a children's book discussing white privilege, came under scrutiny.
"If someone wants a book removed, then that person has to be willing for books they like to be removed as well. Wouldn't it be better to go back to a time at our public library when we understood that people — and parents — for various reasons may want to read books that we don't like and to stop trying to control our neighbors," Ockert said.
FORMER BOOK challenges still plague the ImagineIF Board. During Thursday's public comment period, Dr. Michele Taylor, challenger of "Not My Idea, A Book About Whiteness" by Anastasia Higgenbotham, defended her position to see the book removed.
"Not My Idea" was the first book relegated to a newly created "Parent Resources" section, which the board created for children's books they find inappropriate or too challenging for kids. Taylor said she believes the book is "clearly teaching racist ideologies."
"White people in this room, I'd like you to imagine for a second that your child is vulnerable, emotionally not developed, and you read a book that tells you that the world sees you according to your skin color, and that you're not welcome in certain neighborhoods. How does that make us feel?" Taylor said. "On the contrary, people of color, including myself, are sitting in this room … if you were white, and somebody told you that white racism is a white person's problem, how do we feel as a child? Not good, in my opinion."
"Not My Idea" discusses the ideas of white privilege and racism. Several who participated in public comment sided with Taylor and advocated for the removal of the book. Christina Villegas, who said she works in higher education, told the board she agrees the book is harmful to children.
"After reviewing the book myself, I've concluded that this is not a book that aims to help children better understand and combat racism. Rather, it's a blatantly racist book rooted in neo-Marxist ideology that divides people into oppressor and oppressed identity groups based solely on the accidental color of their skin," Villegas said.
Others pushed back against book challenges in general and the Board's decision to keep "Not My Idea" in the Parent Resources section. Melissa Wood said she's a mother of young children and she believes it should be up to parents to choose what books they find appropriate for their children to read — adding that the more resources available at the library to do that, the better.
Cherilyn DeVries said she was speaking on behalf of the Montana Human Rights Network. She said they supported keeping Wilson's "Why Children Matter" because they study extremism and that it's important to have access to his work without supporting him financially. Concerning the board's decision on "Not My Idea," she said the Montana Human Rights Network condemns the board's actions to restrict access to the book.
Whether they were aware or not, comments made by trustees at September's meeting about "Not My Idea" being "indoctrinational material" and promoting racism against white people echo sentiments of white nationalism, DeVries said.

"It is even more troubling that when you claimed this book was dangerous, it echoed rhetoric that white nationalists want us to see and hear in public spaces … We watch white nationalists' comments on their backwater boards and channels, and when you say things like this, they celebrate because they feel like they are getting their ideology out into public spheres," DeVries said.
Adams responded to DeVries' claims, saying that they just moved the book to a different section and is still available to check out — in no way restricted.
Cummins told the Daily Inter Lake they have not yet finalized the Parent Resources section, and that "Not My Idea" has been continuously checked out since the controversy began, with several holds still on it.
Recent Headlines
---