Grants assist in growing child care options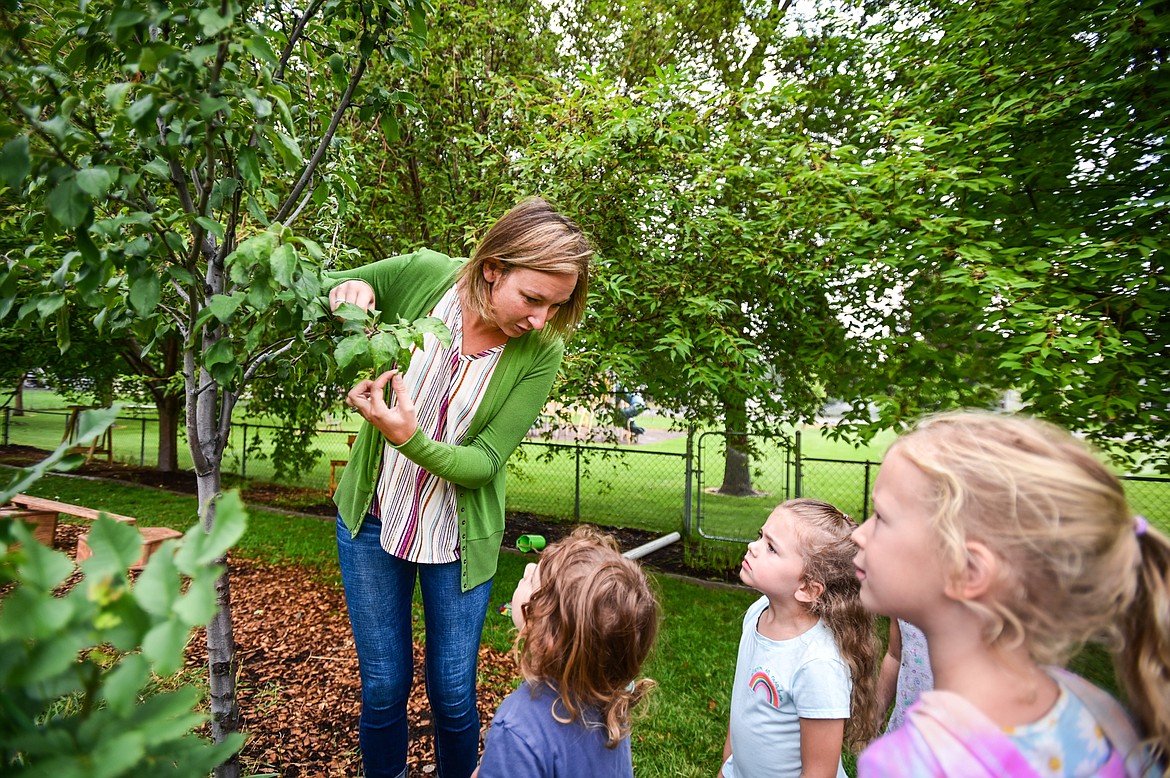 Corinne Kuntz, owner of The Birds Nest Early Learning Village, looks for signs of caterpillars with a group of preschoolers on Friday, Aug. 26. (Casey Kreider/Daily Inter Lake)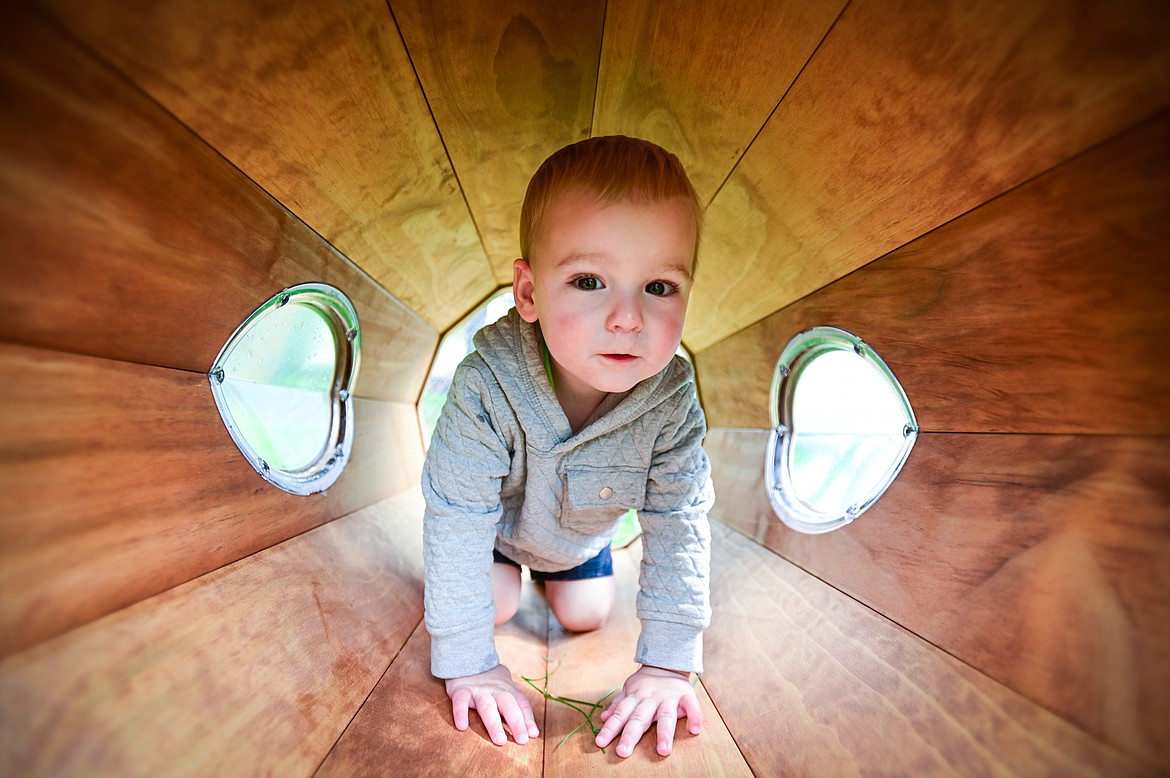 Wesson explores inside a playground tunnel outside the nursery school at The Birds Nest Early Learning Village in Kalispell on Friday, Aug. 26. (Casey Kreider/Daily Inter Lake)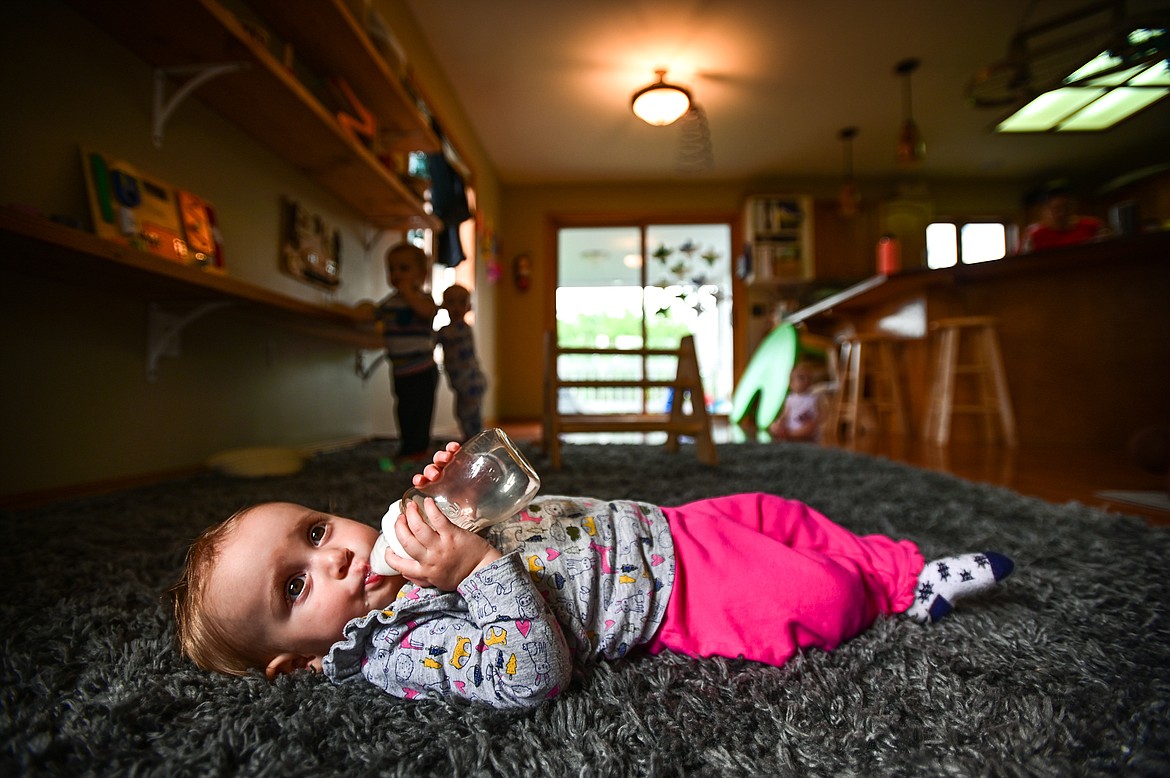 Hawna feeds on a bottle in a patch of sunlight inside the nursery school at The Birds Nest Early Learning Village in Kalispell on Friday, Aug. 26. (Casey Kreider/Daily Inter Lake)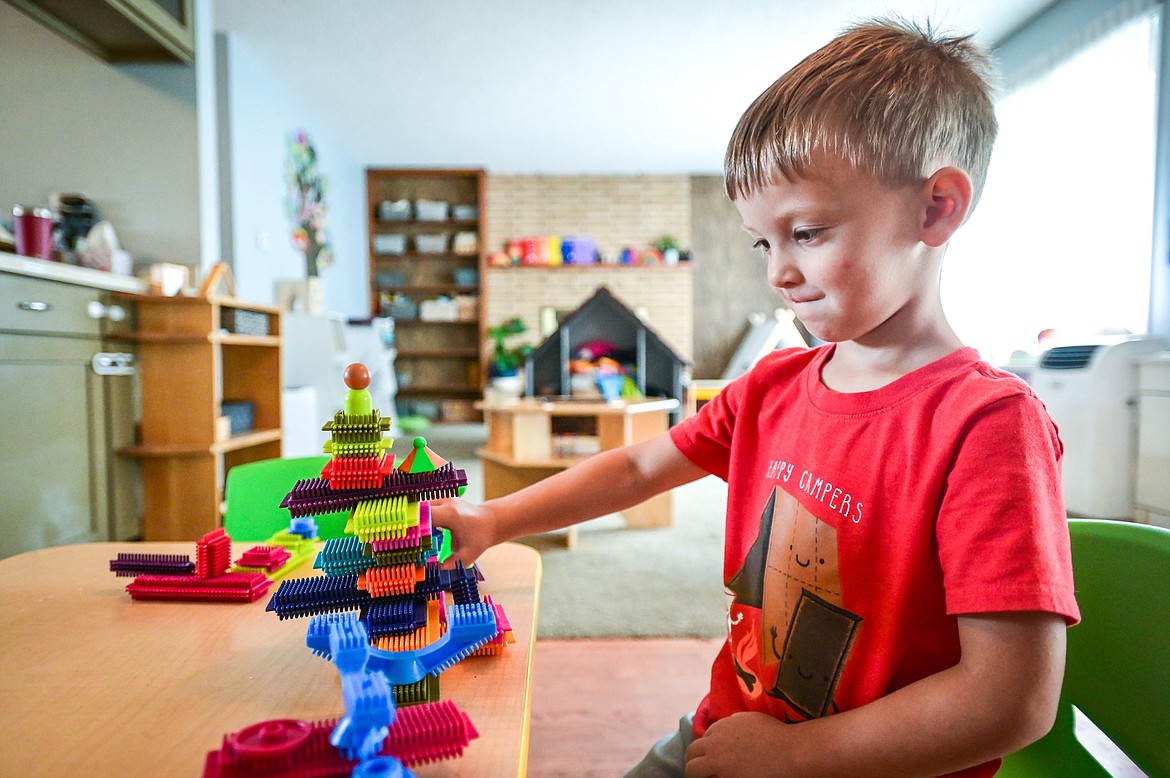 Noah plays with a set of building blocks inside the preschool at The Birds Nest Early Learning Village on Friday, Aug. 26. (Casey Kreider/Daily Inter Lake)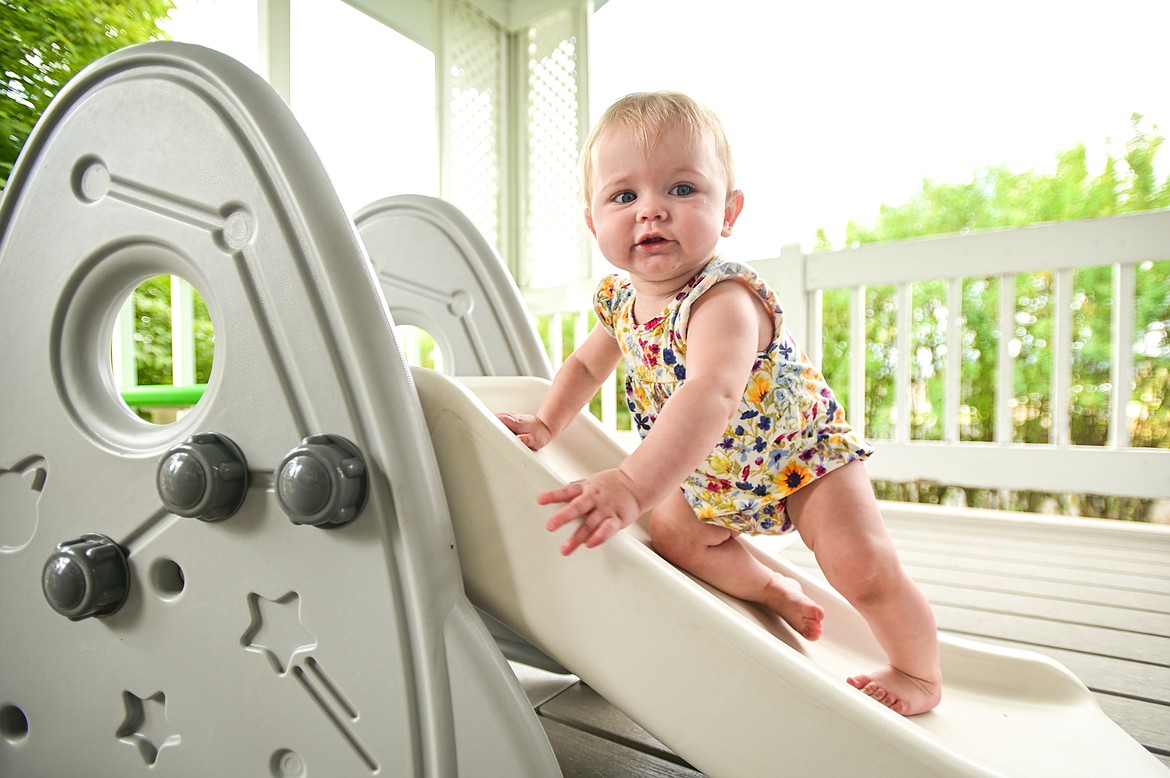 An infant plays on a slide outside the nursery school at The Birds Nest Early Learning Village in Kalispell on Friday, Aug. 26. (Casey Kreider/Daily Inter Lake)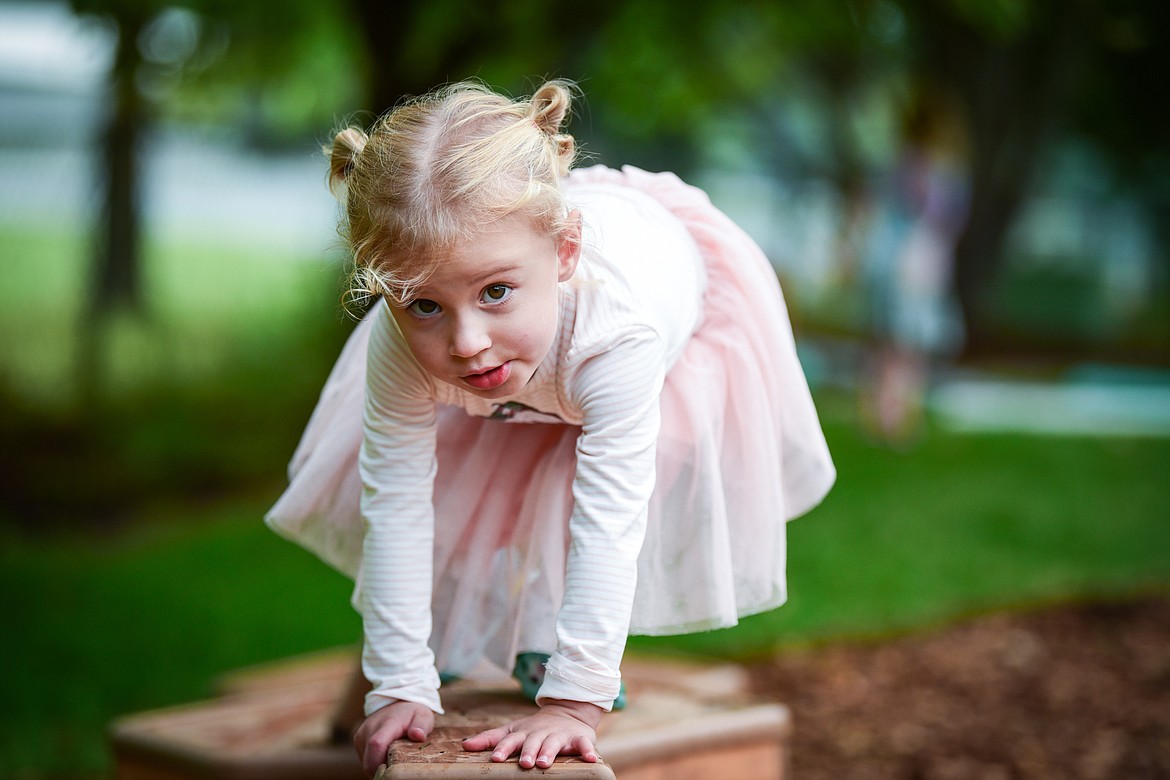 Natalia crawls across a balance beam outside the preschool at The Birds Nest Early Learning Village in Kalispell on Friday, Aug. 26. (Casey Kreider/Daily Inter Lake)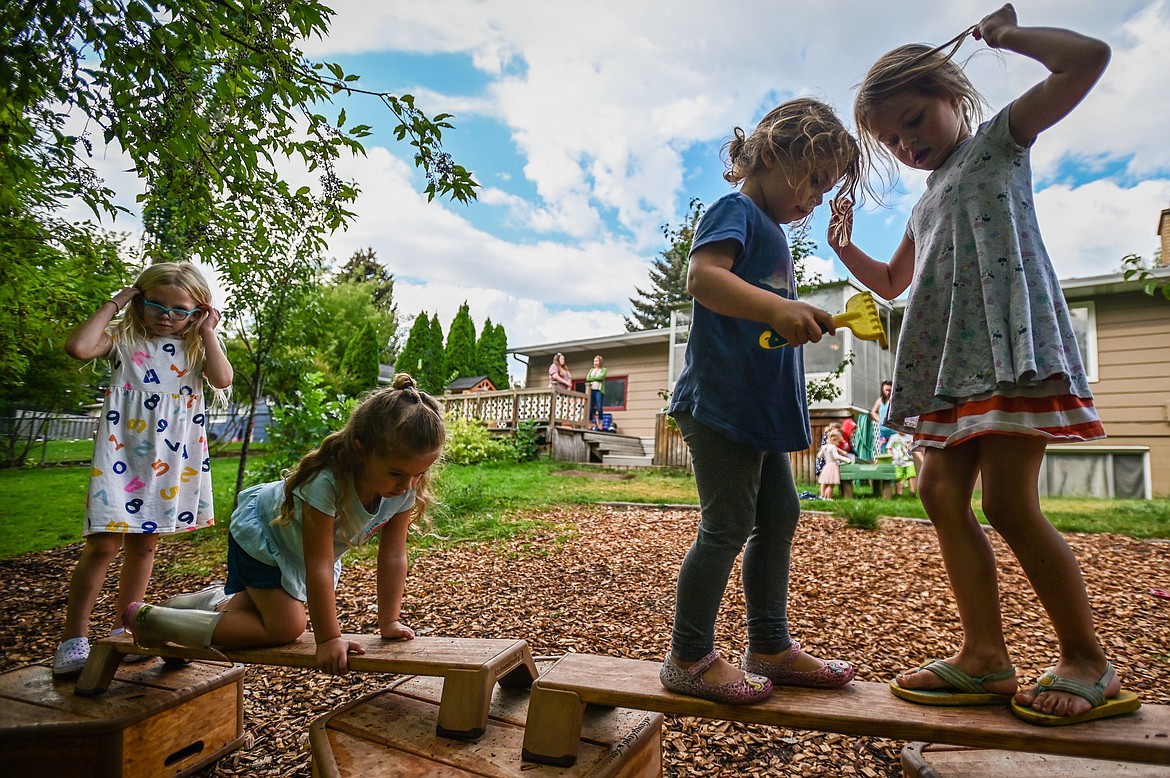 Preschool-aged girls make their way across a balance beam outside The Birds Nest Early Learning Village in Kalispell on Friday, Aug. 26. (Casey Kreider/Daily Inter Lake)
Previous
Next
by
HEIDI DESCH
Daily Inter Lake
|
September 4, 2022 1:00 AM
Finding child care in the Flathead Valley can be stressful for parents as a lack of spaces brings long wait lists. At the same time, business leaders face their own challenges as employees miss work because of gaps in the system and are often unable to recruit untapped workers who can't secure child care.
Helping to potentially assist with a solution, two Kalispell businesses have been awarded American Rescue Plan grants that will allow for the expansion of one child care facility and the addition of a new center.
The Birds Nest received $1 million which will allow it to construct a new facility expanding to more than double its current capacity. While Immanuel Lutheran Communities received almost nearly $900,000 allowing it to create a new facility.
"This is something that we really need in the valley — more quality child care," says Birds Nest owner and founder Corrine Kuntz, who began the early learning center in 2014 after finding a shortage of child care when seeking care for her two children.
The Kalispell Chamber of Commerce this winter launched a new initiative to take on the challenge of finding ways to improve child care in the area — looking for ways to create additional spaces for children and finding ways to ensure sufficient wages for quality employees working in child care. According to the Montana Department of Health and Human Services, there are 1,665 licensed child care slots in Flathead County, which account for only 28% of children up to age 5.
"The lack of workforce continues to be our member's No. 1 priority and child care plays a big part in this crisis. If our initiative has played the smallest part in bringing stakeholders together and driving solutions, we are thrilled," said Lorraine Clarno, President/CEO of the Kalispell chamber. "We have much more work to do but want to thank and celebrate both The Birds Nest and Immanuel Lutheran Communities for their leadership in bringing more access, quality and affordable child care to our community."
The chamber in 2011 embarked on looking at the child-care situation with a four-month study resulting in the plan released this year. Action teams have been working on solutions and the chamber says 500 child-care openings have been identified that it expects to come online in the next year to 16 months.
The lack of providers doesn't only impact families seeking child care, it also impacts businesses as they try to hire and retain employees.
In a chamber survey sent to Flathead Valley businesses, almost all of the 197 respondents reported child care related problems. According to a Montana Department of Labor and Industry survey, caring for children or elderly relatives is the third most common reason for workers leaving the workforce.
THE BIRDS NEST has expanded many times since it began, at one point doubling its capacity. It now serves approximately 55 students, but still has a waitlist of about another 150 children with 75% of those being infants.
Kuntz says she's excited for a long-term goal that she started seven years ago to become a reality finally. The funding is now lined up, along with plans for a new facility to open in the fall of 2023. Not having to finance these two huge costs — the new school and wages leading up to the opening — will allow monthly operating costs to remain lower and higher wages for staff, while offering scholarships to families, Kuntz notes.
"We have had quick growth, but it's always been planned," Kuntz said. "We've always worked really hard to hire quality staff and we want to continue to attract and retain greater teachers and make sure they know they are supported and valued."
In the new facility, The Birds Nest expects to eventually serve about 120 children under one roof, which the center lacks now as it's scattered across multiple buildings. Kuntz says the plan is to add spots in the center incrementally to ensure quality care.
"There's a lot of relief that comes with the additional funding," she said. "The bottom line is that we'll be able to pay staff with higher wages and hopefully provide scholarships for our families to get high quality care."
FOR THE last several years, Immanuel Lutheran has been discussing options for opening a child-care center says Jason Cronk, president and CEO of the communities that offer adult residential and assisted living care.
"This is the right thing to do and it's the right time to do it," Cronk said. "This aligns with the needs of the community and the businesses needs to have more quality child care."
The funds will help Immanuel Lutheran repurpose a space turning it into a new early learning center named Growing Roots Early Learning Center. The center is expected to serve about 74 children from infants to kindergarteners, providing care for Immanuel Lutheran employees, but also community members.
Though the center is expected to officially open in 2023, Cronk said Immanuel Lutheran is also examining options that may allow it to open smaller facilities sooner.
As a business Cronk says Immanuel Lutheran has seen times when hiring has become a challenge because of a lack of childcare facilities.
"Sometimes it does contribute to the decision of an employee to stay at home and not join the workforce," he said. "But if we have our own reliable service that can help to attract staff to come here."
Features Editor Heidi Desch may be reached at 758-4421 or hdesch@dailyinterlake.com.
Recent Headlines
---