Scientists puts DNA microscope on studying harlequin duck population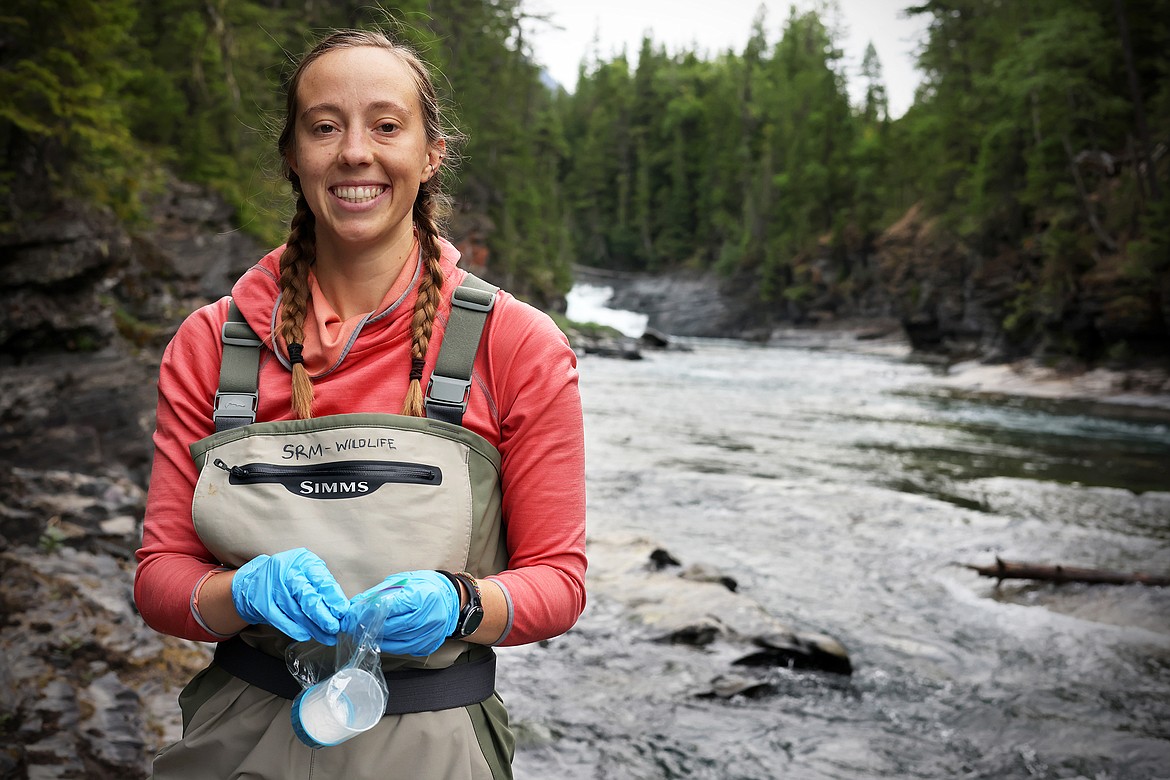 University of Montana graduate student Holli Holmes is changing the way Glacier Park studies waterfowl by introducing the use of environmental DNA capture techniques. (Jeremy Weber/Daily Inter Lake)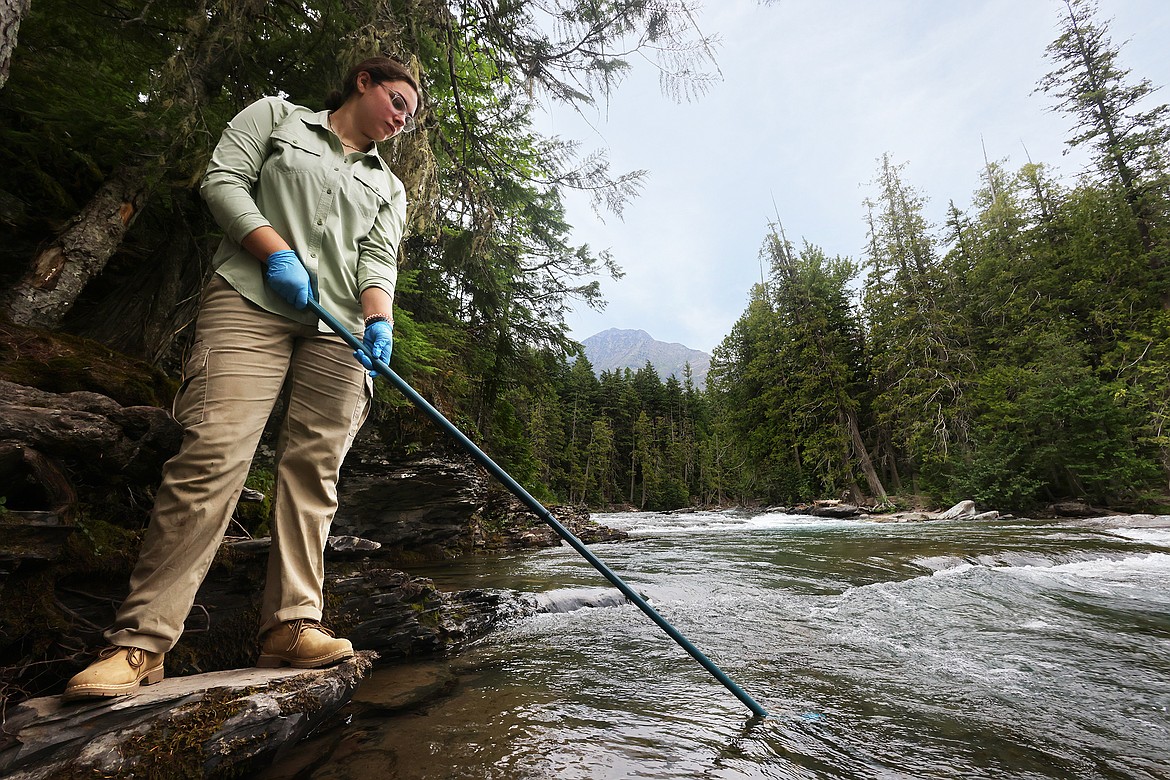 Intern Nora Kehoe collects water samples from McDonald Creek in Glacier National Park Aug. 10 as part of an environmental DNA study of harlequin ducks. (Jeremy Weber/Daily Inter Lake)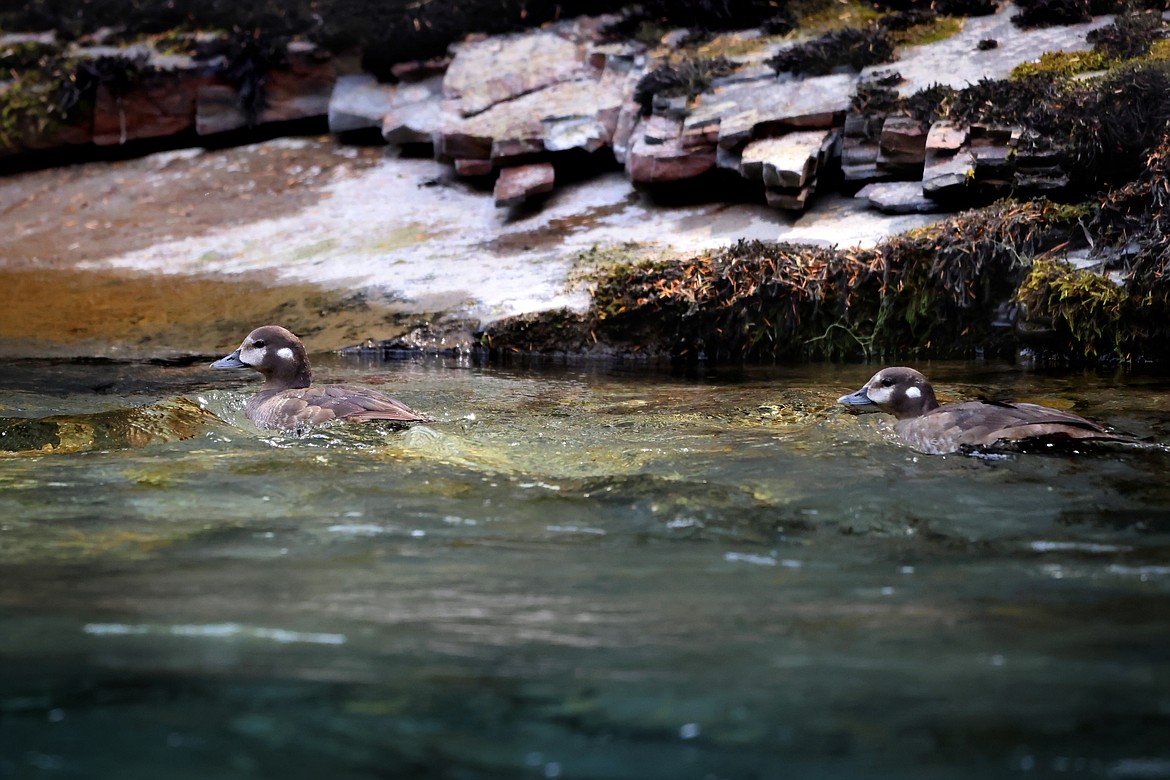 A pair of female harlequin ducks take a leisurely ride down Glacier Park's Upper McDonald Creek in search of food Aug. 10. (Jeremy Weber/Daily Inter Lake)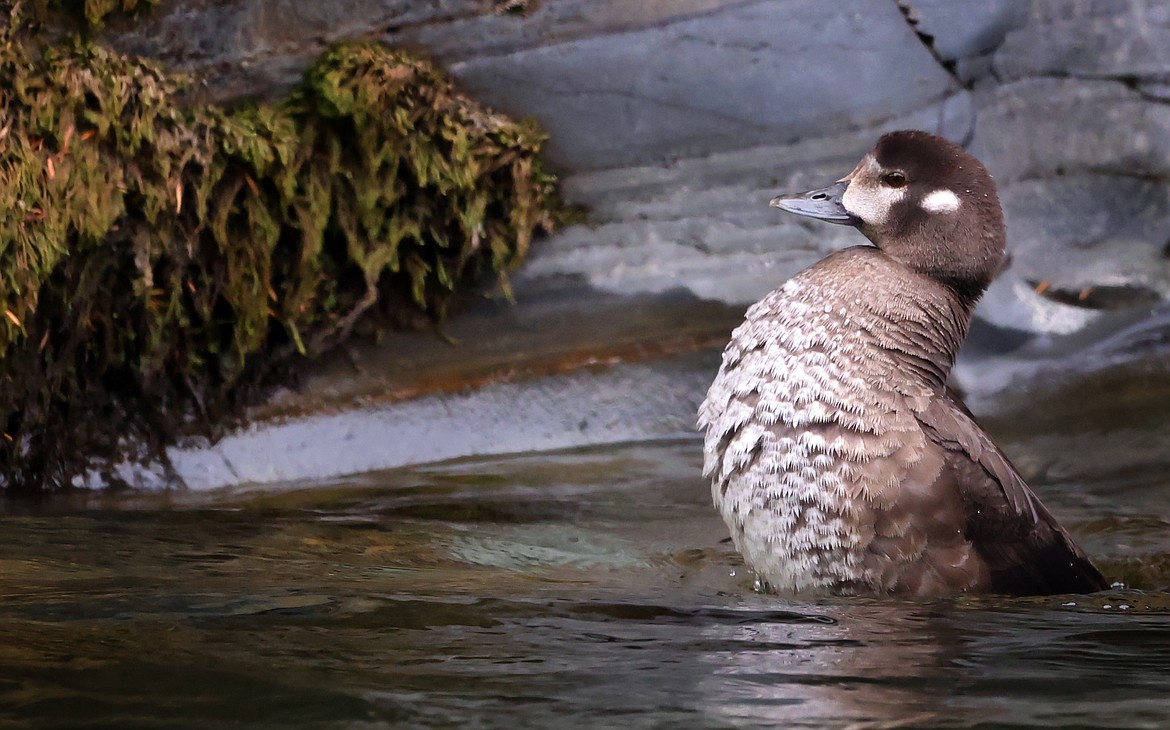 A female harlequin ducks battles the current to swim upstream in Glacier National Park's Upper McDonald Creek Aug. 10. (Jeremy Weber/Daily Inter Lake)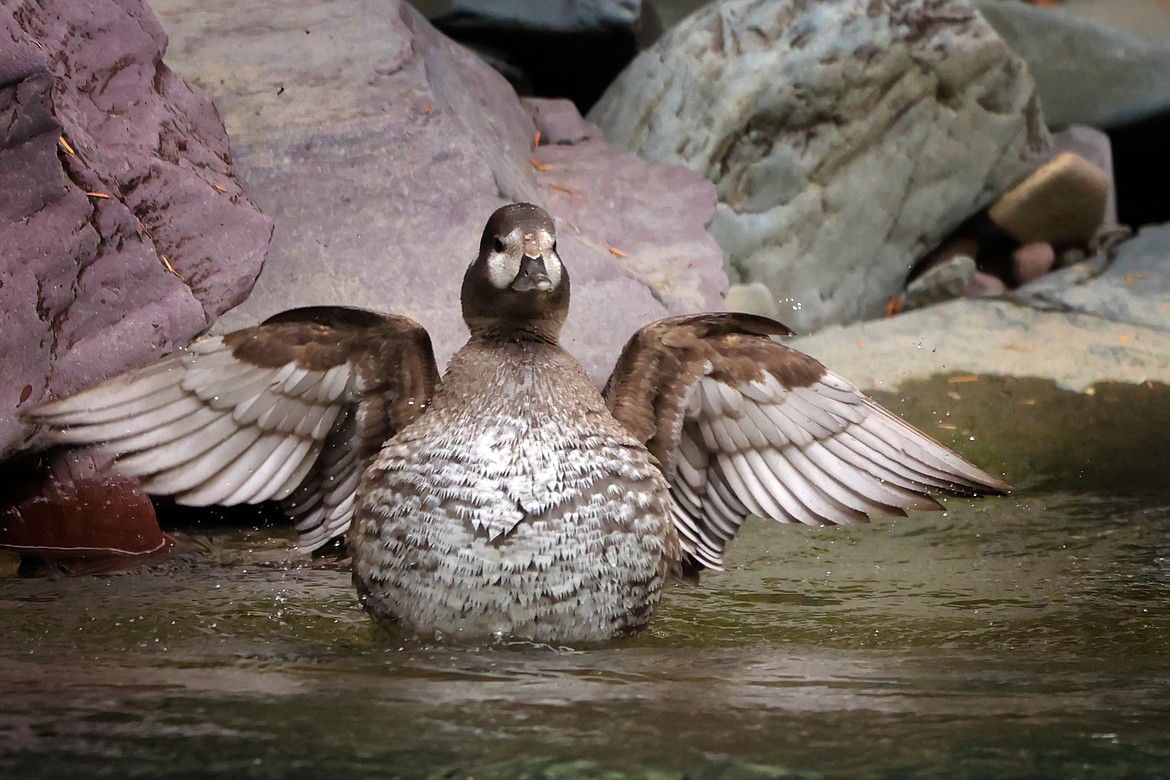 A female harlequin duck stretches her wings in Glacier National Park's Upper McDonald Creek Aug. 10. (Jeremy Weber/Daily Inter Lake)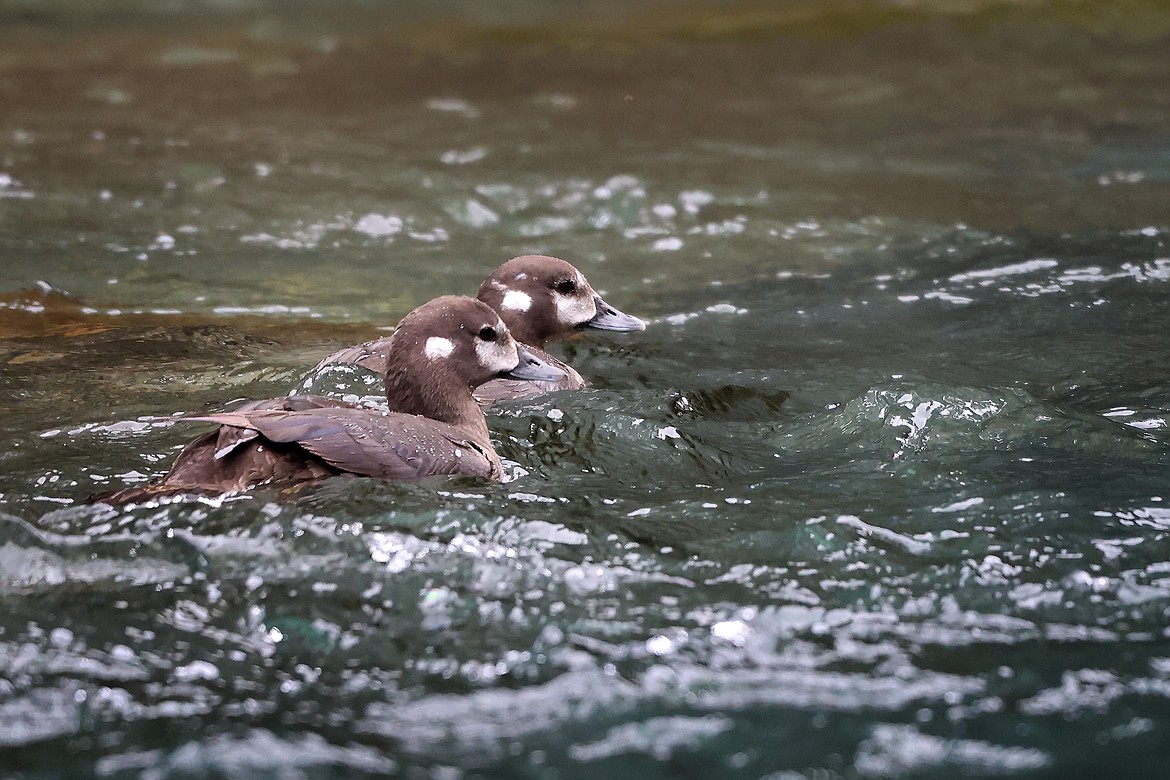 A pair of female harlequin ducks take a leisurely ride down Glacier Park's Upper McDonald Creek in search of food Aug. 10. (Jeremy Weber/Daily Inter Lake)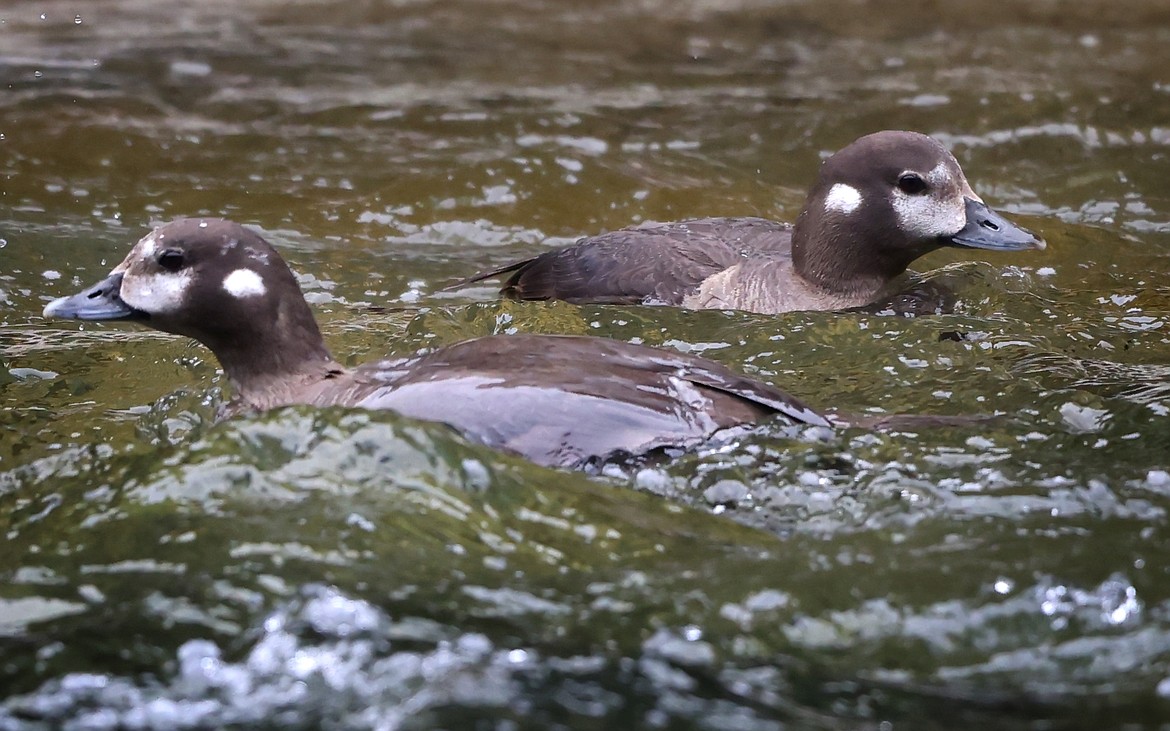 Glacier National Park is hoping to use environmental DNA techniques to help study the population on harlequin ducks on Upper McDonald Creek. (Jeremy Weber/Daily Inter Lake)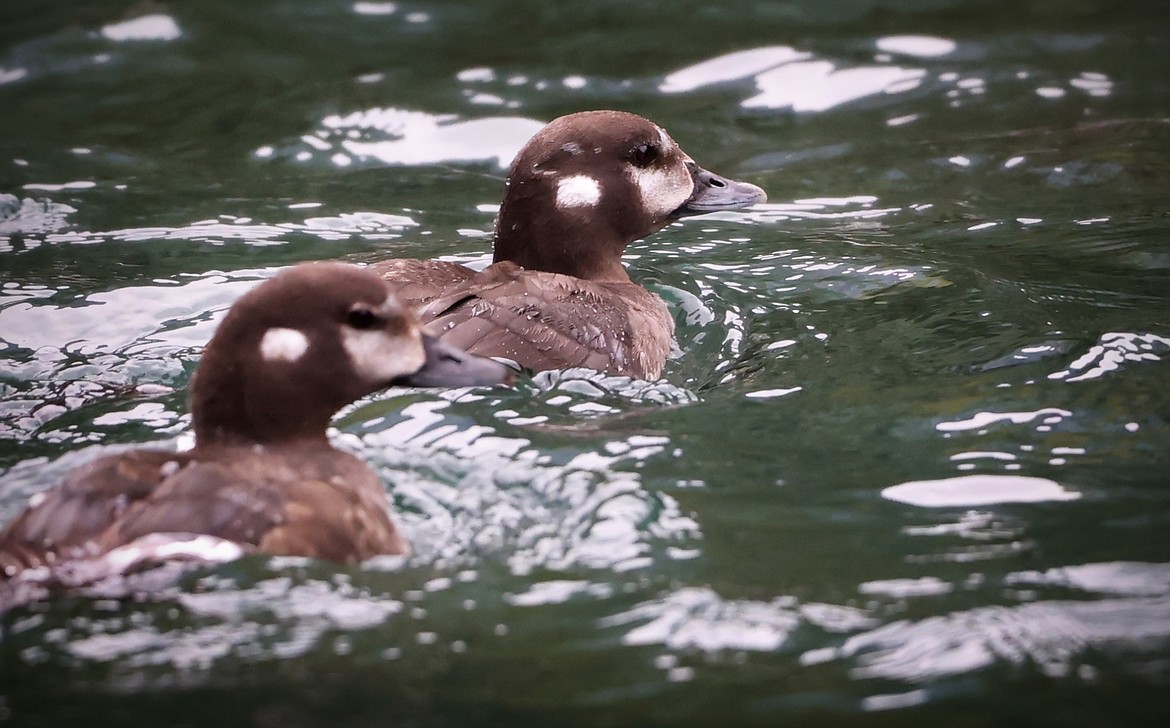 A pair of female harlequin ducks take a leisurely ride down Glacier Park's Upper McDonald Creek in search of food Aug. 10. (Jeremy Weber/Daily Inter Lake)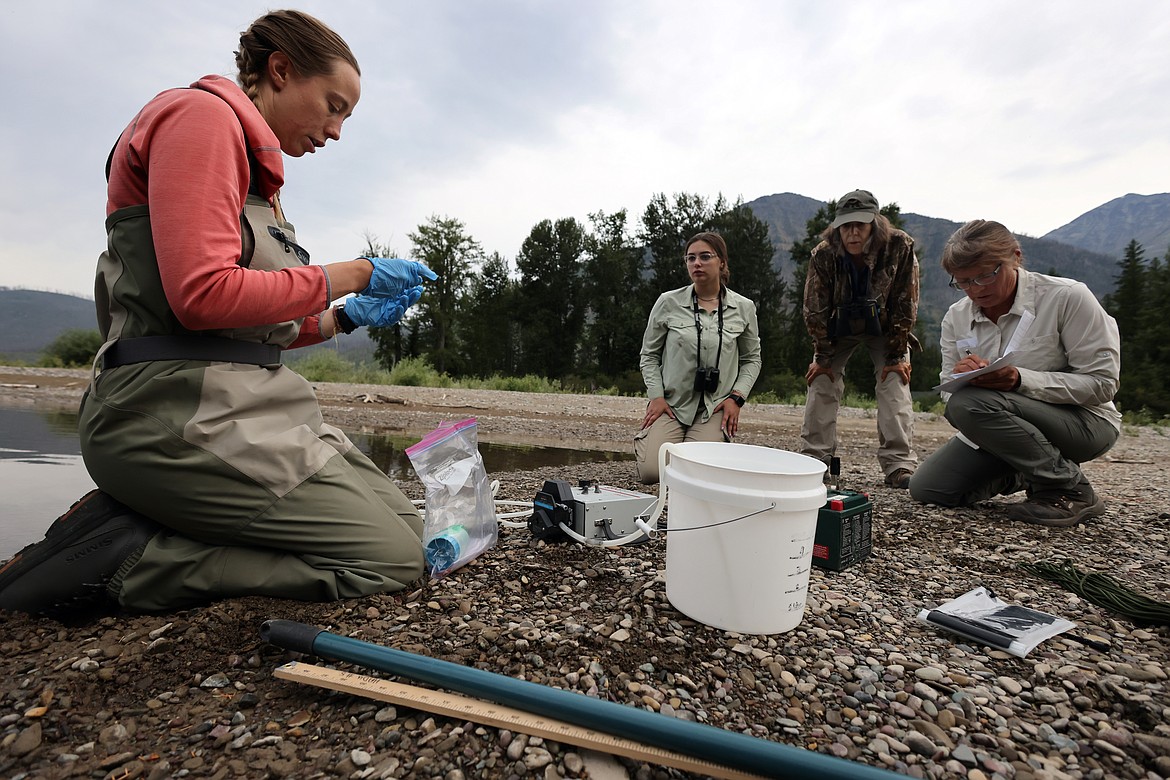 Holli Holmes (left) bags a sample from Upper McDonald Creek with help from intern Nora Kehoe, volunteer Barbara Lancaster and park biologist Lisa Bate. (Jeremy Weber/Daily Inter Lake)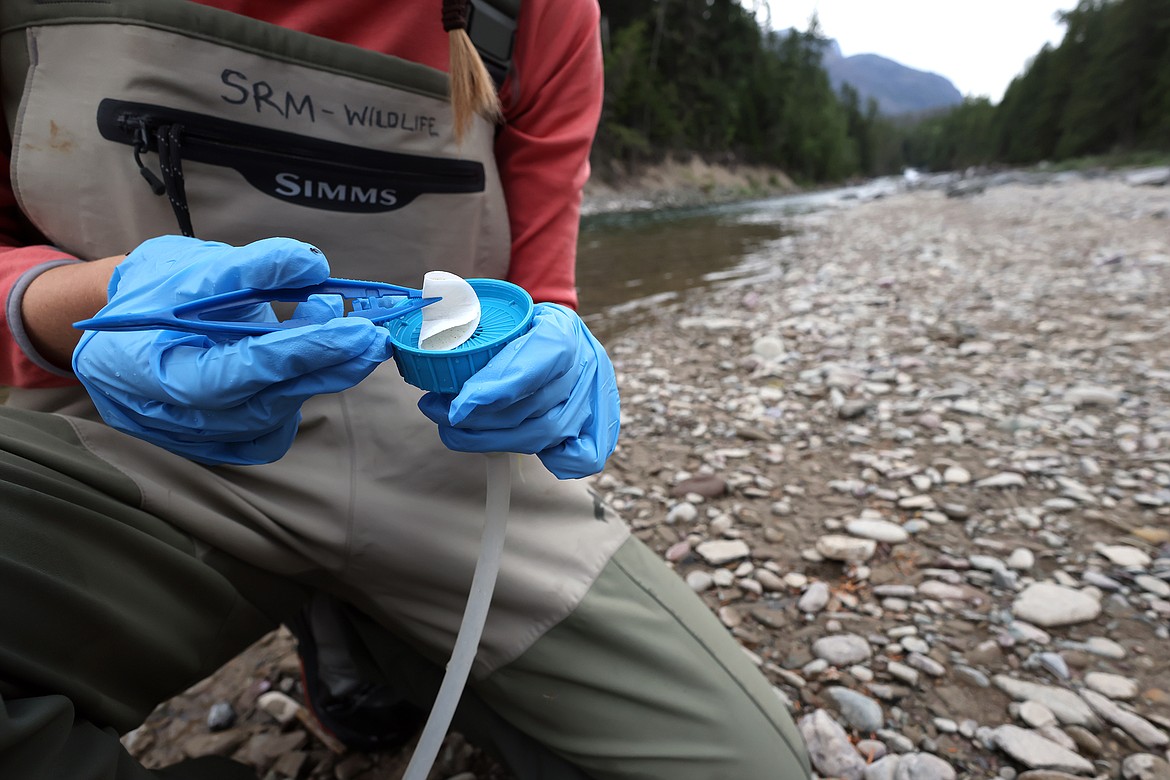 Holli Holmes delicately removes the sample disk for collection during an environmental DNA study for harlequin ducks on Glacier Park's Upper McDonald Creek August 10. (Jeremy Weber/Daily Inter Lake)
Previous
Next
by
JEREMY WEBER
Daily Inter Lake
|
September 4, 2022 12:00 AM
It's early in the morning and University of Montana graduate student Holli Holmes is already hip-deep in work, literally.
On a smokey Aug. 10 morning, Holmes and her fellow Glacier National Park scientists and volunteers are standing in the middle of Upper McDonald Creek in the hopes of learning more about the population of harlequin ducks and how breeding season is going this year.
The outlook is not good.
"Harlequins are a boom or bust species when it comes to breeding seasons," Holmes explains. "Some years are great, but most are a bust because of flood waters disrupting the breeding area."
With heavy rainfall and late season snow melt causing high water along Upper McDonald and other creeks in western Montana during the duck's incubation period in June, it looks like 2022 will be another rough year for the embattled species.
This season, biologists found only one set of chicks on Upper McDonald Creek, an area that has the highest concentration of breeding harlequin duck pairs in the lower 48 states. The creek accounts for 25% of all harlequin duck chicks hatched in Montana each year.
While data from the harlequin's wintering range has shown a steady decline in population numbers of the past years, gathering information from the duck's breeding habitat has always been a struggle for biologists.
"On Upper McDonald Creek, we are very lucky because we have the Going-to-the-Sun Road. There is minimal bushwhacking needed to get to where we need to be. Most of the other creeks in the harlequin duck breeding range are pretty inaccessible," Holmes explains. "Getting data from other areas can be very difficult if not downright impossible."
If the terrain wasn't tough enough, timing of the studies is critical. There is a narrow window of time for biologists to be able to find and estimate the number of chicks hatched each season. If scientists are not in the field at the right time, the data needed can slip right through their fingers.
These are the problems that park biologist Lisa Bate has been struggling with since she started studying harlequin ducks in 2009.
"It seems like every year when I am talking with other biologists, you can do several surveys in a year and see nothing and then on the next one see many chicks. We are always struggling on how to really get a finger on the pulse of what's happening with harlequins on their breeding range," she said. "It can be very frustrating."
THIS YEAR, though, Holmes and Bate entered the field with a potentially powerful new research tool at their fingertips, environmental DNA, or eDNA.
With just a small sample of water, the duo hopes to be able to not only detect harlequins in the creek but also get a reasonable estimate of population size.
"Sometimes as scientists, we hit this plateau trying to figure out how we are going to learn more about something with the tools that we have available. This opens up a whole new field of possibilities for us," Bate said.

While the new survey method could potentially change the way the park studies waterfowl, the technique is still being perfected.
"This is something that hasn't really been tested on a survey of this type. We are curious to learn just how effective eDNA can be in a study like this," Holmes said. "If you have to be within a hundred meters of a duck to get results, it is not a very effective method. If we can detect a duck from farther away and not have to physically see it, then this could be a powerful research tool."
With initial funding and other resources provided by the Glacier National Park Conservancy, the Forest Service, Montana Audubon, Montana Fish, Wildlife and Parks, Montana Natural Heritage and others, Holmes is hoping the $280,000 project will help change the way harlequin ducks are studied while helping her earn a master's degree from the University of Montana.
"We have a lot of support, but we are still fundraising to make sure this two and a half year project can continue," Holmes explained.
This season, the study surveyed three creeks in the park, one in Idaho and six more around western Montana and found harlequin ducks in seven of the 10 streams with foot surveys, but eDNA results are still pending from the National Genomics Center for Wildlife and Fish Conservation.
Results could be available by the end of the fall, but could take as long as several months.
If the technique is successful with harlequin ducks on Upper McDonald Creek, Holmes is confident it can be adapted to study other species as well.
"It's just a super exciting new possibility for us," she said. "It's giving us new tools to advance our learning about the conservation of harlequins and other species of concern in riparian habitats."
Recent Headlines
---