Veterinarian focuses on treating athlete horses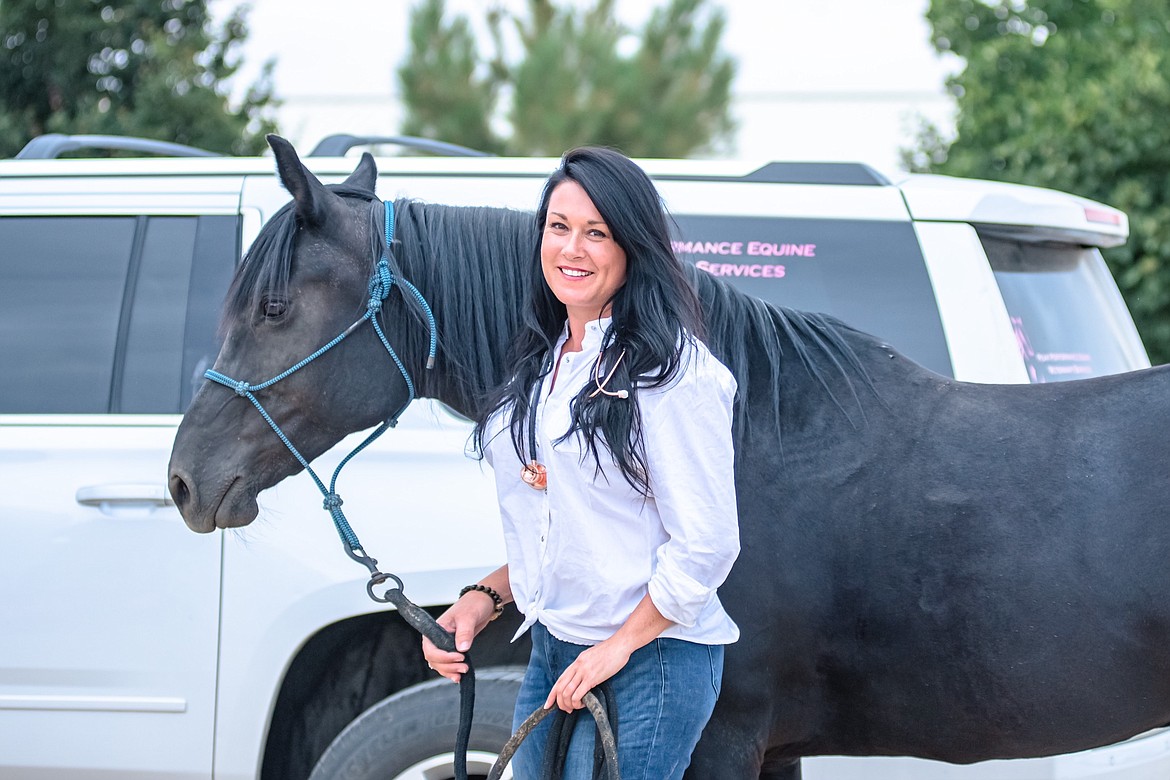 Veterinarian Cierra Dedeker has turned her gift of communicating and understanding horses into a profession with Peak Performance Equine, a veterinarian clinic for horses focusing on regenerative wellness and sports medicine. (Courtesy photo)
by
SuMMER ZALESKY Daily Inter Lake
|
September 4, 2022 12:00 AM
Veterinarian Cierra Dedeker has turned her gift of communicating and understanding horses into a profession with Peak Performance Equine, a veterinarian clinic for horses focusing on regenerative wellness and sports medicine.
Growing up in the jumper world, Dedeker was always around horses and in high school, she discovered her love for sports medicine. Dedeker received her doctorate of veterinary medicine from Atlantic Veterinary College and worked in several clinics such as the Alamo Pintado Equine Medical Center and the Monterey County Equine Center. After graduating, Dedeker started her own practice in 2011 in Great Falls and traveled all over the west aiding clients in California, Oregon, Idaho and Montana. Eventually, Dedeker's work brought her to the Flathead Valley where she enjoys the great outdoors with her husband and her daughter who also rides and shows horses.
The majority of Dedeker's patients compete in dressage, jumper, hunter-jumper and discipline events and many are prospects for or have participated in the Olympics. Dedeker's primary focus is preventative care and she uses the most current diagnostic modalities and treatment options available.
With a substantial equine presence in the Flathead, and not many options for care in the performance horse world, Dedeker's practice has quickly flourished.
"I learned quickly that there really wasn't a ton of coverage as far as the veterinary work up here," Dedeker said. "Rebecca Farms does a lot of show jumping, and I have a lot of show jumping clients. Then there's a ton of horse racing, roping, and rodeo-type horse work."
When a horse has a gait or stance abnormality, is lame or limping, they are "unsound" which can be the result of musculoskeletal issues, joint issues, illness or injury. Dedeker aids unsound horses by using regenerative medicine and nursing them back to their peak levels.
"A lot of the time I'm treating or diagnosing them with an ultrasound or in the field and then doing further diagnostics if an MRI is needed," said Dedeker. "Usually, I can get it done with what I've got in the field and then treat them with some type of regenerative like platelet rich plasma or a stem cell type derivative which is usually injected directly in the joint or lesion and I can do it all with standing anesthesia."
According to Dedeker, platelet-rich plasma therapy is a highly accurate treatment that is even making its way into the world of human medicine.
"People are looking at the regeneratives of what we can do with our own blood and the properties that we have, and really filtering it down to the anti-inflammatory particulate."
Dedeker uses Provet and Pro-Stride, joint medications used to provide anti-inflammatory effects and pain control. She offers haul-in or farm service which gives clients the flexibility to choose what works best for them. After treatment, she performs a 30-day recheck to assess the resolution of the problem.
In the future, Dedeker expects to expand her practice and hire more general practitioners. As Peak Performance Equine is a specialized practice, Dedeker expects to spend the next five to 10 years coaching recently graduated vet techs into the sports medicine arena.
Dedeker says that she and her family have made many sacrifices along the way.
"My husband and my daughter are my biggest support and inspiration on every step of this journey," she said.
Ultimately, Dedeker's goal is to get riders back in the saddle and horses back into the show ring doing what they love.
"I absolutely love what I do," she said.
"A lot of people don't know what options they've got and I know a lot of people are hauling a pretty long distance for sports medicine," Dedeker said. "But I'm here and happy to help."
Dedeker can be at 406-885-7148. To find out more about the services that Peak Performance Equine offers, visit their website peakperformanceequinepllc.com.
Reporter Summer Zalesky may be reached at szalesky@dailyinterlake.com.
Recent Headlines
---