Lemonade Fire slows in timber harvest areas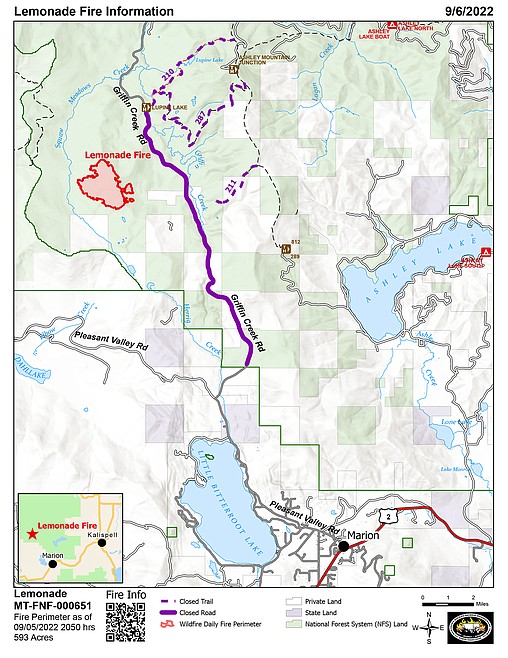 A map shows the Lemonade Fire west of Kalispell.
by
MATT BALDWIN
Daily Inter Lake
|
September 6, 2022 10:00 AM
A wildfire burning near Marion slowed its progress over the weekend as it moved into timber harvest areas that were cleared of brush, fire officials reported Tuesday.
The lightning-caused Lemonade Fire was estimated at 593 acres, with 0% containment. It is burning on the Flathead Forest west of Kalispell near Ashley Lake and Little Bitterroot Lake north of U.S. 2. About 157 firefighters were working on the blaze Tuesday.
No evacuations have been ordered, however one property is under a pre-evacuation notice.
Crews over the weekend built fire lines on the southeast and east sides of the fire, and were working toward the north.
Officials report that the northwest perimeter was slowed significantly in areas where slash treatments were performed during a timber harvest.
"These treated areas are moderating fire behavior and helping considerably with the suppression efforts," the Tuesday morning fire report noted. "Fire managers will seek opportunities to use heavy equipment to construct lines connecting timber plantations and other treated areas."
Air tankers dropped retardant on the southwest flank. Helicopters and fixed-wing aircraft were also on the scene.
Fire officials noted that while additional resources continue to come in to fight the Lemonade Fire, many other fires are burning throughout the Northern Rockies.
"Crews, equipment, aircraft, and other resources will be prioritized and coordinated throughout the region," the fire report stated.
ONE OF those nearby fires is the Margaret Fire, burning on the Swan Range near Margaret Lake. A smoke column from the fire has been visible at times from the Flathead Valley and from the Hungry Horse Reservoir. 
The lightning-caused Margaret Fire was estimated at 186 acres Tuesday. Just six firefighters were assigned to the blaze.
"Given the fire location, steep, rocky terrain, and limited access, the strategy will be point protection of values at risk," officials stated in the Tuesday fire report.
In Glacier Park, a new fire was detected Sunday on the north ridge of Heavens Peak.
The North Camas Fire was 8 acres in size, as of Tuesday. It is on steep and inaccessible terrain in Glacier's upper Camas Creek drainage.
Officials report that the area has minimal forest fuels, which is expected to limit the potential for fire spread. Glacier fire managers are monitoring the blaze.
A Red Flag Warning is in effect Wednesday for strong winds and low humidity. Highs in the mid 80s and low 90s are expected across Northwest Montana.
A major cool down is predicted later in the week, with highs in the 60s and lows in the 30s. Mountain peaks in places like Glacier Park could see a dusting of snow.
Recent Headlines
---