Residency program benefits future educators, school districts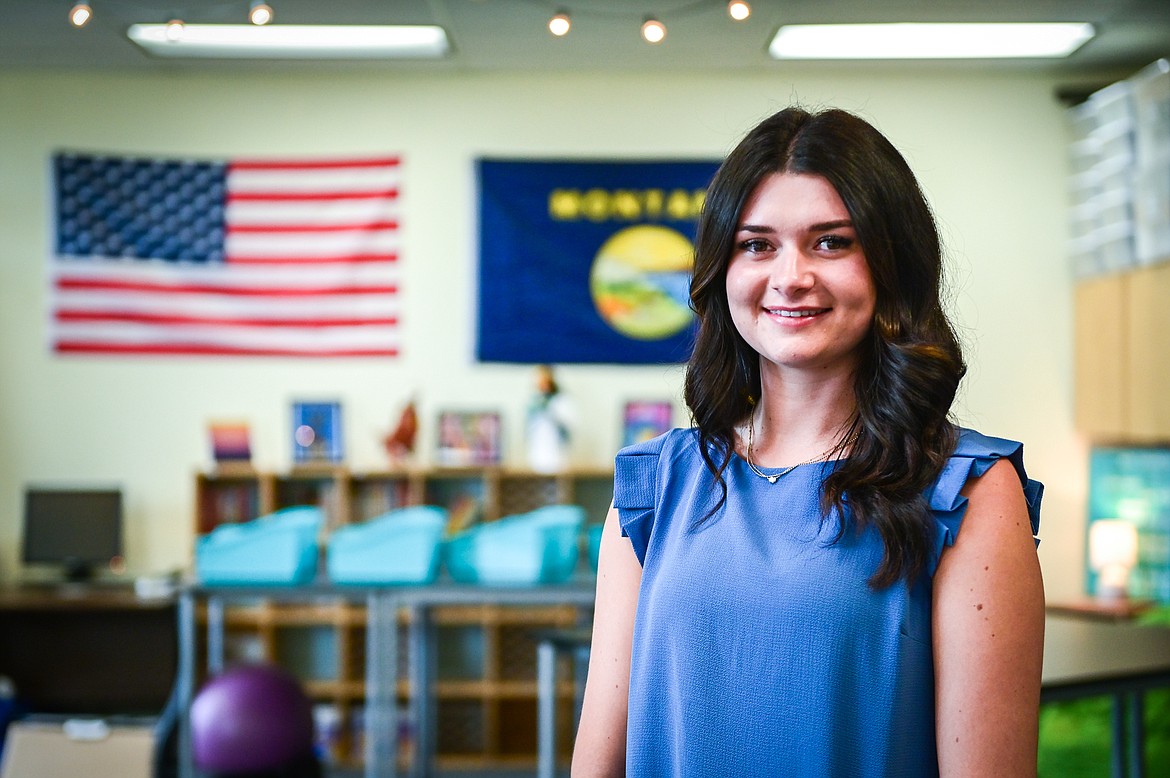 Student-teacher Madison Loomis at Cayuse Prairie Elementary School on Tuesday, Aug. 23. (Casey Kreider/Daily Inter Lake)
by
HILARY MATHESON
Daily Inter Lake
|
September 6, 2022 12:00 AM
The Montana Office of Public Instruction is hoping to address teacher shortages and better prepare future educators by incentivising traditionally unpaid student teachers to work in rural or high-needs schools by offering stipends, housing and tuition support.
The incentives are part of a new program called the Montana Teacher Residency Demonstration Project. Twenty student teachers, including Madison Loomis of Kalispell, will be working in 12 schools around the state as part of the residency program.
Student teachers like Loomis work under the supervision of a certified teacher to gain experience in the classroom. Student teaching is typically the final requirement in getting a teaching degree. Loomis, an education major at the University of Montana Western, will be student teaching at Cayuse Prairie School under the supervision of third-grade teacher Shannon Limberis.

"Everywhere across our nation there is a teacher shortage," Cayuse Prairie Principal Amy Piazzola said. "We are blessed we have all teacher positions filled. Not everybody in Montana is so fortunate."
Resident student teachers receive a $14,000 stipend from OPI, through federal Covid-19 relief money from the Elementary and Secondary School Emergency Relief Fund (ESSER) that was set aside for workforce redesign. A partial tuition waiver of up to $3,000 is also available to resident student teachers, who are not already receiving full tuition support from their respective colleges. The Office of the Commissioner of Higher Education is also providing tuition waivers to residents who qualify. The teacher-leaders who work daily with each resident will receive a $6,000 stipend.
Since Loomis will be living with her parents in Kalispell, she will receive alternative compensation instead of school district-provided housing such as mileage reimbursement for her commute to Cayuse Prairie.
"It would be very difficult if I wasn't living at home. Especially in Kalispell right now," Loomis said.
In exchange, resident student teachers stay on with their schools for a full year as opposed to a traditional semester-long experience.
"It's really beneficial to see what everything looks like at the beginning of the school year, after the holidays and closing out a school year," Piazzola said. "You get the full experience."
GETTING TO student teach for a full year was particularly important to Loomis after the time she was supposed to spend observing classrooms was cut short during the Covid-19 pandemic when school districts across the state began restricting classroom guests and visitors.
"This is why I find this program so beneficial is gaining back those hours the pandemic took from me," she said.
Additionally, resident student teachers commit to working in Montana schools for two years. Traditional student teachers do not have this requirement, according to OPI Communications Director Brian O'Leary.
"The overall goal of this program is to increase the proficiency of first and second-year teachers," O'Leary said.
The timing was right for Loomis to participate in OPI's new program, which is open to education majors in their fourth year. Loomis is set to complete her final four classes online this fall and is set to graduate in spring 2023.
"These students are still students," Piazzola said. "Some of them are still taking classes 80% of the time and teaching 20% of the time in the building. Every district gets to plan that time how they see fit."
Financially, Loomis said a program like this will help Montana's student teachers immensely, allowing them to focus on their education and professional development.
"Student teachers are not getting paid. They're paying for college courses on top of that and student teachers usually find night jobs," she said.
Loomis said she got into teaching because of her experience in jobs working with children throughout high school and college. She wanted to continue making a difference in children's lives.
"I didn't necessarily love school at a young age. Having good educators who loved to be there made a huge difference. I also want to be someone impactful in students' lives," Loomis said.
The Teacher Residency Demonstration Project was co-developed by OPI the Montana University System, Montana School Boards Association, school districts, legislators, and residency model experts from Colorado, Idaho, Illinois, Virginia and Washington, D.C., according to opi.mt.gov.
Reporter Hilary Matheson may be reached at 758-4431 or by email at hmatheson@dailyinterlake.com.
Recent Headlines
---