Uniting girls to teach coding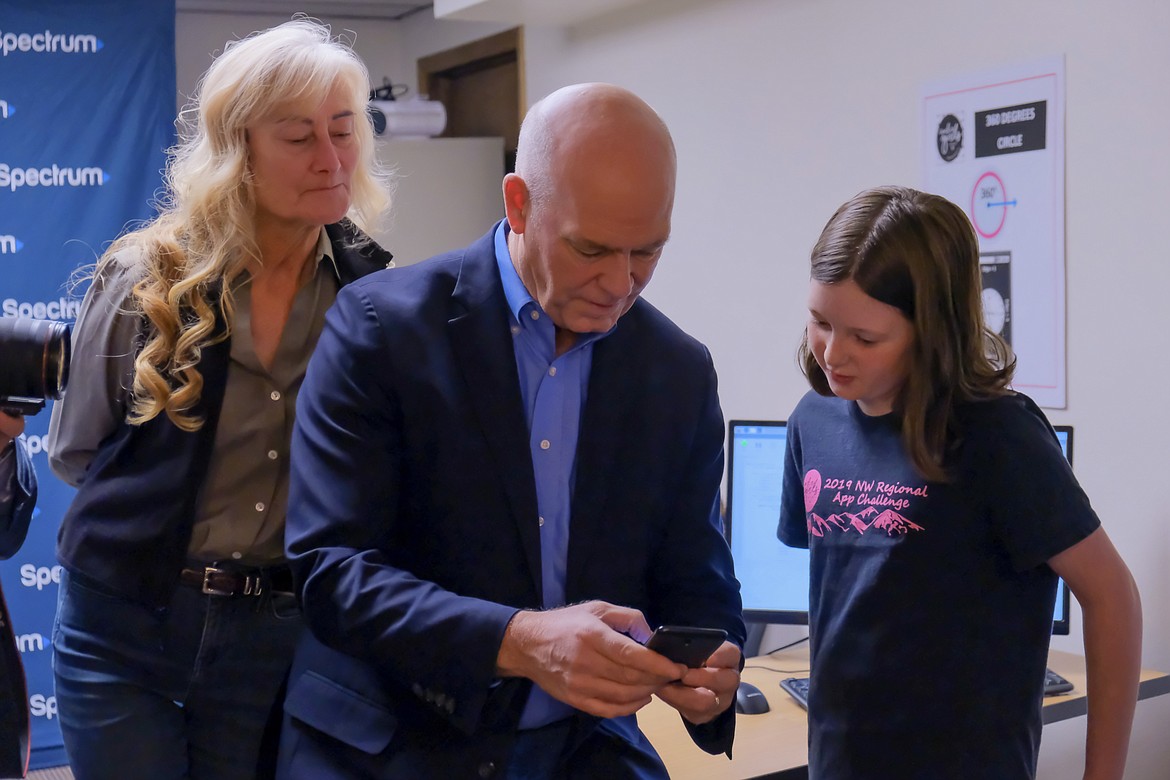 Code Girls United member Liesel Ashley shows Montana Gov. Greg Gianforte and his wife Susan an app in this Thursday, Dec. 16, 2021 file photo. The Gianforte's visited Kalispell to award a Spectrum Digital Education grant to the program. (Courtesy photo)
by
HILARY MATHESON
Daily Inter Lake
|
September 9, 2022 12:00 AM
Flathead County fourth- through eighth-grade girls interested in making a difference in their communities through technology are invited to sign up for Code Girls United.
Code Girls United is a free after-school program for girls who meet weekly to learn coding basics and develop apps, including one that will tackle an issue in their community. Girls will spend the first half of the year learning computer science basics and will then form teams and choose service projects to develop an app and business plan. Girls will then have opportunities to pitch their projects at state, national and international competitions. As participants continue with Code Girls, they build on the basics to develop more advanced projects.
"We want to give girls a foundation to understanding computer science. It's so ubiquitous," Code Girls United Executive Director Marianne Smith said. "It touches every kind of job in the future. We want to encourage girls to see if a career in tech is something they would like to do."
Girls will also be learning from women who have experience working in computer science and business fields.
"We feel it's very important girls not be afraid or intimidated by it and we make it happen in a way girls like. They work on something they're passionate about," she said, giving an example, "They want to solve the garbage problem and make the world a better place."
Registration is open for Code Girls United and space is limited to 25 students in each time slot. There are both in-person and online options. Girls in Flathead County may attend in person, in either Kalispell or Bigfork. In Kalispell, girls can sign up to attend from 4 to 5 p.m. Tuesdays or Wednesdays at Gateway Center, 1203 U.S. 2. In Bigfork, Code Girls United will meet from 3:30 to 4:30 p.m. Thursdays at the Bigfork Art and Cultural Center, 525 Electric Ave. Online participants will meet from 4 to 5 p.m. Thursdays in a Google classroom. Online participants will need to have access to a computer and broadband internet.
People interested in volunteering for the nonprofit are also welcome to contact Code Girls United. Volunteers with tech and business backgrounds are a plus but people with other skills that may be beneficial to the program are also welcome. Last year, for example, a volunteer with graphic design experience taught students basic design principles to aid in the presentation and appeal of their apps, according to Smith.
"It's great if people can help with those things because you can have the greatest technology in the world, but if no one can use it, it doesn't matter how great it is," she said.
One of the culminating events of the year for the nonprofit is hosting the Northwest Regional App Challenge on April 30, which is organized by the nonprofit. Teams competing in the challenge have the chance to win scholarships in the amounts of $5,000, $2,500 and $1,000. The competition will once again be held online this year after organizers realized the competition could have a further reach around the state and remove possible barriers such as traveling expenses. During the challenge, competitors from around the state showcase their apps to judges, which include industry professionals.
"It's like Minnow Tank," Smith said with a laugh, a play off of the TV show "Shark Tank."
Register at codegirlsunited.org. For more information call Code Girls United Program Director Brenda Reiter at 406-334-3183, or email b.reiter@codegirlsunited.org.
Reporter Hilary Matheson may be reached at 758-4431 or by email at hmatheson@dailyinterlake.com.
Recent Headlines
---