Writing coaches find fulfillment in helping students, supporting teachers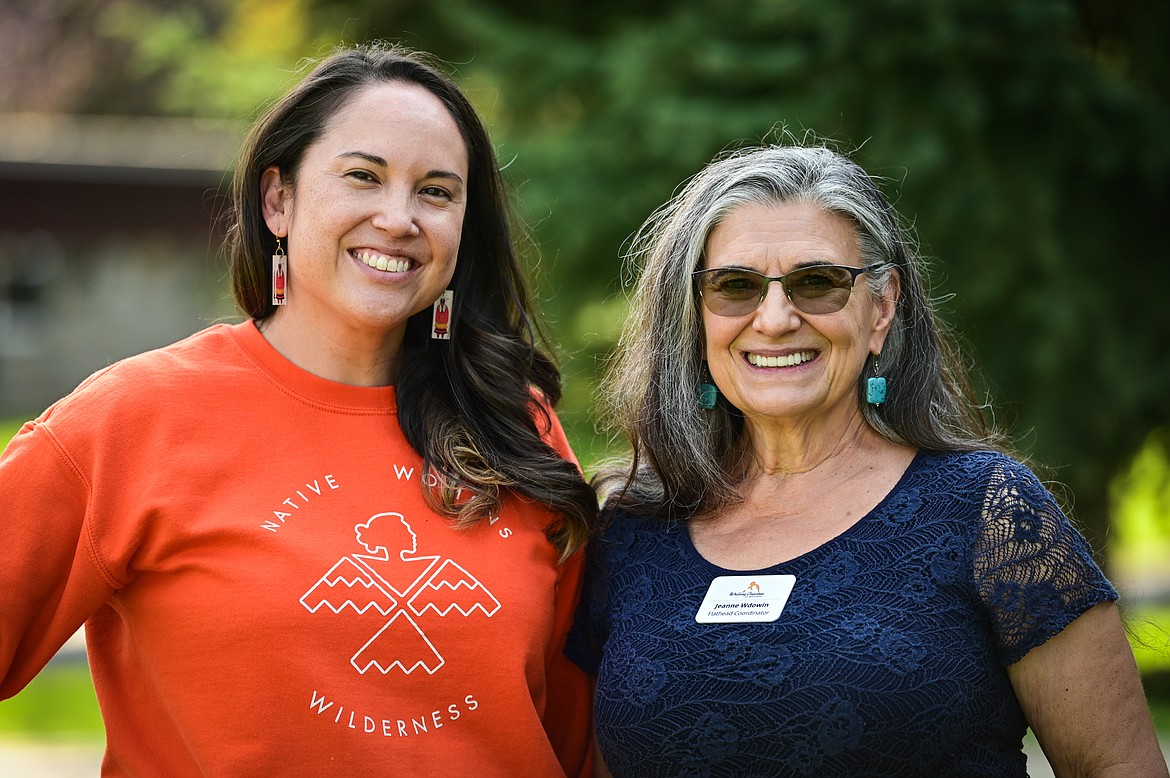 Jeanne Wdowin, right, Flathead County coordinator with Writing Coaches of Montana, with volunteer Hallie Brown at Flathead Valley Community College on Wednesday, Sept. 7. (Casey Kreider/Daily Inter Lake)
by
HILARY MATHESON
Daily Inter Lake
|
September 14, 2022 12:00 AM
Writing Coaches of Montana is seeking more volunteers to help students express their ideas on paper and improve their writing skills as the program grows in Flathead County schools.
About 50 volunteers are needed to round out the program after adding Kalispell Middle School last spring. The program, which historically served seventh through 12th grade, also started serving fourth graders last year after a successful pilot program at Muldown Elementary in Whitefish. The program started in one classroom and in the spring opened to all fourth graders.
"We wanted to see if the program worked at the elementary level," Writing Coaches of Montana Executive Director Cassie Sheets said.
By fourth grade, students are writing paragraphs and exercising their critical thinking skills, according to Writing Coaches of Montana Executive Director Cassie Sheets.
In addition to Whitefish and Kalispell, the nonprofit works in Columbia Falls School District. The program, which started in Missoula County in 1995, also currently serves Ravalli County.
"We're the type of program that fills whatever teachers need," Sheets said. "We love partnering with teachers."
Sheets said coaches are not limited to English or creative writing classrooms, but all subjects and writing assignment types.
Wdowin, who started as the Flathead County coordinator in 2021, draws from a 39-year career in education. In the classroom, she mainly taught science and math.
"I incorporated writing into anything I taught," Wdowin said.
"Writing is hooking into your thoughts [and] it's putting your thoughts onto paper," she said.
Being able to write about a topic effectively also demonstrates an understanding of subject matter, according to Wdowin.
No prior experience in coaching or teaching is necessary and people do not have to be expert writers to volunteer. Volunteers will be trained by experienced staff in best practices.
"You just need an openness and interest," Wdowin said.
A virtual training session will be held from 6 to 8:45 p.m. on Thursday, Sept. 15, however, more will be scheduled based on interest.
"We'll hold as many trainings as coaches are interested in joining our force," Sheets said.
On Sept. 7, Wdowin and writing coach Hallie Brown were recruiting more volunteers during Flathead Valley Community College's Involvement Fair.
Brown said her training experience also taught her how to engage with students and provide feedback by running through different scenarios.
"How would you deal with it if they, for example, don't engage with you? Or, they sit down with you and don't want to talk about their piece at all — they just want to talk. They give you some ideas on how to deal with that," Brown said.
In the classroom, writing coaches receive continued support from Wdowin who supervises sessions to answer any questions.
Writing coaches may volunteer as often as they like and may select the times and dates they want to volunteer in schools. Writing coaches typically spend about 25 to 30 minutes working one-on-one with a student. There are options to coach in person and online.
Brown said she usually signs up to volunteer during her lunch break.
"I feel people get overwhelmed and think it's a big time commitment. Even if you're able to do an hour or two in a quarter or semester, that's huge."
She said it was an opportunity to show her support for teachers by helping out.
"We hear a lot about all the staffing shortages and if you're like me, you work full time, you're like there's nothing I can do to help with that," Brown said. "This is huge. This is a way for you to give a little bit of time out of your day to work with your community — work with a local teacher. That shows schools you support them."
Brown said teachers are very welcoming.
"I mean, you walk in and it's like if they could throw confetti they would," she said smiling.
As a former middle school teacher, Wdowin understands the workload teachers have.
"When I did teach I had a class load of 125. Teachers have so much work. Their load is so intense. How do they find time to really interact one-to-one with 125 students? So what we do is we support the teacher. Teachers invite us in. They explain their assignments, then give us the expectations, so we have guidance from the teachers," she said.
LISTENING IS an important part of each student conference.
"We establish rapport and then we listen to them as they orally read their paper," Wdowin said.
Reading out loud helps both coaches and student hears how the writing and ideas flow. Writing coaches then ask questions that guide a student to think about ways to improve their own writing. The primary focus is on content and style and not specifically on mechanics.
"We find positive aspects to point out to them in what comes across as strong points of their writing. Then, we ask them clarifying questions to get them to critically think about their writing," she said. "We have this dialogue with them as they're explaining, elaborating and providing evidence, and maybe thinking of a counterclaim or counter-argument. Then we provide a few suggestions."
Whether a student takes the suggestions is up to them.
"They have complete autonomy with that. It's very student-centered," she said.
Brown's first go-to question is to ask how a student feels about a piece they've written. This usually brings up a spectrum of answers and a place to start for her.
Sheets said it's important for writing coaches to come from the communities they serve. Connecting community members with students and teachers is an important part of the program. Wdowin and Brown said the program also builds bridges between generations.
"When you deal with middle schoolers and high schoolers most people think, 'Oh the students don't really want to work with you. They're rolling their eyes for maybe the first couple of minutes, but once you get them away from their friends and actually show interest in what they have to say … It's a whole new experience," Brown said.
Working with students is a fulfilling experience. Working with teens is also a fun change of pace.
"I work with engineers all day and taking a moment to hang out with teenagers is such a freakin' breath of fresh air," she said, her statement met with a chuckle from Wdowin.

Brown said a student's writing can spark great conversations.
"One student wrote about different requirements that lawyers have of [job] candidates and how they look, like piercings and tattoos, and that was a great conversation for me," said Brown, whose full-time job is recruiting, noting it was one of her favorite interactions last year at the high school level.
"Middle schoolers are very precocious. They think of things I would never consider," she said.
For more information visit writingcoachesofmontana.org or email jeanne@writingcoachesofmontana.org. To register for the training on Thursday, Sept. 15, visit the website and select "news and events," then "public calendar" and click on the date.
Reporter Hilary Matheson may be reached at 758-4431 or hmatheson@dailyinterlake.com.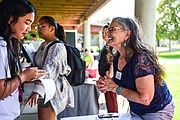 Recent Headlines
---