A community call to support a faithful friend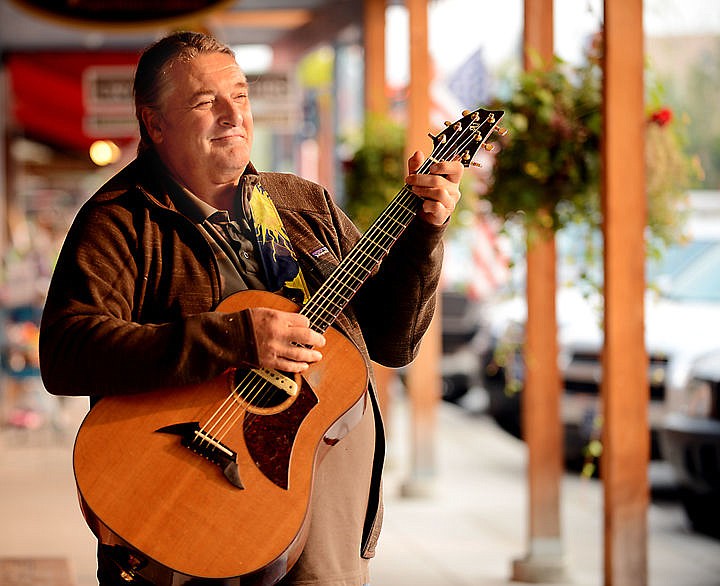 Local musician and artist Jeff Arcel plays a tune in downtown Whitefish on Aug. 24, 2015. (Daily Inter Lake FILE)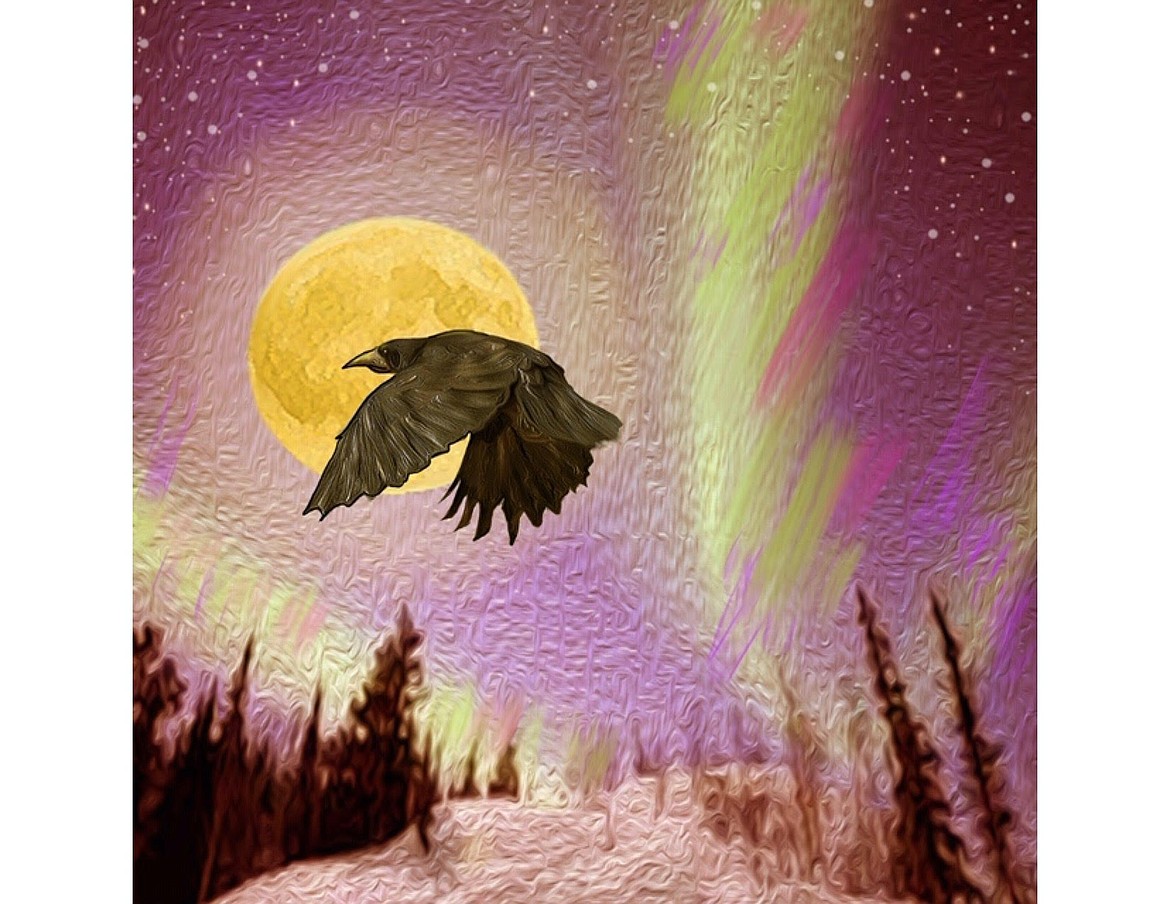 "Crow in the Moonlight" by Jeff Arcel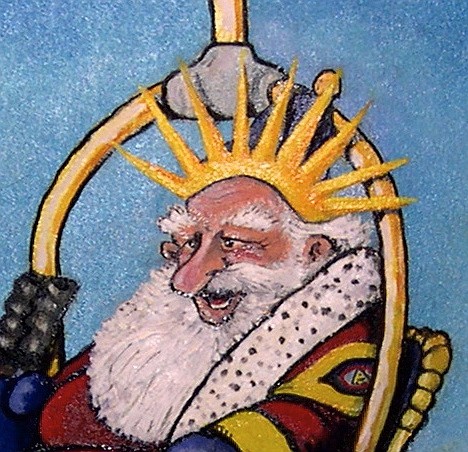 Jeff Arcel's characterization of the Whitefish Winter Carnival's King Ullr is being used on buttons that will be handed out at the fundraiser for him Sept. 18 at the Big Mountain Bar and Grill.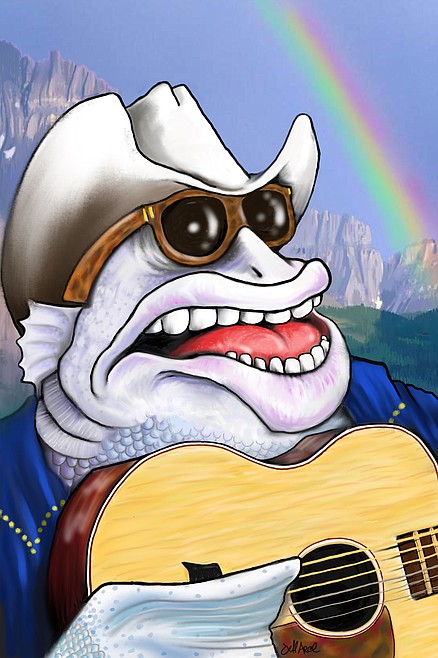 One of local artist Jeff Arcel's original prints. Titled "When the Whitefish Sings," which the artist has said it is a "self-portrait."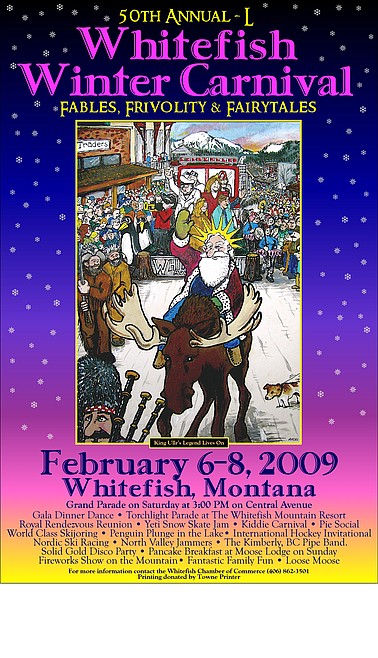 The 50th annual Whitefish Winter Carnival poster featuring original art by Jeff Arcel. Arcel was the main artist and designer for the carnival's posters from 2005 to 2019.
Previous
Next
by
CAROL MARINO
Daily Inter Lake
|
September 15, 2022 12:00 AM
Jeff Arcel — musician, artist and entrepreneur — is well known for his love of community, and particularly for Whitefish. His creativity and generosity are part of the fabric of the small town he has lived in most of his life — where he built his own home, raised his family and left his indelible mark.
Two and a half years ago Arcel suffered a series of strokes, requiring him to use a wheelchair and unable to work.
Friends are gathering to raise money to help Arcel and his family retrofit their home, pay for assisted transportation and for ongoing medical expenses.
The fundraiser taking place Sunday, Sept. 18, at the Great Northern Bar and Grill in Whitefish is the vision and brainchild of Whitefish musician Ed Boggs, a longtime friend of Arcel's. Boggs' partner, Margery Fox, is organizing the event.
Arcel's influence on the community of Whitefish goes back years. From 2005 to 2019 he had been the main artist and designer behind the Whitefish Winter Carnival's artwork. During this time, he worked on concert and event posters and materials while frequently donating his iconic artwork to fundraising auctions and community projects.
His artwork hangs in numerous galleries and restaurants throughout town. Most of Arcel's art prints will be on sale at the fundraiser. His popular print "The Regulars" is a caricature of locals as animals in human form hanging around the Great Northern Bar. His companion piece, "Wildlife at the Great Northern Bar" is of the same bar scene and depicts a wild party. Arcel's eclectic, lively colored style is unmistakable.
In a 2015 article in the Daily Inter Lake he said he had always been interested as a kid in comic book art such as MAD Magazine. He was also influenced by cartoonist Winsor McCay, Theodor Seuss Geisel (Dr. Seuss), Shel Silverstein and Arthur Rackham.
Arcel's entrepreneurship contributions to Whitefish extend many years before his contributions to the Winter Carnival. In 1984, Arcel began his own computer consulting company based in Whitefish, Applied Information Services (AIS), which employed up to 120 people at one time, providing well-paying white-collar jobs for the valley for 10 years, the first company of its type and size in the area.
Next Arcel founded and was CEO for AEON Renewable Energy, Inc., a company that engineered sustainable energy solutions using wind, solar and hydropower.
Many folks are familiar with Arcel's musical career. Having picked up a guitar at age 12, music is a fundamental part of who he is. Back in the late '70s and early '80s he was a member of the Wonders of the Invisible World local band. Since then, he was a longtime regular at Craggy Range's Wednesday night open mic, and in the late 2000s he managed sound and booked the live music for the Whitefish Farmers Market.
Well-known local musician John Dunnigan and bands The Bad Larrys and 20 Grand are all donating their time for the Sept. 18 fundraiser.
Arcel built his own home back in the '70s. Jean, his wife of nearly 50 years, their two children Ashley (a writer raising her family in the Flathead) and Jules, (who lives and works in Whitefish and is following in his father's musical footsteps) and his many friends would like to see him be able to stay in his own home as long as possible.
Some maintenance and modifications are needed to accommodate Jeff's needs, including repairs to the deck so he can go outside, construction of ramp for access, replacing carpet with a non-skid surface, and adding as-needed home aids for safety.
Jean, who is Jeff's caretaker and also works three part-time jobs, is hoping they can hire some part-time in-home care and in-home physical therapy sessions for Jeff.
"Our goal is to raise $25,000, which is incredibly ambitious,'' event organizer Fox said. "Our small team has gathered up over 50 extraordinary silent auction items from almost every local business in Whitefish. It's a high-end silent auction."
The live auction features three pieces: one valued at $400 donated by the Whitefish Golf Course — Jeff practically lived at the golf course; also a ski package from Whitefish Mountain Resort with catering and lodging; and a larger format print of "The Regulars" framed by Frame of Reference.
"We're hitting every walk of life, every kind of passion you can think of — from skiing to yarn to music, art and golf," Fox said.
EVENT DETAILS
"An Evening for Jeff Arcel" will take place from 6 to 10 p.m. Sunday, Sept. 18, at the Great Northern Bar and Grill in Whitefish.
Live music will feature John Dunnigan, The Bad Larrys and 20 Grand.
There will be live and silent auctions, including prints and original artwork by Arcel.
For more information, contact Margery Fox at 406-544-4419.
A GoFundMe page has also been created to help raise money for Arcel's care and medical expenses. To contribute, go to www.gofundme.com/f/jeffarcel
Recent Headlines
---