AA football: Sentinel survives Wolfpack charge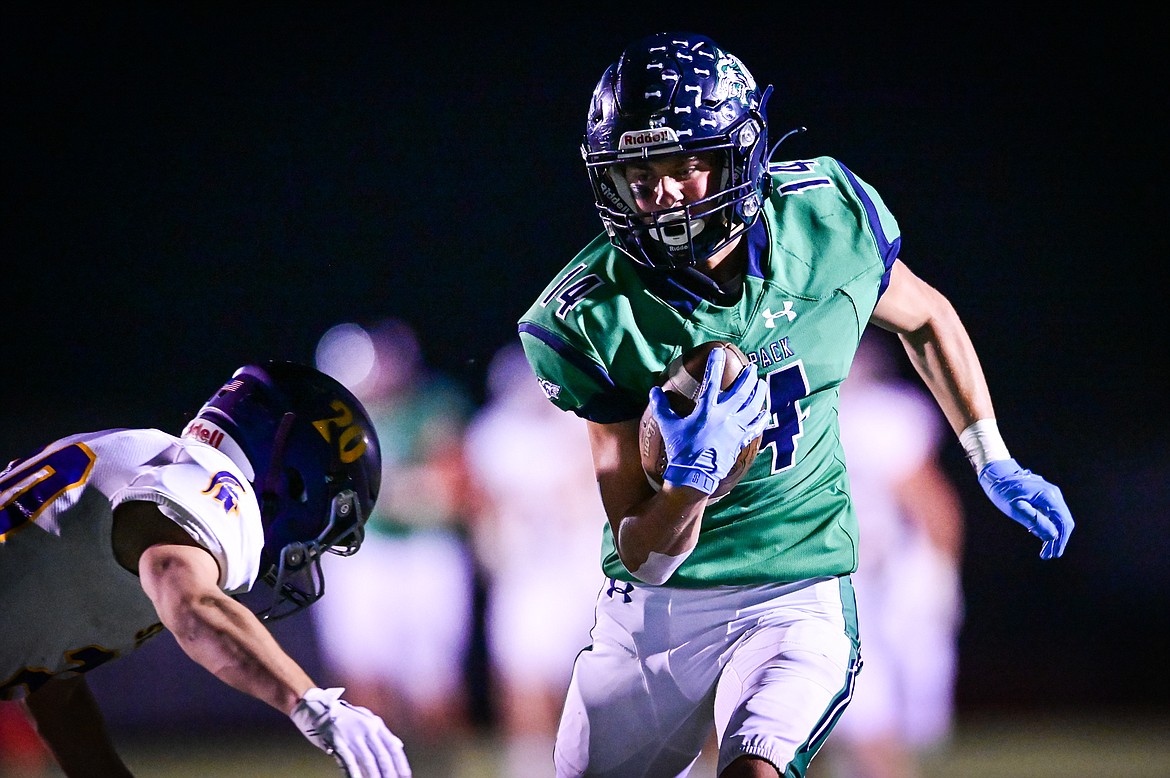 Glacier wide receiver Kaid Buls (14) picks up a first down on a fourth down reception in the fourth quarter against Missoula Sentinel at Legends Stadium on Friday, Sept. 16. (Casey Kreider/Daily Inter Lake)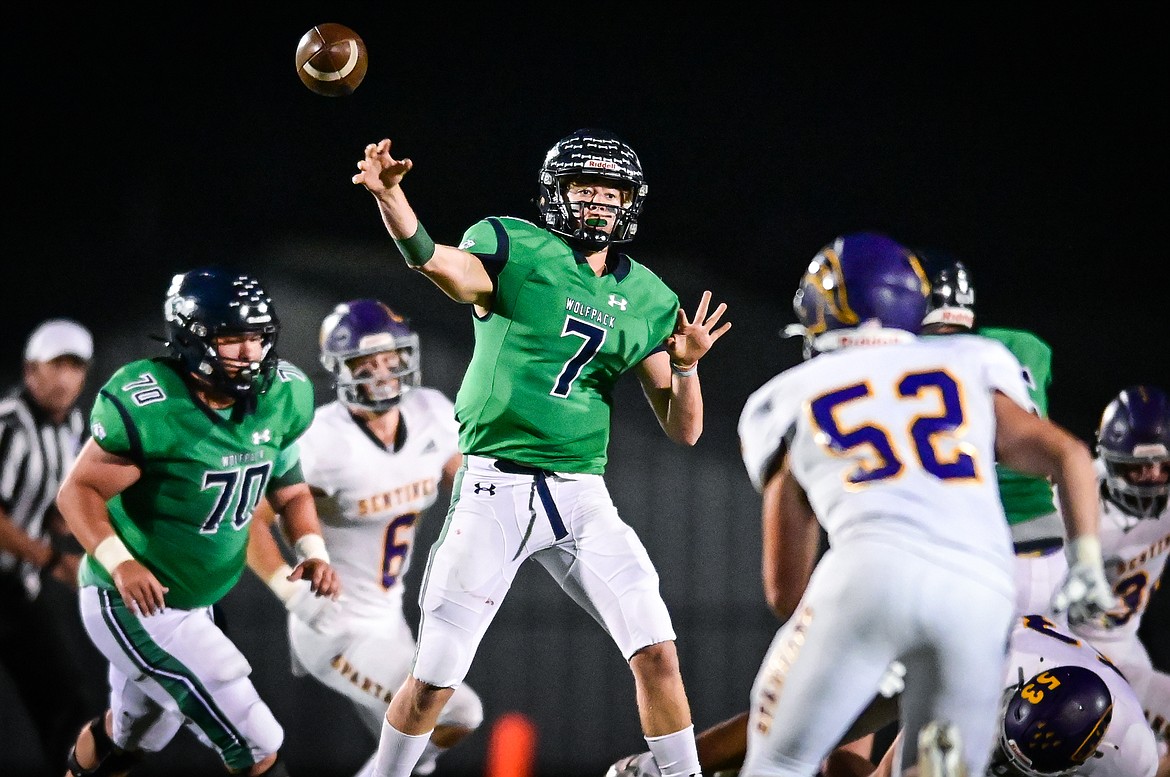 Glacier quarterback Gage Sliter (7) completes a pass to Kaid Buls for a first down on a key fourth down in the fourth quarter against Missoula Sentinel at Legends Stadium on Friday, Sept. 16. (Casey Kreider/Daily Inter Lake)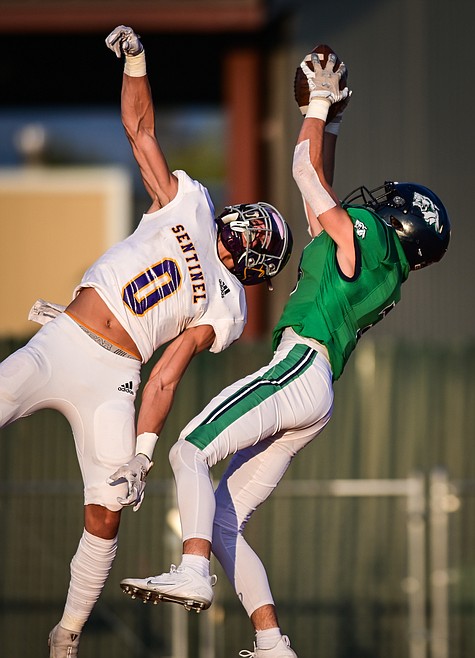 Glacier wide receiver Alex Hausmann (3) holds on to a touchdown reception over Missoula Sentinel defensive back Tyler Christensen (0) in the first quarter at Legends Stadium on Friday, Sept. 16. (Casey Kreider/Daily Inter Lake)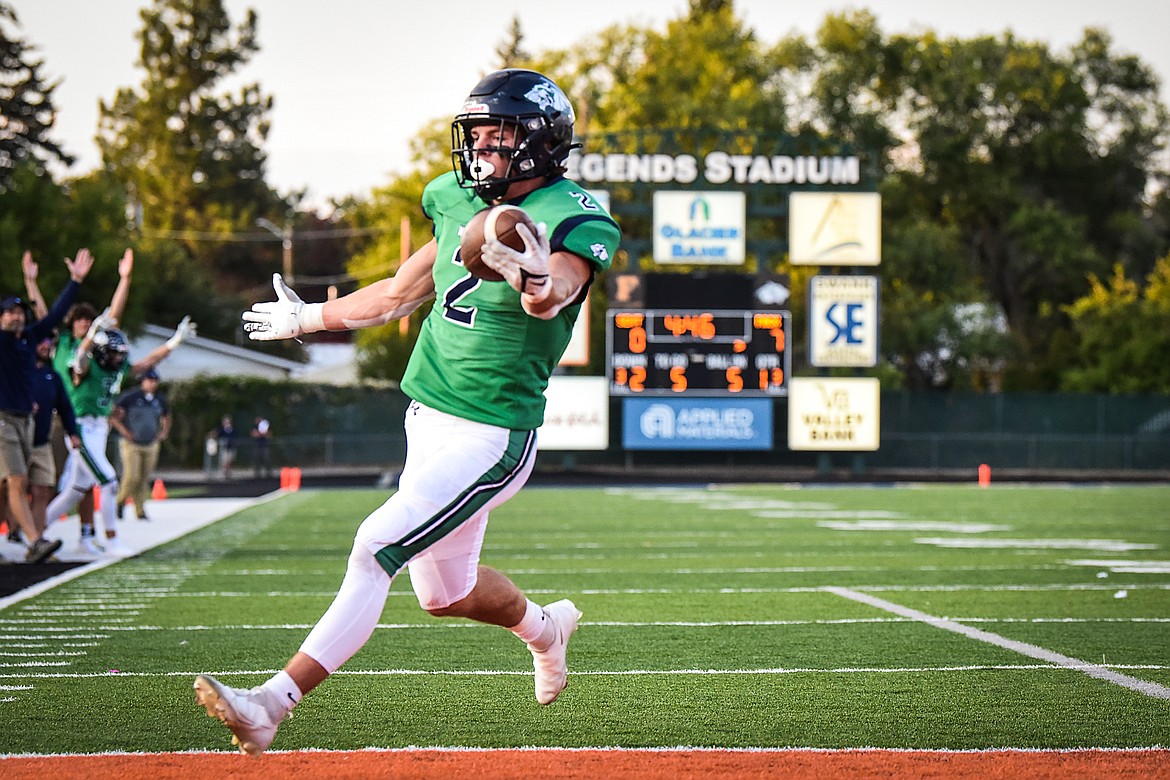 Glacier running back Jackson Hensley (2) scores a touchdown on a run in the first quarter against Missoula Sentinel at Legends Stadium on Friday, Sept. 16. (Casey Kreider/Daily Inter Lake)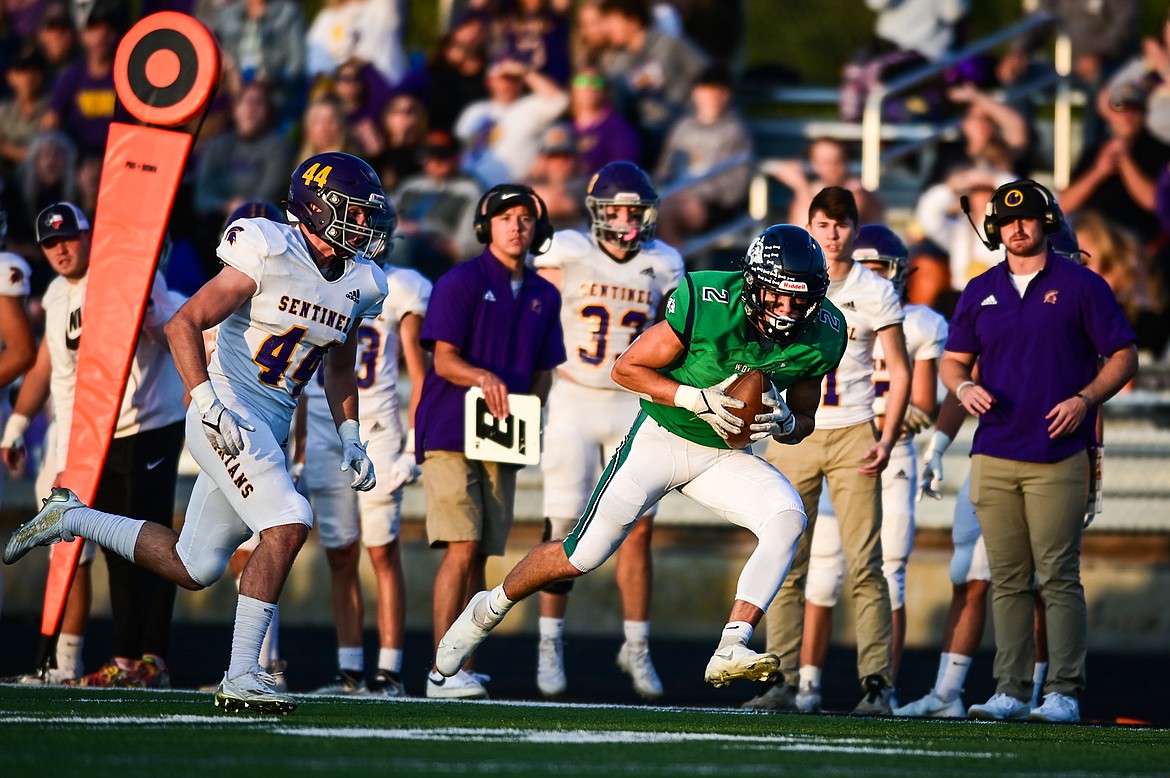 Glacier running back Jackson Hensley (2) picks up yardage after a reception along the sideline in the first quarter against Missoula Sentinel at Legends Stadium on Friday, Sept. 16. (Casey Kreider/Daily Inter Lake)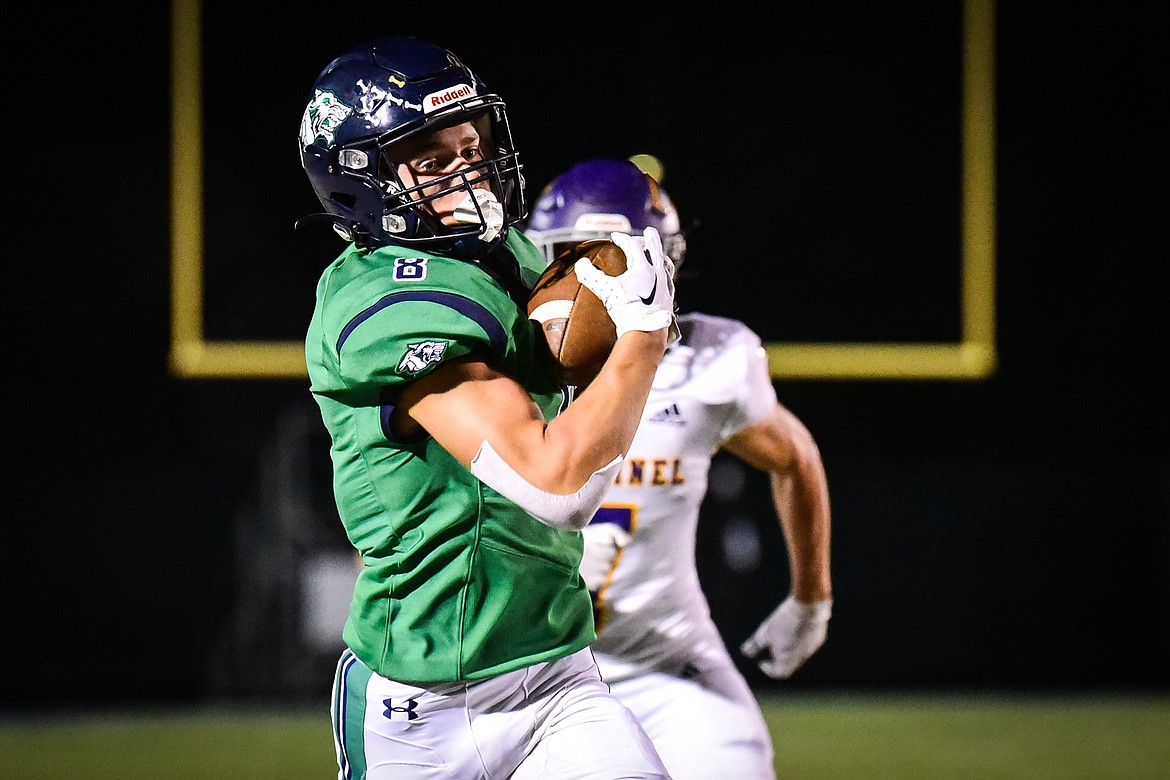 Glacier wide receiver Evan Barnes (8) hangs on to a reception along the sideline in the third quarter against Missoula Sentinel at Legends Stadium on Friday, Sept. 16. (Casey Kreider/Daily Inter Lake)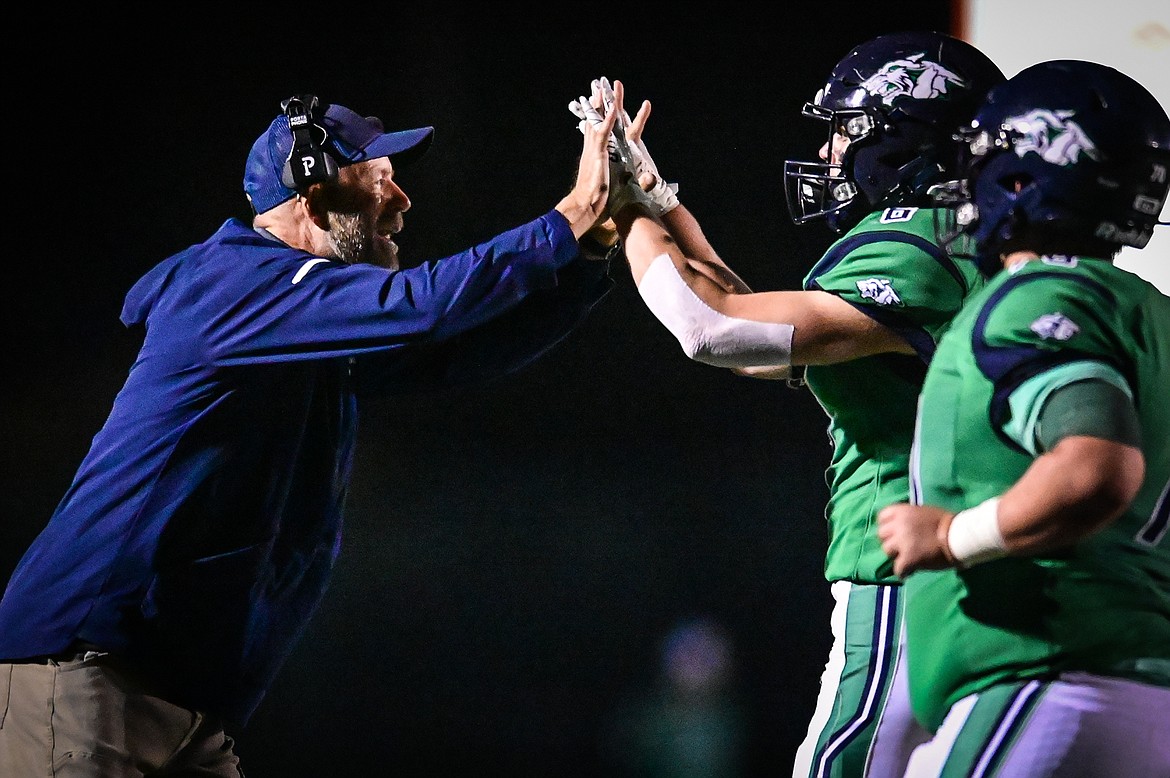 Glacier head coach Grady Bennett congratulates running back Kash Goicoechea (6) after Goicoechea's 16-yard touchdown run in the third quarter against Missoula Sentinel at Legends Stadium on Friday, Sept. 16. (Casey Kreider/Daily Inter Lake)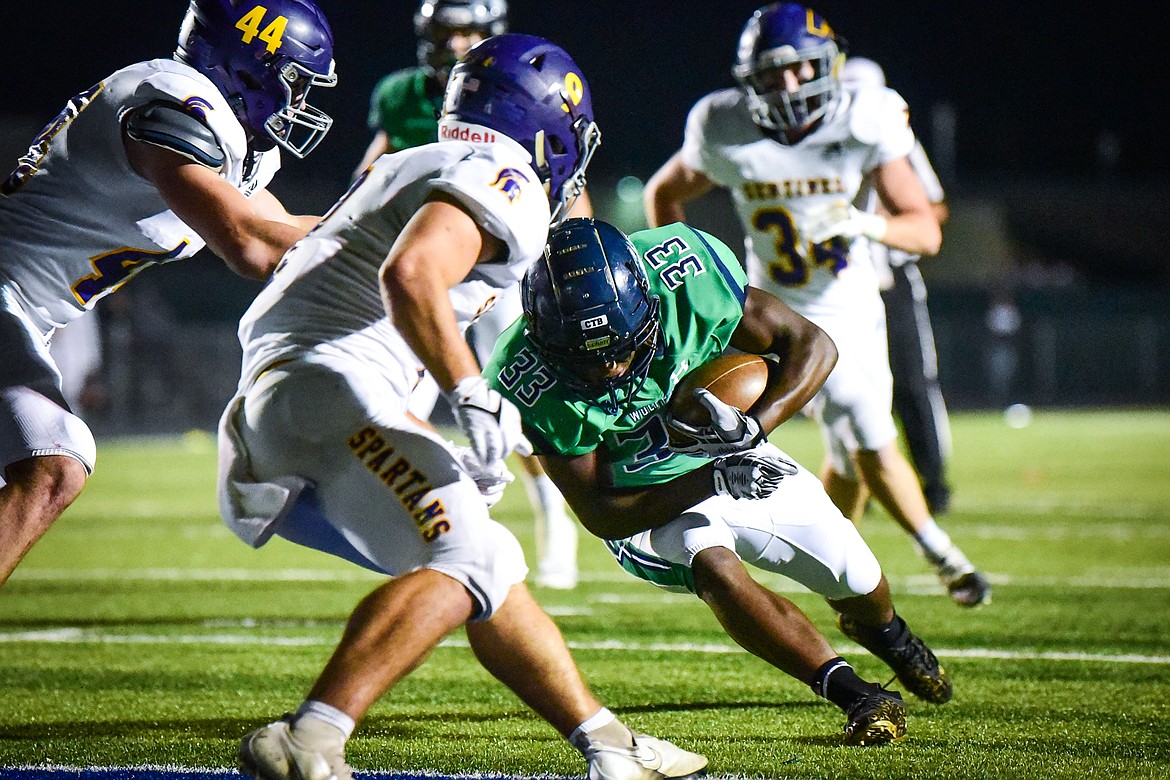 Glacier running back Kobe Dorcheus (33) scores a touchdown on a run in the fourth quarter against Missoula Sentinel at Legends Stadium on Friday, Sept. 16. (Casey Kreider/Daily Inter Lake)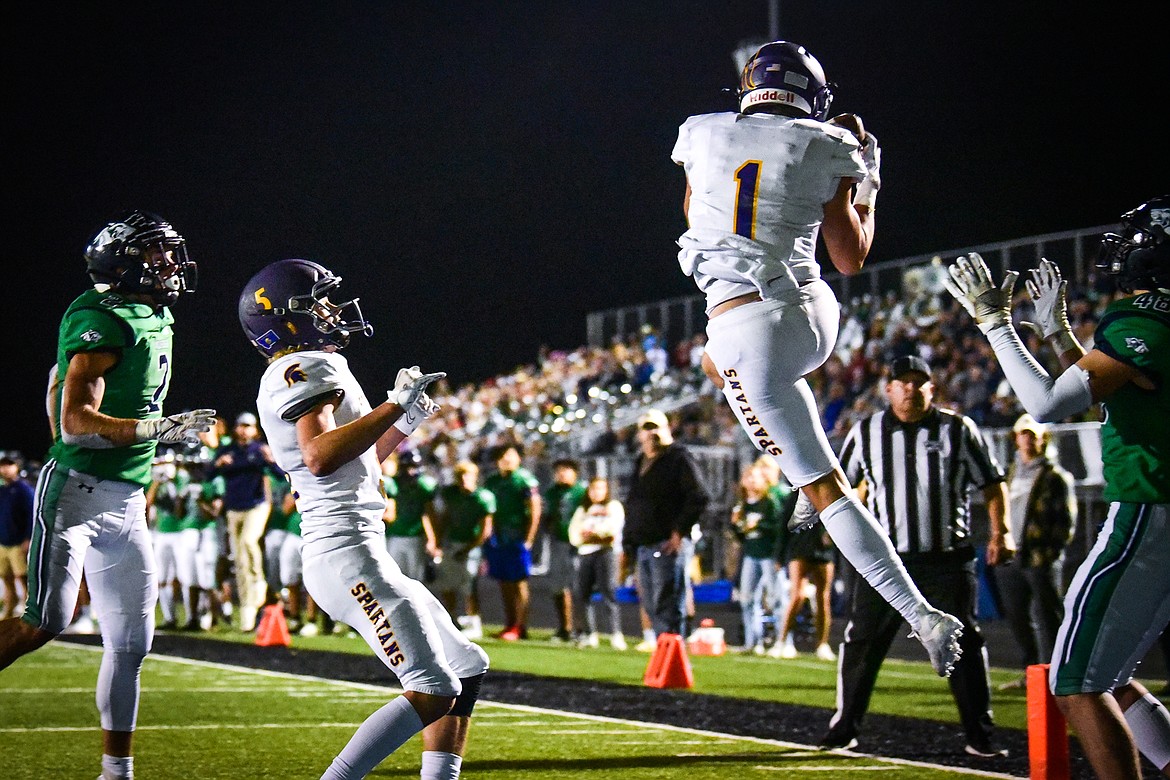 Missoula Sentinel defensive back Karsen Beitz (1) comes up with an interception on a fourth down pass into the end zone by Glacier at Legends Stadium on Friday, Sept. 16. (Casey Kreider/Daily Inter Lake)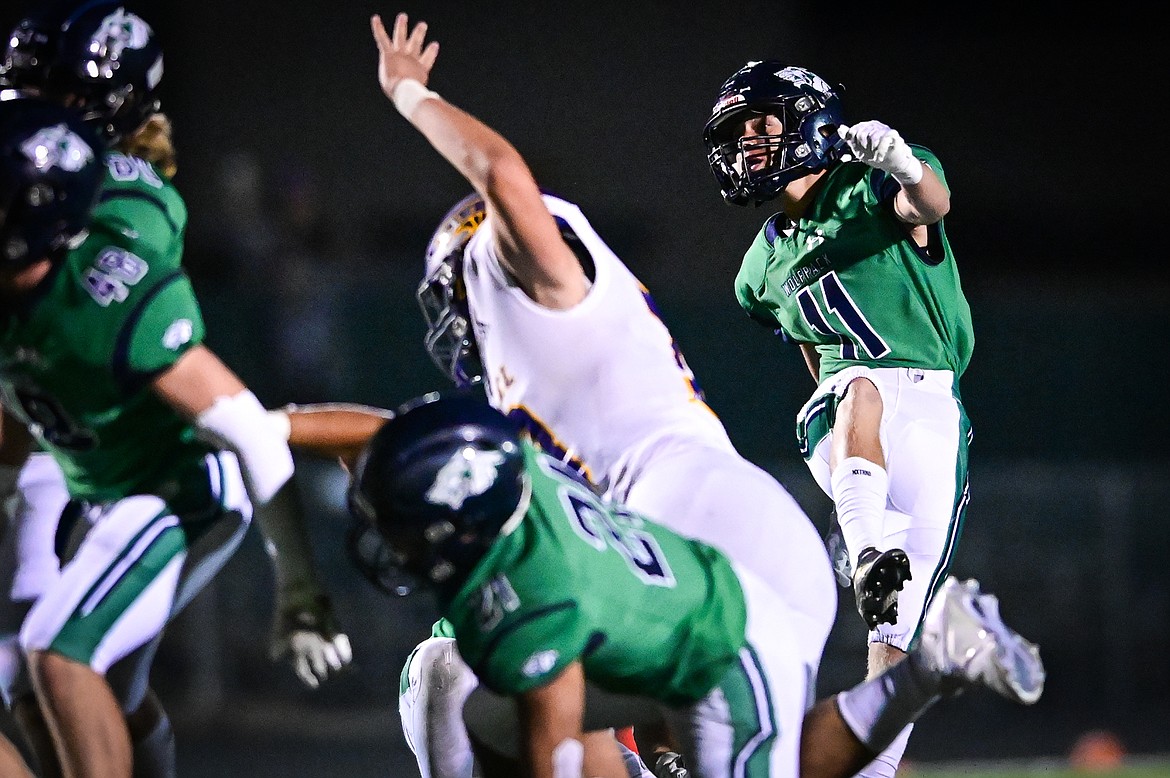 Glacier kicker Rhett Measure (11) watches a 38-yard field goal sail through the uprights in the fourth quarter against Missoula Sentinel at Legends Stadium on Friday, Sept. 16. (Casey Kreider/Daily Inter Lake)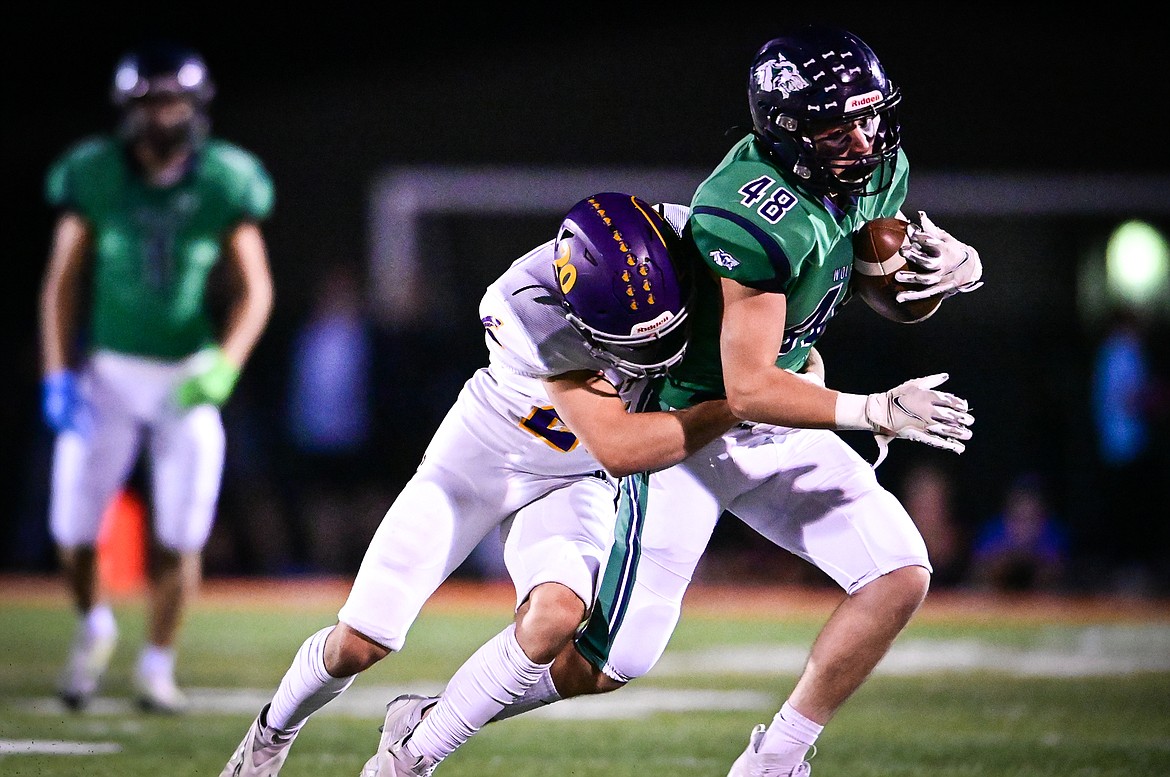 Glacier tight end Van Scholten (48) picks up yardage after a reception in the fourth quarter against Missoula Sentinel at Legends Stadium on Friday, Sept. 16. (Casey Kreider/Daily Inter Lake)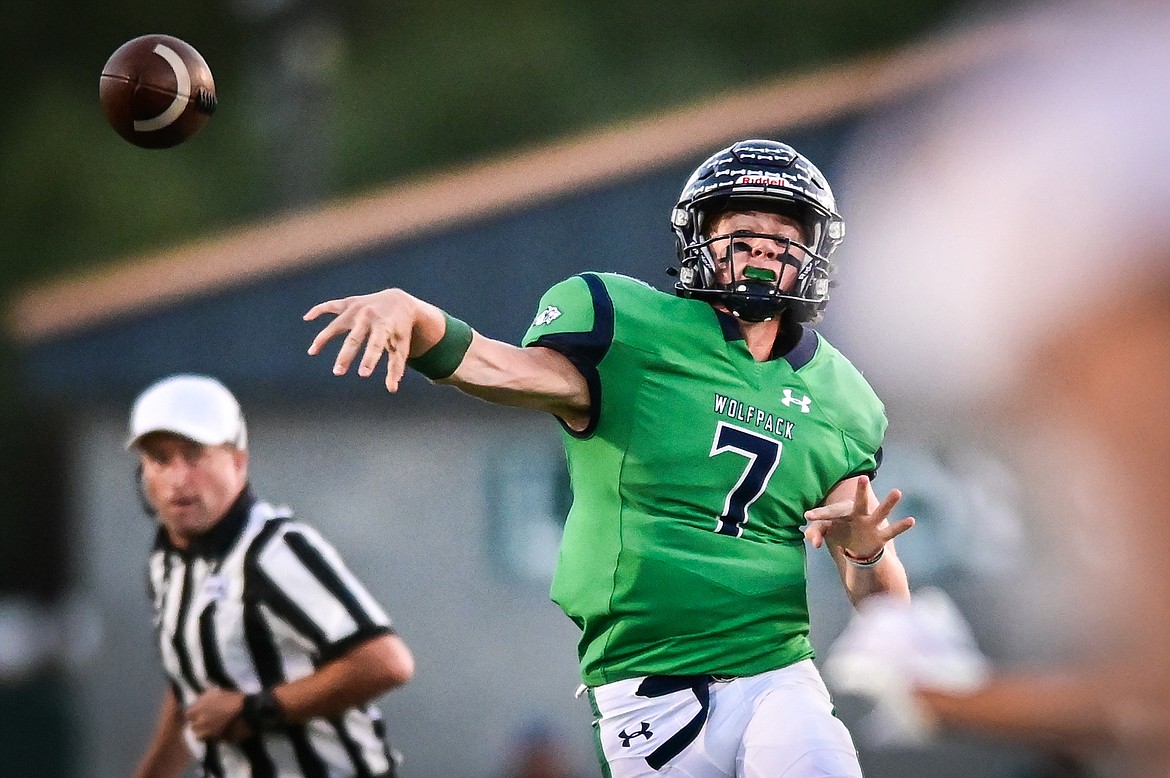 Glacier quarterback Gage Sliter (7) fires a pass in the secon quarter against Missoula Sentinel at Legends Stadium on Friday, Sept. 16. (Casey Kreider/Daily Inter Lake)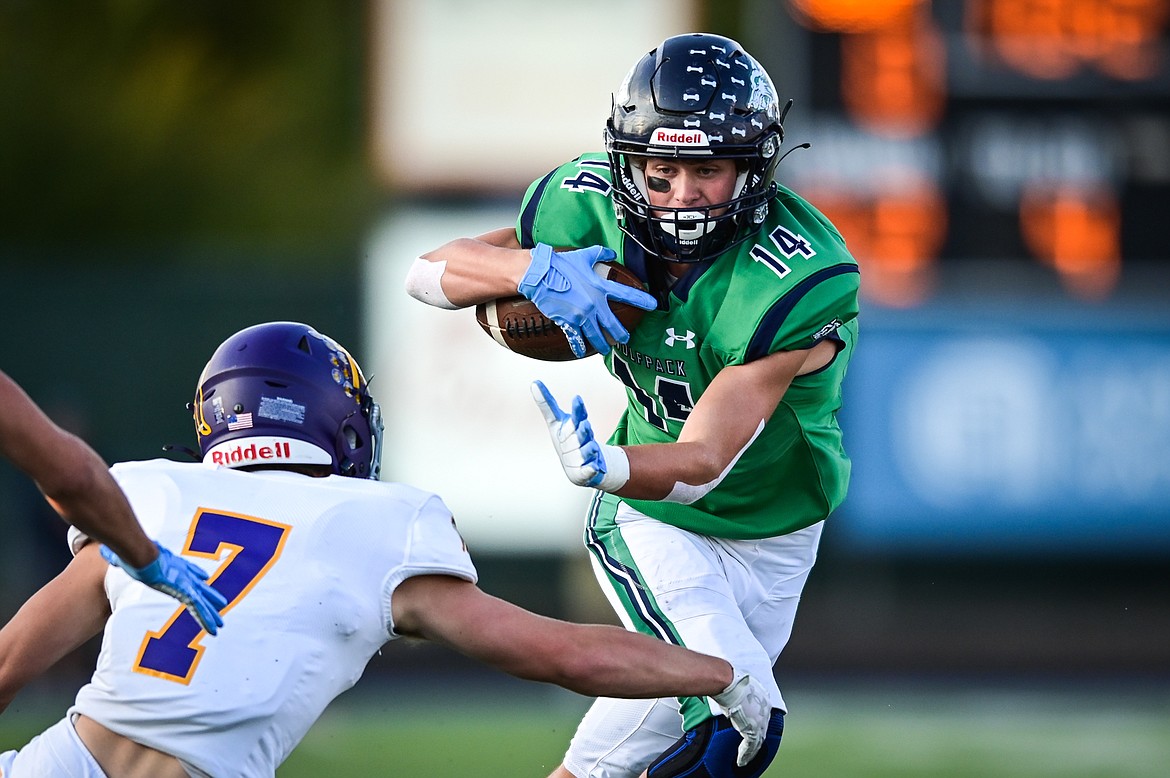 Glacier wide receiver Kaid Buls (14) picks up yardage after a reception in the first quarter against Missoula Sentinel at Legends Stadium on Friday, Sept. 16. (Casey Kreider/Daily Inter Lake)
Previous
Next
by
FRITZ NEIGHBOR
Daily Inter Lake
|
September 16, 2022 11:37 PM
There's a little pressure that goes with winning streaks and Missoula Sentinel's football team has a long one — 25 games and counting, after a 38-31 victory Friday night.
Glacier High added some pressure of its own.
The host Wolfpack pushed the Spartans all the way back to their 4-yard line Friday at Legends Stadium, before a final Gage Sliter pass — as the clock ticked to 0:00 — fell to Karsen Beitz for his second interception of the game.
Sentinel held on in an early Western AA showdown.
"The way the game ends up — I'm so proud of our football team," said Wolfpack coach Grady Bennett, whose club quickly took a 14-0 lead, and just as suddenly trailed 28-14 at Legends Stadium. "To battle back like that, stay in it, and push them right to the very end, I'm proud of them.
"And right now I know how many things we can clean up, things we can improve."
It was a wild game, starting with Glacier scoring on its first two possessions. Alex Hausmann high-pointed a nice throw from Sliter for a 16-yard touchdown pass to start things. On the Pack's next possession Sliter hit Jackson Hensley for 35 yards, then handed off to the senior running back for a 5-yard scoring run.
The game wasn't eight minutes old and Sentinel was down two scores. But then the Spartans scored 42 seconds after Hensley's TD: Adam Jones took a direct snap in the Wildcat formation and scored from 57 yards out.
Jones scored on a 33-yard run before the quarter was over, and then his backfield mate Kellen Curtiss added scoring runs of 35 and 9 yards in the second quarter.
Sentinel stayed ahead, but with players (including Jones) cramping and yards getting tougher, the Spartans couldn't put the Pack away.
"I thought we had a chance to stretch it and had some untimely penalties," Sentinel coach Dane Oliver said. "We were wounded there; that's what three days of indoor smoke practice will do. We had cramps and the volume is hard to simulate.
"But I don't know — to come up here and beat a great program like Glacier's, that's a heck of a night. I haven't felt like this in a while. We've had a lot of games that haven't been this tight."
Sentinel had a long stretch of near-perfect football. Jones, who ran for 163 yards and added 96 yards in receptions, helped.
"He's a cheat code right now," Oliver said. "We're down 14-zero and he might have single-handedly brought us back. I mean, you saw it. And he played a ton of snaps on defense tonight. Heck of a football player."
Meanwhile Sliter's hot start gave way to a stretch of eighth straight incompletions, with two interceptions. He had another drive end on downs at Sentinel's 34, and then — after Curtiss' second TD — a third interception after the Pack reached the Spartans' 31.
"I told him at halftime, 'Hey, I had several three-interception first halves. You've just got to get your mind back in it and play well the second half,' " Bennett said.
"And he did that. I'm just really proud of how our kids battled, and especially defensively. It got away from us a little bit in the first half, but they really buckled down and played a solid second half."
Sliter, who threw for 143 yards after halftime, hit Cohen Kastelitz with a 31-yard strike in the third quarter, setting up a 15-yard TD run from Kash Goicoechea.
Jones answered for Sentinel, first with a second-effort, 32-yard run out of the Wildcat, then a leaping catch of a 22-yard Riley Allen scoring pass to make it 35-21.
But the Wolfpack kept circling: Sliter converted a fourth-and-21 with a scrambling throw to Kaid Buls for a 34-yard gain; Kobe Dorcheus had a 2-yard scoring run on the next play.
It was 35-28 early in the fourth quarter, and the teams traded field goals, with Rhett Measure's 38-yarder bringing Glacier to 38-31 with 2:44 left.
The Pack, burning its last two time outs, forced a punt and took over at its 46 with 1:33 remaining. Glacier got off 11 snaps, using sideline throws and a 10-yard, fourth-down Sliter scramble to get to the 4-yard line.
Two throws into the end zone failed, though Hensley almost hauled in one that Bietz dove at and barely missed. Beitz made his game-clinching pick on the next snap.
Curtiss added 96 rushing yards and Allen threw for 212 for Sentinel, now 4-0 overall and 2-0 in Western AA games. Brady Kolendich matched Beitz's two interceptions.
Glacier, getting 118 rushing yards from Hensley and 225 passing from Sliter, is 3-1, 1-1.
"That's a young football team that's just learning how to compete," Bennett said. "We had a lot of guys that struggled at moments that were big in a game like this. But they'll learn from it.
"And we competed way better the second half. Shoot, this is a team that's just going to get better and better and I'm excited about where we're going to end up — because that's what matters."
Sentinel 14 14 7 3 - 38
Glacier 14 0 7 10 - 31
G — Alex Hausmann 16 pass from Gage Sliter (Rhett Measure kick), 9:41-1Q
G — Jackson Hensley 5 run (Measure kick), 4:44-1Q
S — Adam Jones 57 run (Caden Dimberger kick), 4:02-1Q
S — Jones 33 run (Dimberger kick), 2:52-1Q
S — Kellen Curtiss 35 run (Dimberger kick), 11:24-2Q
S — Curtiss 9 run (Dimberger kick), 4:42-2Q
G — Kash Goicoechea 15 run (Measure kick), 5:05-3Q
S — Jones 22 pass from Riley Allen (Dimberger kick), 1:11-4Q
G — Kobe Dorcheus 2 run (Measure kick), 11:40-4Q
S — Dimberger 25 FG, 7:25-4Q
G — Measure 38 FG, 2:44-4Q
Individual Statistics
RUSHING: Sentinel (37-254) — Jones 17-163, Curtiss 15-96, Danny Sirmon 1-2, Allen 4-minus 7. Glacier (31-148) — Hensley 19-118, Goicoechea 2-17, Sliter 7-8, Dorcheus 3-5.
PASSING: Sentinel — Allen 10-18-0 for 212 yards. Glacier — Sliter 16-36-4 for 225 yards; Measure 1-1-0 for 31 yards.
RECEIVING: Glacier — Jones 5-96, Karsen Beitz 3-65, Sirmon 1-44, JJ Dolan 1-7. Glacier — Kaid Buls 5-57, Cohen Kastelitz 4-59, Kole Johnson 3-27, Henskey 2-47, Evan Barnes 1-35, Hausmann 1-16, Van Scholtgen 1-15.
Recent Headlines
---