Griz pull away from Sycamores, 49-14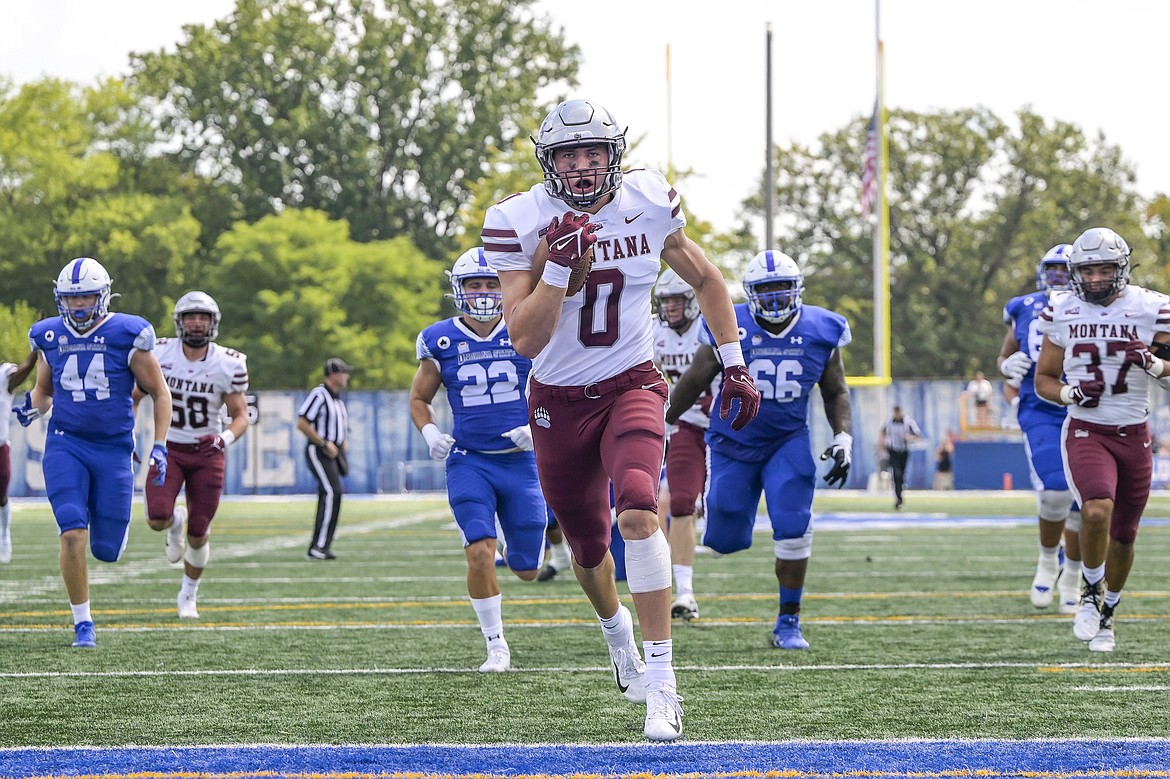 Kale Edwards (0) of the Montana Grizzlies runs the ball in for a touchdown in the first quarter of an FCS game against the Indiana State Sycamores at Indiana State University Memorial Stadium on Saturday, Sept. 17, in Terre Haute, Ind. (Photo by Tommy Martino/UM Athletics)
by
Daily Inter Lake and UM Sports Information
|
September 17, 2022 11:50 PM
TERRE HAUTE, Ind. — Lucas Johnson threw for 232 yards and three touchdowns, ran for another score and the No. 2 Montana Grizzlies shook off a slow start to rout Indiana State 49-14 Saturday.
Montana, which completed its non-conference football slate 3-0, got on the board first after Glacier High's Patrick O'Connell sacked Indiana State's Gavin Screws and popped the ball loose. Kale Edwards scooped up the fumble and sped 20 yards for the score and a 7-0 Griz lead, at 11:05 of the first quarter.
The Sycamores (1-2) of the Missouri Valley Conference responded, though: Given a short field thanks to a personal foul, they tied the game with a 54-yard scoring run from Justin Dinka.
Montana answered with a double pass covering 27 yards, from Junior Bergen to Malik Flowers, to go up 14-7 but Indiana State found ample running room in the first quarter while blunting some Grizzly drives.
It took until 3:11 of the second quarter for Montana to score again, on an 18-yard strike from Johnson to Cole Grossman.
Montana led 21-7 at half, and added two quick scores in the third quarter when Johnson first found Keelan White with a touchdown pass, then added a short TD run. That made it 35-7 and the rout was on.
"I was fired up about his decision-making for the most part," Montana coach Bobby Hauck said of Johnson, who was 18 of 30 passing. "He got us in the right checks."
"There's always a feeling out period in every game," Johnson said. "But I feel like once we got all on the same page and we got settled in we looked pretty good."
White, who caught an 8-yard scoring pass, Ryan Simpson (11-yard pass from Johnson) and Colter Janacaro (2-yard run) all scored their first Grizzly touchdowns, all in the second half.
Aaron Fontes shook off an early drop to snare eight passes for 93 yards. Mitch Roberts had four catches for 61, including a critical 26-yard gain on third-and-16 ahead of Bergen's touchdown throw.
Montana matched its area code on offense, with 406 yards.
On defense Robby Hauck had 11 tackles, moving past Libby's Vince Huntsberger to No. 2 on Montana's career list with 395. Huntsberger made 393 stops from 1998-2001; Dante Olson has the record for one more week: 397 from 2016-19.
"I'm happy for our team. Certainly you take it one week at a time, and we've won the week three consecutive times and we're 3-0. I was concerned this morning. I felt this team was good and would make us earn it, and they certainly did."
O'Connell had another huge game with nine stops and 2.5 sacks — he shared one with Hauck — to go with that forced fumble, the fifth of his career.
Indiana State, which piled up 88 yards rushing and 132 overall in the first quarter, was soon bottled up. The Sycamores finished with 219 yards, 101 on the ground.
Fellow Glacier product Patrick Rohrback had six points for a 39.2-yard average, and put four inside Indiana State's 15-yard line.
Another highlight came to open the second half, when Flowers took the kickoff back 27 yards.
That gave him the Grizzlies' career mark, with 2,193 yards. He surpassed Rob Schulte, who gained 2,086 yards from 2005-08.
"I hope Schulte's listening because I was proud of him, too," Hauck said on the Grizzly Radio Network. "It's always nice when somebody breaks a school record, especially when it's somebody as productive as that guy was. Good by Rob, and good by Malik going by him."
The Grizzlies begin their Big Sky Conference schedule Saturday against Portland State. Kickoff is at 2 p.m. at Washington-Grizzly Stadium.
Montana 14 7 14 14 - 49
Indiana St. 7 0 0 7 - 14
First Quarter
UM — Edwards 20 fumble return (Ramos kick), 11:05
ISU — Dinka 54 run (O'Grady kick), 10:51
UM — Flowers 27 pass from Bergen (Ramos kick), 8:13
Second Quarter
UM — Grossman 18 pass from Johnson (Ramos kick), 3:11
Third Quarter
UM — White 8 pass from Johnson (Ramos kick), 12:50
UM — Johnson 1 run (Ramos kick), 9:43
Fourth Quarter
UM — Simpson 11 pass from Johnson (Ramos kick), 14:55
ISU — Hunter 15 fumble return (O'Grady kick), 8:33-4Q
UM — Janacaro 2 run (Botkin kick), 1:36-4Q
UM ISU
First downs 28 14
Total net yards 406 219
Rushes-yards 33-70 40-101
Passing 336 118
Punt returns 1-0 0-0
Kickoff returns 1-28 2-37
Int.-yards 0-0 0-0
Comp-Att-Int 27-44-0 12-27-0
Sacks-yards lost 2-28 4-23
Punts 6-39.2 8-38.2
Fumbles-lost 1-1 1-1
Penalties-yards 7-68 7-94
Time of possession 28:51 31:09
INDIVIDUAL STATISTICS
RUSHING — Montana, Ostmo 11-39, Harris 5-36, Knight 3-10, Janacaro 4-8, Johnson 5-4, Chiles 2-0, Bergen 1-minus 6, Brown 2-minus 21. Indiana St., Dinka 20-87, Basinger 8-25, Chambers 2-8, Allen 3-8, Hodge 1-2, Glaes 1-minus 4, Screws 4-minus 23.
PASSING — Montana, Johnson 18-30-0-232, Brown 8-13-0-77. Indiana St., Screws 11-22-0-115, Glaes 1-5-0-3.
RECEIVING — Fontes 8-98, Roberts 4-61, Flowers 3-60, Grossman 3-47, Simpson 2-20, Bergen 1-19, Harris 2-15, Brammer 2-13, White 1-8. Indiana St., Hendricks 3-36, Van Dyke 3-27, Barnett 3-20, Caton 1-19, Ferrell 1-16, Hodge 1-0.
Recent Headlines
---