Bitterroot Valley farm plans winter delivery program for Kalispell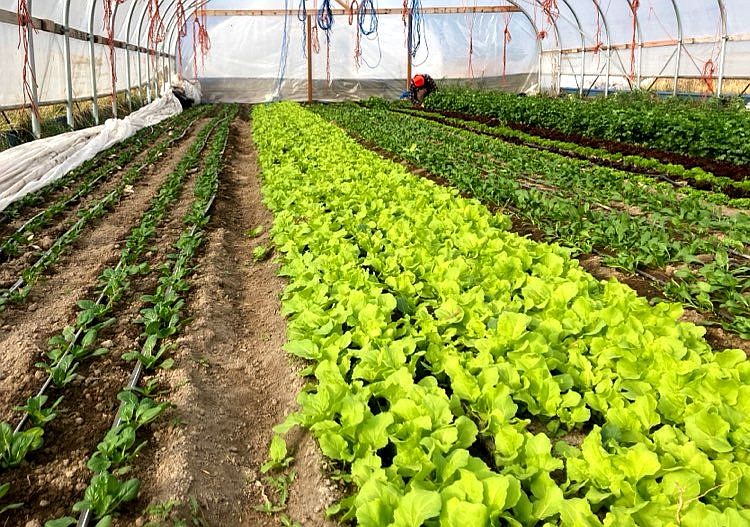 Produce grows in a greenhouse at Winter Kissed Farm in Stevensville. (Courtesy photo)
by
SUMMER ZALESKY Daily Inter Lake
|
September 18, 2022 12:00 AM
The changing of seasons means an opportunity to slow down and reset from the pandemonium of summer.
While the time of rest is welcomed by many, most agricultural affairs also come to a standstill making fresh produce harder to access, but three young farmers from the Bitterroot Valley are looking to bring fresh, organic produce to communities all over Northwest Montana including Kalispell.
Katelyn Madden, Barret Turkington, and Max Smith have been offering winter vegetables since 2017 through the farm's community supported agriculture program. Their farm, aptly named Winter Kissed Farm, has pick-up locations in Helena, Missoula, Hamilton, Stevensville, and this fall they are expanding to the Flathead Valley. They plan to begin delivery of their produce boxes at the new Bias Brewing location at 412 South Main Street in Kalispell starting Oct. 21.
Bias Brewing owner Gabe Mariman said his business is excited to partner with Winter Kissed Farm to provide access to fresh, local produce in the winter months.
"It's just one of many community partnerships we plan on creating as we transition over to our new space on Main Street," he said.
Though growing in freezing temperatures is no small feat, the team at Winter Kissed Farm has realized the disparity between what's available and what's being demanded.
"It's a patient process in terms of waiting for that sun and we learn something new every year," said Smith.
Smith grew up in Missoula and studied sustainable foods and bioenergy system programs at Montana State University.
"I think of Montana as heaven. I'll never leave this place," he beamed.
Looking forward, Smith sees the impact of development and believes that food is the ultimate unifier.
"Food addresses a lot of different topics and challenges we face as a culture from nutrition to food access to climate change," he said. "As land starts to disappear, I got obsessed with the idea of how we're going to feed ourselves in the future."
From mid-October to mid-February, Winter Kissed Farm delivers greens like lettuces, red-veined spinach, green spinach, arugula, rainbow chard, baby bok choy, bunched kale, baby kale, and stir-fry greens mixes, as well as a variety of storage crops like carrots, potatoes, and squash.
While eating fresh, organic and local greens in mid-January is indeed magical, the secret is in the science, according to Winter Kissed Farm. In September and October, the greens are exposed to frost, and as temperatures drop, greenhouse plastic and row cover fabric is provided to the surviving plants. The plants grow just big enough to harvest and by November they enter a state of stasis. By November, the unheated greenhouses act like giant refrigerators and keep the greens just cool enough to preserve the plant growth. As a result of this cold conditioning, the greens taste sweeter and last for longer periods in members' fridges, according to the farm.
"Our members really value the flavor, the quality, and the shelf-life of the produce we provide," Madden said.
A limited number of spots are available for the winter CSA so as to not overstress the soils or the workers. Each delivery is $33 and members can choose to pay up front or to pay weekly and can sign up for weekly or biweekly pickups. To become a member, go to https://app.barn2door.com/e/908B9/all. To find out more email winterkissedfarm@gmail.com or visit their Instagram @yerfarmer.
Reporter Summer Zalesky may be reached at szalesky@dailyinterlake.com.
Recent Headlines
---