Great Northern Wilderness Guides aims to make backcountry attainable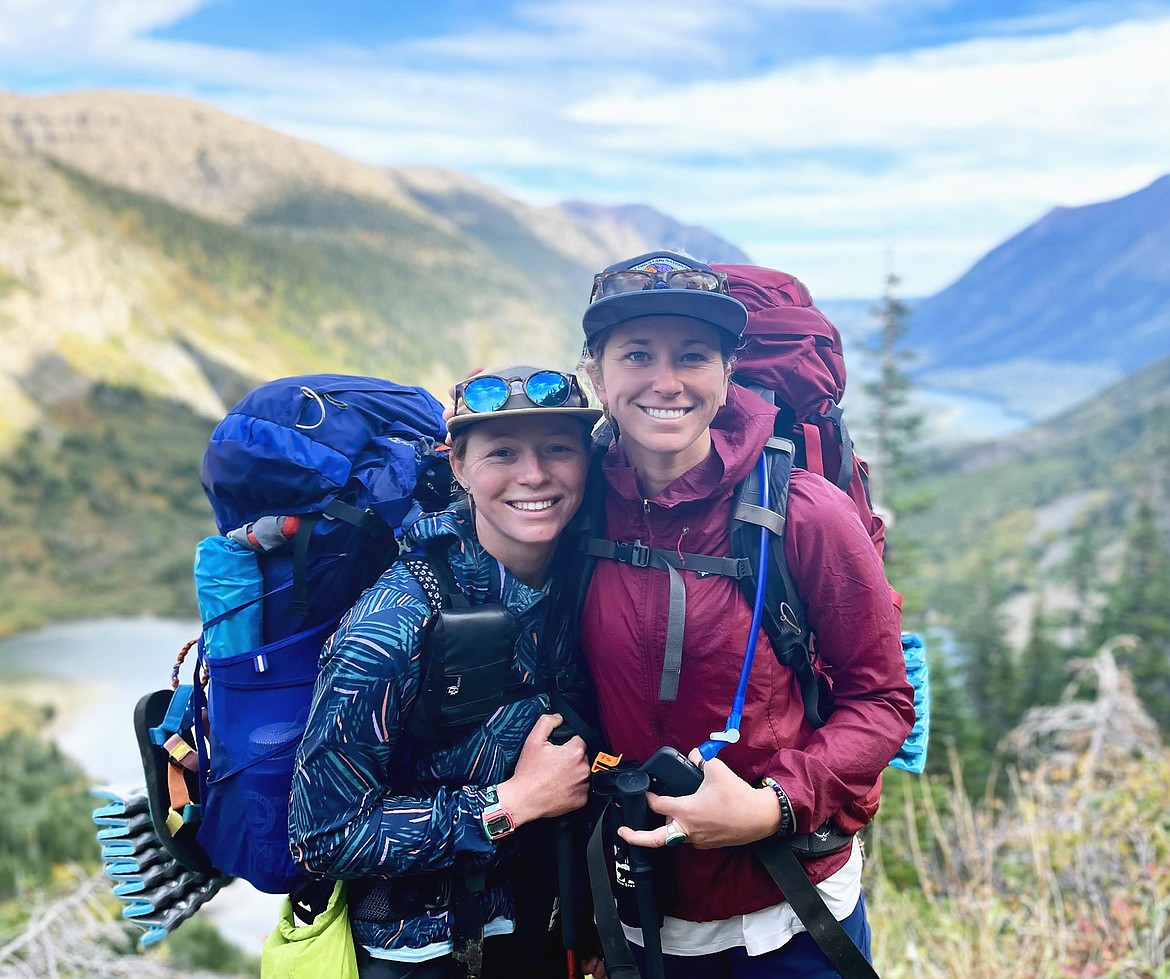 Madison Browning, owner of Great Northern Wilderness Guides with her partner and fellow guide, Sally Stecher backpacking in the mountains. (Photo provided)
by
JULIE ENGLER
Hagadone News Network
|
September 18, 2022 12:00 AM
Madison Browning's vision for her new business, Great Northern Wilderness Guides, is to provide people with the opportunity to slow down and enjoy the backcountry along with the education needed to be able to get out on their own.
The idea for the company came to Browning in the summer of 2020 during the first wave of the COVID-19 pandemic. It was a trying time for everyone and Browning found herself spending more nights in her tent than in her bed and found comfort in the backcountry.
"It was extremely healing to be pretty much constantly backpacking," she said. "People need this."
She realized that access to the backcountry can be challenging for people who don't know the lingo or have the right gear. This is one of the hurdles she hopes to help others overcome with education and experience.
"There's a lot of ego that goes with the backcountry and I can't stand that," Browning said. "I want to strip ego out of the backcountry with what we're doing and make it a safe space for people. Eventually all people but we're starting with women."
She aims to do so by guiding three-day trips so people can get a taste of what it's like to backpack and five-day trips that Browning calls "full send" to offer a more immersive experience. She and fellow guide Sally Stecher want each trip to include mindfulness alongside adventure.
"We both came from a background of loving the outdoors and Madison already had the business idea," said Stecher. "We started to talk about it like 'what if' and then we thought, 'why not?'"
Browning secured permits this summer to take trips in the Flathead National Forest on the west side of the Bob Marshall Wilderness Area, near Holland Lake and Crevice Lake, as well as a permit for the trail from Doris Mountain to Strawberry Lake.
"We'll see what people like and what we like and we'll adjust from there," she said. "Every year I imagine we'll try to add another permit holding location."
Thanks to a partnership Browning established with RightOnTrek, a business in Columbia Falls that rents outdoor gear, her guests are completely outfitted with the gear they will need if they don't own it already.
"It's all included in the price — your backpack, tent, whole sleeping system and cooking system," she said. "Because that's part of the barriers, it's a big investment."
Browning says if someone's never been backpacking, it is nearly impossible to know what kind of gear to buy. A synthetic sleeping bag or a down one? A 50-liter pack or one closer to 80 liters? At the same time, Browning realizes people need to find their own ways of doing things.
"This is how I pack my backpack and here are the snacks and calories I like but you might like something totally different," she said. "Here's a baseline and you can find out what you like and don't like."
While Browning sees herself as a guide who is more focused on the gear and logistics involved in a trip, her partner Stecher is "the heart guide" and is well-versed in leading yoga and meditation sessions.
"We'll have coffee ready for you, then a nice 45-minute yoga flow by the water," Browning said as she explained a day on the trail. "We eat breakfast, head up to our next campsite, and from there, keep hiking; go on a trail run if you like, hang by the lake, read, a little guided meditation and then a hot toddy by the fire."
Stecher added that everything is optional and that guests are free to make the trip what they want it to be. They value the connections people make through conversations around the campfire and how peaceful it is to be free from technology so one can feel more centered.
"It is really important for human beings' mental health to be in the backcountry and breathe the fresh air and not have their phones ruling their day," said Browning.
Stecher and Browning are testing their concept this season with a soft launch, taking only friends and family on trips and ramping up for next summer. Browning has been guiding for another company for five years and is carefully crafting her business model. She says overall, she wants trips with Great Northern Wilderness Guides to be a positive experience for both her clients and her guides.
"It's in the building process and we want it to be intentional," Stecher added. "We wanted to start with a fine focus on empowering women in the backcountry. We don't want to only focus on women; we eventually want to (guide) corporate retreats, family groups, everyone."
For more information, visit https://www.greatnorthernwildernessguides.com/
Recent Headlines
---