Code Girls have the spirit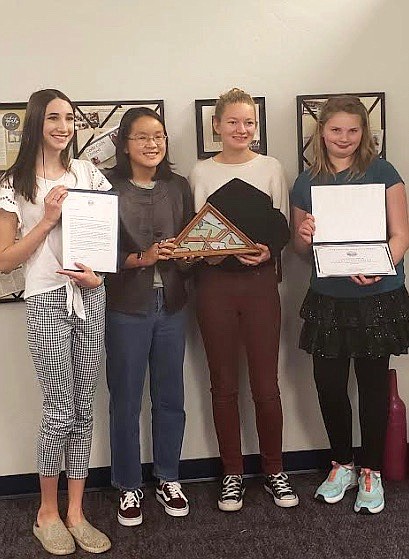 Two teams from Code Girls United were presented with the governor's Spirit of Montana Award by Susan Gianforte, first lady of Montana, Thursday, Sept. 15, 2022, in Kalispell. Students received a flag flown at the state capitol in their honor, a certificate and letter. Pictured from left: Makayla Davenport, Emma Anderson, Isabelle Ashley and Kiara VanSlayke. Not pictured: Maryn Hobby, Evangeline McCormick and Peyton Norris. (Courtesy photo)
by
HILARY MATHESON
Daily Inter Lake
|
September 21, 2022 12:00 AM
Two teams from Code Girls United were presented with the Spirit of Montana Award by Susan Gianforte, first lady of Montana, on Sept. 15 in Kalispell. The award recognizes Montanans' dedication or service to the community.
In July, the Coding Caribous and Tech Trio were named semifinalists in the beginner and senior divisions of the International Technovation Challenge for apps they designed to combat human trafficking and help children make friends through nonverbal communication.
Team Tech Trio, whose members include Emma Anderson, Isabelle Ashley, Makayla Davenport, developed "Found," after reading local news reports about human trafficking, specifically in indigenous communities, according to the team's description of the app. The app allows users across the U.S. to send and access information on missing individuals near them. The information includes details such as age, height and last known location. Users may also report suspicious activity directly to the National Human Trafficking Hotline and local law enforcement authorities.
"Found" is educational by helping users identify signs of human trafficking. The app also "prepares teens and young adults for online trafficking threats, such as manipulation and luring," through a feature that simulates a social media site where users make decisions based on different scenarios presented to them, according to the team's description.
The Coding Caribous is made up of Maryn Hobby, Peyton Norris, Evangeline McCormick, Kiara VanSlayke. The team developed "Communication Station," after noticing youths struggling to communicate with friends or join in on conversations or activities, according to the team's app description. The team sent out surveys as part of their market research to learn what features children would like to see in the app. The app includes games and tips "to help children feel more self-confident and encourage them to participate and communicate with others," according to the team's description.
"These seven girls are the future of Montana," said Code Girls Executive Director Marianne Smith. "We celebrate these young ladies along with those who have participated in our programs since 2016."
Code Girls United is an after-school program that teaches girls in grades fourth through 12th.
Reporter Hilary Matheson may be reached at 758-4431 or hmatheson@dailyinterlake.com.
Recent Headlines
---