Phyllis Stevens-Manus, 79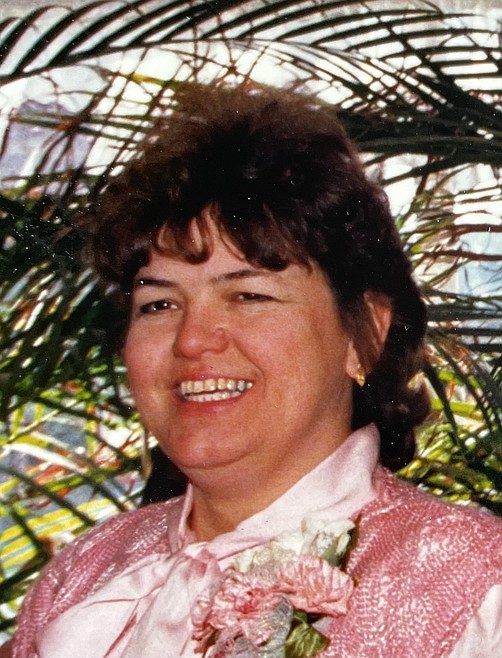 Phyllis Stevens-Manus, 79
|
September 21, 2022 12:00 AM
Phyllis Marie Stevens-Manus died peacefully early Sunday morning, Sept. 18, after a courageous six-year battle with stage four cancer.
Phyllis was born in Kalispell in 1943, the first of six children born to Lois and Lloyd Stevens. She attended schools in Somers, Malta, Evergreen and graduated with high honors from Flathead County High School in 1961. After receiving her degree in elementary education from Western Montana College, she taught 5th grade in Thompson Falls before going off to see the world with her husband Tom O'Neil as he served in the Navy. They were later divorced.
First navy home was at Sangley Point, Philippines where her daughter Pegeen was born in 1965. Her adventure as a Navy wife continued with homes in Norfolk, Va., San Diego, Calif., Key West, Fla., Agana, Guam, Adak, Ak., and Barber's Point, Hawaii. She enjoyed every place she lived, always finding new friends and interesting things to do.
She came back to the Flathead in 1976 and worked for Royal Logging and later Plum Creek, retiring in 2004. She continued her education at FVCC taking computer, accounting and personal interest courses.
She played women's softball and bowled for many years in most of the places she lived. She learned how to sew in 4-H when she was 10 and continued to make clothes for herself, her sisters, her daughter, her grandchildren and all their dolls. After retiring, she took up quilting. She belonged to the Teakettle Quilters Guild in Columbia Falls. She enjoyed knitting, crocheting, photography and planning/hosting events for family and friends. Phyllis loved the mountains (a true MTNGAL) and spent many hours photographing them, the wild flowers, the birds, and the animals around them.
Phyllis married Tex Manus in 1988. It was a leap year, so she asked him! She and Tex traveled extensively in Montana and the West in their RV. They stopped at all small town bars/cafes and museums, second-hand stores and antique sales (and quilt stores!). They belonged to the NW Antique Power Association and collected machinery and other items along the way to show and demonstrate at the NWAPA annual Threshing Bee. They attended other tractor shows around the country.
She was preceded in death by her parents, sister Wanda Taylor, two nephews and many aunts and uncles. She is survived by her husband Tex Manus; her daughter Pegeen (Steve) O'Neil Stougard; Tex's daughters, Channin Manus and Nickole (Dave) North; sister Juanita Evans and brothers Phillip (Maurreen), Warren, and Clifford (Laurie) Stevens; grandchildren, Nathan and Kathryn Stougard and Mike and Marshal Rankin; and numerous nieces and nephew and their families.
In lieu of flowers, the family suggests donations to the Salvation Army, the NW Montana Veterans Food Pantry or your local food bank.
Friends and family are invited to celebrate Phyllis's life at the Kalispell Moose Lodge on Friday, Sept. 23, at 2 p.m.
Recent Headlines
---