Triple threat: Polson's football opponents have to deal with a dynamic passing attack led by senior Jarrett Wilson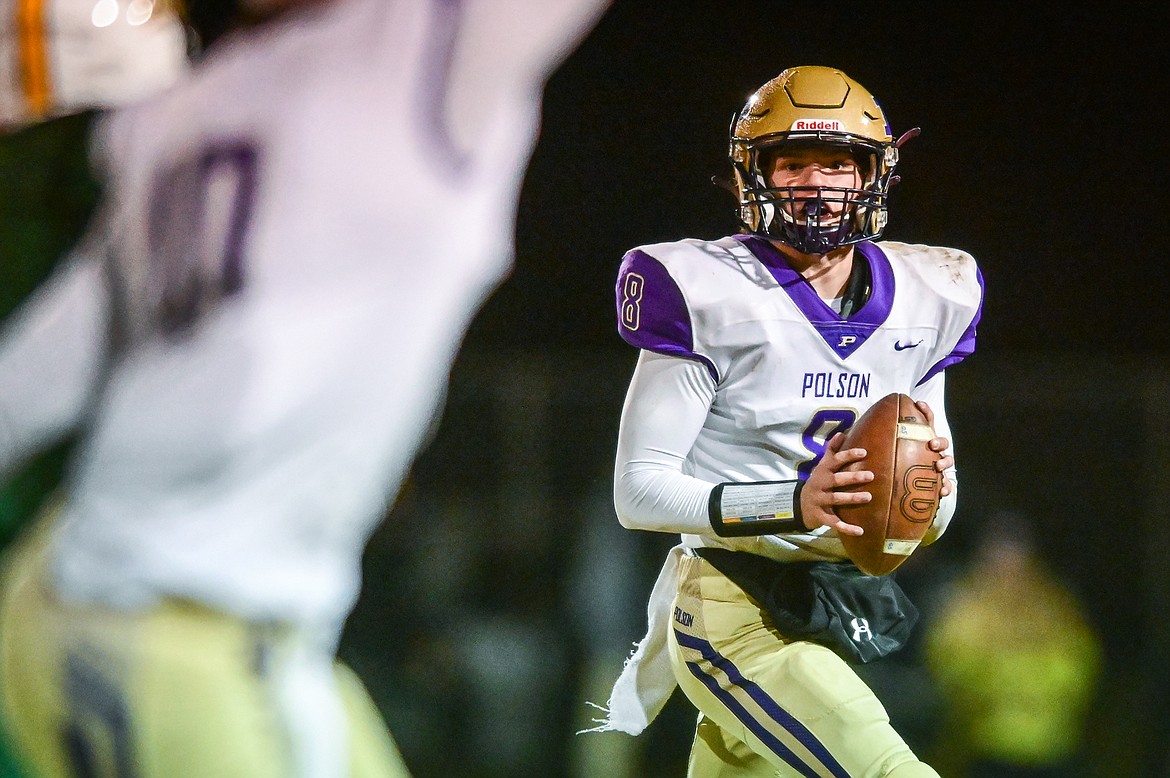 Polson quarterback Jarrett Wilson looks to pass against Whitefish on Oct. 22, 2021. The senior has thrown for 7,264 yards and 95 touchdowns in less than three seasons. (Casey Kreider/Daily Inter Lake)
by
FRITZ NEIGHBOR
Daily Inter Lake
|
September 21, 2022 11:50 PM
The Polson football Pirates are 4-0 this year, have won 14 of their last 15 games and a lot of it is due to a trio that came along 18 years ago: Colter, Jarrett and Trent Wilson.
Colter is the oldest, for the record. Then Jarrett. "Alphabetical order," said their dad, Scott Wilson, a longtime Polson administrator and coach who is now associate director of the Montana High School Association.
All three triplets are left-handed, though only one throws the football for the Pirates. That's Jarrett, whose senior campaign at the south edge of Flathead Lake has gone swimmingly: 15 touchdown passes, one interception.
He's poised, an accurate thrower and extremely mobile. His 95 career touchdown passes place him third in the Class A annals, behind only Hamilton's Carson Rostad, who threw 141 from 2016-19, and well within reach of Havre's Dane Warp (101 from 2012-15). Wilson has run for another 19 scores.
Last season, his second as a starter, he threw 48 touchdown passes against just three interceptions. Five senior receivers made his Friday nights that much more fun, and helped the Pirates advance to the State A semifinals.
Now Trent is his leading receiver and Colter — who splits time between the gridiron and cross country courses — has a handful of catches. The goal remains the same.
And Jarrett, the non-prototype quarterback at 6 feet tall, just might be getting overlooked.
---
"I love lefties," says Marty Mornhinweg, who spent 15 seasons running NFL offenses after, it should be mentioned, he was the Montana Grizzlies' 5-10 quarterback in the early 80s. "I coached the great Steve Young and I coached Mike Vick, just to name a couple."
Mornhinweg started the "Marty Camp" in Missoula in 2016, with the goal of bringing in eight quarterbacks — two each from the four city high schools — for film study and workouts.
It's since grown to 14 players or more, with the likes of current Griz quarterbacks Kris Brown and Kaden Huot matriculating through.
In 2021, Wilson showed up.
"It was awesome," said the quarterback. "Just being around someone who's been around football that long, and his knowledge of the game. And then the two people he brought with him as well: Jeff Garcia and Dave Dickenson. Two legends."
"Highly impressive young man," Mornhinweg said. ""You could tell almost immediately he had great poise and sort of was built to play the quarterback position. Nice, quick release, and he is extremely accurate. And he also has great movement.
"Last year (2021) he had a boot on, and he still moved better than most of the quarterbacks there."
Clearly Mornhinweg is a fan, to which fourth-year Pirates coach Kaden Glinsmann says, "I wish more were."
Jarrett Wilson was a receiver in Glinsmann's first year in Polson, with Bo Kelly playing quarterback behind double-tight formations.
"I'd spent five years at Helena High," said Glinsmann. "I was trying to be (then Bengals coach) Tony Arntson. That doesn't work in Polson."
That offseason the Pirates installed a passing offense, and while the Pirates went 4-5 and missed the 2020 postseason, the numbers began to pop. Wilson threw for 3,115 yards and 32 TDs.
---
"I've known them since we were in daycare," Brock Henriksen, a tight end and defensive end, said of the triplets. Then he smiled. "They fight a lot, but in the end it works out. They're great athletes, all of them. It's pretty fun."
At a recent practice Trent Wilson was asked why, all things being equal, he didn't try his hand at quarterback. He chuckled.
"Oh, no," he said. "I knew Jarrett was a lot more athletically gifted than me. I just did what I had to do to help the team. Which was not play quarterback."
A trio of lefties seems like a recipe for chaos, but after the initial couple years, Scott Wilson said, things leveled out. All three wanted to play basketball and football; it is only in the spring that they split up (Jarrett to run track, Colter and Trent to play tennis).
An older son, Tanner, played quarterback and then spent two seasons with the Griz.
"Personality-wise, I think Jarrett was just wired that way," his dad says. "Growing up, his brother Tanner was playing quarterback, and Jarrett's personality was closest to Tanner's, so I guess that's what happened. Colter and Trent never even thought twice."
Colter Wilson missed Tuesday's practice to run with Polson's cross country team in Thompson Falls, making a play for the family's top all-around athlete.
"I could not imagine doing that," Trent said. "Run on a Saturday, after you got done playing a football game."
Practice lasted two hours, with Jarrett taking play calls and then dropping passes on receivers all over the field. Everyone, after a summer of Monday "Skelly" sessions in Kalispell and Wednesday workouts, seemed to be in the right place.
"We understand where the open grass is, and are getting to that spot," Trent said.
"I think we're doing quite well," said Henriksen. "Last year we probably had a little more speed. This year, I feel we're just a good, solid group."
Things could have been different: Scott Wilson remembers when he accepted the MHSA job, and brought up a potential move to Helena. It was 2018.
"Honestly I don't remember which one it was," he said. "But he said, 'Dad, we've grown up here our whole lives.' That was the end of that conversation."
---
Besides Mornhinweg's, Jarrett Wilson hit four camps this summer: at Montana, Montana State, Weber State and Northern Arizona. None of the Big Sky Conference schools have shown as much interest as those in the NAIA Frontier Conference.
He's not 6-3, true.
"I don't think it ever holds me back, being this size," says the quarterback. "I play just as hard, I make just as many plays."
Mornhinweg notes that Young is barely over 6 feet and Vick stands 5-11. He feels Wilson can play.
"In the mornings we put some tape on," he said. "They need to take those drills and work them to where they're not even thinking about it. I take them through four reads, and they're pretty basic, but if you can do these four reads, you can do anything.
"Vision, decision-making, mobility, accuracy. This guy has all that."
What's next? Well, Libby comes in as Polson's Homecoming opponent Friday. The Loggers, Columbia Falls and Whitefish make it three 2021 playoff teams in the Pirates' last four games.
After that, somebody is going to get a good QB.
"Tell him I'm keeping an eye on him," Mornhinweg says, then mentions his own recruiting when he was at Oak Grove High in San Jose, Calif.
"Everyone was on the sideline," he said. "Notre Dame and USC were there. I was waiting on them when Montana called, and (Coach) Larry Donovan said, 'You know, If you go where you're really wanted, rather than where you want to go, it usually works out really well.'
"I got off the phone, got a map out, called him the next day and said, 'Yeah, I'm coming.' "
Mornhinweg left UM as its career passing leader.
"We all have different opportunities," he said. "I'm sure he'll have opportunities and make the most of it. Somebody's going to end up pulling the trigger on him and by next year, they'll be really happy about it."
Recent Headlines
---