Book challenge prompts creation of 'parent resources' section at ImagineIF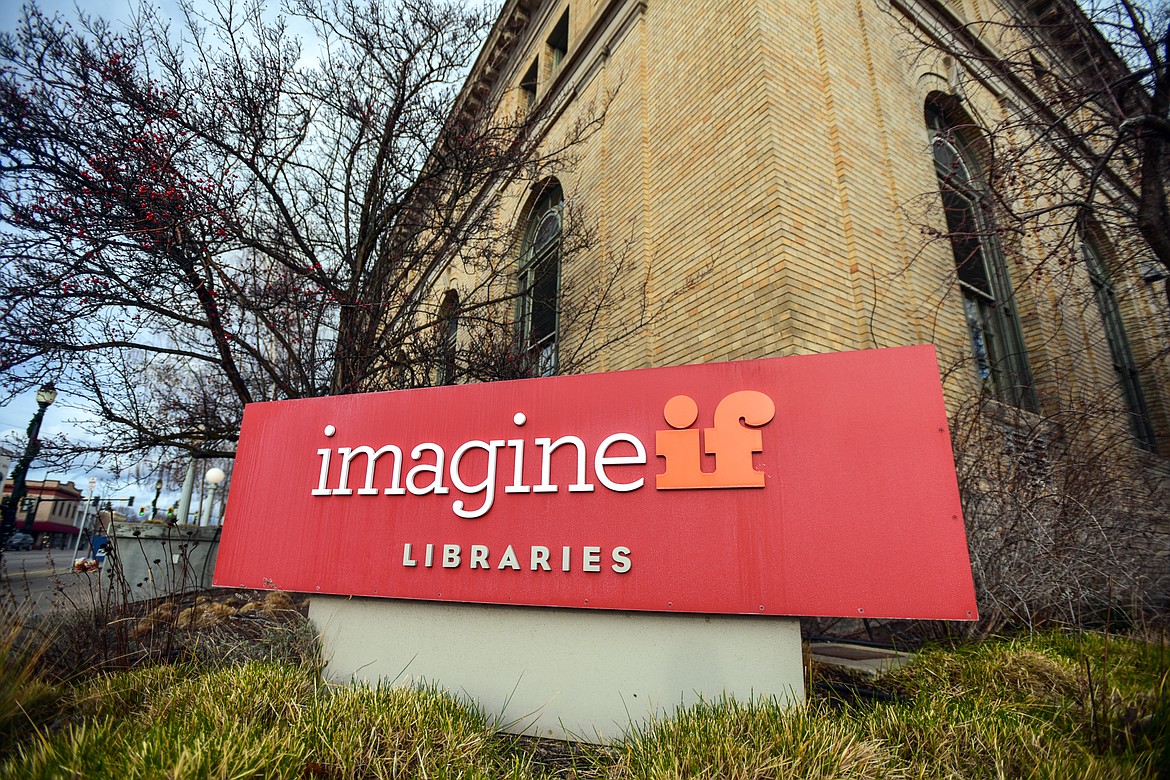 ImagineIF Library in Kalispell on Thursday, Dec. 2. (Casey Kreider/Daily Inter Lake)
by
TAYLOR INMAN
Daily Inter Lake
|
September 23, 2022 12:00 AM
ImagineIF Board trustees on Thursday voted to create a "parent resources" section in the library to house books deemed inappropriate for children to read without parental guidance.
The decision comes after a challenge over the book "Not My Idea: A Book About Whiteness" by Anastasia Higginbotham, which discusses white privilege and racism. In the complaint brought to the board by Dr. Michele Taylor, she said she believed the book creates "shame and condemnation in children, while burdening them with the problem of racism."
During discussion of the book at Thursday's meeting, most board members agreed.
Trustee Carmen Cuthbertson made a motion to remove the book from library shelves. She said she understands that coming across new ideas is one way to broaden horizons, but when it comes to other people's children, this thought process doesn't apply.
"Librarians in charge of the children's area should use common sense, their knowledge of child development and their experience interacting with lots of children to guide the book selection. Choose what is age appropriate and avoid indoctrination — avoid things that scare or confuse children," Cuthbertson said.
Prior to being appointed to the board, Cuthbertson was the first to challenge the book "Gender Queer" last fall, which spurred intense community debate and led the way for other recent book challenges at ImagineIF. The trustees in February decided to indefinitely postpone a decision on "Gender Queer," but decided to keep another challenged book "Lawn Boy" in the library's collection.
In regards to "Not My Idea," Trustee David Ingram said he believed the book and its themes are too complicated for children to understand and that they cannot analyze concepts like racism credibly.
"It is filled with adult subject matter and opinions, far exceeding the critical thinking skills of the targeted children age group 3 to 10 … I think it's indoctrinational material, especially when parent's or guardian's participation and interpretation might not be present," Ingram said.
Ingram made an additional motion to sequester the book to a station where it would only be available for checkout by those who specifically ask library staff. Both motions and the discussion amongst trustees received pushback from Assistant Director Sean Anderson, who called the board's discussion "inappropriate and abhorrent."
"So with the intention of being a public library, our intention is to invite more and more materials and not to control thought by removing things that we find distasteful — that four, or even five people find distasteful," Anderson said.
The decision comes as ImagineIF is celebrating Banned Book Week, which is celebrated by libraries in the United States to raise awareness about "the freedom to read." ImagineIF posted about the difference between a "book challenge'' and a "book ban" on their Facebook page, and have a display about famous banned books in the Kalispell library which encourages patrons to learn more about why those books were banned in the first place.
At the meeting, Library Director Ashley Cummins also pushed back against removing or sequestering the book noting that the library wouldn't have enough space to separate books that someone may find inappropriate.
"That is highly subjective and I receive multiple complaints every day in multiple directions. Most of those are resolved informally, but that's not necessarily going to be the case, and I think this would open a can of worms that you are not prepared to deal with," Cummins said.
In recent months, library staff have been working with parents to make sure they understand how they can manage their child's library account, Anderson told trustees, adding that the library leaves what is deemed appropriate for checkout in the hands of the child's parents.
Cummins said in discussions with the book challenger and the Children's Librarian, they pitched the idea of a "parent resources for children" section. She said the challenger was not pleased with the idea and wanted the book removed entirely.
"I don't know that instituting this section in this way is going to be of any help," Cummins said.
Board Chair Doug Adams erred on the side of caution when discussing removing the book, favoring the idea of a parent resources section. He spoke about his childhood growing up in South Carolina during the civil rights era, adding that he has spent time resolving his own prejudices. He said even though he believes the book is inappropriate, he doesn't consider it dangerous.
"I would go further and say, if this book is not dangerous, is this the hill we want to die on? Is this what we want to defend in court? I don't think that this book reaches that level anywhere near to something that I care to defend in court," Adams said.
During discussion, Cuthbertson said she understands staff's perspective, but believes the library "shouldn't foist extremist material onto children." Anderson pushed back on the comment, asking in what ways staff were doing that, "because it is on a shelf among thousands of other books."
Trustees voted unanimously to create the parent resources section where "Not My Idea," along with any other books library staff deem to be appropriate for that section, will be shelved.

THE BOARD heard from many people during public comment, most of whom asked the board to not get into the business of removing books from the library's collection.
Valerie McGarvey said the library is once again facing a book challenge because a book made someone feel uncomfortable, but that doesn't mean it's inappropriate or goes against library policy.
"Once again, I want to remind us that individual patrons do not get to choose what books I might want to check out and read to my grandchildren. It's so simple: if you don't like the book, don't check it out. Again, I'm not afraid for my kids and my grandkids to learn about racism. A public library guarantees the public's right to read," McGarvey said.
Another book challenge was brought before the board and tabled until their next meeting in October to give trustees time to read the book before taking action.
In the complaint for the book "Why Children Matter," the challenger said the book warrants removal due to pedophilia allegations against the author, adding that is also poorly written. The book is described as a "Christian child rearing book," and though it is seemingly used in many organizations' teachings, it has also been criticized for the allegations against author Doug Wilson.
Recent Headlines
---