Flathead hosts Hellgate in battle of 1-3 teams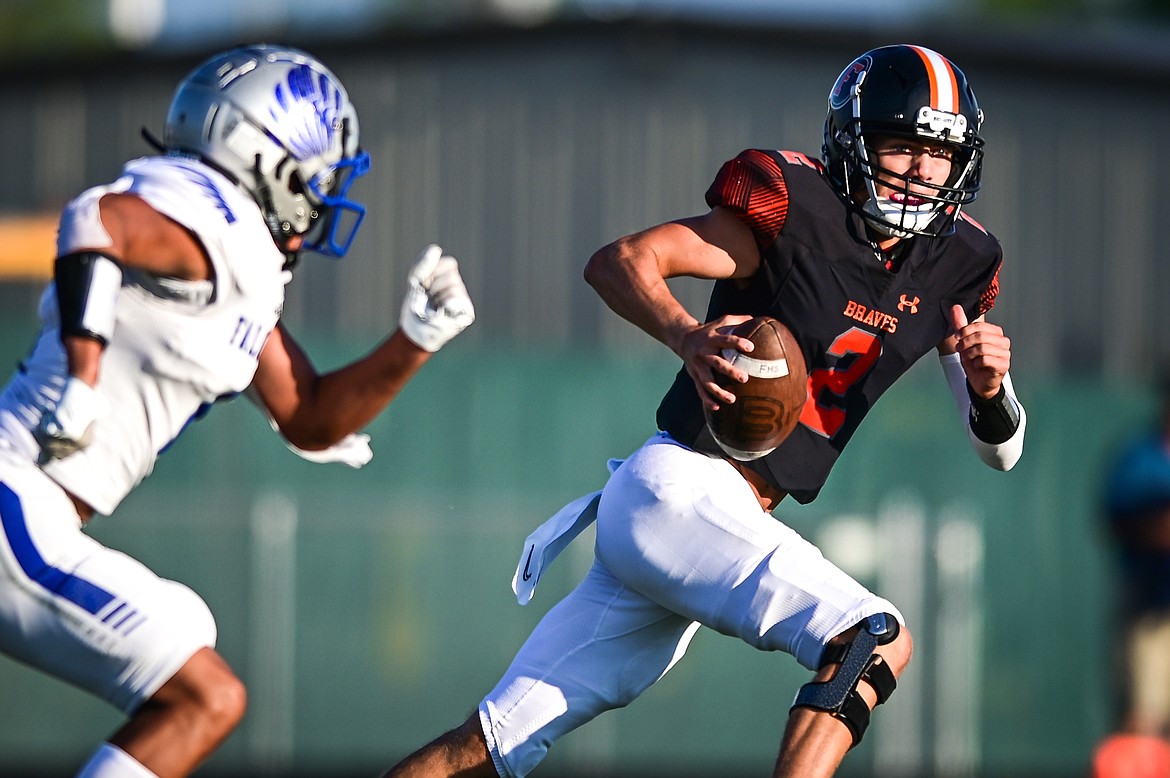 Flathead quarterback Jackson Walker (2) runs for a first down in the first quarter against Billings Skyview at Legends Stadium on Friday, Aug. 26. (Casey Kreider/Daily Inter Lake)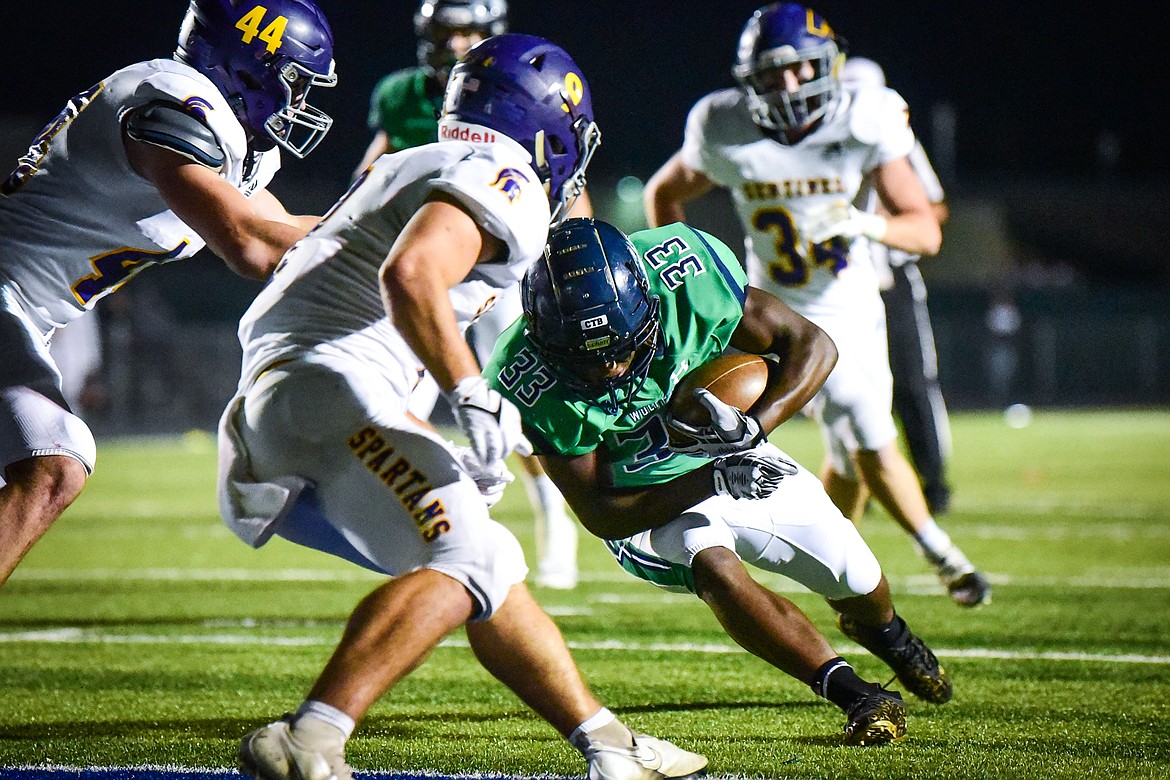 Glacier running back Kobe Dorcheus (33) scores a touchdown on a run in the fourth quarter against Missoula Sentinel at Legends Stadium on Friday, Sept. 16. (Casey Kreider/Daily Inter Lake)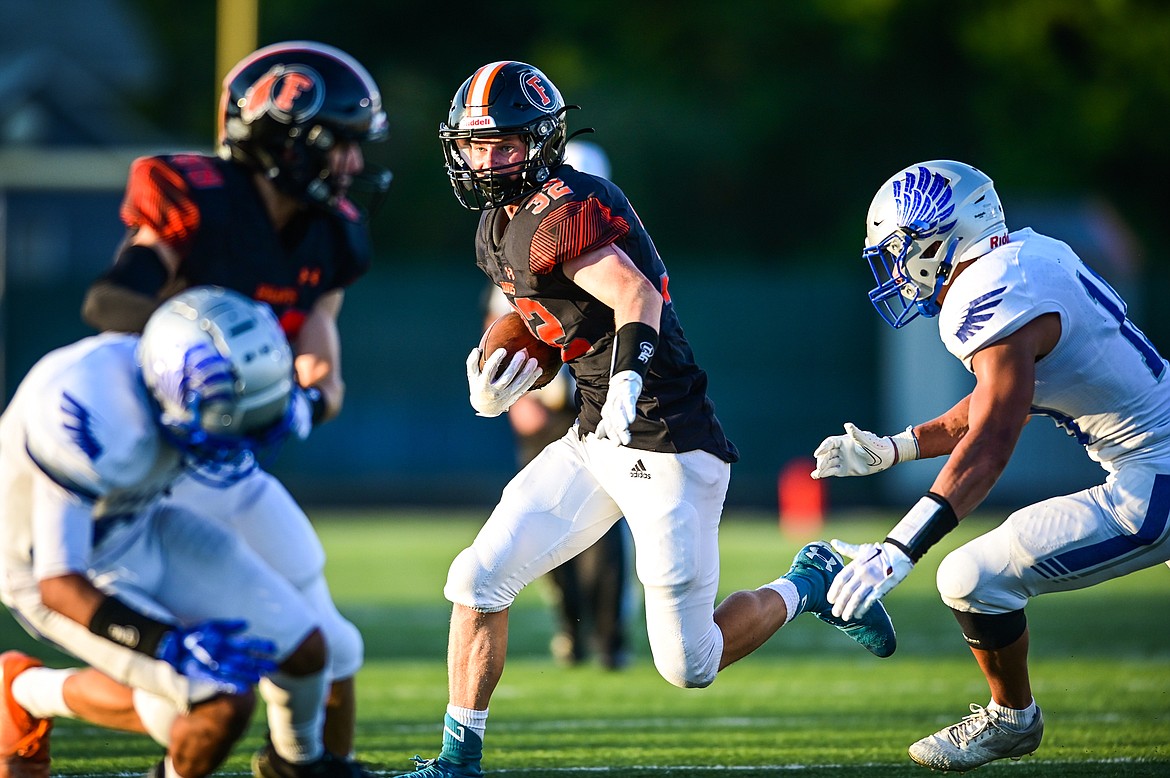 Flathead running back Gabe Lake (32) looks for running room against Billings Skyview in the second quarter at Legends Stadium on Friday, Aug. 26. (Casey Kreider/Daily Inter Lake)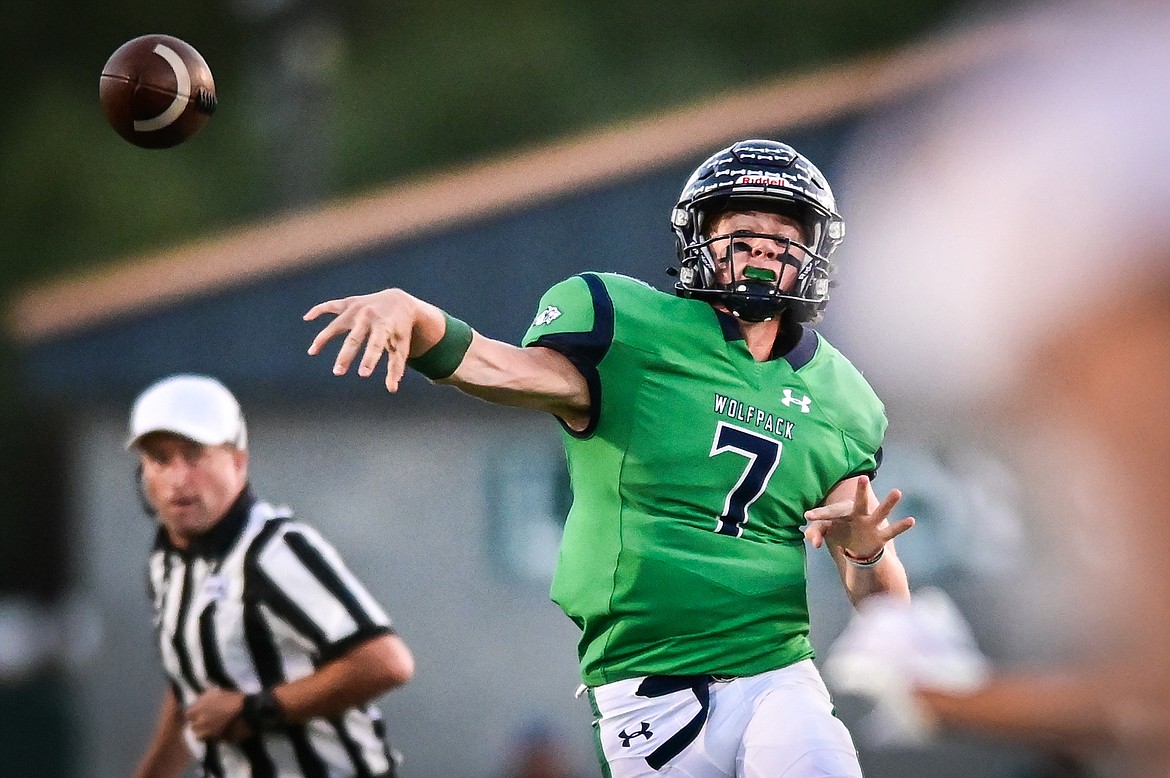 Glacier quarterback Gage Sliter (7) fires a pass in the secon quarter against Missoula Sentinel at Legends Stadium on Friday, Sept. 16. (Casey Kreider/Daily Inter Lake)
Previous
Next
The Flathead football squad returns to Legends Stadium Friday, glad to be off the road and hopeful about a game against another 1-3 team, the Missoula Hellgate Knights.
While 3-1 Glacier takes to the road to face unbeaten Helena Capital, the Braves kick off at 7 p.m. on their home field.
After their streak-stopping 27-0 win over Billings Skyview in the season opener, the Braves have fallen to Gallatin, Capital and Butte. The 40-0 loss at Butte was troubling for first-year coach Caleb Aland, who saw his team flagged for 12 procedure penalties and gain just 163 yards.
"We really shot ourselves in the foot," Aland said. "Penalties killed us. I think we had 16 and from watching the film, I think the officials missed a couple false starts."
Other things that showed up on film were, by Aland's count, 60 missed assignments.
"That one hurt," he said. "Butte's a tough team, and that's a tough place to play, but I felt that was a team we should have competed with and been in there with in the fourth quarter."
Monday was a conditioning day for the Braves, and Aland felt his squad responded well this week.
"We came back and had a really good Tuesday and Wednesday practice," he said Thursday. "And we're going to get after it today."
Hellgate at Flathead
Jackson Walker, who didn't start in Butte in favor of Nate Skonard, is penciled back in at quarterback for the Braves. Brody Thornsberry (9 catches, 195 yards, 2 touchdowns) and Joe Jones remain his favored targets, along with Ben Bliven.
Finding running lanes for Jones and Gabe Lake would help the Braves, who are averaging just 2.2 yards a carry through four games.
Hellgate quarterback Conner Dick had six touchdown passes and just one interception through his first two games. Then Sentinel and Helena slowed the Knights, who are in their first year under former Frenchtown coach Ryne Nelson.
Hellgate did lead Helena 15-7 at halftime of a 42-15 loss last week; Dick has thrown for 817 yards and seven TDs, and is also the Knights' leading rusher with a 105-yard game to his credit.
The QB has all three of Hellgate's rushing touchdowns.
Leo Filardi has four receiving touchdowns and 370 yards on 20 catches for Hellgate.
"Conner Dick's a really good player, and I noticed that last year when we played them," Aland said. "They do a lot of sprint-out stuff on offense, and move the pocket a little bit."
Aland noticed that Hellgate has had some attrition on defense, particularly in the secondary.
"It will be interesting to see who shows up," he said. "For me, it's all about execution. We have the players to go out and execute and have a successful game. It's going to come down to want-to. We've had a good two days of practice, so I'm excited."
Glacier at Capital
Things don't get easier for the Wolfpack following its 38-31 loss to Missoula Sentinel: Capital is 4-0 and playing at home.
"This is the meat of our schedule," said Glacier coach Grady Bennett. "Sentinel, Capital, then Helena and Butte. That's a brutal stretch."
The Bruins have Joey Michellotti at quarterback; two of his five TD passes have gone to his brother Nicholas, who has 239 yards on nine catches. Tight end Hayden Opitz, a Griz commit, has 10 catches for 198 yards and a TD, and three of running back Thomas Carter's four catches have gone for touchdowns.
Hudsen Grovom was sharing QB duties, but was hurt last week and won't play for the Bruins Friday.
Glacier's offense still hummed last week, particularly during a strong second half when the Pack battled back from a 28-14 deficit. Quarterback Gage Sliter threw for 143 yards after intermission; his 1,287 yards and 16 touchdowns lead Class AA passers.
"I like how we competed, especially in the second half," Bennett said of the Sentinel loss. "That's one of the biggest steps we made as a team this season.
"Our goal is the same: We gave ourselves a chance in the fourth quarter and that's all you can ask."
The running attack is led by Kobe Dorcheus (7.4 yards a carry) and Jackson Hensley (5.5). Kash Goicoechea is a third threat, and Bennett hopes to see a lot of the junior Saturday, especially on defense. Sliter has two touchdowns rushing, while Dorcheus has a team-high five.
Eight receivers have at least seven catches: Kaid Buls has 17, Bridger Smith has 11, and Evan Barnes has taken half of his eight catches to the barn for TDs.
Hellgate at Flathead: 7 p.m., Legends Stadium (KGEZ AM 600/FM 96.5
Glacier at Capital: 7 p.m. Vigilante Stadium (KZMN 103.9 FM)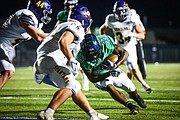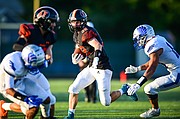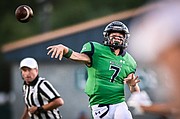 Recent Headlines
---