Glacier beats Flathead in first crosstown flag football game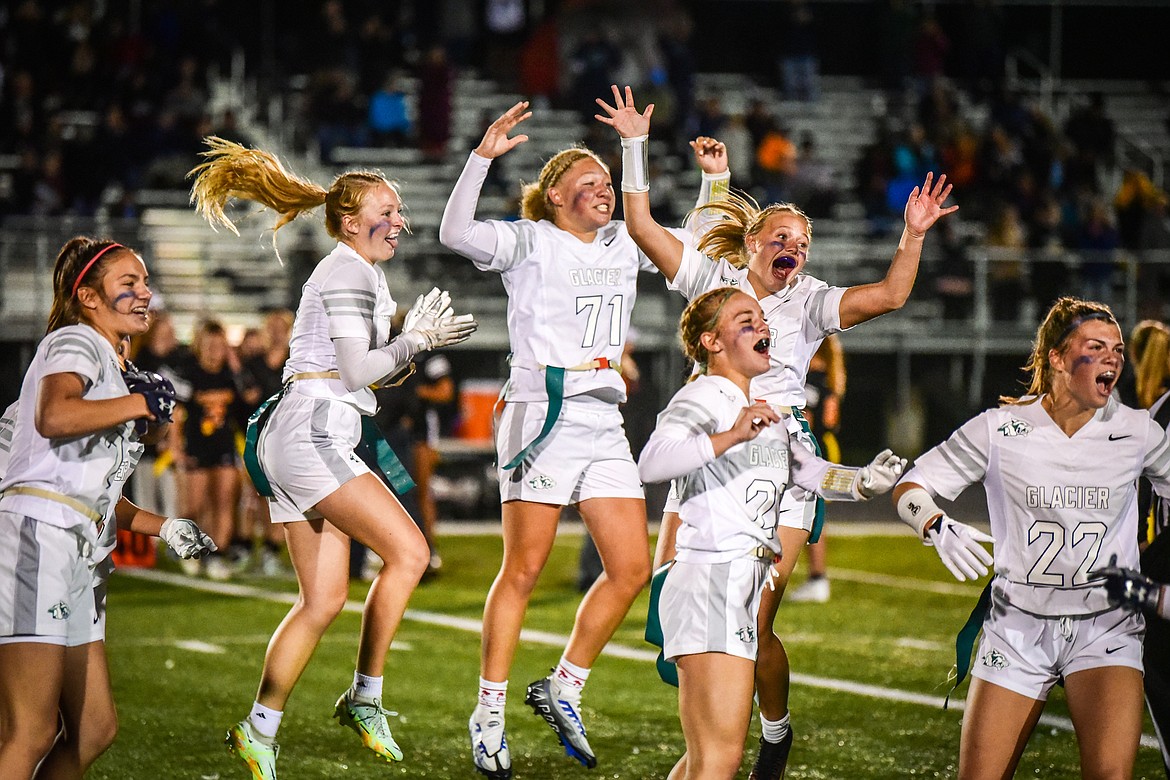 Glacier celebrates after the first flag football crosstown victory against Flathead at Legends Stadium on Thursday, Sept. 22. The Wolfpack won 18-12. (Casey Kreider/Daily Inter Lake)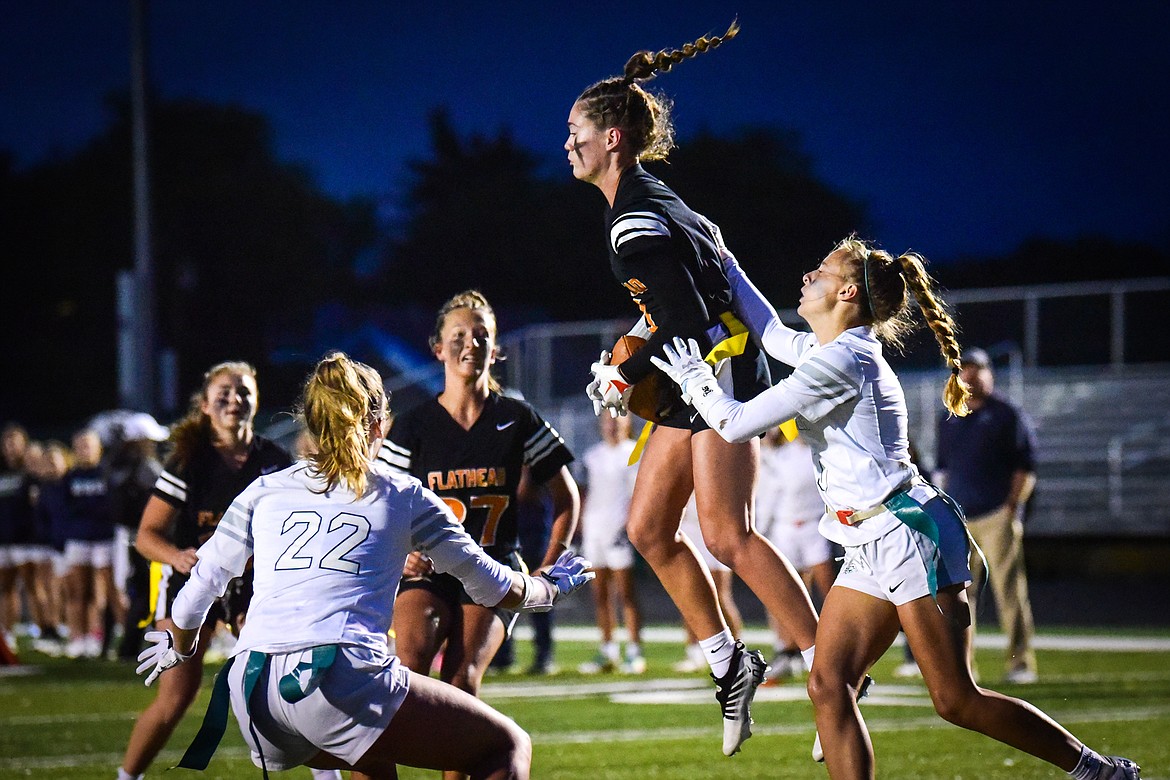 Flathead's Peyton Walker (1) catches a touchdown pass in the second half against Glacier at Legends Stadium on Thursday, Sept. 22. (Casey Kreider/Daily Inter Lake)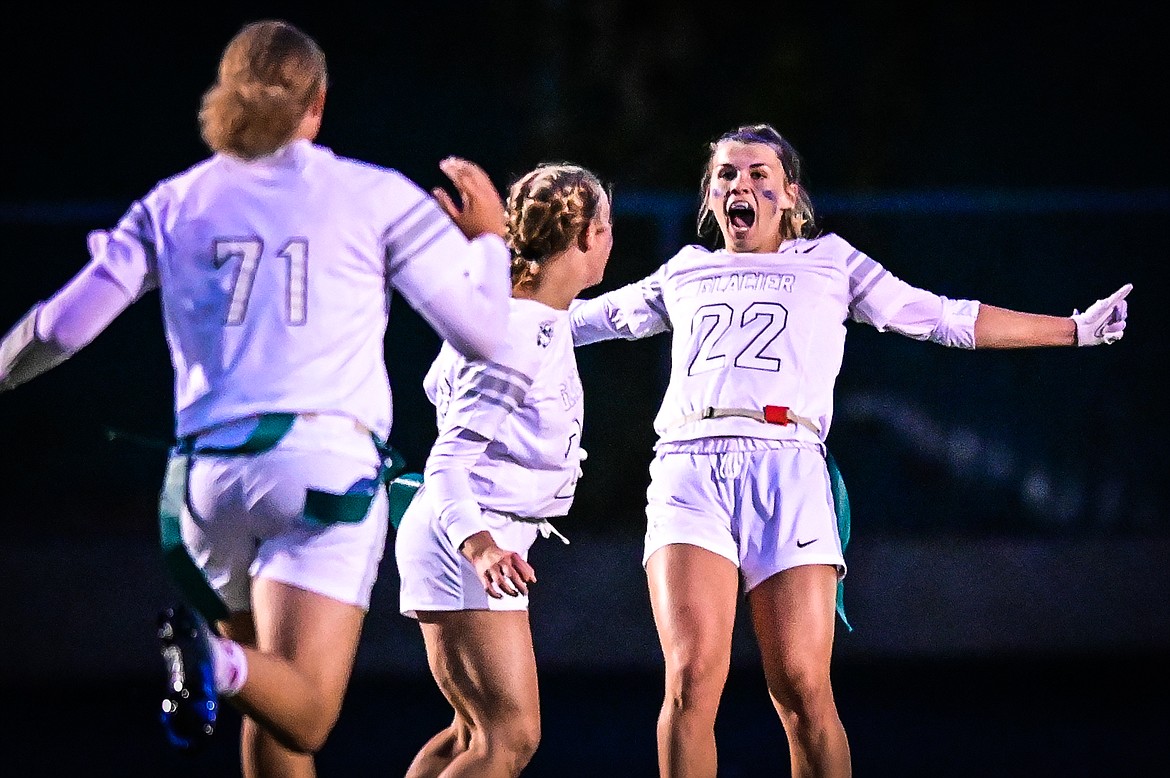 Glacier's Noah Fincher (22) celebrates after a long touchdown reception from quarterback Kai Johnson (71) against Flathead at Legends Stadium on Thursday, Sept. 22. (Casey Kreider/Daily Inter Lake)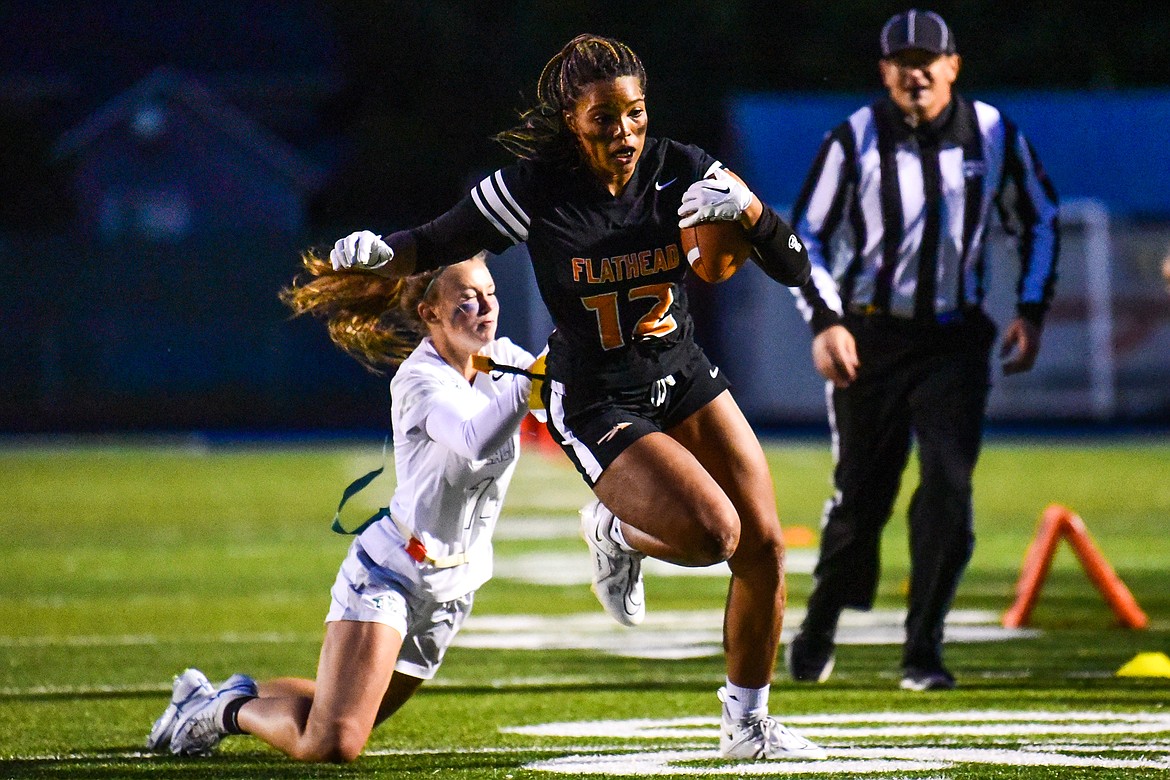 Glacier's Bella Hodous (14) makes a diving tackle as Flathead's Akilah Kubi (12) heads for the sideline on a run in the second half at Legends Stadium on Thursday, Sept. 22. (Casey Kreider/Daily Inter Lake)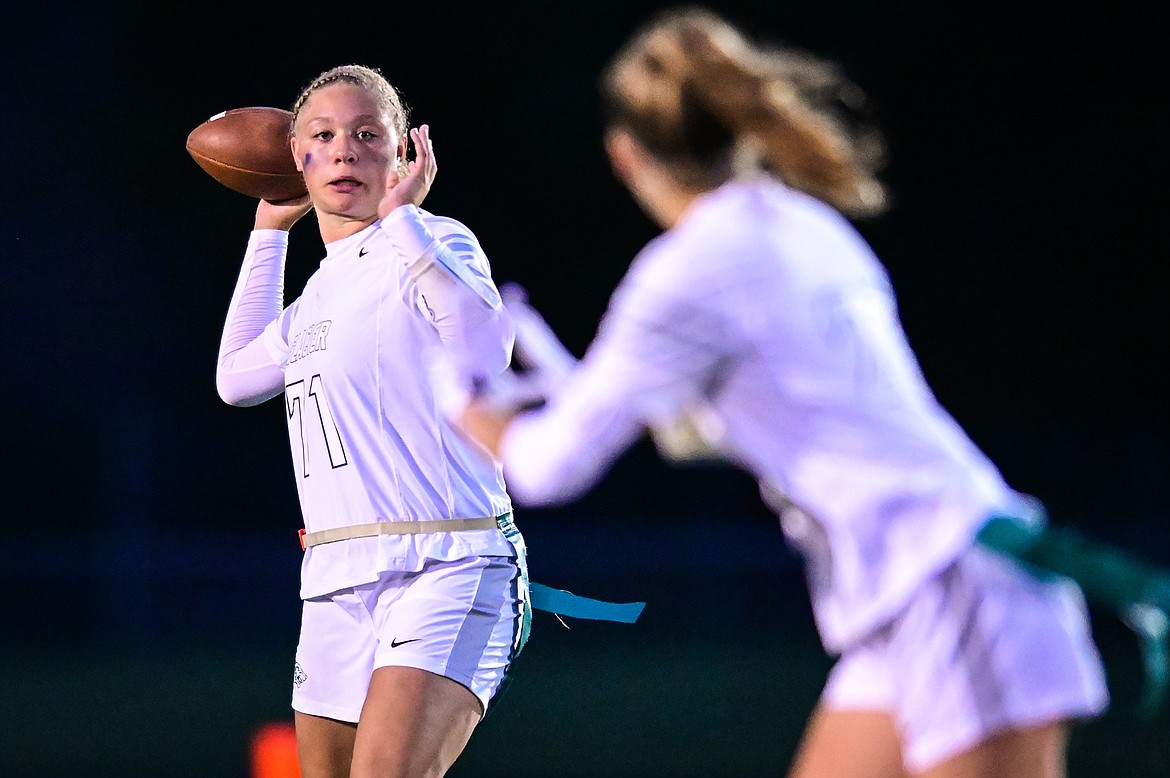 Glacier quarterback Kai Johnson (71) completes a pass to Noah Fincher against Flathead at Legends Stadium on Thursday, Sept. 22. (Casey Kreider/Daily Inter Lake)
Flathead quarterback Tali Miller (9) looks for room to run on a quarterback keeper against Glacier at Legends Stadium on Thursday, Sept. 22. (Casey Kreider/Daily Inter Lake)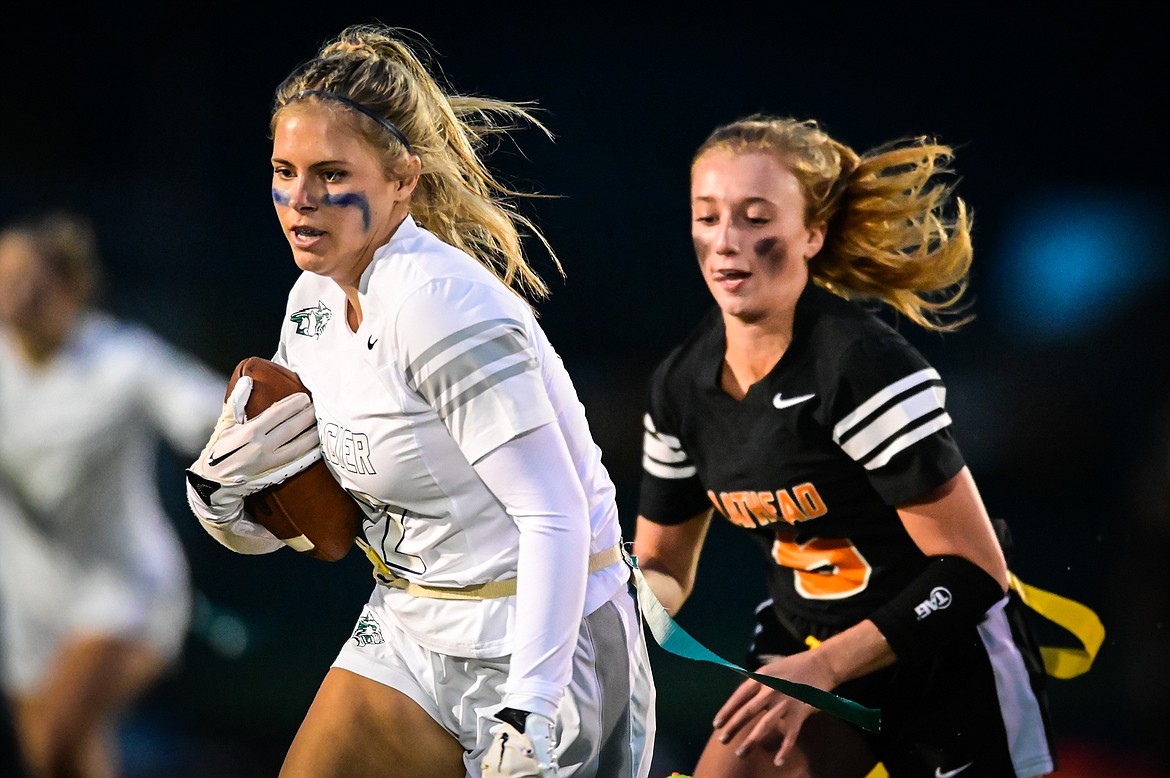 Glacier's Aubrey Price (12) is tackled from behind by Flathead's Harlie Roth (12) after a reception at Legends Stadium on Thursday, Sept. 22. (Casey Kreider/Daily Inter Lake)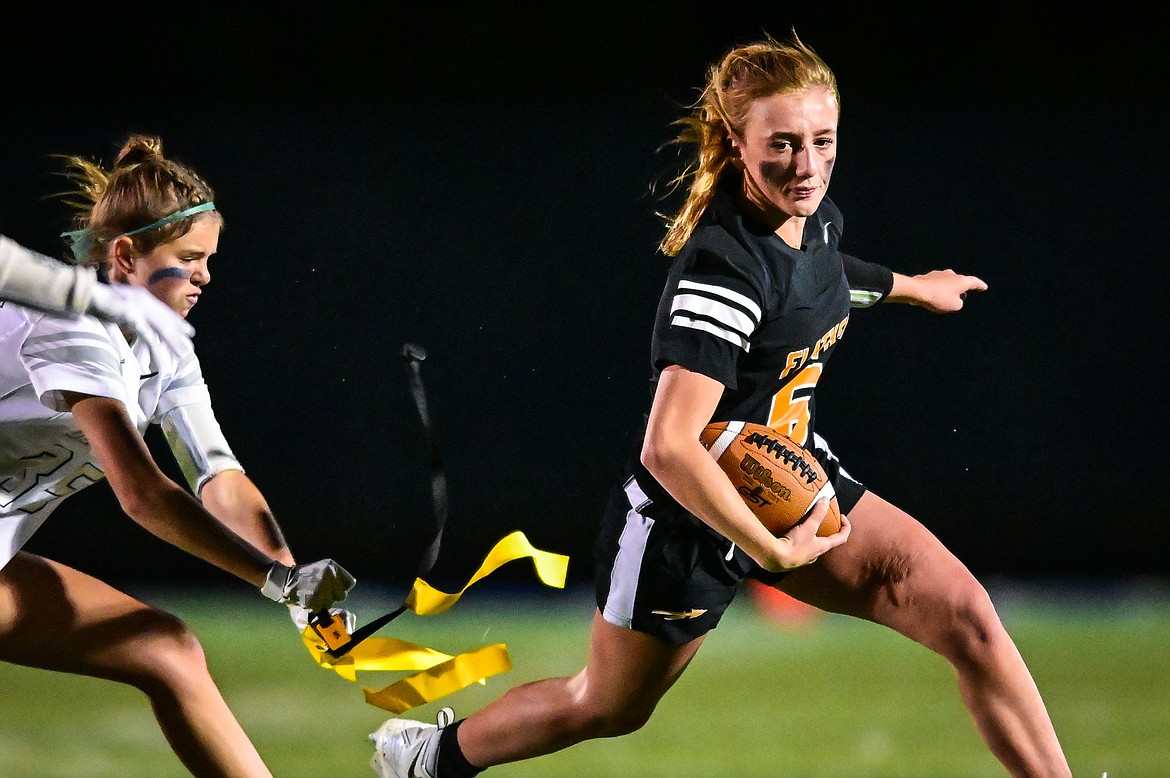 Flathead quarterback Harlie Roth (6) is tackled by Glacier's Morgan Smith (35) in the first half at Legends Stadium on Thursday, Sept. 22. (Casey Kreider/Daily Inter Lake)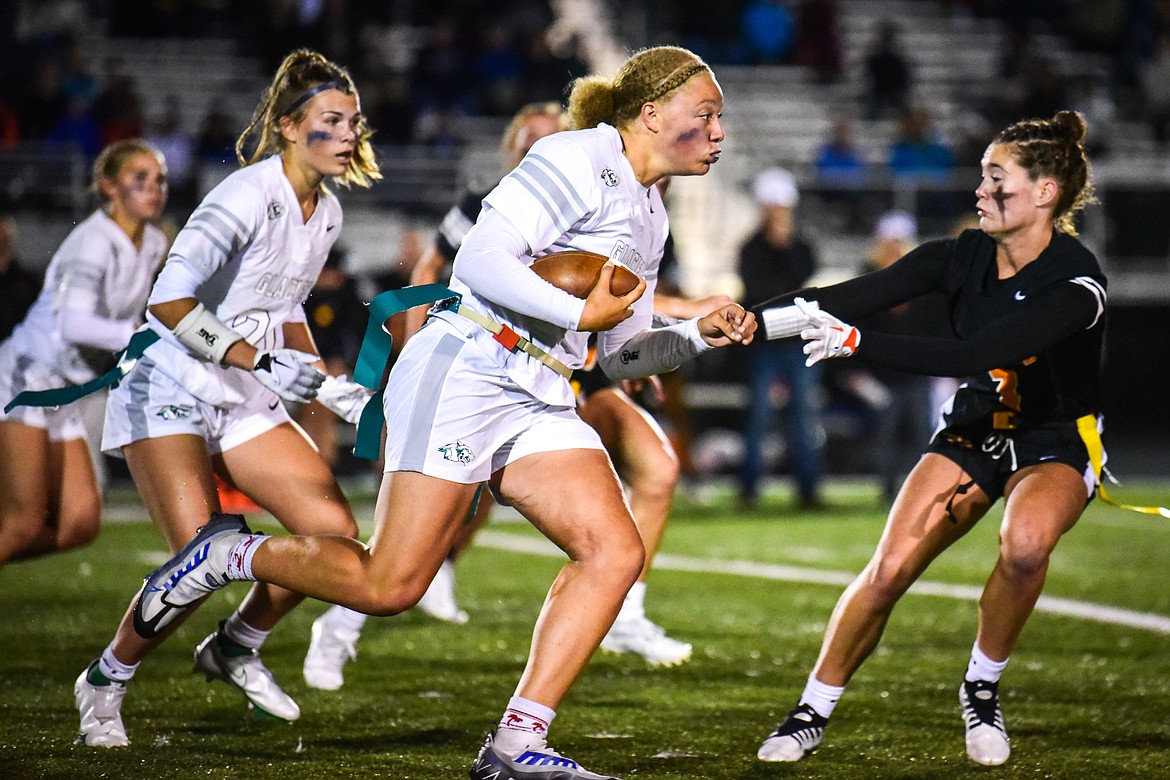 Glacier quarterback Kai Johnson (71) takes a quarterback keeper around the end to wind out the clock in the second half against Flathead at Legends Stadium on Thursday, Sept. 22. (Casey Kreider/Daily Inter Lake)
Previous
Next
by
JOSH DUGAN
Sports Reporter
|
September 23, 2022 12:05 AM
Gray skies and light rain set the scene for crosstown flag football Thursday with Glacier beating Flathead 18-12 while both schools celebrated Seniors Night at Legends Stadium.
"What a great experience…Flathead is a heck of an opponent. They tested us in ways we couldn't even imagine." Glacier Head Coach Mark Kessler said.
Early on it was a defensive chess match with Glacier pulling in an interception on the first drive of the game and Flathead's defense stringing together multiple stops to keep things locked at 0-0 through the first 18 minutes of action.
It was only fitting the scoring action started on the defensive side of the ball when Glacier's Kai Johnson jumped a pass from Flathead quarterback Tali Miller for an interception return to the house, putting the Wolfpack ahead 6-0 with time ticking down in the first half.
The second half had a very different feel with Glacier scoring a special teams touchdown less than two minutes in, when Flathead's punt returner attempted a lateral and Glacier's Noah Fincher snatched the ball out of the air. She took it the other way for a touchdown.
Over the next eight minutes Flathead's offense came to life with Harlie Roth rushing for a touchdown and Peyton Walker catching another, making the score 12-12 with nine minutes to go.
Glacier's Johnson responded by throwing a perfectly placed deep ball over the Bravettes' defense for a touchdown, making things 18-12 in favor of the Wolfpack.
With one minute left in the game and Flathead facing fourth down and short, the Wolfpack defense prevailed one last time when the Bravettes tried a quarterback draw up the middle and Roth was stopped just short of the first down marker by a herd of Wolfpack defenders.
"It was great to be able to come out on top and make one more play than they did," said Kessler.
The Bravettes and Wolfpack flag football programs have a big weekend on the horizon with the Atlanta Falcons flying both teams to Seattle so they can take in a weekend of football action.
It starts with a Falcons practice Saturday, followed by the Washington Huskies vs. Stanford Cardinal that evening.
The Kalispell schools wrap things up Sunday with a trip to Lumen Field as the Seahawks host the Falcons.
"The girls are super excited, it's going to be a great trip." Kessler said.
The Falcons have played an integral part in expanding the sport of high school flag football, first in Georgia and now in Montana. The team picked up the bill for the sport's inaugural season in the Big Sky state.
Recent Headlines
---