Beer lift — Whitefish man excels at Bavarian feat of strength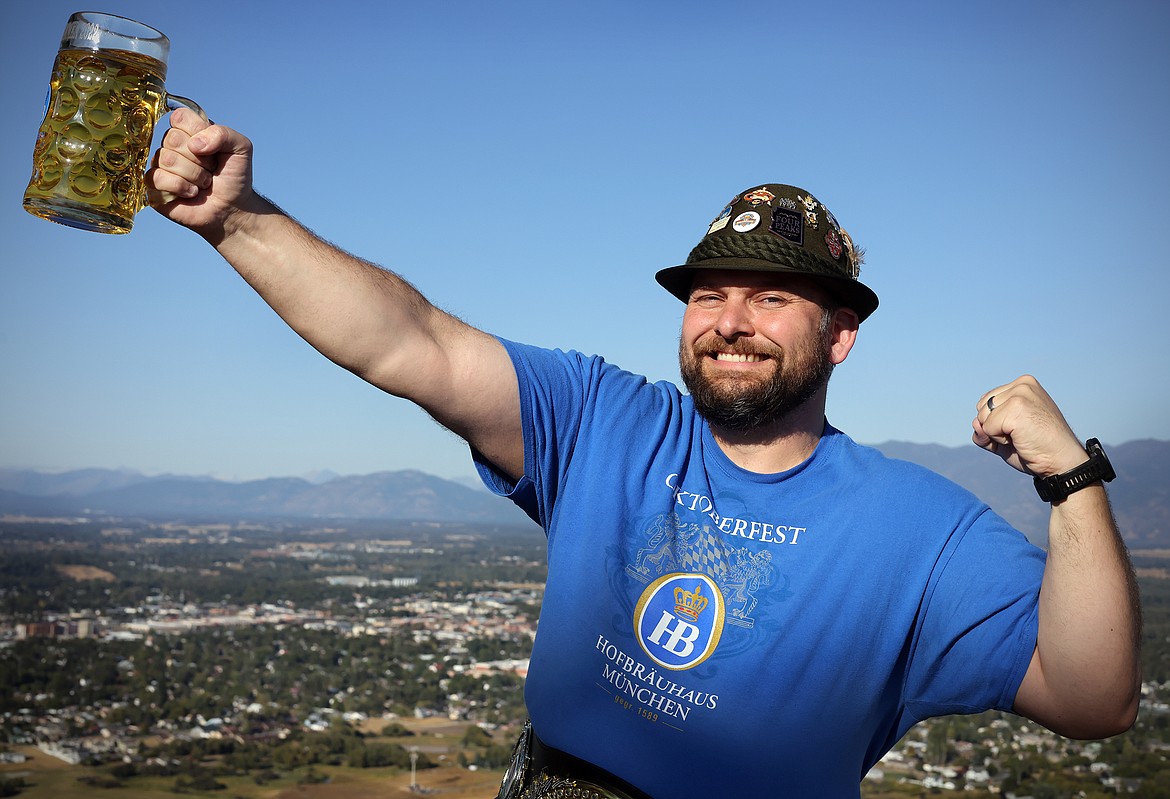 After three years of training, Whitefish's "King in the North" David Sturzen earned the Hofbräu USA stein holding national championship in New York last weekend. (Jeremy Weber/Daily Inter Lake)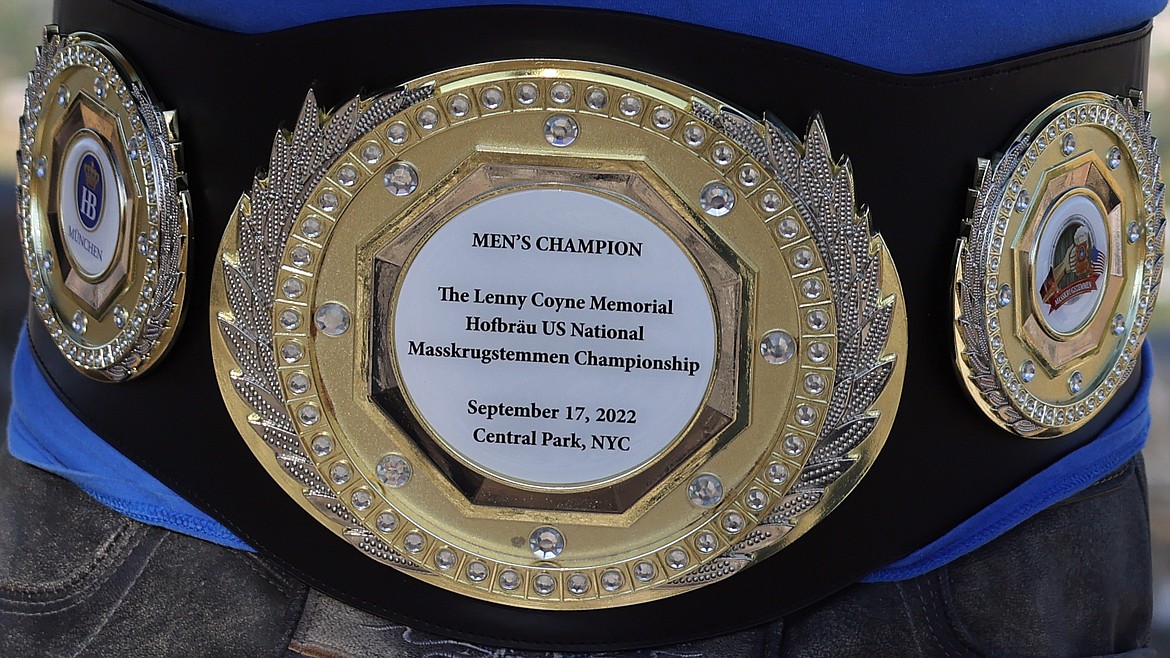 The stein holding national championship belt is no small piece of hardware. (Jeremy Weber/Daily Inter Lake)
Official United States Steinholding Association steins hold one liter of beer and can weight as much as 5.5 pounds. (Jeremy Weber/Daily Inter Lake)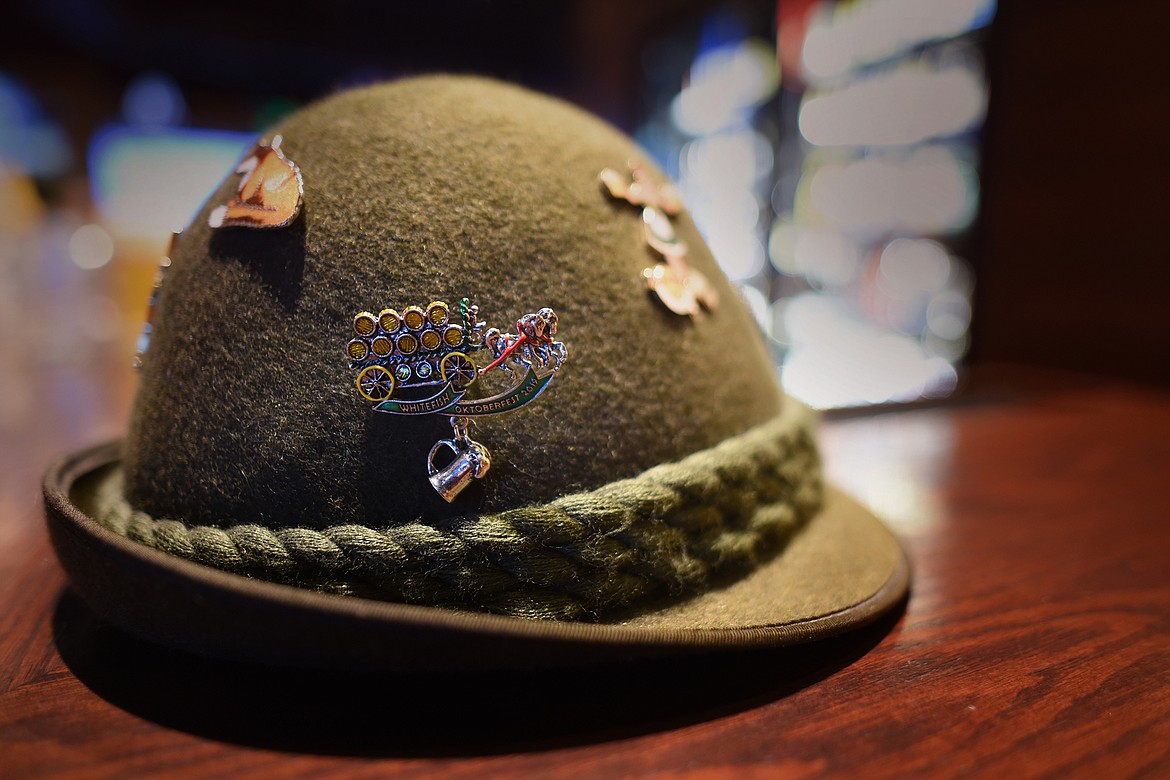 David Sturzen's lucky had is adorned with pins from the competitions he has won. (Jeremy Weber/Daily Inter Lake)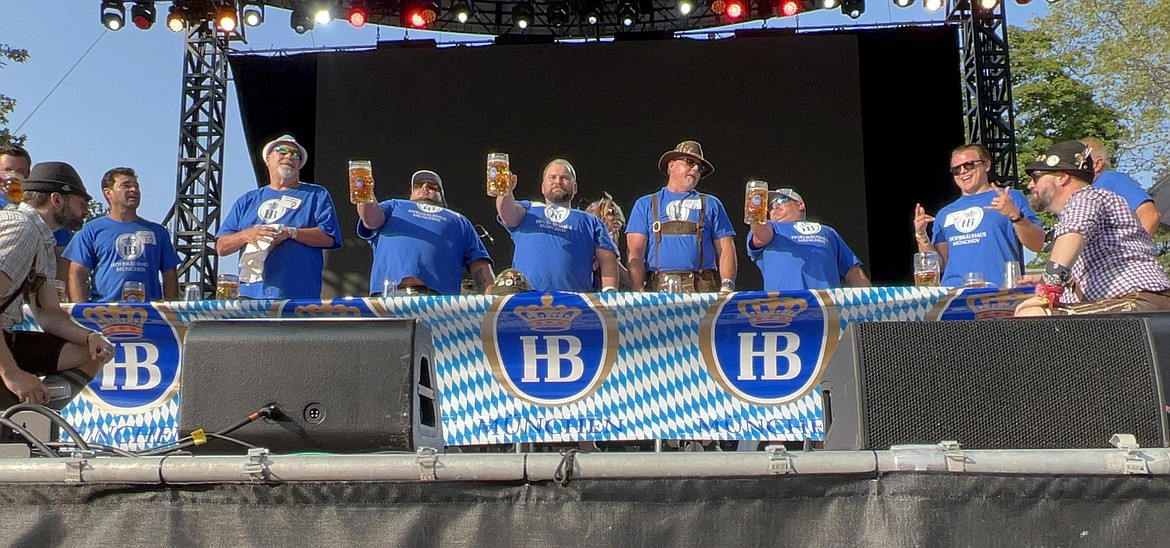 David Sturzen (center) and his fellow competitors at the Hofbräu USA national championship in New York. (photo provided)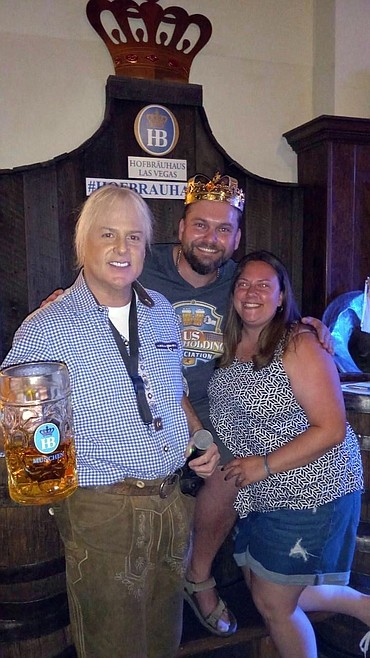 Dave Sturzen (wearing crown) celebrated his Hofbräu USA Las Vegas stein holding title in July. (photo provided)
Previous
Next
by
JEREMY WEBER
Daily Inter Lake
|
September 27, 2022 2:10 PM
It's official, no one (in the U.S. at least) holds their beer like Whitefish's David Sturzen.
After nearly three years of hard work and dedicated practice, Sturzen walked away with the impressive championship belt and men's national title at this year's Hofbräu USA Lenny Coyne Memorial Masskrugstemmen Championship in New York's Central Park.
With a time of 12 minutes and 37 seconds, Sturzen earned his place among the unique sport's greats for his ability to hold a beer stein in front of himself with a straight arm, parallel to the ground.
"It was great to finally get this done and have someone bring the national title belt back to Montana. All the hard work finally paid off."
Masskrugstemmen, or steinholding as it is more commonly known, is a Bavarian feat of strength and endurance that pits contestants against one another in a competition to see who can hold a 1-liter stein of beer (weighing around 5.5 pounds) aloft the longest.
Masskrugstemmen is a mashup of two German words, "masskrug," meaning a one-liter stein of beer, and "stemmen," meaning "lift." Put the two words together and you've pretty much got the jist of the sport.
For Sturzen, the journey to the top began in Whitefish at the Great Northwest Oktoberfest in 2019 when he beat out then undefeated champion Kevin Collom to earn his first title in the sport.
Sturzen hasn't lost since.
Since that first win, Sturzen had the goal of winning the national title in New York, but life and a pandemic got in the way.
Undaunted, Sturzen kept the dream alive by practicing at home, under the watchful eye and tutelage of Collom, who became his mentor. Stein in hand, Sturzen put in the work until his practice times came to exceed the recognized national record.
While Covid-19 restrictions kept him at home in 2020, Sturzen won the United States Steinholding Association (USSA) virtual national championship, an online competition organized after the pandemic forced the annual New York event to be canceled.
Back to competing in person, Sturzen once again won at the Great Northwest Oktoberfest in 2021 before also earning the USSA state championship in Arizona later that year.
Sturzen punched his ticket to New York by beating out 300 other competitors to win the Hofbräu Las Vegas championship in July, where he bestowed the nickname "King in the North" by former national champion and founder of Texas Stein Holding, Jason Hurta.
Despite new, more stringent rules restricting leaning, the New York competition was all Sturzen hoped it would be.
"Everyone was amazing and it was a great time. All of the competitors were fantastic and they were really good. It was a really fun competition," Sturzen said. 'When we got done, I didn't stop wearing the belt. I wore it through Central Park and Times Square, getting weird looks all the way."
In addition to the belt, Sturzen also won his second trip to Germany, the first coming along with his USSA Arizona state championship.
"This is great, now I can take my wife and kids with me to Germany," he said. "I'm glad they will be able to go with me and experience what it is like over there."
While winning the national championship means Sturzen can no longer compete through Hofbräu, he intends to keep competing with the USSA with the goal of eventually starting a state championship in Montana.
Sturzen also hopes to see his friend and mentor Collom return to competition and bring home another title to Montana.
"We've already brought our state one national title by working together," Sturzen said. "It would be great to get another."
Recent Headlines
---