15th Annual Plein Air Glacier 2022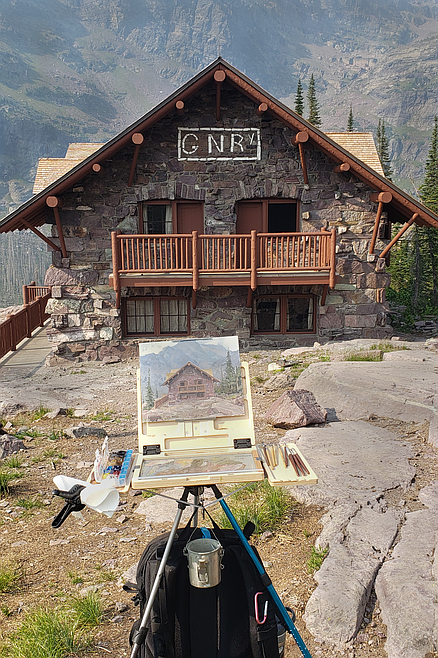 "Undaunted" 24 x 30 oil by Kenneth Yarus
|
September 29, 2022 12:00 AM
All new works created during the Hockaday Museum of Art's Plein Air Glacier Paint Out, which took place Sept. 6 to 13, are now available to view and purchase through Oct. 15
This year, 36 notable artists from around the country participated in the Paint Out. Proceeds from the sale help support the artists and the Hockaday's educational exhibitions, programs and classes.
The Hockaday's online sale ends at 11:59 p.m. Oct. 15. It's free to register and all works are at buy-it-now prices. Artwork purchased online can be picked up from the museum anytime after Oct. 15 during normal business hours with sales receipt confirmation. Out-of-state purchases can call 406-755-5268 or email information@hockadaymuseum.com to arrange additional shipping charges and logistics.
Participating artists include Rob Akey, Karrie Baldwin, Richie Carter, Nancy Cawdrey, Johanne Descoteaux, Therese Ely, Rebecca Fiske, Griffin Foster, Linda Franson, Laura Gable, Anne Garney, Bonnie Griffith, Gail Hansen, Leslie Ann Hauer, Aaron Cordell Johnson, Rocky Kerr, Natalie Luehr-Fisher, Carol Maddux, Donna McGee, Lorie Merfeld-Batson, David Mihalic, Wanda Mumm, Sheri Nagy, Mark Ogle, Susan Oursland, Lilli-Anne Price, Charlotte Quist, Ed Robinson, Robert Spannring, Janet Sullivan, Martijn Caspar Swart, Lindsay Ternes, Melanie Thompson, Dixie Turner, Ron Ukrainetz and Kenneth Yarus.
Recent Headlines
---