ImagineIF Libraries Kalispell branch launches section for challenged books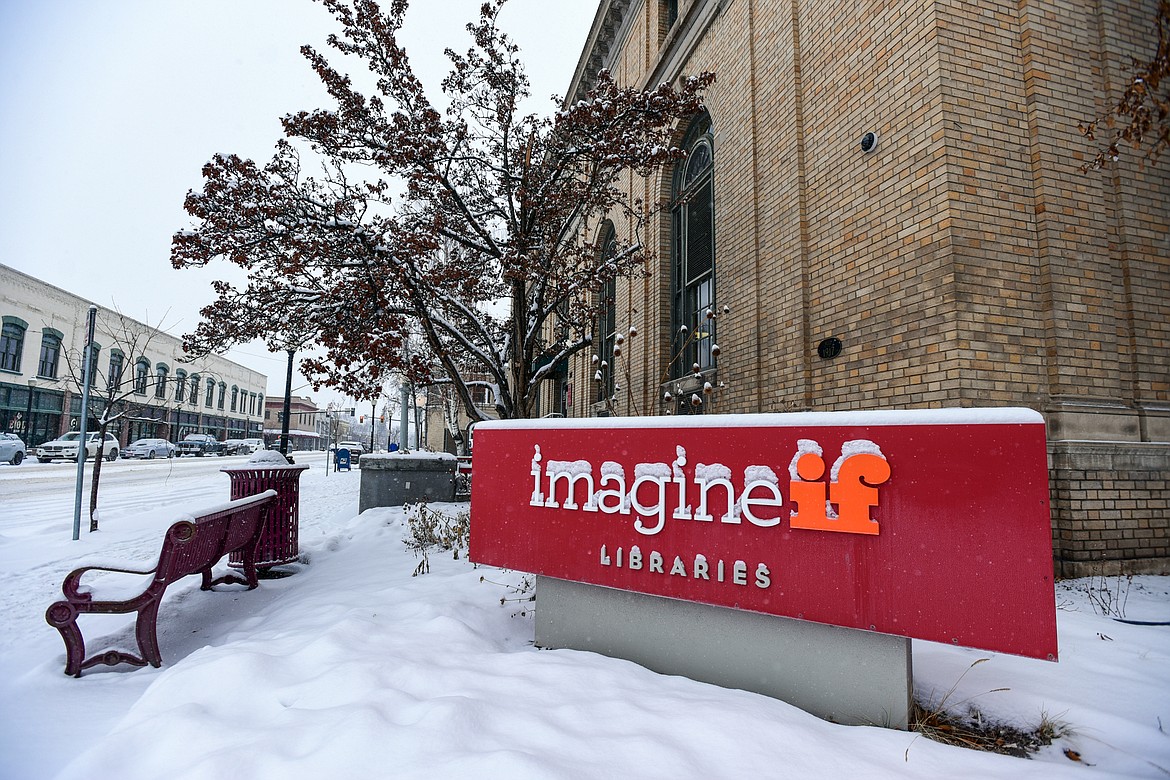 ImagineIF Library Kalispell on Tuesday, Jan. 31. (Casey Kreider/Daily Inter Lake)
ImagineIF Libraries officials have launched their solution for childrens' books challenged by the public: a shelf in the children's section of the Kalispell branch.
The library system's board of trustees began mulling options for what to do with books objected to by members of the community last fall. "Not My Idea: A Book About Whiteness" by Anastasia Higginbotham sparked the discussion.
The book, which discusses white privileges and racism, earned criticism from Dr. Michele Taylor in September 2022. She accused the book of creating "shame and condemnation in children, while burdening them with the problem of racism" and asked trustees to remove it from library shelves.
At the time, many ImagineIF board trustees agreed with her sentiment, but instead of removing it, they voted to create a special section for books that might be too complicated for a child to understand without the help of an adult.
"Not My Idea" now sits on a shelf in the children's section, deemed the parental resources section, nestled between other books for both parents and children. There are many child rearing books covering a variety of topics as well as other children's books covering delicate conversations, such as grief and divorce.
ImagineIF Libraries Director Ashley Cummins said where books go in the library is typically up to librarians, who follow the suggested guidelines for the intended audience when they order materials.
She said the way the collection came about was "kind of unfortunate," but staff still felt like it could be a resource to the community.
"We just identified what we felt as a collection development team would be a genuine resource to parents and our community, and not necessarily a purgatory for questionable books," Cummins said. "There is one item in that collection that, of course, we were directed to put there. But we felt like it fit the criteria, because those are difficult conversations, and we felt like having those available in a parent resource collection would definitely be a resource to parents."
She said they also looked at other libraries' collection policies and reached out to the Office for Intellectual Freedom, as well as the state and several national organizations to ensure they "were being mindful of their duties" as a library.
The section is not restricted by age — though it was intended to curb instances of children checking these books out without context from their parents. As long as a child holds their own library card, they can check out what they want.
Trustees witnessed a backlash after voting to create the special section, criticism coming from both those who supported and opposed the removal of the book. Taylor, who filed the complaint about "Not My Idea," spoke at a meeting following the board's decision and asked once again for the book to be removed from circulation.
Opponents of actions taken by the board likened the move to censorship, many speaking during the public comment period of trustee meetings to voice their interest in checking out the book for their child. Many critics argued that parents should decide what is and isn't appropriate for their children.
Board Chair Doug Adams said the library isn't restricting access to these materials.
"When people say 'This is all censorship, how is that possible?' It's just in a section. If we were to start any other section, it's absolutely no different, there's no discrimination, there's no restrictions, there's no nothing — it's just another section," Adams said.
The creation of the section was delayed owing to the popularity of "Not My Idea." The book was checked out continuously for weeks after the initial challenge was made against it in September.
"I feel very comfortable with what we have. I know some people maybe don't. But I think if they come in and they look at it, they will feel better," Cummins said.
Reporter Taylor Inman can be reached at 406-758-4433 or by emailing tinman@dailyinterlake.com
Recent Headlines
---