Kalispell artist crafts gavel gifted to U.S. Speaker of the House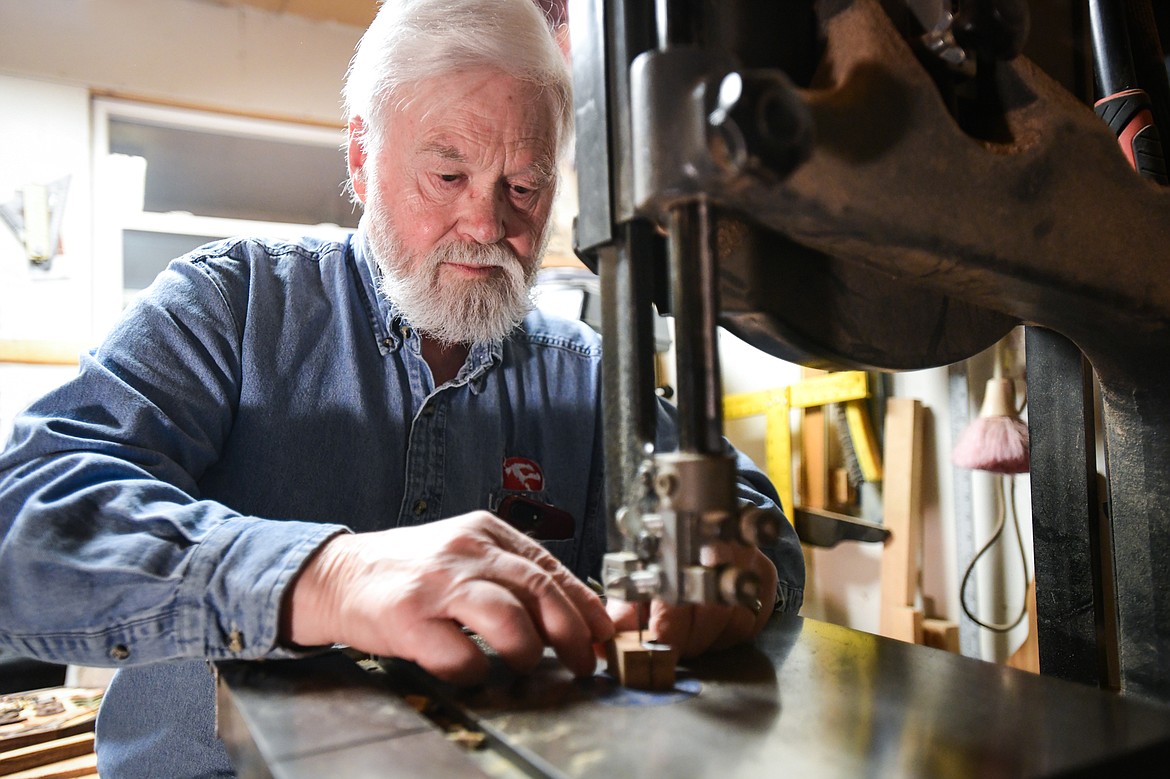 Ron Kelley works on one of his pieces in his shop in Kalispell on Tuesday, March 28. (Casey Kreider/Daily Inter Lake)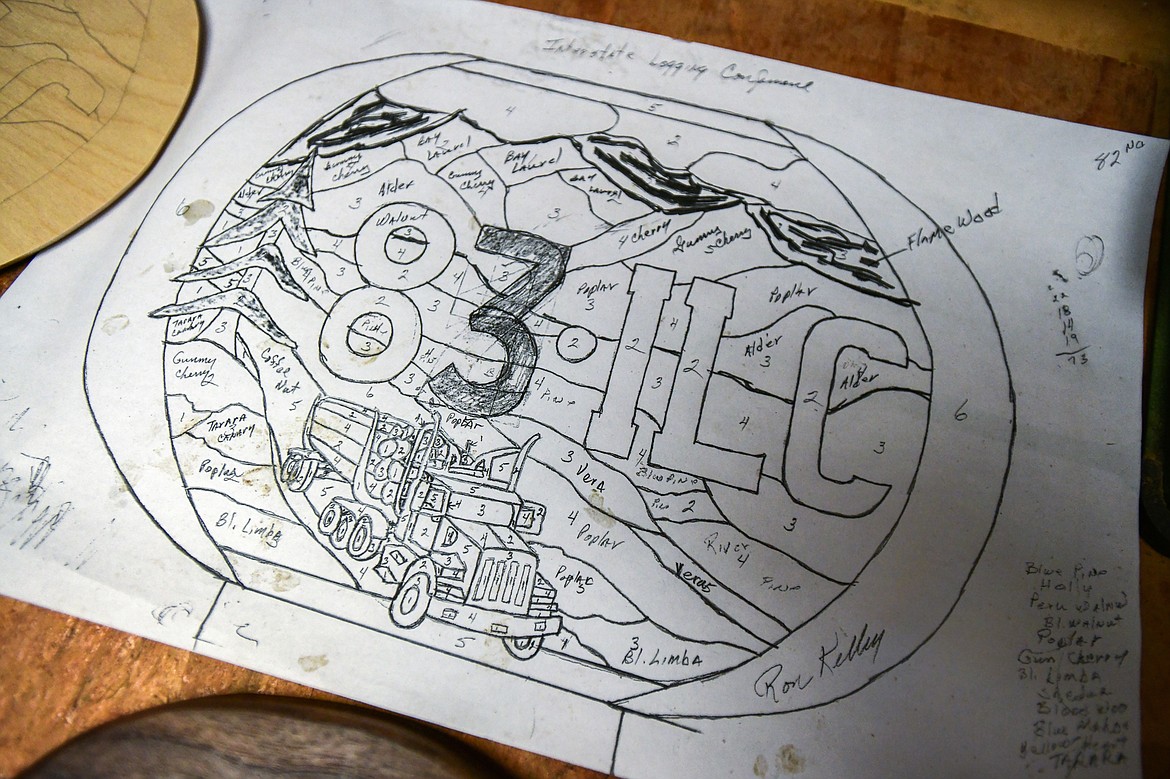 One of Ron Kelley's drawings he uses to make his artwork at his shop in Kalispell on Tuesday, March 28. (Casey Kreider/Daily Inter Lake)
One of Ron Kelley's works titled "Nature's Way" on Tuesday, March 28. (Casey Kreider/Daily Inter Lake)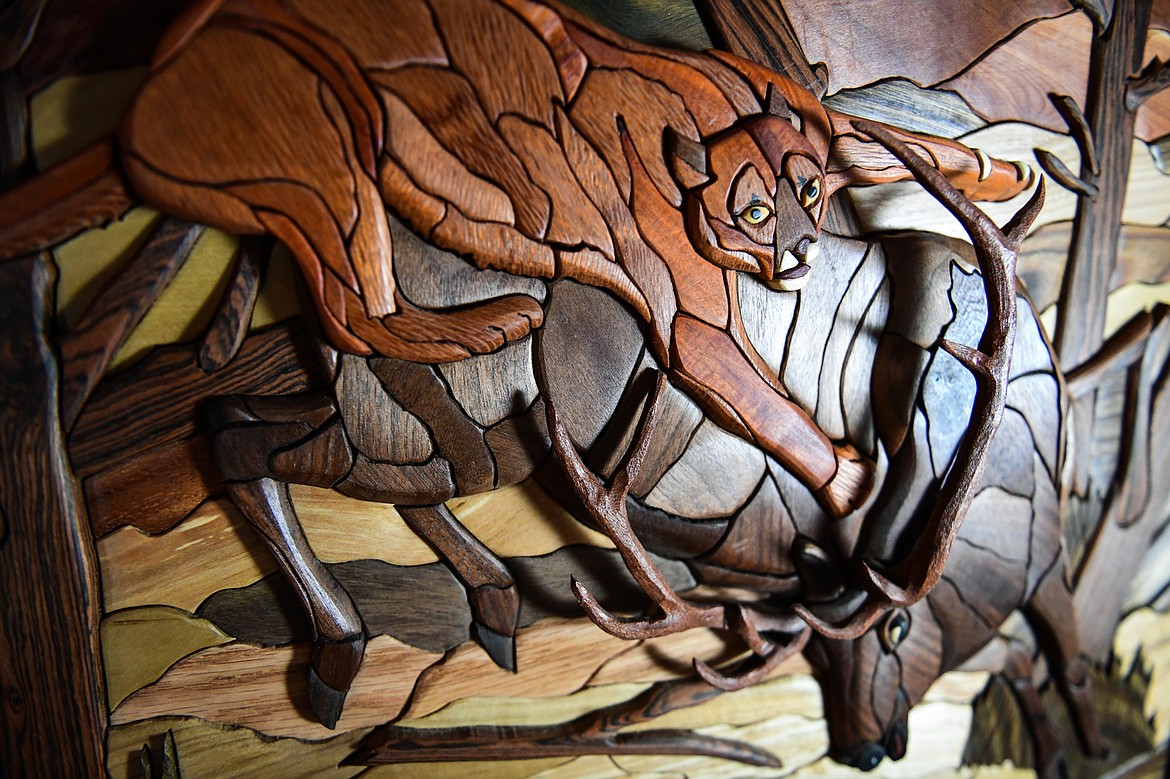 Detail of one of Ron Kelley's works titled "Nature's Way" on Tuesday, March 28. (Casey Kreider/Daily Inter Lake)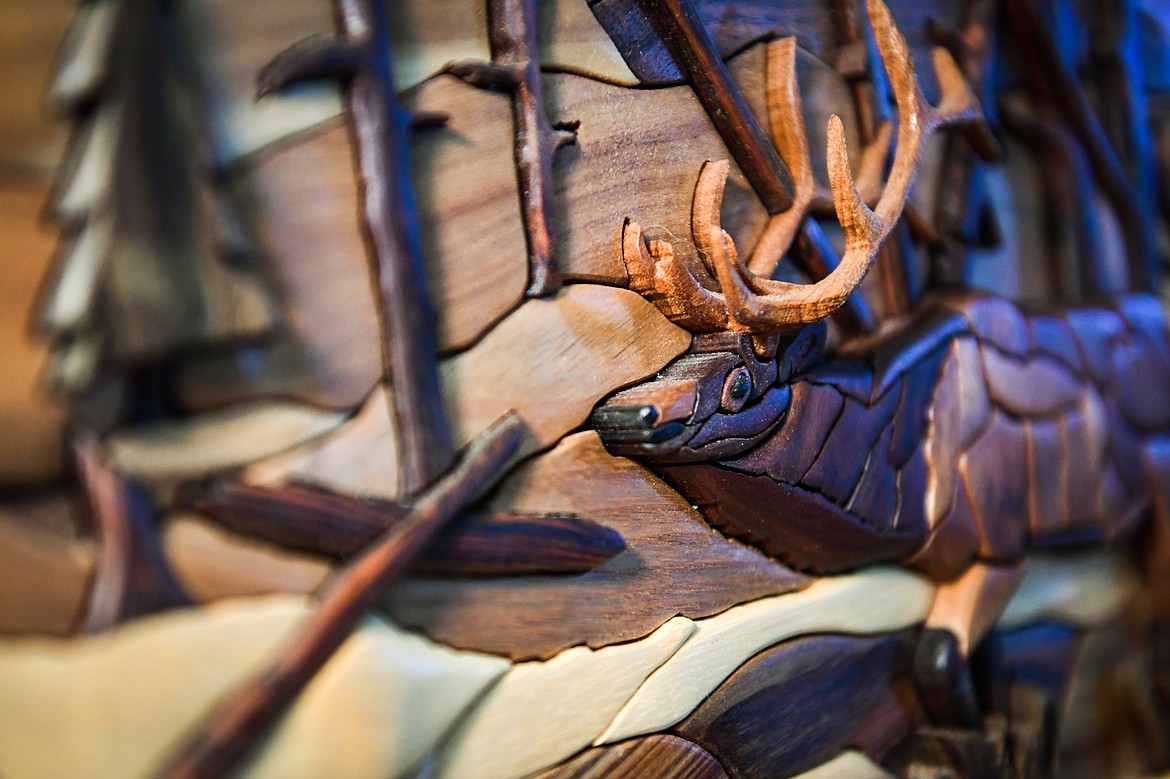 Detail of one of Ron Kelley's works titled "Fall Rivals" on Tuesday, March 28. (Casey Kreider/Daily Inter Lake)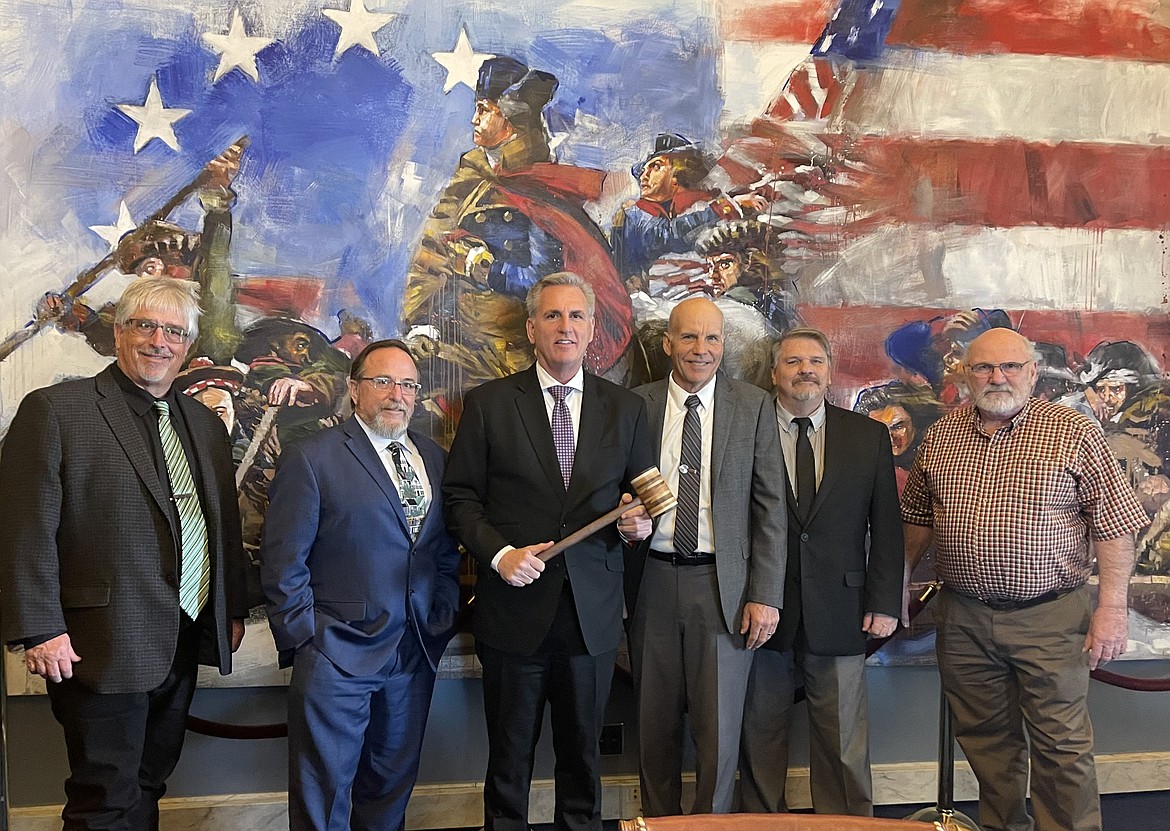 Speaker of the House Kevin McCarthy holds the gifted gavel in DC (Photo courtesy of Ron Kelley)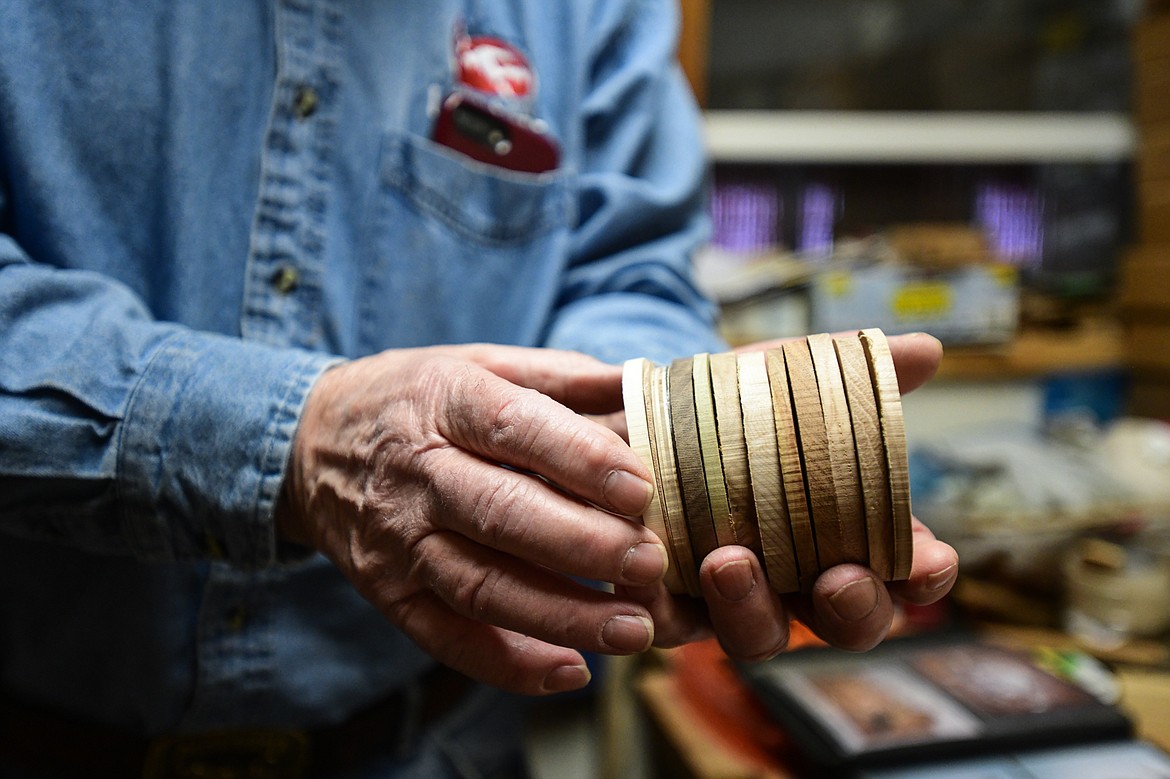 Ron Kelley holds a set of wooden discs similar to the ones in the gavel he created used by Kevin McCarthy, Speaker of the U.S. House of Representatives and Congressman in California's 20th District, on Tuesday, March 28. (Casey Kreider/Daily Inter Lake)
Previous
Next
by
KATE HESTON
Daily Inter Lake
|
April 9, 2023 12:00 AM
Ron Kelley did not expect a wooden gavel — that he made in his small, garage woodworking shop — to end up in the hands of the U.S. Speaker of the House in Washington D.C.
Yet, two months after he created the gavel, that is exactly what happened.
"It's an awesome feeling, I'm not kidding, to suddenly be surprised with the fact that something you did went all the way to Washington," Kelley said.
A gavel made by Kelley was presented to House Speaker Kevin McCarthy, a Republican from California, on March 23 in the United States Capitol. It's a gavel the congressman could possibly use on the House floor.
It was a gift from the American Loggers Association, which presented the gavel to McCarthy in Washington in recognition of his selection as Speaker.
In Kalispell, Kelley's at-home shop occupies a tiny corner of his garage, next to a small haircutting station, an art he has practiced since the 50s. Woodworking is a newer art form for Kelley, which he picked up in the 90s. He has two old motors — each costing him only $10 — that power his ability to sand and saw.
Gavels are outside of the 81-year-old's expertise, which is intarsia woodworking: the art of creating a mosaic picture from pieces of wood that are selected by color, cut, and grain pattern.
Yet, the gavel he crafted for McCarthy was "perfect and impressive," according to Scott Dane, the executive director of the American Loggers Association.
According to Dane, the gavel is representative of the logging industry and was crafted to reflect the national role of the American Loggers Council.
The gavel features black walnut wood, a rare and valuable hardwood species in North America; holly wood, which is used to make Christmas wreaths; alder wood, which is found in Montana; and maple wood who's tree is claimed as the state tree more than any other species.
"Had I known it was going to a Speaker like him, I might have even put his name on it," Kelley said.
KELLEY HAS lived in the Flathead Valley for over 50 years. Born in McDonald, Kansas, and raised in Carson County, Colorado, Kelley left his family's ranch at age 17 and went to Denver, where he learned to be a barber stylist.
After practicing in Denver for 12 years, Kelley moved to Valley and opened up his own four-chair shop called King's Liar, which was located in the former Outlaw Inn.
According to Kelley, there were other barber shops in the Valley, but King's Liar was the first of its kind; he introduced men's hairstyling to the area. He loved cutting hair, and while he does not operate a shop anymore, he regularly takes appointments for his friends in his garage studio.
"People used to call me an artist when I was working with their hair," Kelley reflected. "I just kind of laughed about that."
Kelley embodied the artist title further in the late 90s when he started dabbling with woodworking; at first he just had a saw. His first creation proudly hangs on his garage shop's wall — a simple mosaic of a raccoon on a tree.
Woodwork began as a hobby for Kelley; in fact, he would still argue that it is. He only hesitantly refers to himself as an artist. He began selling his art when he attended his first art show in Albuquerque, New Mexico, around 1998. Since then, he's "been going after it ever since," he said.
Kelley has made intrasia pieces for a multitude of businesses, people, and organizations, including Shodair Children's Hospital in Helena. While Kelley keeps his operation small, his name spreads across the country for his intrinsic, detailed, colorful wood pieces.
The art pieces range in all sizes, embodying natural scenes that are reminiscent of Montana: a grizzly bear and her cubs, a mountain lion pouncing on an elk, a logging truck traveling over a bridge and a man skiing down Big Mountain. The pieces are all-natural, using no stain or paint, using imported wood from across the globe. Yellow wood from Brazil, green wood from Venezuela.
UNTIL THIS year, gavels were not on Kelley's to-do list.
Scott Dane with the Americans Loggers Association received a call from an East Coast logger, suggesting that the council should give the U.S. Speaker of the House a gavel made from wood across the country.
Having known Kelley from his previous work, Dane said he immediately thought of him for the job. Ken Swamstorm, the owner and founder of Skookum Timber Company and the Montana representative on the board of the American Loggers, asked Kelley if he was interested in the project, to which Kelley thought was only for the American Loggers Council.
Kelley made two gavels for the council — using wood representative of the logging industry across America. Kelley completed the gavels and sent them off.
According to Dane, by working with the Associated California Loggers, a member of the American Loggers Council from McCarthy's home state, they were able to secure a meeting with the Speaker in the United States Capitol — where they presented the gavel.
"He was really impressed with the gavel," Dane, who was at the presentation, said. "He inquired as to which wood represented California."
While the gavel was presented in Washington D.C., Kelley was sitting in his home in Kalispell with his wife, Faye, both of whom had no idea.
Swanstrom sent Kelley a photo of McCarthy with the gavel after the presentation, to which Kelley said he couldn't believe it — he immediately began calling his friends and family to share the news with them.
"It was shocking," Kelley said. "I don't have a gallery, I work out of [my garage], I'm 81 years old, I'm just having some fun."
That photo is now framed above the Kelley fireplace.
Reporter Kate Heston can be reached at kheston@dailyinterlake.com or 758-4459.
Recent Headlines
---