Steven Eckels, 67
|
April 16, 2023 12:00 AM
Steven Zdenek Eckels died April 3, 2023, at his home in Kalispell. He had retired from teaching guitar for 22 years at Kalispell School District 5, Flathead and Glacier high schools in June 2022.
Steve is survived by his wife, JoAnn Johnson Eckels and two cats, Giggles and Sunshine, Kalispell; his sister, Deanna (Dede) Eckels, her husband Peter Skoro, his son, Tyler Jeffry Eckels, Bayfield, Wisconsin; and three nieces.
He was preceded in death by his parents, Robert and Lucille Eckels; and his brother, Jeffry Eckels.
Steve was born in Las Vegas, New Mexico on Aug. 18, 1955. He came from a family of musicians with Czech roots. He took guitar lessons from Johnny Westbrook and received classical lessons from Jesus Silva at the North Carolina School of the Arts. In 1973 he moved to Boston where he worked with his brother as the guitar/bass duo The Eckels Brothers. They released their first of three albums "Fresh Powder," for which Charlie Byrd wrote the liner notes.
Steve received his bachelor's degree of music, major in applied music from Berklee College of Music in 1977, Cum Laude, and his master's degree of music from the New England Conservatory in 1980, with recognition of his work in Afro-American studies, guitar.
In 1983, he moved to Wisconsin, where he worked with his father at Eckels Pottery. He met and married Julie Hendricks. They moved to Winchester, Massachusetts, where he was hired to teach at Berklee College of Music during the 1984-1985 school year. After that year, they returned to Wisconsin so that Julie could continue her teaching career. Steve attended Northland College to get his music teaching certification and taught guitar and voice there. To this union, Steve's only son, Tyler Jeffry Eckels was born on Aug. 25, 1986. Tyler inherited his many musical talents from his parents.
As a writer for Mel Bay Publications and Alfred Publications, Steven is the author of over 20 guitar textbooks, many of which were the first of their kind. He recorded the CD "Woodland Winds" with the Native American musician Frank Montano. He taught guitar at New Mexico State University in Las Cruces and became a columnist for "Fingerstyle Guitar Magazine" from 1996-2000.
He was offered a position teaching guitar and "The History of Rock and Roll" at Kalispell School District 5, and moved to Kalispell in 2000. He taught in both Flathead and Glacier high schools. In the summers between 2001 and 2003, he attended Master Classes with Christopher Parkening, which resulted in Steve's CD "Sparks from the 7 Worlds - Classical Guitar Masterpieces." More recently, during the height of the Covid epidemic, he studied online master classes with Carlos Santana. In 2009, Steve received the distinction of National Board Certified Teacher, specializing in Music/Early Adolescence through Young Adulthood.
Steve recorded 12 incredibly diverse CDs during his illustrious career. His music can be heard on Spotify, Pandora and YouTube.
While living in Kalispell, Steve played solo and duet guitar for special functions, at local establishments and arts/music fairs. He also formed two very popular bands, Woodstock, and The BelAires. Most recently he has been playing jazz guitar as a duo in local restaurants. Last year he recorded guitar arrangements of many of Rodgers and Hammerstein's musical works.
In June of 2021, Steve and JoAnn met. They married in July 2022, surrounded by friends and family. Since Steve had retired in June of that year, and JoAnn retired as full-time RN in July, they spent almost all their time together, traveling to the Oregon coast and southwest Utah, hiking hand in hand, attending the opera in Seattle, escaping the Montana winter for brief periods in San Diego and Tampa, attending the Glacier Symphony, supporting him and other local musicians during their "gigs," swimming, playing pickleball and ping-pong, working out at the local health club, and so much more.
Since Steve's death, there has been an outpouring of kind words and accolades about him and the influence he had on his students and friends, both personally and musically. He struggled with depression and anxiety for many years and is finally at peace. He will be missed by so many.
A celebration of life will be held April 30 at 4 p.m., at the Unitarian Universalist Fellowship in Kalispell.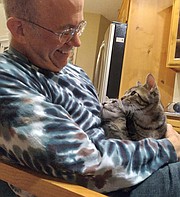 Recent Headlines
---