Kalispell man allegedly involved in multiple armed confrontations sentenced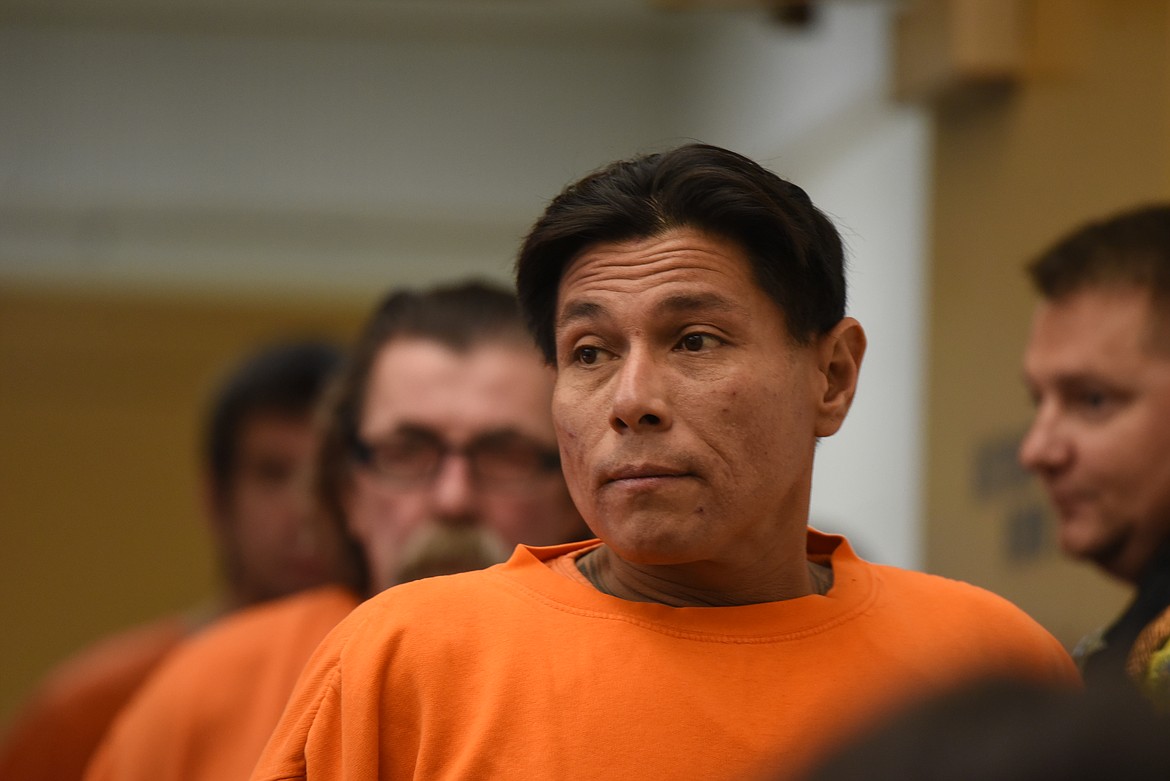 Jose Angel Estrello enters the courtroom in Flathead County District Court on Thursday, Sept. 8, 2022 for his arraignment on two charges of assault with a weapon in separate cases. Estrello's attorney, Daniel Wood, also unsuccessfully sought to see bail lowered for the 39-year-old. (Derrick Perkins/Daily Inter Lake)
Flathead County District Judge Dan Wilson handed down a five-year sentence in Montana State Prison earlier this month to a Kalispell man with alleged gang ties accused of pulling a gun in multiple confrontations last summer.
Prosecutors initially charged Jose Angel Estrello, 40, with counts of assault with a weapon in two separate cases stemming from alleged incidents in July 2022. Estrello pleaded guilty by way of an Alford plea in one of those cases in late February as part of a deal with the County Attorney's Office, two days after a federal grand jury in Missoula indicted him on a count of prohibited person in possession of firearms and ammunition.
In an Alford plea, a defendant maintains their innocence while acknowledging a jury likely would find them guilty.
Estrello entered the plea in the case filed after he allegedly pulled alongside another vehicle on U.S. 93 between Whitefish and Kalispell on July 22, 2022 and flashed a gun.
A family heading southbound told deputies with the Flathead County Sheriff's Office that an erratically-driven dark colored Chevrolet Equinox pulled up alongside their vehicle about 4:37 p.m. Glancing over, the victims saw the Equinox's driver pointing a handgun at them, court documents said.
They slowed and let the Equinox drive off, but took down its license plate information and passed it along to authorities, according to court documents.
Investigators later linked the plate numbers to Estrello, court documents said. A patrol deputy in the area of Estrello's McMannamy Draw home allegedly spotted Estrello drive by in a dark-colored Equinox.
In exchange for the Alford plea, prosecutors dismissed an earlier case involving an alleged confrontation over a parking spot near Tally Lake.
Wilson handed down the sentence April 13, giving Estrello credit for 239 days of time served before handing him back to the custody of the Sheriff's Office. On April 20, he pleaded not guilty to the federal charge in U.S. District Court in Missoula.
Estrello boasts a lengthy criminal history, according to prosecutors in Flathead County. Past convictions in California include robbery, grand theft auto and possession of drugs in prison, according to documents filed in district court. When deputies spoke with Estrello on July 15, 2022 regarding a disturbance involving a firearm, he allegedly touted his gang ties and past prison stints, telling them he was "not afraid to die."
Estrello's gang affiliation came up again during a bail modification hearing held in September 2022. Testifying on his behalf, Estrello's wife told the court he had previous connections to a gang, but spent years extricating himself from the criminal organization.
Recent Headlines
---