Local legislators react to Zephyr's silencing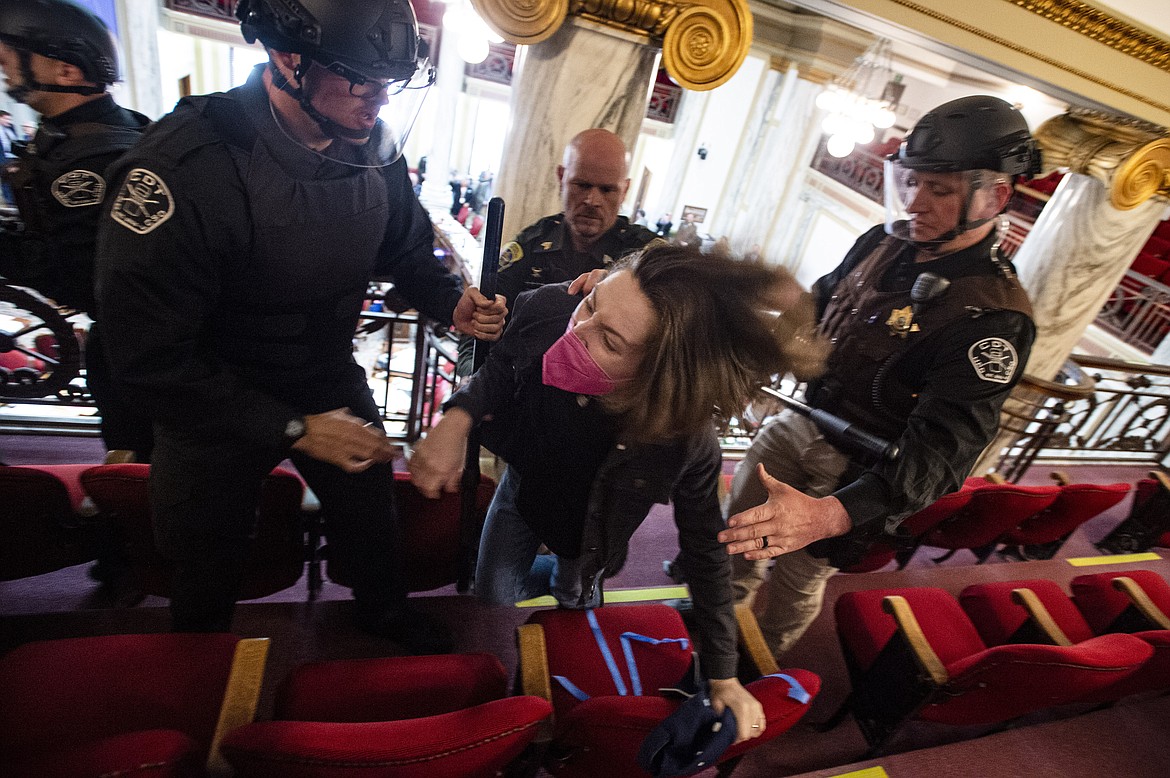 Law enforcement forcibly clear the Montana House of Representatives gallery during a protest after the Speaker of the House refused again to acknowledge Rep. Zooey Zephyr, D-Missoula, on Monday, April 24, 2023, in the State Capitol in Helena, Mont. Republican legislative leaders in Montana persisted in forbidding the Democratic transgender lawmaker from participating in debate for a second week as her supporters brought the House session to a halt Monday, chanting "Let her speak!" from the gallery before they were escorted out. (Thom Bridge/Independent Record via AP)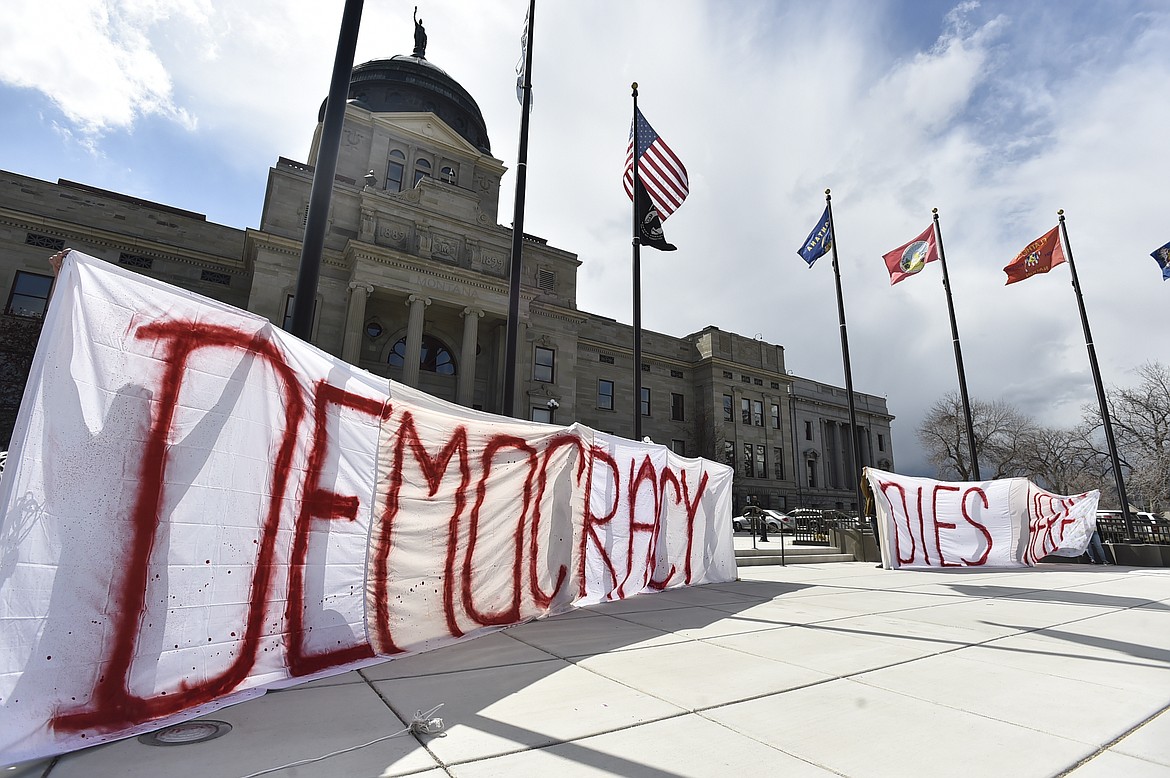 Demonstrators hold a sign that reads "Democracy Dies Here," on the steps of the Montana State Capitol, in Helena, Mont., Monday, April 24, 2023. (Thom Bridge/Independent Record via AP)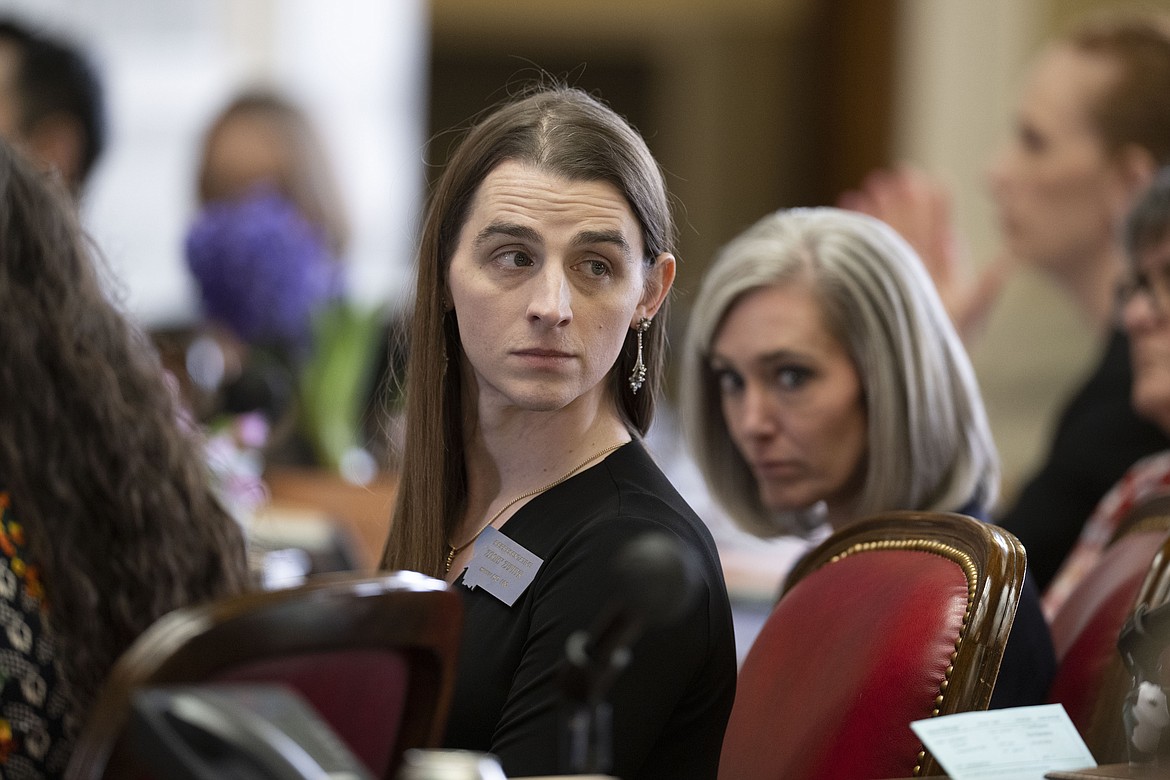 Rep. Zooey Zephyr looks on from the House floor during a session at the Montana State Capitol in Helena, Mont., on April 26, 2023. (AP Photo/Tommy Martino)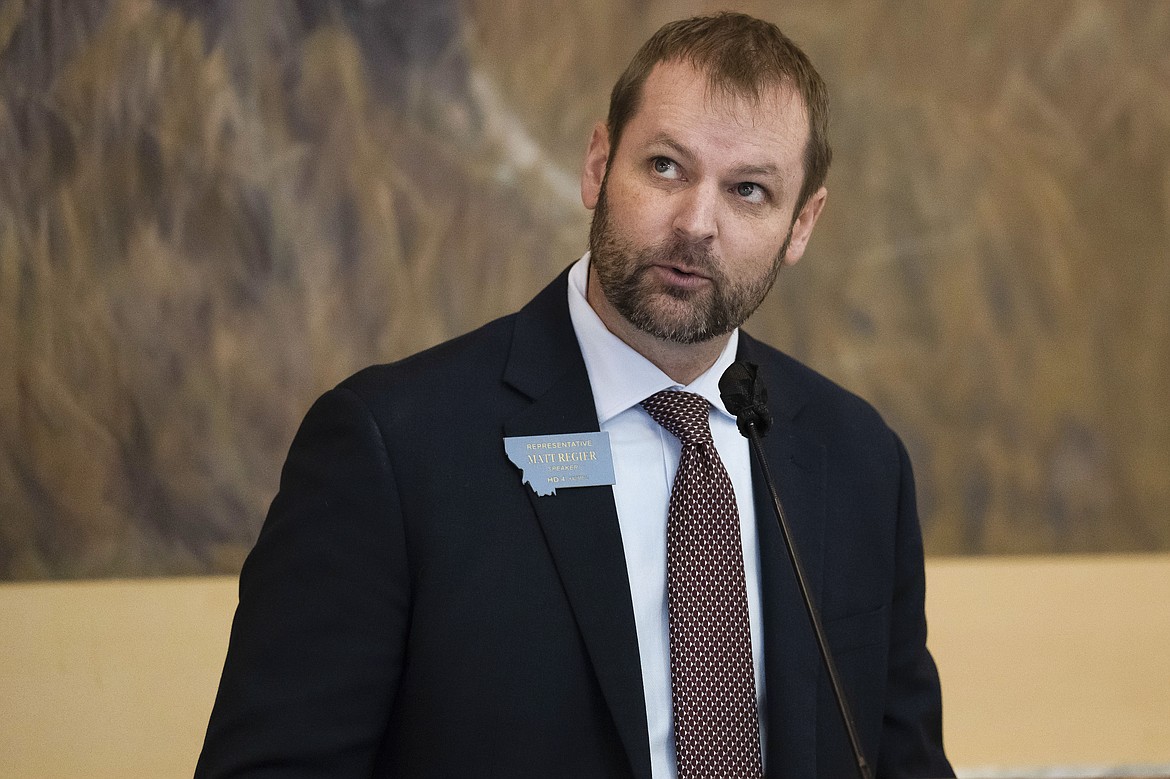 Speaker of the House Matt Regier looks on during a session for the Montana House of Representatives at the Montana State Capitol in Helena, Mont., on Wednesday, April 26, 2023. (AP Photo/Tommy Martino)
Previous
Next
by
KATE HESTON
Daily Inter Lake
|
April 30, 2023 12:05 AM
Flathead Valley lawmakers had a front row seat last week to a sequence of events that thrust Montana into the national spotlight and ignited a debate about what constitutes legislative decorum. Local legislators weighed in Friday on how the week in Helena unfolded and what comes next.
The Montana House voted along party lines Wednesday to remove Rep. Zooey Zephyr, a Democrat from Missoula and the first openly transgender woman elected to the state Legislature, from the House floor for the remainder of the session. The move came after protesters temporarily halted business in the House on April 24. Zephyr is required to vote remotely for the rest of the session as a result.
The vote was the culmination in a week-long showdown sparked by Zephyr's April 18 comments on a bill proposing to ban gender affirming care for minors. Responding to Senate Bill 99, sponsored by Sen. John Fuller, R-Kalispell, Zephyr said lawmakers would have blood on their hands if it became law.
Gov. Greg Gianforte signed the legislation into law Friday afternoon. It takes effect Oct. 1.
"The only thing I will say is if you vote 'yes' on this bill and 'yes' on these amendments, I hope the next time there's an invocation when you bow your heads in prayer, you see the blood on your hands," Zephyr said on the floor last week.
Speaker of the House Matt Reiger, a Republican from Kalispell, described her words as breaching decorum and initially blocked her from speaking on any bills on the floor until she apologized.
The multi-day standoff came to a head when protesters, calling for Zephyr to be allowed to speak, flooded the House gallery on Monday. The demonstration ended with seven arrests. Zephyr was barred from the House two days later.
Kalispell Republican Rep. Courtenay Sprunger told the Inter Lake on Friday that House rules are important to ensure everyone has a voice. If allowances are made to certain people, she said, the system could break down.
"There's a space and a place for a rally," Sprunger said, "and that isn't in the House chamber."
Sprunger said that the protest in the gallery was a "line in the sand" for many legislators, including some who may have questioned whether silencing Zephyr was necessary prior to Monday's outbursts. When a serious disruption occurs, she said, serious action is needed in response.
Whitefish Democrat Rep. Dave Fern, who voted against the motion to remove Zephyr, was at the Capitol during Monday's events, which he described as tense.
He said he was unsurprised by the resultant party-line vote.
"I think it's easy to point fingers at everyone from Rep. Zephyr, to the [House] Speaker, to other characters, but I don't think that's helpful," Fern said.
Politics and emotion are often intertwined, Fern said, and it is important for a legislator to abide by decorum to keep matters civil. Fern, though, acknowledged there were other ways to maintain that decorum than by silencing Zephyr.
"I think it's likely the public doesn't really understand that some of our First Amendment rights are restricted [on the floor] by rules that we choose to abide by that are a little bit restrictive," Fern continued. "The reason we do that is because the system needs to work in order to get things done."
Sen. John Fuller, the sponsor of the bill Zephyr spoke against, told the Inter Lake that breaches of decorum happen. Fuller admitted letting emotion get the best of him at times. The difference is that Zephyr refused to apologize, he said.
"Of course, it could have ended at any time by simply agreeing to apologize, as many of us have done in the past," Fuller said.
DEMOCRATS ARGUED that an apology was unnecessary, citing the rise in suicide rates among youth when transgender care is restricted. To Lynn Stanley, chair of the Flathead Democratic Party, Zephyr was only representing her constituents.
"I think [the Republicans] just seem to be enjoying their power," Stanley said. "I think that they have a different take on freedom, for instance, and I think that that's a real problem for our democracy."
Zephyr has said she has no intention of apologizing, according to Montana Free Press reports.
"I spoke with clarity and precision about the harm these bills do. And they say they want an apology, but what they really want is silence as they take away the rights of trans and queer Montanans," Zephyr said after Monday's protests.
Flathead Democrats agree with Zephyr's notion.
"It's appalling to think that they would take an action that deprives all of Zephyr's constituents of their voice," Stanley said. "... The idea of shutting her and her district down — one of the bluest districts in the state — is appalling."
There have been a slew of bills this session that affect the state's LGBTQ+ community, many of which Zephyr spoke against. That legislation includes bills to ban gender-affirming care for transgender minors, prohibit drag performances in public places, and define "sex" in state law based on reproductive characteristics.
It's fitting, according to Stanley, that Republicans silenced a transgender legislator on a bill that will physically affect transgender Montanans.
"If you use decorum to silence people who hold you accountable, all you are doing is using decorum as a tool of oppression," Zephyr said before the vote.
Fern has heard from his constituents asking what Democrats are going to do in response. According to Fern, he just wants to get the work done as they approach day 90 in the Legislature. Had Speaker Regier continued to not recognize Zephyr, it would have incited a continuation of more protests, he said.
"I am in no way minimizing the issue at hand, but there are a lot of very serious life and death issues that we try to resolve the best we can," Fern said, speaking to ongoing Democratic efforts. "You know, we're on the losing end of policy dealing in this case."
IT WAS Zephyr's testimony April 18 that drew the initial call for her censure from the Montana Freedom Caucus, a conservative offshoot of the congressional Freedom Caucus. The caucus issued multiple statements over the last week, deliberately misgendering Zephyr while demanding she be silenced.
Montana Freedom Caucus member Rep. Braxton Mitchell, R-Columbia Falls, told the Inter Lake that he thinks Zephyr sought to gain media attention.
"It's pretty clear it's enjoying it," said Mitchell, referring to the transgender lawmaker as an "it."
Mitchell said that Monday's protest put pages, high school students, staff and lawmakers in enough danger for authorities to call in SWAT.
"The representative stood there and encouraged it," Mitchell said, regarding Zephyr's decision to stay on the floor — against orders from the House speaker while the protest ensued — with her microphone in the air.
Lakeside Republican Rep. Tanner Smith described Zephyr's original comments as intending to guilt and shame legislators into voting differently.
"With all the great abortion bills we have passed, did any Republican say, 'If you vote against this abortion bill you will have babies' blood on your hands?' Not one of us did because it would be against decorum. We are professionals and are all expected to act accordingly," Smith wrote in an email.
Mitchell, meanwhile, took issue less with Zephyr's description of blood on hands, but with her remarks that they would see the blood when they go to fold their hands in prayer. According to Mitchell, the Legislature includes religious people on either side of the aisle, making the remark offensive.
Smith said that he supports the actions Regier took to bar Zephyr from the House floor, because he maintained decorum, safety and the integrity of the House. Like Mitchell, he also said he believes Zephyr sought national attention, specifically from President Joe Biden.
While Zephyr's comments on the legislation led to the refusal by Republican leadership to let her speak, her actions on Monday were an explanatory reason for her removal, according to Rep. Neil Duram, R-Eureka. Duram said that Zephyr breached decorum when she encouraged the disturbance by refusing to leave the floor after Regier gaveled.
"A single phrase or repeating a phrase for a few seconds wouldn't raise a concern," Duram said, "but it got serious when they overtook the business of the House."
Duram said he hopes that the precedent extends into future sessions.
Sprunger, meanwhile, questioned the coexistence of an activist and legislator. According to Sprunger, working with Zephyr this session has, until Monday, been civil. Sprunger said the scenario is difficult for many of her colleagues, not because they dislike Zephyr, but due to the importance of adhering to rules.
"Regardless of the person, consistency with the rules is important," Sprunger said.
House Speaker Regier, Reps. Amy Regier, R-Kalispell, Terry Falk, R-Kalispell, Tony Brockman, R-Kalispell and Steve Gunderson, R-Libby, declined to comment for this report.
Rep. Bob Keenan, R-Bigfork, declined to discuss the imbroglio, citing other matters pending in the Legislature.
"I am busy contributing to the one constitutionally mandated task that a regular session Legislature needs to accomplish, passing a balanced budget. I do not have any interest in sideshows," Keenan wrote in an email.
Reporter Kate Heston can be reached at kheston@dailyinterlake.com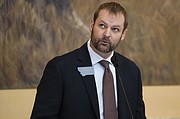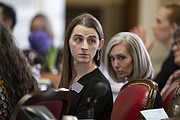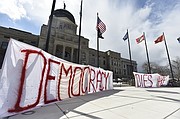 Recent Headlines
---