Economist warns state must boost energy production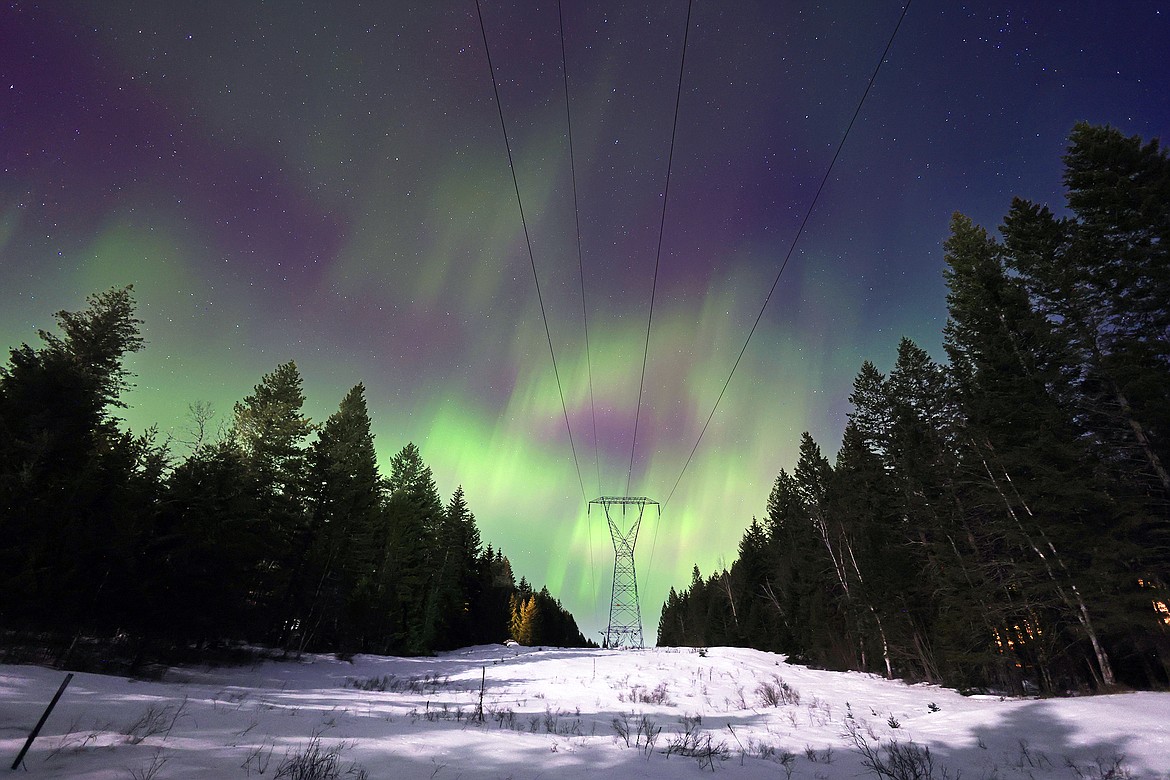 The aurora lights up the skies above powerlines near Columbia Falls Sunday, Feb. 26. (Jeremy Weber/Daily Inter Lake)
by
ADRIAN KNOWLER
Daily Inter Lake
|
August 4, 2023 12:00 AM
Montana risks becoming a net importer of electricity because growth in electricity generation and transmission infrastructure is failing to keep pace with increasing demand, according to Dr. Pat Barkey, director of the University of Montana's Bureau for Business Economic Research.
Barkey delivered his findings at an economic conference in Kalispell on Thursday, the last stop on a statewide, seven-city midyear economic update tour.
In the bureau's analysis of Montana's electricity capacity and reliability, the economists found that while electricity rates remain cheaper on average than in neighboring states, the state's reputation as a electricity exporter may be in jeopardy in coming years. The state's increasing population has driven higher electricity demand, but little new generation and transmission capacity has been built over the last decade.
Barkey pointed to the closure of coal fired power plants, and regulations limiting mercury and greenhouse gas emissions as reasons for limited growth in electricity generation in the state.
He called for investment in new transmission lines to decrease congestion and said that the state may face challenges if the transition away from fossil fuel-based electricity generation is not a smooth one.
BARKEY ALSO discussed statewide economic trends, telling attendees that although fears of a much-forewarned recession have passed and inflation is down from this time last year, the labor market remains tight.
Barkey identified excess retirements among baby boomers during the Covid pandemic as driving the shortage. Younger people are largely employed at high rates, he said.
"People ask where the workers are," Barkey said. "They're mostly working."
Asked about how businesses can address workforce shortages, Barkey said that increased immigration and child care programs that could increase female labor participation may be part of the answer.
THE EVENT included remarks by Todd O'Hair, head of the Montana Chamber of Commerce, who touted its legislative successes during the recently concluded legislative session.
He said that of 11 chamber-initiated bills, 10 were signed into law.
The chamber supported legislation that increased a business equipment tax exemption and reduced the window in which manufacturers can be sued for faulty or defective products to 10 years.
O'Hair said the move brought Montana in line with other states and would decrease insurance premiums for businesses.
He also applauded the passage of a law that bars the state from considering the impact of greenhouse gas emissions when doing environmental reviews on projects such as power plants.
The law was among the session's most controversial, with the Montana Free Press reporting in May that 95% of the 1000 comments received were opposed to the legislation. The legislature's Republican supermajority suspended procedural rules to bring the bill forward after the transmittal deadline.
The Greater Yellowstone Coalition, a conservation group, described the bill as "an attempt to gut environmental, bedrock language within Montana's Constitution and undermine Montana's judicial system," according to a statement released on its website.
Reporter Adrian Knowler can be reached at 758-4407 or aknowler@dailyinterlake.com.
Recent Headlines
---