Local child care gap worsened by low wages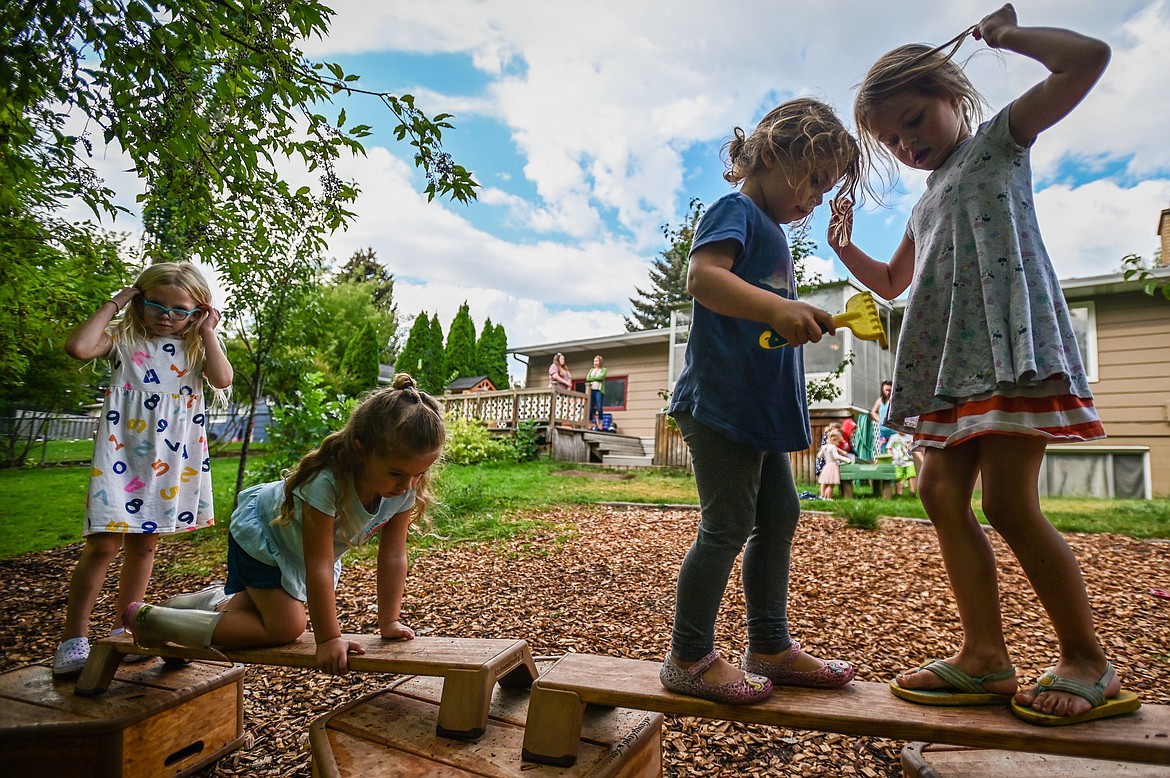 Preschool-aged girls make their way across a balance beam outside The Birds Nest Early Learning Village in Kalispell on Friday, Aug. 26. (Casey Kreider/Daily Inter Lake)
Low wages deterring people from pursuing early childhood education careers represent an obstacle to bridging the local child care gap that is keeping parents out of the workforce, business advocates and child care providers say.
Area business advocates are finding interest among employers in offering child care benefits in an effort to attract and retain employees, after a study commissioned by the Kalispell Chamber of Commerce last year found that a lack of affordable options is keeping would-be working parents at home, taking care of young children.
More than a dozen local businesses, primarily in the manufacturing industry, have signaled interest in sponsoring child care for employees' families, said chamber President Lorraine Clarno in an update to the Kalispell Business Improvement District on Tuesday.
Clarno said that the chamber is educating business leaders about the opportunity to write child care expenses off of taxes, of which many businesses were not aware.
Child care provider Corinne Kuntz, owner of The Birds Nest early childhood education center, reported having conversations with businesses about how they can reserve child care slots.
She said that many she's spoken with know of the federal tax credit program, but that since it only allows businesses to write off 25% of child care expenses and caps tax relief, the incentive alone often isn't enough to tip the scales.
She says the need to attract young parents back into the workforce is motivating companies to explore options.
In last year's study, 80% of families reported challenges in finding child care in the Flathead Valley, with the same portion of respondents saying they would change jobs if offered a role at a workplace that offered child care assistance.
Kuntz is negotiating with employers to find creative arrangements wherein a business would pay a monthly fee to receive priority on their lengthy waitlist, or would allow The Birds Nest to offer reduced tuition to families if an employer committed to subsidizing the cost.
THE CHAMBER has also identified facilities that could accommodate early childhood education for up to 600 local children, Clarno said, but the challenge now is in attracting and retaining child care professionals to bring local capacity in line with demand.
Child care providers and business leaders agree that low wages are keeping people from pursuing careers in the field.
"We have to get wages up, there's no ifs, ands or buts," Clarno said.
The Birds Nest offers competitive wages and has not had problems filling positions as her company ramps up ahead of a planned expansion next spring, Kuntz said.
Kuntz monitors competitors' job postings and finds that the pay offered is often lower than entry-level positions in the retail and food service industries.
"I feel like when I'm looking at other ads and what other providers are paying I see a lot of $13-$15 [per hour] and I can't imagine that they're getting a lot of high quality applicants," she said.
New educators at The Birds Nest are paid between $19 and $22 per hour, and Kuntz saw a deluge of applications when she posted an ad on an employment website about three weeks ago. The Birds Nest was contacted by over 20 applicants and was able to hire six new assistant teachers.
She plans on offering health care benefits when the company expands into its new 120-child facility next year. She said that jobs in the field are desirable, but the industry must offer competitive wages and benefits to reduce turnover and provide quality care.
"We love working with kids and watching them develop," Kuntz said of child care providers. "We're not in it for the money but we do need to pay our bills. "
The Birds Nest monthly tuition is over $1,000 for many children who receive care four days a week or more, which is at the higher end of expenses for early childhood education in the area, Kuntz said.
She said it's one of the only ways that the operation can pay educators a fair and competitive wage, although she is looking for creative ways to supplement revenue including opening a coffee shop in the next facility and renting out space for birthday parties.
Kuntz also said although state-mandated background checks and training are mostly free of charge, the licensing process can be so slow that it forces some applicants to look elsewhere.
"The process of getting a caregiver approved takes several weeks," she said. "We do lose people because they need a job and can't wait three weeks."
Kuntz hopes that the state Legislature will approve additional tax incentives to support child care in its next session, and is glad that the issue is now getting the attention she thinks it deserves.
"It's nice to see that discussion," she said. "I'm hoping that we'll see some continued momentum on the child care front."
Reporter Adrian Knowler can be reached at 758-4407 or aknowler@dailyinterlake.com.
Recent Headlines
---