Artists paint in downtown Kalispell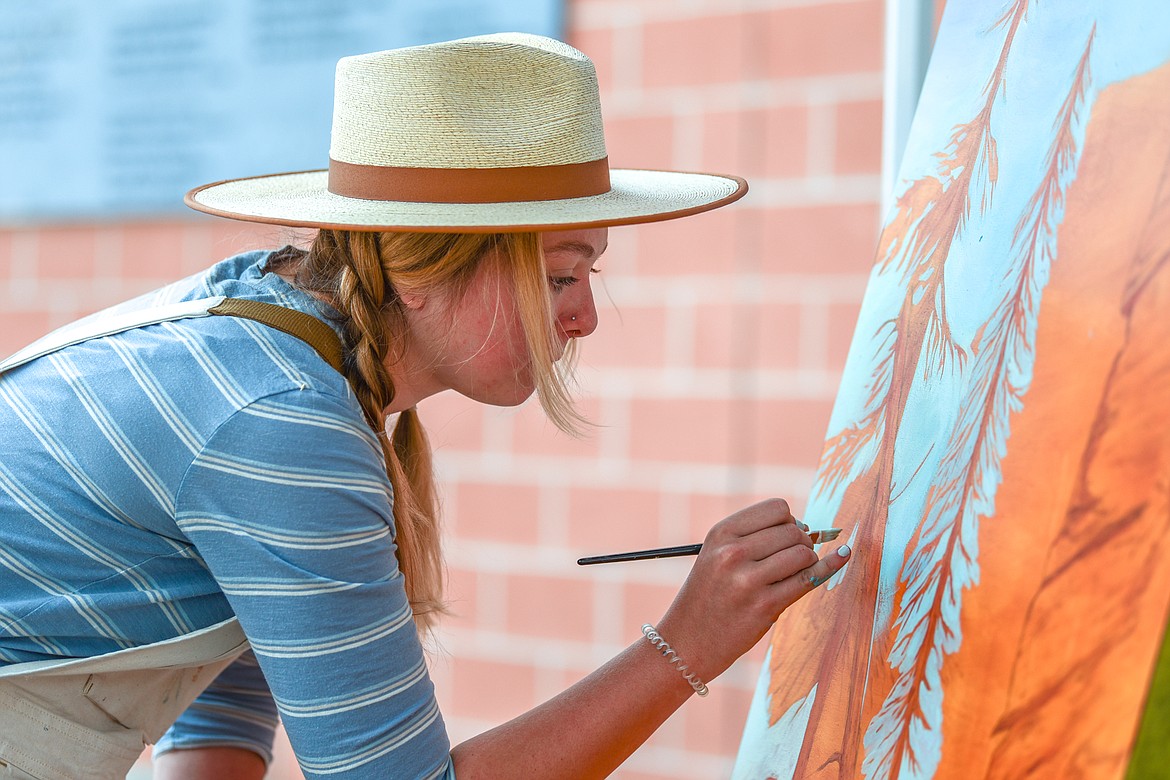 Artist Alyssa Shaw works on a rendition of a Clarence Rundell mural for the Kalispell Downtown Association and KALICO Art Center's Downtown Art Challenge on Saturday, Aug. 27. Ten artists each referenced a different Clarence Rundell mural that Rundell painted in 1936 in what is now Rocky Mountain Outfitter on Main Street in Kalispell. The paintings will be hung up and on view in several downtown businesses from Aug. 31 to Sept. 8, during which time all of the paintings will be up for auction on the following online platform: https://app.galabid.com/kdachallenge/items. (Casey Kreider/Daily In…
|
August 10, 2023 12:00 AM
Eleven artists are set to paint en plein air for the Kalispell Downtown Art Challenge on Saturday, Aug. 12
The challenge, running from 9 a.m. to 6 p.m., is a unique event that aims to celebrate local and regional artists while promoting beautiful Montana landscapes.
Visitors will have the opportunity to watch artist work throughout downtown.
Featured artists include: Tessa Heck, Marshall Noice, Alyssa Shaw, Tanya Lambrecht Haley, Darren Haley, Abigael Tripp, Jesse Hanson, Noel Drury, Olivia Stark and Pat Lambrecht-Hould.
To to view a map of where artists will be working, visit https://www.downtownkalispell.com/post/downtown-kalispell-art-challenge
Then following the paint-out, the finished artwork will be displayed at the Good Luck Gallery in Kalispell from Aug. 19 to Sept. 23.
During this time, a month-long online auction occurs allowing art enthusiasts from around the world to bid on pieces. The auction proceeds will be allocated to support the artists, the Kalispell Downtown Association, and the Hockaday Museum of Art.
On Saturday, Sept. 23 from 5-8 p.m. a closing artist reception at Good Luck Gallery to mark the end of the auction and celebrate the success of the event.
Recent Headlines
---