Northern Manitoba fishing paradise revisited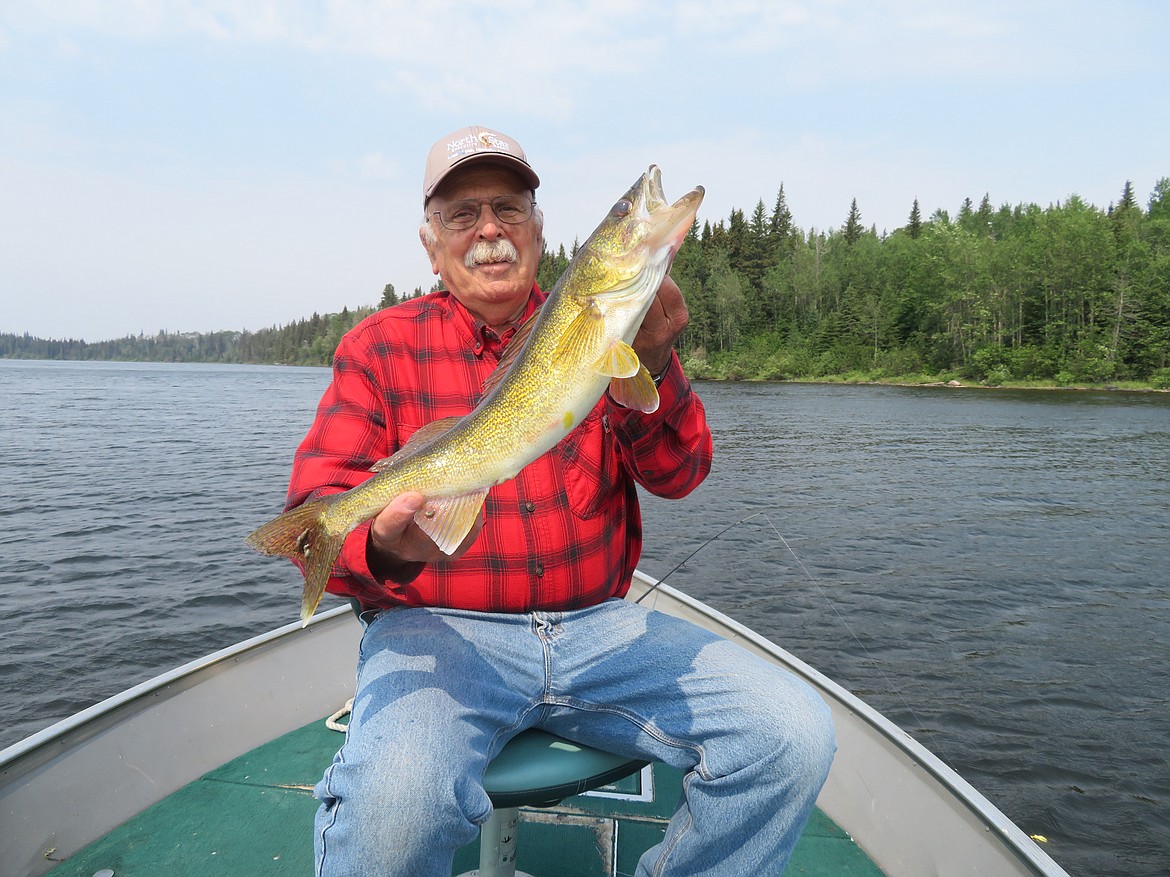 Last month my wife, son Erik and myself revisited one of my favorite fishing holes in North America.
As our boat glided to a stop on this Northern Manitoba lake, I quickly finished fastening my fish line to a 1/4 ounce red colored lead jig head. It had large white eyes with black pupils. That jig is supposed to mimic the head of a small bait fish, as well as being the weight that sinks my lure or presentation 10 to 12 feet down into the water column to the bottom hugging walleyes.
Walleyes love cool dark water as their favorite habitat. In addition to the lead headed jig, I impaled a soft bright yellow plastic twister tail onto the shank of the fish hook that protruded out the rear of the lead jig head. At the back of the body of the twister tail, two long thin twister tails, about 3 inches long, dangled.
As I mentioned earlier, the lead jig head's primary purpose is to get the lure down in the water column, while the twister tail represents a large and mouth-watering meal for a hungry walleye.
Once I was properly rigged, I flipped my presentation 20 feet toward the deep water, giving the lead jig a few seconds to sink the presentation down into the water column. Then I slowly began to reel the lure in toward the boat. Also instantly, I felt the hungry strike of a fish and a fight was on. The hard fighting Canadian fish fought a good, but losing battle. Soon the 20-inch fish was landed and in our boat's live well to await the noon hour when it would be killed, cleaned and fried as part of our shore lunch.
I cast my lure back out to the 14 feet depth of the lake, and within a minute or so, I was fighting another great Canadian fish. Wow! Yes! I was back in my most favorite fishing spot in North America.
I've read fishing articles from both the walleye lake country of Minnesota and Eastern Montana reservoirs about walleye fishing. Those authors said that catching one walleye per four hours was good fishing. Here, I was catching a fish every five minutes or less. That is why I call this spot one of the best fishing holes in North America.
So how did I find this fantastic fishing spot?
My youngest Mike loved to fish and hunt. In 2014, he was attending a fishing and hunting convention in Las Vegas. Mike was a successful investment counselor who had many clients who attended this annual national gathering of hunters and fishermen. I wasn't at this particular convention with Mike.
One afternoon, Mike anxiously called me and said, "Dad, I've found and talked with this fishing outfitter from Northern Manitoba."
He said the outfitter was offering a walleye and northern pike fishing trip at a discounted price during the show.
But I was hesitant and said that I was not interested at that moment. Mike was not about to be put off. He called again the next morning and again I said no. Mike called again the next evening.
Finally, I relented and Mike signed us both up for a trip.
The result was one of the best fishing trips of my life. I've been back to this resort and lake several times and also have included my older son Erik, my wife and friends. Mike liked to fish, but was not much of a walleye fisherman.
On the fourth morning of our first trip to North Star Resort on Knee Lake, our guide took us to First Narrows. Knee Lake is an old glacier river bed that drained a huge melting glacier. That river flowed its way across Manitoba, eventually draining into Hudson Bay and the Atlantic Ocean. Knee Lake is a wide spot in this old river bed, usually about only 2-4 miles wide. It is over 50 miles long. It is now part of the current Hayes River system.
The First Narrows is where this long narrow lake really necks down to only a hundred yards wide, with some rocky islands further constricting the water flow. Knee Lake fish have discovered this constriction of the lake as a place where the faster water flow attracts and holds lots of bait fish. So, this is where walleyes and northern pike hang out, looking for an easy meal of bait fish. My lure, a jig head and twister tail must look like something to good to eat, so they attacked it with vengeance.

Now I need to put a little damper on this fine fishing spot. Another local angler, Mike Waller of Kalispell, fished Knee Lake later in July. He had a fantastic fishing trip, but when he fished First Narrows, his luck was the opposite of mine. No fish. Where had the fish moved to? Who knows. Guess, that's why they call it fishing, not getting. Fish are very primitive animals, so their behavior can be very difficult to predict. But to me, First Narrows is still my all-time favorite fishing spot.
So, get out there in Flathead country and find your own great fishing, hunting or camping spot.
Recent Headlines
---