Kalispell schools to put safety and tech levies before voters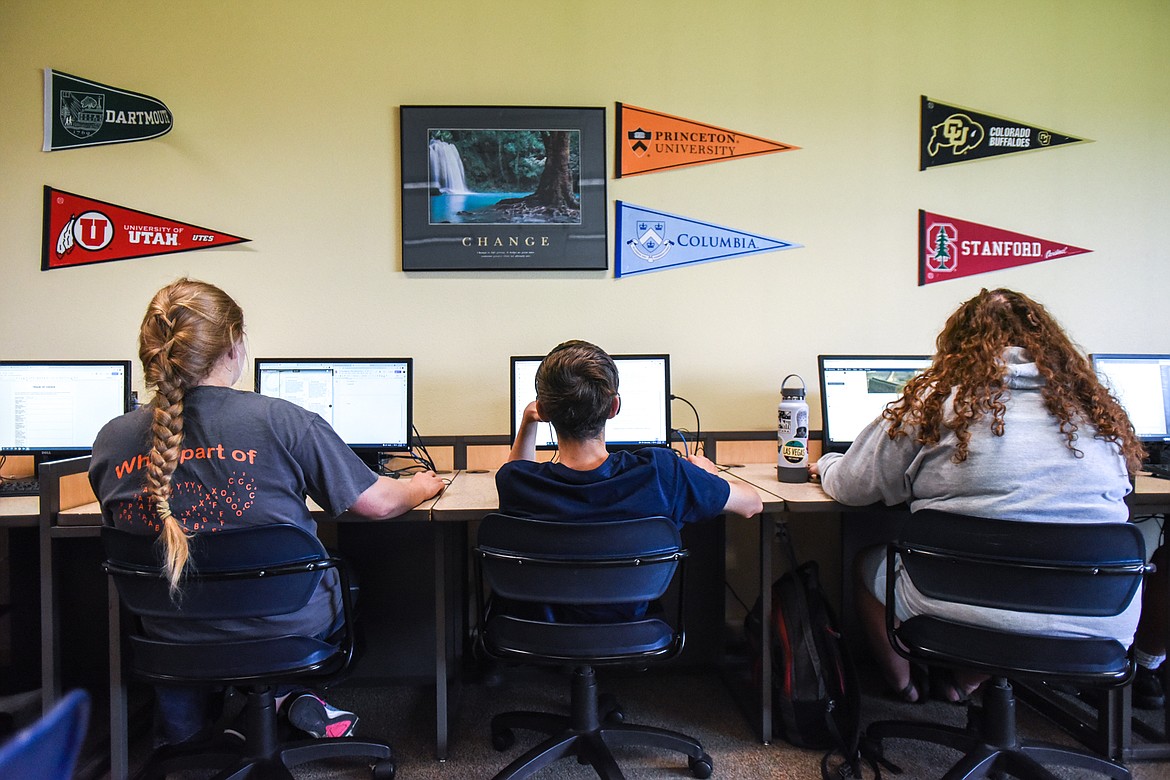 Students work at computers inside a social studies and business lab during Kalispell Public Schools' summer school program at Glacier High School in this July 13, 2021, file photo. (Casey Kreider/Daily Inter Lake)
Safety and technology levy requests for both Kalispell Public Schools' elementary and high school districts will go before voters in October.
Roughly 45,000 ballots will be mailed out to voters Sept. 18 and are due Oct. 3, Election Day.
The four levy requests would be on the books for 10 years if passed.
This is the first time KPS has put a safety levy before voters. On Tuesday, administrators and board trustees discussed how specific they want to be in detailing publicly what funds will be used for without adversely affecting student and staff safety. The safety levy amounts include deficiencies or vulnerabilities identified in a safety audit conducted last year, according to KPS Assistant Superintendent Peter Fusaro.
"Although our schools remain a safe place for children, vulnerabilities were identified. The levy request would fund a comprehensive approach to remedy those findings," Fusaro said.
The levy amounts of the elementary safety and technology levies are both for approximately $1.5 million.
If approved, owners of homes with assessed market values of $300,000 can anticipate annual taxes to increase by $63.18 for each levy or for a total of $126.36. The district noted that the technology levy would replace an existing one that ends this school year.
Voters already approved a $354,327 elementary general fund levy in May to fund day-to-day costs related to educating students and operating facilities — from paying teacher salaries and utilities to purchasing textbooks and supplies. That levy was expected to increase taxes on a $300,000 home by $20.
The high school district is asking voters to approve a $1.6 million safety levy. If approved, owners of homes with assessed market values of $300,000 can expect annual taxes to increase by $27.54.
The high school technology levy request is for $1 million. If approved, owners of homes with assessed market values of $300,000 can anticipate annual taxes to increase by $17.21.
A high school levy of any type hasn't passed since 2007. In May, voters rejected a $2.5 million general fund levy that would have increased annual taxes by $60 on a $300,000 home.
ACCORDING TO guidance provided by the state Office of Public Instruction, a safety levy may be used for various improvements and maintenance, including staffing, such as school resource officers, counselors, consultants and architects/engineers. It can also be used for programs like active shooter training, threat assessments and restorative justice.
"We're asking the community to partner with us by funding this important safety levy so that we can secure staffing services and environments for even safer schools. This levy will enhance existing safety measures as well as create proactive solutions connected to all aspects of a student's educational experience," Fusaro said.
As the name implies, technology levies are limited to technology-related expenses such as purchasing and maintaining equipment, such as computers, networks and staff salaries/training.
Only Kalispell votes on elementary levies. The high school levies will be decided by voters both in Kalispell and 13 surrounding rural school districts that send students to Flathead and Glacier high schools.
TRUSTEES ALSO on Tuesday adopted final budgets for the 2023-24 school year with negligible increases compared to 2022-23.
The elementary district will operate on $37.8 million and the high school on just over $40 million in budgeted funds. The budget amounts represent a negligible percentage increase of under 1% when compared to last school year.
State funding and taxpayer money are the primary sources of revenue for the district's budgeted funds. The bulk of the KPS budget goes toward staff salaries.
The elementary and high school districts hold cash funds in addition to budgeted funds. Cash funds fluctuate and cover food service, student activities, traffic education and health insurance expenses, for example. Covid-19 relief money districts received is also under cash funds and must be spent by 2024.
Reporter Hilary Matheson may be reached at 758-4431 or hamtheson@dailyinterlake.com.
Recent Headlines
---