The last days of a Columbia Falls crypto mine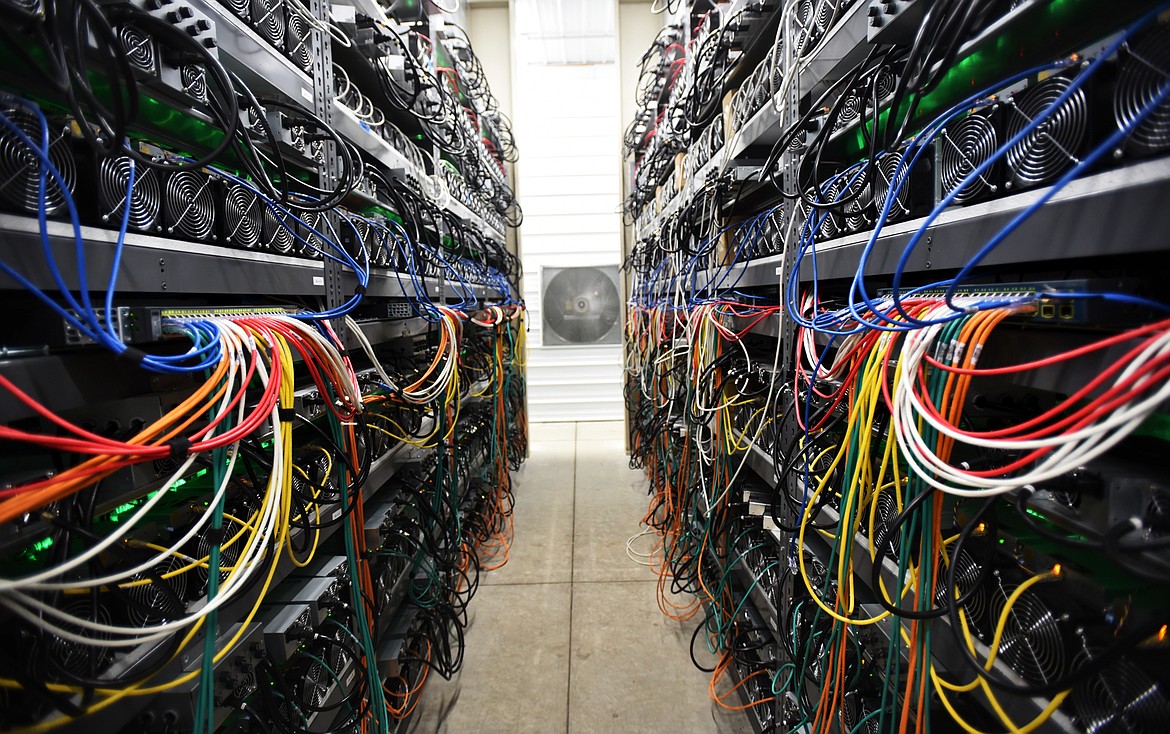 A former worker at a Columbia Falls bitcoin mining facility says power to the structure has been cut off and the computers removed.
When Danny McCargar went to work at a windowless, nondescript building just south of Columbia Falls off of Montana 206 last December, he found the lights off and power disconnected.
McCargar worked as a technician at a Columbia Falls Bitcoin mining facility owned by VBit Technologies and was contracted by Frontier Mining.
VBit has been accused of committing fraud and selling unregistered securities, and the company is the target of class-action lawsuits alleging racketeering and securities fraud violations that have been filed in federal court in Delaware and Pennsylvania.
Plaintiffs say that the company's CEO, Danh "Don" Vo, stole millions of dollars from them before disappearing following the cryptocurrency bubble bursting last year.
Montana financial regulators ordered the company to stop operations in the state and pay a fine following a Daily Inter Lake investigation published in January.
Now McCargar, a former contractor, has come forward with details about the company's collapse after losing his job, saying VBit may also owe his former employer and the local electric utility money.
In his job at the Columbia Falls building, McCargar spent his days making sure that the 1,000 computers – set up to cash in on the digital cryptocurrency Bitcoin – were operating smoothly. When a computer needed repairs, McCargar would replace parts like fans to get them back up and running.
In December, McCargar arrived for work, but found the lights off and power disconnected.
McCargar checked outage maps and saw that electricity should have been flowing normally to the facility. When he had a co-worker check with Flathead Electric Co-op, he said that an employee informed him that the power had been cut because VBit had racked up around $300,000 in unpaid electric bills.
Flathead Electric spokesperson Courtney Stone would not confirm the debt, citing co-op privacy rules. She did say that members have about two weeks to pay past due bills before they are subject to disconnection.
The building's previous owner, Jeff Russell, described the facility as having a 3.8 megawatt capacity, meaning that it could consume as much electricity as around 3,800 homes in the Flathead Valley.
Russell said he was attracted to Northwest Montana as a location for the power-intensive operation because of the region's abundant and cheap electricity as well as its frigid winters, which mitigated the need for expensive cooling costs.
After the Columbia Falls facility earned approval in 2018, the co-op issued a six month moratorium on future cryptocurrency facilities and later updated its policies governing what it describes as "high density loads." Cryptocurrency mining is listed on the co-op's website as an example of an activity that requires "significant amounts of power at a constant rate."
Stone also wanted to reassure co-op members that their rates would not rise in the event of such an unpaid debt, saying that the utility requires a deposit and insurance to protect members from a domino effect triggered by unpaid fees.
NOW THE Columbia Falls facility sits vacant, the computers packed up and VBit leadership nowhere to be found.
McCargar said he thought something was wrong with the company when representatives stopped approving the purchase of replacement parts necessary to keep the computers running.
Many computers were failing and needed replacement fans to prevent overheating.
McCargar said that he never saw individual computers labeled or identified as belonging to individual customers, and that the funds generated by the computers all fed into one account, which would appear to contradict VBit's online advertising.
The company claimed that for an initial fee, often in the tens of thousands of dollars, and monthly charges, the company would set up and run individual computers for investors, an appealing service to those without the space or technical expertise to mine Bitcoin themselves.
McCargar said his last day in the Columbia Falls facility was in early March, when he disconnected the computers and packaged them for shipment to a Frontier Mining facility in Texas. He said he was told the contract between the two companies allowed Frontier to take the computers to recoup money that they were owed for their services.
Frontier Mining CEO Arland Whitfield did not respond to requests for comment.
McCargar said he helped give tours to visitors who were prospective or existing VBit customers, but never thought anything was amiss.

VBit officials could not be reached, and investors claim the company's CEO is on the run.
CEO Don Vo's lawyers have dropped him and his colleagues as clients in the class action lawsuits against them, saying in court documents that he has been unresponsive.
Vo's LinkedIn page says he is "retired, for now."
Reporter Adrian Knowler can be reached at 758-4407 or aknowler@dailyinterlake.com.
Recent Headlines
---