Commissioner sees few ways to help homeless people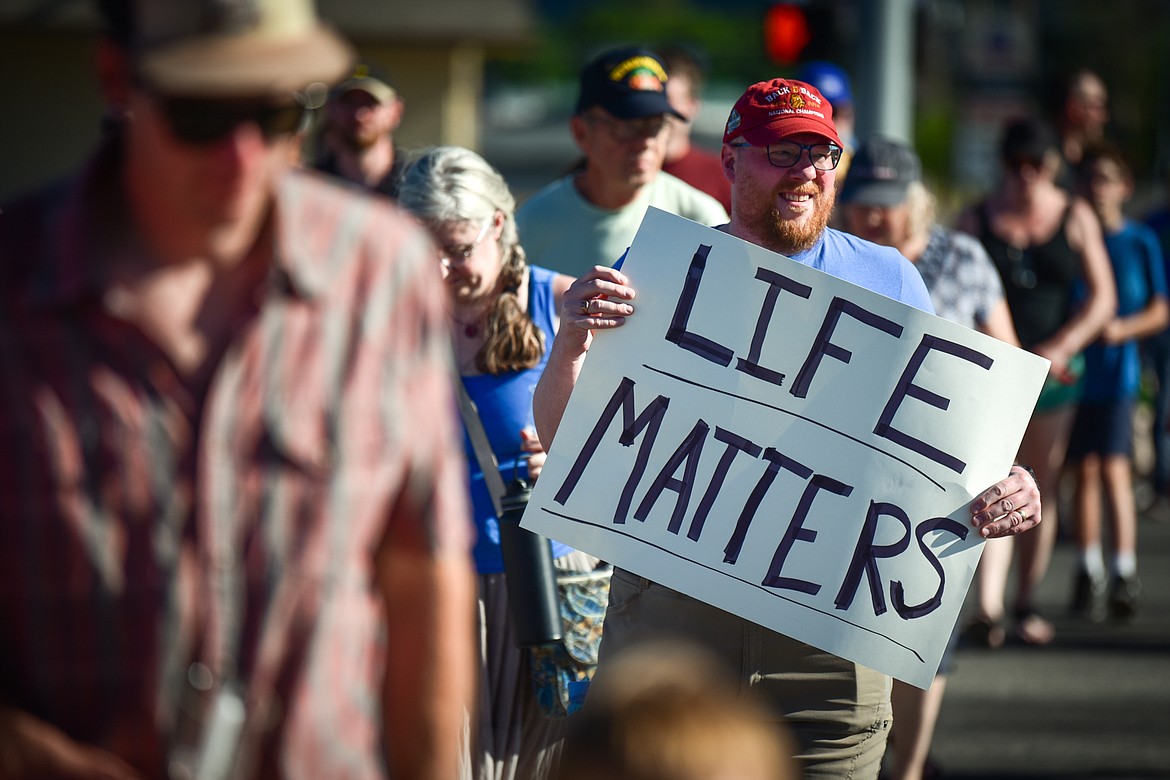 Community members hold signs honoring the life of Scott Bryan during a vigil and walk to The Warming Center in Kalispell on Saturday, July 1. Kaleb Elijah Fleck, 19, is accused of beating Bryan, a homeless man, to death outside a Kalispell gas station on the morning of June 25. (Casey Kreider/Daily Inter Lake)
While decrying violence among the community's homeless population in the wake of a deadly fight in Kalispell earlier this month, Flathead County Commissioner Brad Abell said Friday that there was little local policymakers could — or would — do for residents who declined to improve their lives.
The fatal Aug. 13 brawl near the Parkline Trail prompted Abell to pen a letter to the editor linking the death of 32-year-old Kalispell resident Brian Radabah to an open letter the Flathead County Board of Commissioners released earlier in the year condemning "the homeless lifestyle." In it, commissioners blamed service workers and nonprofits for attracting ever more homeless people to the Flathead Valley.
Kalispell is home to the second largest homeless population in Montana, behind Missoula.
"Make no mistake, it is a lifestyle choice for some," the commissioners' January letter reads. "In fact, many of the homeless encountered in our parks, streets, and alleys consist of a progressive networked community who have made the decision to reject help and live unmoored."
Abell wrote this week that 34-year-old Cody Mize, the man initially held on a pending aggravated assault charge, was an example of the type of homeless individual the commissioners had identified as a source of concern. Mize, later released from county jail without any charges filed against him, was identified by Kalispell Police officials as having a last known address in California, though they did not describe his housing situation.
"They have come here from somewhere else to take advantage of our generosity and prey on the vulnerable of our community," Abell wrote. "They don't show up here for our views and scenery or to fill much needed jobs but because they know that they can hold a sign and that our well-meaning and kindhearted citizens will give them their spare dollars."
In an interview on Friday, Abell admitted assuming — based on second- and third-hand information — that both men involved in the fight were homeless, saying he had not spoken with either the Flathead County Attorney's Office, Kalispell Police Department or Flathead County Sheriff's Office prior to drafting the letter. He also acknowledged that Mize, with confirmed ties to California, might not have been the aggressor.
"The fact that the County Attorney's Office and Kalispell Police Department turned him loose without bail kinda leads me to believe that maybe there was some self defense involved," Abell said. "I didn't put that kind of stuff in my letter because I can't verify that."
County Attorney Travis Ahner on Friday said he could not comment on the case, citing the ongoing investigation into Radabah's death. He praised investigators at the Kalispell Police Department for their thorough work.
"The matter remains under investigation and we'll make decisions based on the answers that come from that investigation," Ahner said.
Abell said he meant for his letter to highlight the ways the county is addressing homelessness. In it, he argues that funding for youth programs and support for organizations like 4-H and FFA helps put children and teenagers on the right path in life. Abell also called on residents to mentor and engage with young people, particularly those coming from struggling backgrounds.
"We get asked what the county is doing and we say nothing, or it looks like that when it gets to the paper or the public, that we're not doing anything, and I want to highlight what we are doing and how we're working on that [with] an ounce of prevention," Abell said.
AS FOR the county's current homeless population, Abell said he hoped officials could find ways to help those receptive to it, but offered few policy proposals. A booth he manned at the Northwest Montana Fair and Rodeo last week was adjacent to one for a local 12-step recovery organization.
"I talked to that guy; he decided he wanted out of that," Abell said while noting that not all homeless people suffered from addiction. "At some point, you've got to decide. … You can't make everybody do that. It's a personal choice."
Abell said he has aided state Reps. Bob Keenan and Dave Fern in their work on a newly-formed state commission to overhaul Montana's mental health system and worked to shunt resources to the Sheriff's Office and County Attorney's Office.
But for those who decline or refuse help, he said there was little that local government could do for them.
"If you refuse help, all you want to do is sit on the street corner and have someone give you money and you take that money and go to the bar or go to the casino and it's gone tomorrow. I don't know how you help that person. I really don't," he said. " I'm not going to take taxpayer money and fix that problem."
He believes that a portion of the homeless community suffers from purposelessness. Officials — and residents — can head that off by intervening in young people's lives, he said.
"I don't think you solve it by building them all a house on the taxpayer dollar," Abell said of current homeless people.
ABELL'S LETTER also objects to the way the press has covered the homeless population in the Flathead Valley, particularly as it intersects with crime. The commissioners' January letter came out as officials in Kalispell closed a pavilion in Depot Park in response to concerns arising from homeless people using it as a shelter.
Kalispell City Council subsequently enacted a series of ordinances aimed at restricting homeless people's access to municipal parks as well as panhandlers.
As residents debated how to approach the problem of homelessness at public meetings and on social media platforms, homeless resident Scott Bryan was allegedly murdered in a gas station parking lot near the intersection of Appleway Drive and North Meridian Road. Prosecutors have charged 19-year-old Kaleb Fleck with deliberate homicide in connection with the slaying. Another teenager arrested in connection with the murder saw no charges brought against him.
The Daily Inter Lake confirmed at the time that authorities were investigating reports of teenagers attacking homeless people in public spaces at night.

Abell wrote that while Bryan's alleged murder elicited a public outcry and media coverage, subsequent stories involving crimes reportedly committed by people Abell believes to be homeless earned less attention.
"We didn't see the same moral outrage when a resident of Samaritan House was [allegedly] sexually assaulted on the 29th of July by his roommate while he slept. Instead, the story was buried on page 6 [of the Daily Inter Lake]," Abell wrote. "We didn't see outrage when a homeless man [allegedly] assaulted a [Kalispell Police] officer on June 18th in Depot Park. Our law enforcement is under attack and that story must not have fit the right narrative."
Abell, in the subsequent interview, expressed frustration with people linking the commissioners' January letter to Bryan's alleged murder.
"I'm held culpable for that because of a letter we wrote in January and I really don't think those teenagers read that letter to the editor in their life," Abell said.
Like homeless people, teenagers can also suffer from purposelessness, he said.
"These things are the same, they stem from the same problem," Abell said. "These people don't have purpose in their lives. I am out in the community and I can see this."
News Editor Derrick Perkins can be reached at 758-4430 or dperkins@dailyinterlake.com.
Recent Headlines
---