River Road East Fire near Paradise grows to 13K acres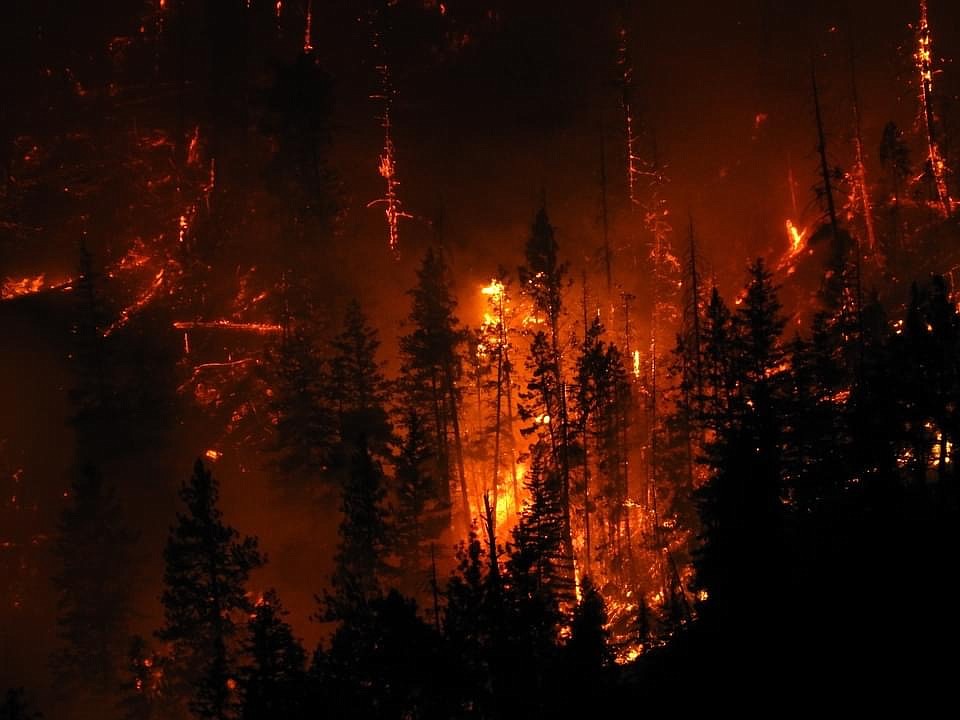 The River Road East Fire outside of Paradise in Sanders County ballooned to nearly 12,000 acres with help from gusting winds Friday evening. (Mike Tatum photo)
by
DERRICK PERKINS
Daily Inter Lake
|
August 20, 2023 1:00 PM
The River Road East Fire outside Paradise grew to roughly 13,414 acres by Sunday as smoky conditions hampered the use of aircraft to fight the blaze.
Brent Olsen's Northern Rockies Complex Incident Management Team 1 assumed command of operations around the Sanders County wildfire about 6 p.m., Aug. 19, officials said. The blaze, which began Aug. 18, initially drew crews from the Montana Department of Natural Resources and Conservation, Lolo National Forest, and Confederated Salish and Kootenai Tribes as well as other agencies.
The fire was 0% contained as of Sunday evening.
In an update posted to social media, authorities said the fire saw little activity Saturday morning, but that changed with the afternoon's heavy winds.
Aircraft dropped a load of retardant on Pat's Knob Lookout and its associated communications site early Saturday before smoke limited aerial efforts. Crews worked on a control line near structures north of Montana 200 during the day while building an active fire perimeter in Paradise, an unincorporated community of fewer than 200 residents.
Work also began on anchor control lines on the slopes east and west of Paradise, officials said.
Crews focused efforts Sunday on protecting buildings threatened by the fire and seizing on opportunities to suppress the blaze. Control lines were expected to be strengthened in Paradise and in the McLaughlin Creek area.
South of Montana 200, firefighters sought to strengthen control lines and deploy retardant around Pat's Knob and its communications site when not working to protect buildings, officials said. Where possible, they established additional direct or indirect control lines.
Officials were working on a long-term plan to bring the wildfire to heel.
According to the Sanders County Sheriff's Office, Paradise was on pre-evacuation status as of about midday Saturday as was Henry Creek Road, Quinn's Hot Spring Resort and Camp Bighorn. Authorities had closed McLaughlin Creek Road and placed it under evacuation status.
The Montana Red Cross opened a shelter at the Church on the Move, 300 Clayton St., Plains, on Friday.
IN FLATHEAD County, the East Fork Fire near Olney grew to 4,614 acres by Sunday, according to the Department of Natural Resources and Conservation. Officials credited the arrival of smoke from Canadian wildfires on Saturday with bringing cooler temperatures and increased humidity to the area, limiting the growth of the blaze on the Flathead and Kootenai national forests to about a quarter of a mile to the east.
Officials said in an Aug. 20 update that the fire was 5% contained.
Flathead County Sheriff Brian Heino on Sunday afternoon downgraded to a pre-evacuation warning for residences north of mile-marker 146 on U.S. 93 to mile marker 157.9 at the Lincoln and Flathead county line. Residents of Good Creek Road, and those who access Good Creek west to the Lincoln County line were also under the evacuation notice.
Residents may return to their homes under a pre-evacuation warning, but may need to leave again on short notice, if required.
A shelter at the Columbia Falls Junior High School is available for people affected by the evacuation. The Red Cross can be reached at 1-800-733-2767.
Authorities said fire crews were to spend Sunday aggressively constructing fire lines, availing themselves of expected cloud cover and high humidity. Fire behavior analysts believe that while the fire likely will grow, its spread will be minimal.
Firefighters spent Saturday strengthening control lines and clearing roads with heavy equipment to prevent the spread of fire into the Martin Creek area. Night teams removed logs from the burned areas.
The lightning-sparked fire is burning in heavy timber and difficult terrain.
The Ridge Fire near the Hungry Horse Reservoir reached 3,635 acres in size Aug. 19, according to the state Department of Natural Resources and Conservation. It is 32 percent contained.
The nearby Doris Point Fire grew to 1,102 acres by Saturday night, according to state officials. That blaze remains 0% contained.
Editor Heidi Desch contributed to this article.
Recent Headlines
---