Range Riders rally, but get KO'd by Missoula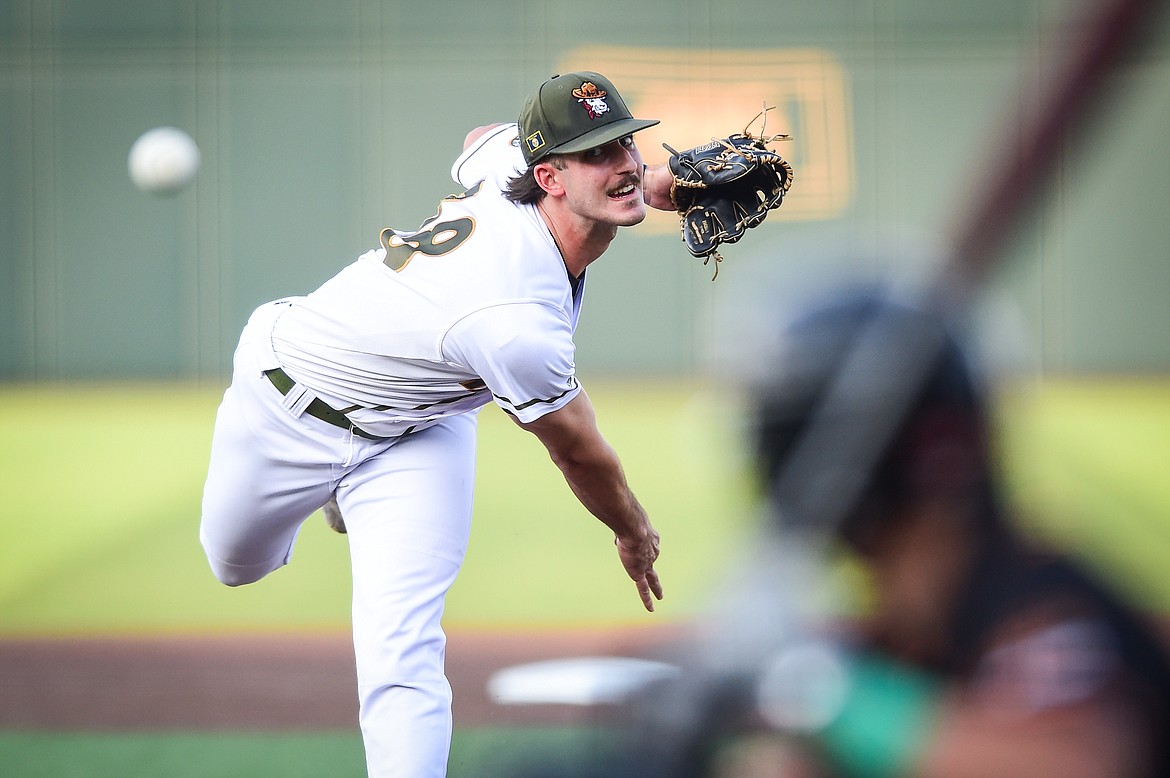 Glacier starting pitcher Nick Zegna (38) delivers in the first inning against the Missoula Paddleheads at Glacier Bank Park on Thursday, Aug. 24. (Casey Kreider/Daily Inter Lake)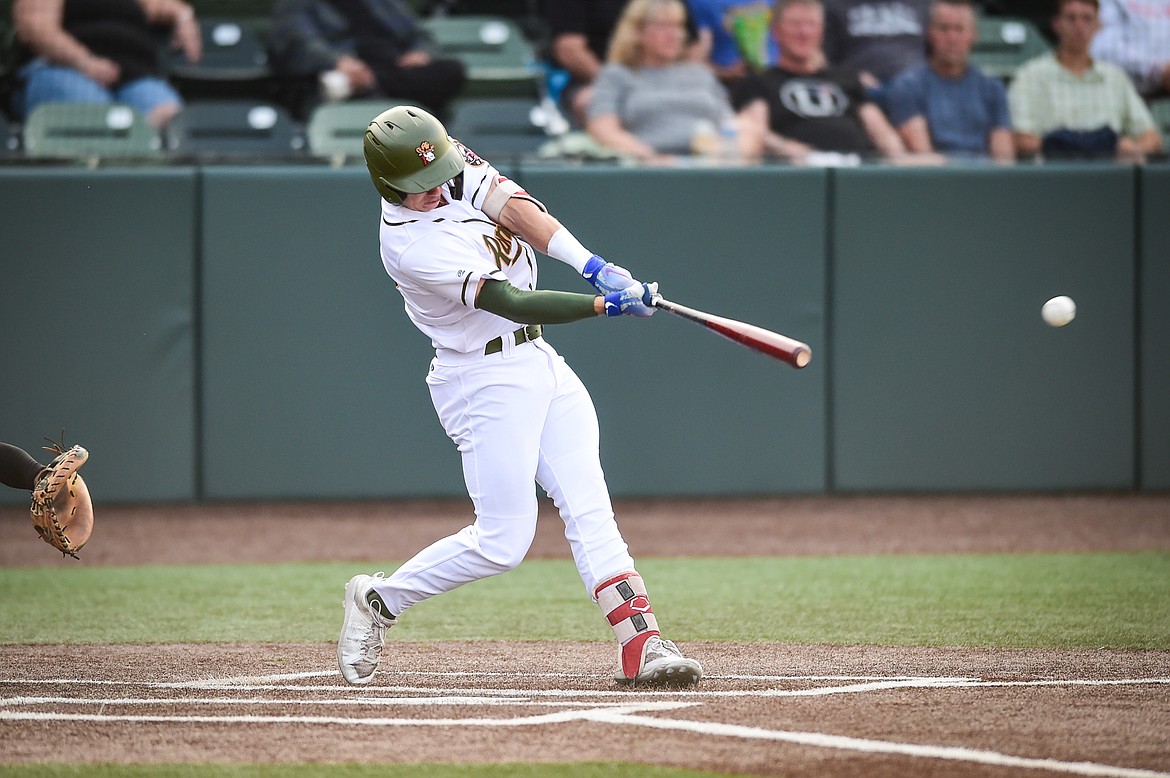 Glacier's Christian Kirtley (12) connects on a double down the line in the second inning against the Missoula Paddleheads at Glacier Bank Park on Thursday, Aug. 24. (Casey Kreider/Daily Inter Lake)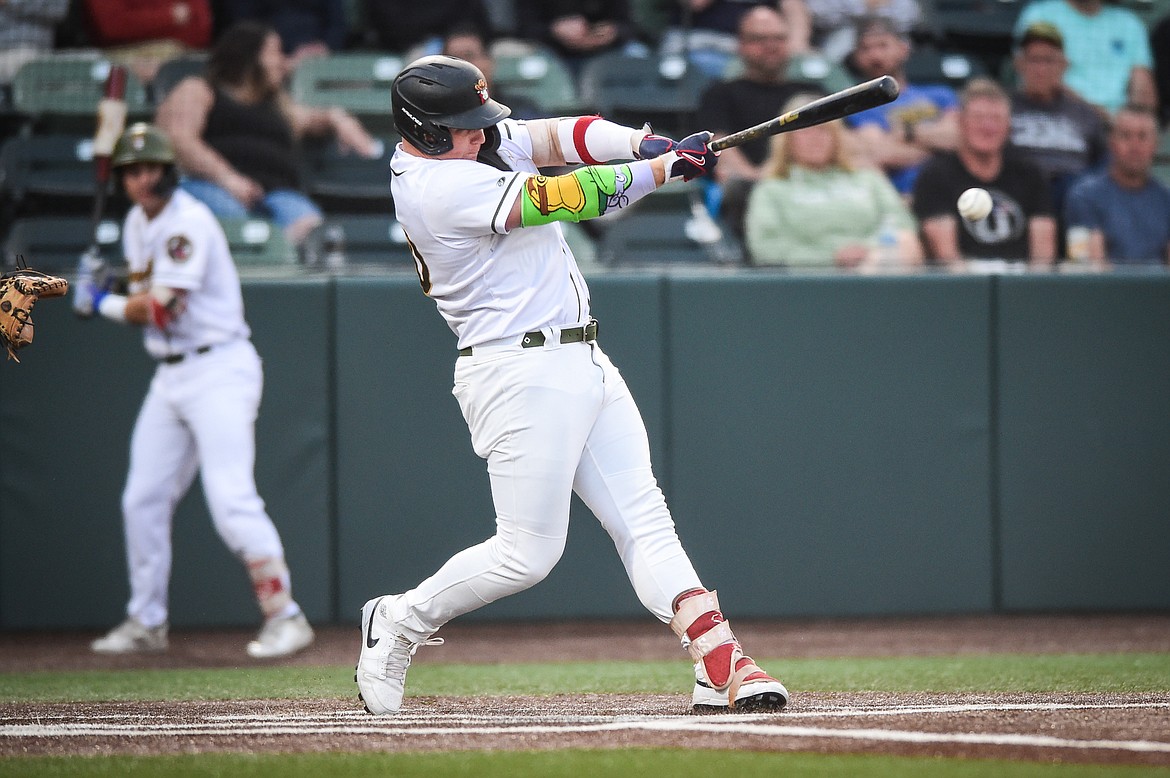 Glacier's Dean Miller (30) connects on a single to right in the fourth inning against the Missoula Paddleheads at Glacier Bank Park on Thursday, Aug. 24. (Casey Kreider/Daily Inter Lake)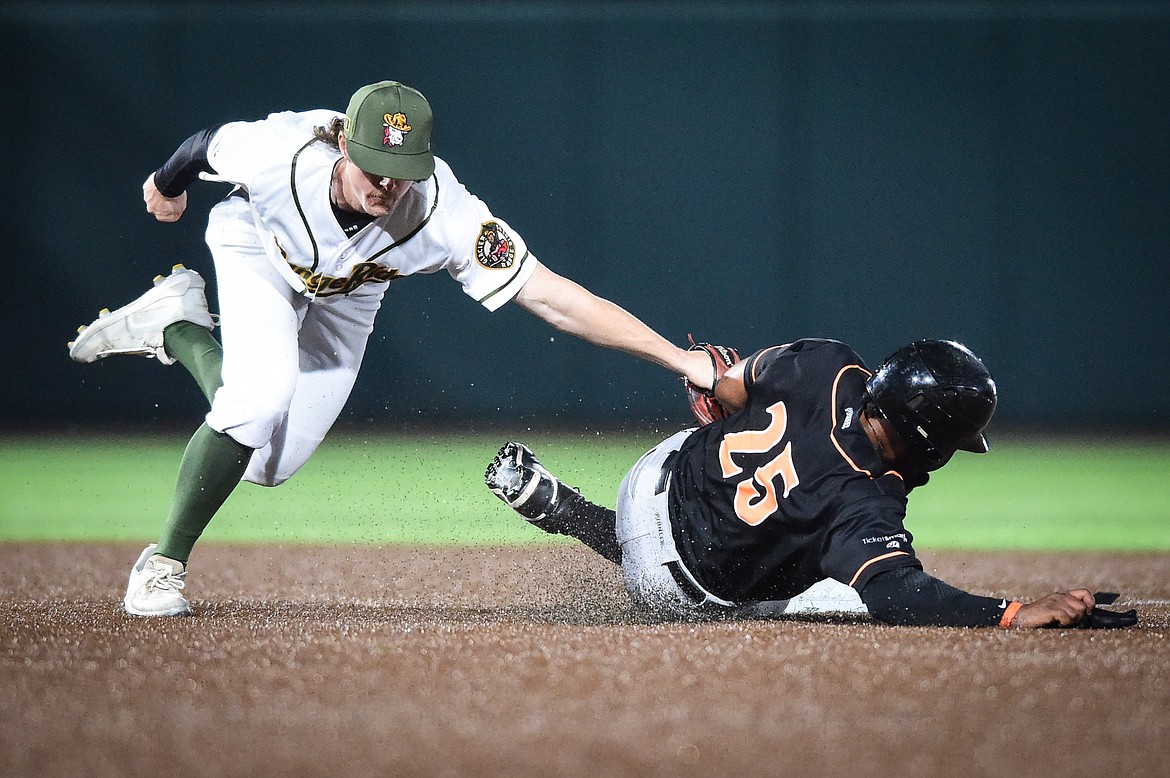 Glacier second baseman Colin Gordon (8) tags out Missoula's Dondrei Hubbard (25) trying to steal second base in the seventh inning at Glacier Bank Park on Thursday, Aug. 24. (Casey Kreider/Daily Inter Lake)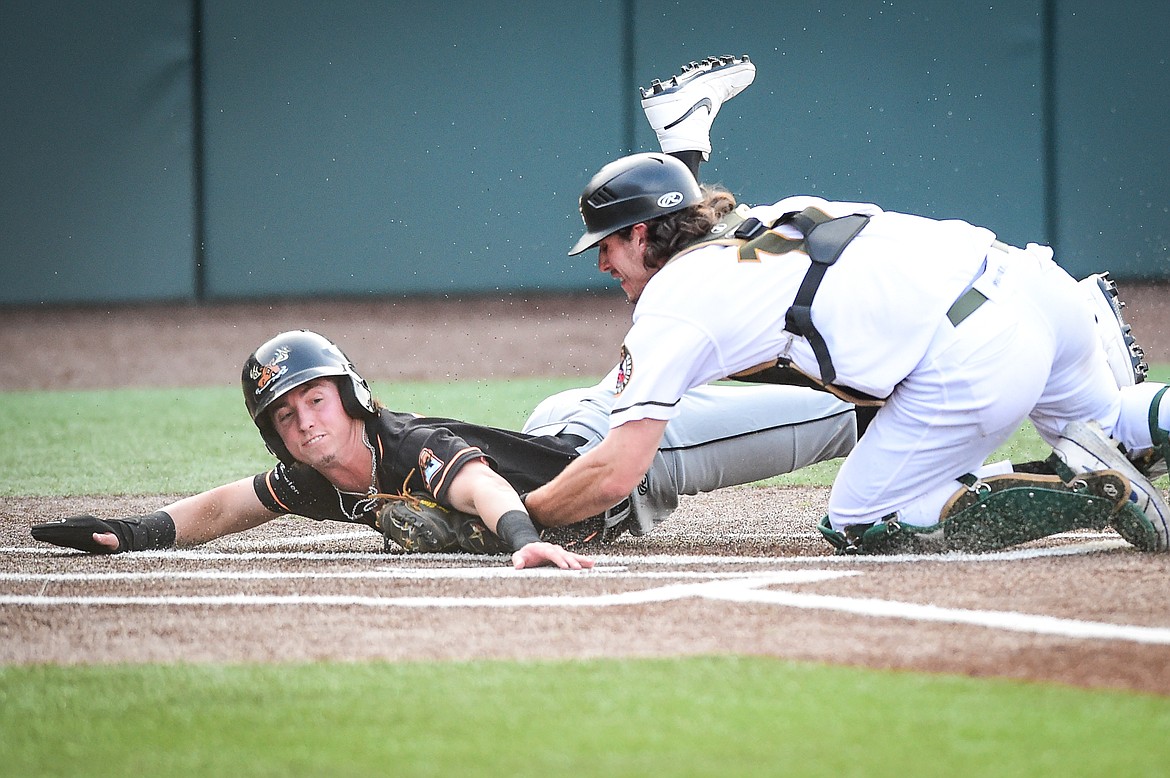 Missoula's Ryan Cash (7) is tagged out on a play at the plate by Glacier catcher Matt Clayton (11) on a throw from left fielder Christian Kirtley after trying to score from second base in the second inning. (Casey Kreider/Daily Inter Lake)
Previous
Next
So close.
The Glacier Range Riders scored the tying run on a bloop single by Benjamin Fitzgerald in the ninth inning Thursday night, but the would-be winning run — Crews Taylor — was called out in a hotly disputed play at the plate at Glacier Bank Park.
From there the Missoula PaddleHeads pulled out the knockout win, with Dondrei Hubbard beating Glacier's Dean Miller 2-1 in the Pioneer League's tie-breaker home run derby.
It was another tough loss to the PaddleHeads, who are 24-9 this half and leading the North Division by five games.
The Range Riders did put some pressure, scoring single runs in the seventh, eighth and ninth innings to eat up a 3-0 deficit. Taylor's sacrifice fly scored Austin Bates for the first run; Miller's solo home run, his 13th this season, brought Glacier to 3-2 in the eighth.
In the ninth, Austin Bates hit a leadoff single and Kingston Liniak came in as pinch-runner. With Missoula closer Mark Simon on the mound, Crew Taylor took a two-out, 0-2 pitch off his foot and now Glacier had two on.
Fitzgerald blooped a 1-2 pitch that vectored Missoula's middle infielders and center fielder Keaton Greenwalt, and the ball glanced off Greenwalt's glove for an error. He recovered to throw the ball to play and Taylor, running on contact, was called out on a bang-bang play.
In the knockout round Miller hit the first pitch he saw out, but couldn't lift the ball on any of his other five swings.
Lost in all this was another fine job by the Glacier bullpen in relief of Nick Zegna. Connor Housley, Montana Quigley and Justin Coleman combined on 4 2-3 hitless innings.
The teams battle again Friday, Saturday and Sunday at Glacier Bank Park. If the Range Riders haven't had much luck against Missoula, they do have a magic number. If Missoula wins the division, any combination of 12 Glacier (44-35) wins or Billings (38-43) losses gives the Range Riders the next-best overall record in the North, and the division's second berth into the PL playoffs.
Recent Headlines
---