Children's boutique grows into second shop in downtown Kalispell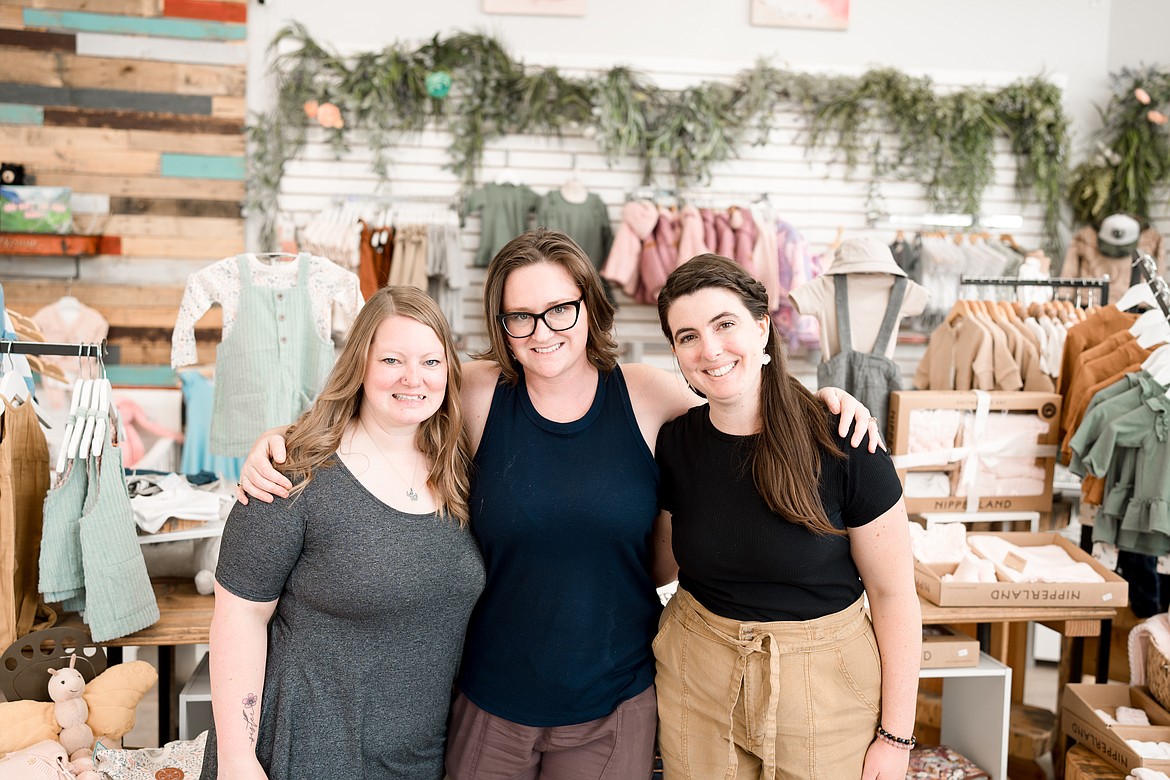 Nature Baby Outfitter includes a location on Main Street in Kalispell and now has expanded to a second location on First Avenue East. At the store are Natasha Campbell, Amber Roper and Sarah Terman. (Courtesy photo)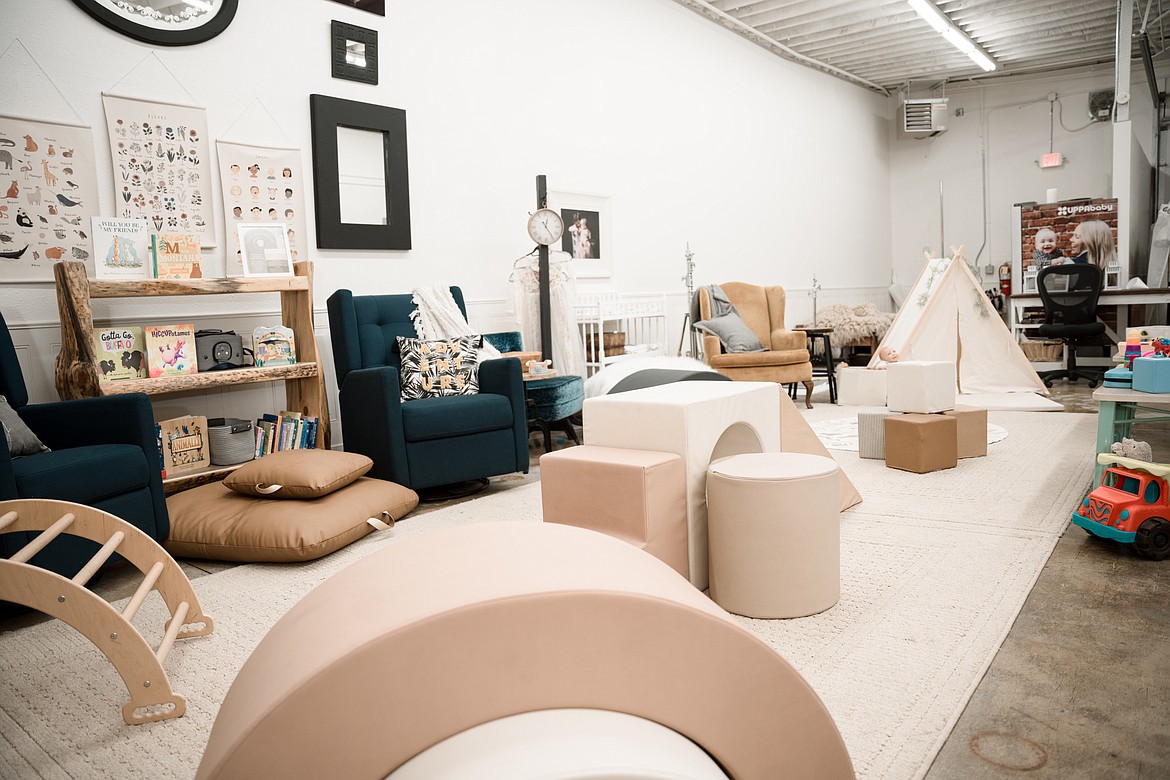 Nature Baby Outfitter's second location on First Avenue East includes its larger item inventory along with a community space. (Courtesy photo)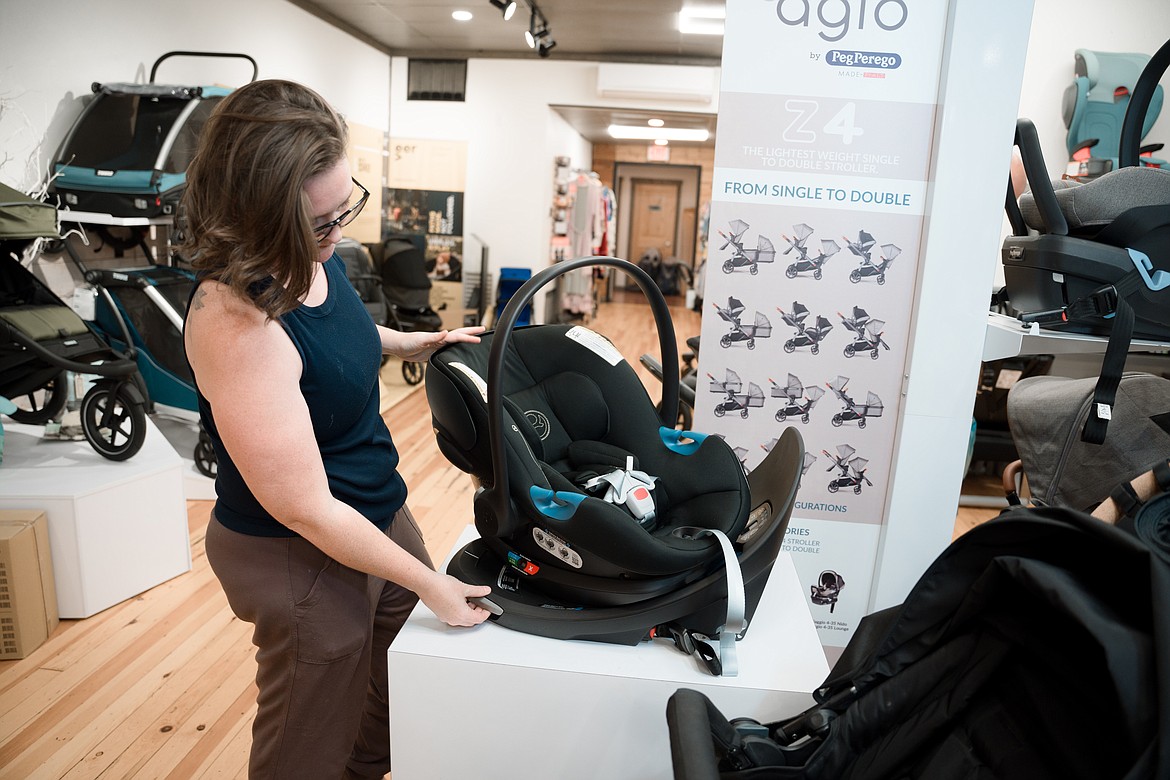 Nature Baby Outfitter has two certified child passenger safety technicians on staff to provide free car seat safety checks. (Courtesy photo)
Previous
Next
After branching out from selling solely clothes and toys, Nature Baby Outfitter had outgrown their space on Main Street in Kalispell but now has expanded to include a second location also downtown.

Amber Roper has owned the business since 2016. The new store on First Avenue East opened in the former Bias Brewing building in May.
"We luckily stumbled upon this when Bias moved across the street, but to un-brewify this space took a lot of time," Roper said with a laugh. "There was a self-contained brew waste system in here so decommissioning that took a lot of time."
The second location mostly holds Nature Baby Outfitter's large item inventory such as car seats, strollers, high chairs, bouncers, backpacks, and cribs. A pickup or drop-off gear rental service for the preceding items is also offered for families traveling to and within Montana.
"I have made friends for life just through customer interactions and the staff are all really amazing friends too. It's a community and a network," said Roper.
A separate back room allows for a community space where kids can play, read or do crafts, and parents can have weekly meet-ups such as book clubs or support groups.
"Since 2016 we've always heard that so many people are at home and they want that parenting interaction with other adults, but it's really hard to find places to do that where you feel comfortable," Roper explained. "We're trying to bridge that gap by creating interest groups which has been really fun to see and it'll expand more and more. People are asking for an adoptive family group or a parenting teens group so we'll start to add those in and open the space for that."
Local photographer Dianne Dotter also uses the community room to offer maternity and newborn photos to families and in the future, Roper hopes to add a coffee shop to further enhance the space.
Nature Baby Outfitter hosts baby carrier troubleshooting meetups and has two certified child passenger safety technicians on staff to provide free car seat safety checks.
"Because we have techs on staff, we only focus on the car seats that have the best safety features and the most eco-conscious fabrics with no chemical additives. Our customers are looking for the safest and cleanest seats on the market," said Roper. "[Child passenger safety] certification requires a four-day class and then you have to do a certain amount of continuing education classes every year and complete a number of car seat checks of different types."
For those interested in beginning cloth diapering for their babies, Nature Baby Outfitter offers free consultations. The consultations aim to set guardians up for success by exploring the intricacies of cloth diapering.
"Cloth diapering is one of those things that there's not just one answer for families. Some people want to do it full-time. Some only want to do it while they're at home. Some people run into challenges from a budget standpoint. Some run into challenges where they have hard water or soft water and that makes things more challenging. So we just really try to work with people and figure out why they are cloth diapering and find what works for them," said Roper.
In addition, Nature Baby Outfitter offers assistance with creating a tailored registry for parents-to-be. Customers can test out items and consult with sales associates to create a registry that fits their particular lifestyle.
"People can get super overwhelmed with their registry and it becomes this bombardment of what they should have," said Roper. "We really try to make sure that people are being thoughtful and have choices and not gonna get something that's gonna add more frustration. We go through the entire store with everyone who comes in and does a registry with us. We see what are things that they for sure want and some things that maybe might be helpful."
Nature Baby Outfitter's boutique is located at 35 South Main Street and the lifestyle store and community room is located at 409 1st Avenue East. The shops are open Monday through Sunday and can be reached by phone at 406-314-6464 or email at iloveshopping@naturebabyoutfitter.com.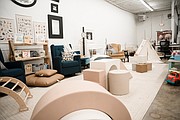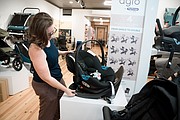 Recent Headlines
---