Kalispell felon pleads guilty in federal court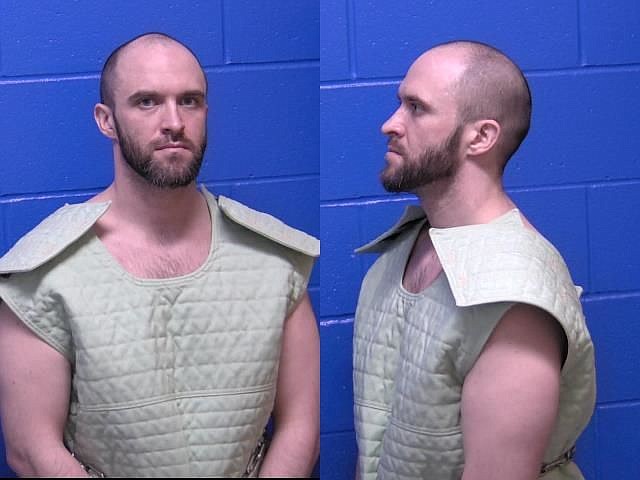 Kyle Kenneth Smith. (Photo courtesy the Missoula County Detention Center)
A Kalispell felon has admitted in federal court to handing off a gun that was later used in a fatal shooting in 2020.
Kyle Kenneth Smith, 33, has pleaded guilty to a prohibited person in possession of a firearm charge in U.S. District Court in Missoula. His sentencing before U.S. District Judge Dana Christensen is set for Jan. 3.
Smith allegedly told investigators that he gave a 9 mm pistol to another individual just minutes before a deadly Sept. 10, 2020 shooting in Kalispell, court documents said. Owing to a prior felony conviction for criminal endangerment, Smith was prohibited from possessing a firearm.
Smith faces up to 10 years in prison, three years of supervised release and a maximum fine of $25,000 at his sentencing.
Earlier this year, Smith pleaded guilty to a pair of felony burglary charges in Flathead County District Court stemming from a botched burglary in Kalispell in October 2022. Smith allegedly knocked on the door of a Sixth Avenue East North home Oct. 17 and pepper sprayed the woman answering. Another resident shot Smith after he forced his way inside the home, court documents said.
Though eluding an overnight manhunt, a wounded Smith was caught by authorities after a woman checking in on her parents' rental property found a man sleeping on the couch, court documents said. She passed along a description of the vehicle the man fled in and officers tracked it down to the intersection of East Washington Street and Second Avenue East North, according to court documents.
Judge Amy Eddy sentenced Smith in late May to two concurrent 10-year stints, one suspended, in Montana State Prison. He received credit for 217 days of time served.
The federal case was investigated by the Montana Regional Violent Crime Task Force of the FBI, Kalispell Police Department, Flathead County Sheriff's Office and Great Falls Police Department. Assistant U.S. Attorney Tara Elliott is prosecuting the case.
Smith remains in federal custody.
News Editor Derrick Perkins can be reached at 758-4430 or dperkins@dailyinterlake.com.
Recent Headlines
---