Sprunger, Kalispell educators celebrate boost to intership effort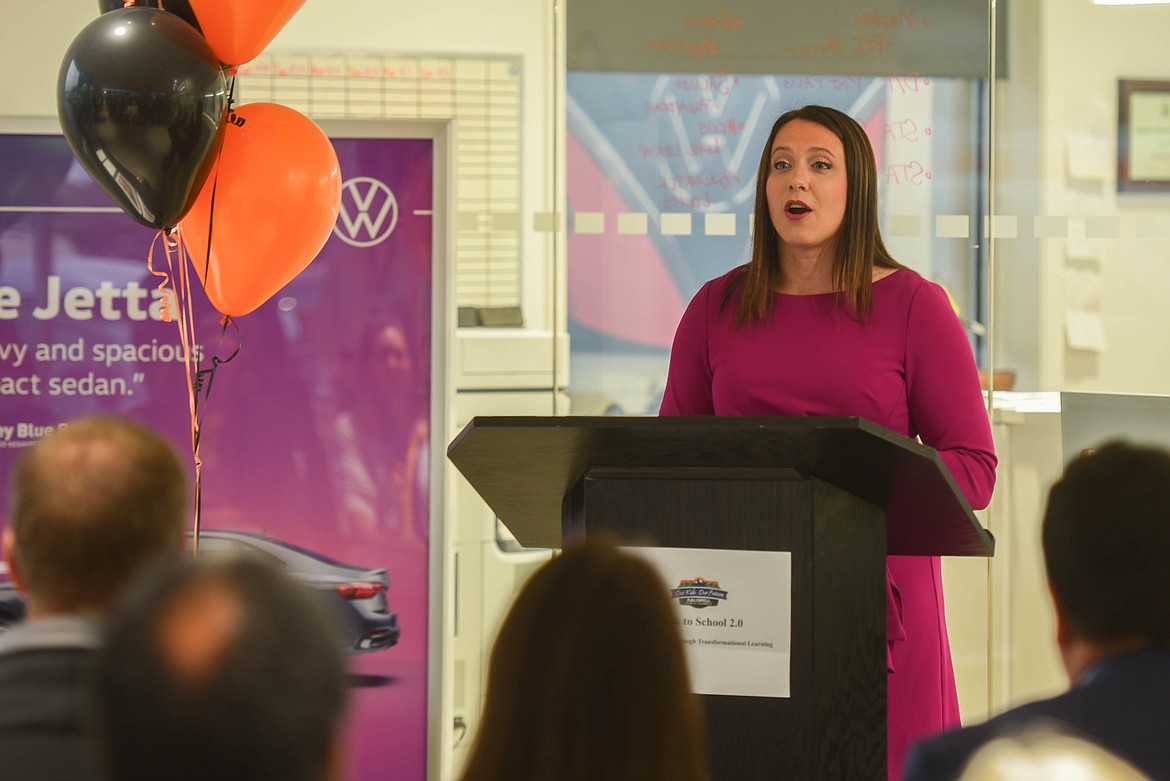 Rep. Courtenay Sprunger, R-Kalispell, speaks at a back to school event on Aug. 30, 2023. (Kate Heston/Daily Inter Lake)
by
KATE HESTON
Daily Inter Lake
|
August 31, 2023 12:00 AM
Emmery Schmidt knew she wanted to be a teacher when she was in elementary school. Now a junior in high school, Schmidt confirmed she was cut out for the job through several internships.
Schmidt has completed two internships with Kalispell Public Schools, the first looking at early childhood development and the second focusing on elementary education. From working during after school programs to spending two weeks in a classroom with every age group, Schmidt found that she truly enjoyed working with kids.
"I do love working in the classroom," Schmidt said. "I won't have to go to college for four years and then start being a student teacher just to see if I like being in classrooms."
Students in the Flathead Valley have long had the option to pursue a career and technical education alternative in the form of a job or an internship. This year the Legislature expanded those types of programs, effectively bringing businesses, schools and the community together through technical education.
"What we are moving toward is a system that values real life experiences," said Rep. Courtney Sprunger, R-Kalispell, on Tuesday during a back-to-school press conference focused on the program held at an area car dealership.
Sprunger carried House Bill 257, which grants $4 million annually to expand personalized learning opportunities for students across the state, during the 2023 legislative session.
The legislation, signed into law in May by Gov. Greg Gianforte, renewed a program that was launched in 2019 while simultaneously shifting the funding ratio. In this legislation, 75% of the funding goes to students.
"We're very fortunate, Kalispell Public Schools, to be able to work on this initiative," said Peter Fusaro, the district's assistant superintendent, at the press conference. "We think we can make education better for our students and our staff and our community."
Three students spoke at the conference about their experience with career and technical education opportunities, including Schmidt. Alongside her, Wyatt Huie, a senior at Linderman Education Center, and Leif Simonson, a senior at Flathead High School, spoke about their own experiences with the program.
Huie has had two internships at two car dealerships around the area. In the process, Huie said, he has learned how vehicles work, how to complete car rotations and oil changes and more.
"I really enjoy working with cars," Huie said, reflecting on his internships. "I really think it's a good option for me [in the future]."
Kids realizing what they like and don't like prior to graduation is the point, said Mike Kelly, the district's director of work based learning. Students should come to Kelly or another administrator if they are interested in joining in on a program.
"It's something that they can be proud of," Kelly said.
Leif Simonson interns at Glacier Jet Center, where his dream to become a pilot has only been cemented in the wake of the internship.
While it is good for kids to find their passions, Kelly said, it is just as important for students to use these opportunities to help rule out career paths as well. Students are able to make better decisions about what they want to do after experiencing it, he said.
"We're looking at building true competency," Sprunger said at the conference's end.
Alongside HB 257, Sprunger pointed out some other highlights from the legislative session. The Legislature passed House Bill 352, which looked at targeted intervention to help students learn. She also mentioned efforts aimed at transformational learning, extending school's insurances and increasing teacher pay this session.
The opportunity to learn outside of the classroom is important for students, the community and businesses in the area, according to Stephanie Hill, a French teacher at Glacier High School.
"This isn't going away. This is our state's future," Hill said. "It's our kids, what else would we invest in?"
Reporter Kate Heston can be reached at kheston@dailyinterlake.com or 758-4459.
Recent Headlines
---