ImagineIF board eyes Herberger's store for future library location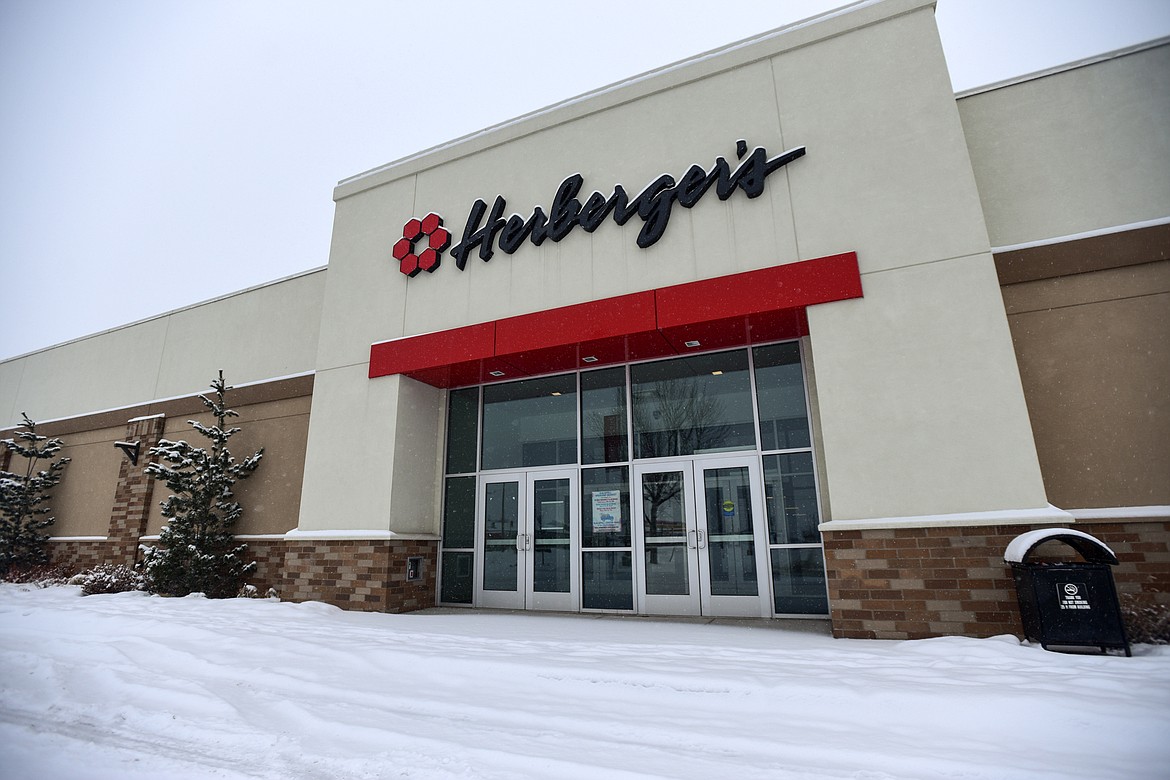 The former Herberger's department store at the Kalispell Center Mall on Tuesday, Jan. 31. (Casey Kreider/Daily Inter Lake)
by
TAYLOR INMAN
Daily Inter Lake
|
February 1, 2023 12:00 AM
The ImagineIF Board of Trustees is investigating moving the Kalispell facility to the former Herberger's store.
During an informal discussion on Thursday, the board decided to narrow its focus to the location inside Kalispell Center Mall after discussing four potential options. Trustees agreed that the location and space available at the mall would be hard to beat.
Many of the trustees have identified facilities as one of their main priorities for 2023. As the ImagineIF Foundation gets closer to starting construction on the new Bigfork library, trustees want to use that momentum to begin planning for new facilities at other branches, namely Kalispell.
Following discussion Thursday, board Chair Doug Adams directed the facilities committee to start looking into the Herberger's building and to reach out to members of a previously formed capital campaign committee for the Kalispell library.
Trustee Jane Wheeler said she would "wholeheartedly love" to begin further looking into the building as an option for a future library location.

The owners of the Herberger's location are asking $10 million for the space, but another buyer is interested in purchasing half of the space, according to Adams. If the library choses to purchase 43,000 square feet of the building, that cost estimate would be around $5 million, he noted.
Discussions to move into a new building have been happening on and off for decades. The library currently leases its building from Kalispell School District 5, which is set to end in 2033.
Adams asked fellow trustees to have a discussion and informally pick a path to pursue for the Kalispell library. In addition to the Herberger's location, Adams offered the other options of purchasing the current building, moving to the Gateway Community Center or finding a new property for new construction.
None of the trustees were interested in staying in the current building, because it poses many challenges such as having two floors which makes it difficult for staff to monitor — it's an old building and would also be costly to renovate.
The board already voted in the fall against pursuing the Gateway Community Center location, though it has recently been offered as an option again. Its location away from the more walkable downtown Kalispell is among some of the reasons the public and trustees have advised against it.
A facilities committee meeting is scheduled for Feb. 3 at 2 p.m. in the downstairs conference room of the Kalispell library.
The board on Thursday also invited members of the public to give their input after a discussion between trustees.
Though the idea of a brand new library on a new lot was dismissed by trustees, Valeri McGarvey said she believes there are ways to make it happen. She suggested that trustees reach out to people who were involved with fundraising for the newly built Wachholz College Center at Flathead Valley Community College.
She said that the county has "deep pockets" and that there are ways to get big, expensive projects built.
Lily Kirsanow said she was recently in the Herberger's building for a pop-up event that hosted small business vendors. She said she was impressed with what it looked like.
"I was quite surprised how well it looked inside. I don't know what I thought it might be, that they might have already taken things down, that the walls would be stripped — and it really wasn't, it was actually in quite good shape," Kiransaow said.
ImagineIF Foundation Director Adam Tunnell said the foundation would support a capital campaign for a new Kalispell library.
Adams said fundraising efforts would need to be strategic as to not distract from work to raise money for the new Bigfork branch. Having a completed project to boast would also help garner enthusiasm for a new Kalispell project, he added.

The foundation is in the process of securing a contractor to start construction on the Bigfork library in late summer if fundraising goals are met. The project has currently raised more than $800,000 of the $1.6 million goal.
Tunnell said construction will begin once $1.2 million has been raised and that the foundation has been looking at avenues to secure funding.
BEYOND PLANNING for new facilities and supporting the construction of the Bigfork building, trustees told the Inter Lake that they have other priorities for this year and beyond.
Trustee Heidi Roedel said she'd like to look at balancing the book collection — which is something Trustee David Ingram has also worked on.
"Are there things that were missing? He discovered we don't have a lot of books on finances. So, there were different areas that it's been brought to our attention that we could have a broader collection of," Roedel said.
Ingram said he wants to work to identify savings within the budget and reallocate resources to areas that require further support. He also said that on the policy committee, he wants to continue adding to and organizing the policies into a more accessible format.
Wheeler said she wants to continue to provide great library services and improve upon the current spaces — falling in line with other trustees like Carmen Cuthbertson, who also said facilities is her main priority after being encouraged by progress in Bigfork.
Adams said he is interested in long-term financial planning for the library, which includes planning for new facilities. In addition to this, he said he wants to work on healing the relationship between trustees, fundraising partners, library staff and the public.
"Where healing needs to be had, we want it to happen. And I think if you look at the number of people showing up for a board meeting, versus the number that showed up a year ago, you're seeing fewer people dissatisfied or concerned, right?" Adams said.
Adams said he feels like staff are overall happier than they were last year, which library Director Ashley Cummins echoed. She helped accelerate a "staff shuffle" when she took over leading the library last spring, because many employees had been waiting to be moved into new positions while drama surrounding the ImagineIF board resulted in a high turnover in leadership.
Adams said the board also took a hard look at the library pay structure because there was a large discrepancy between what management was getting in comparison to what other workers were getting paid. In spring of 2022, the board increased the pay for the library courier and for library advisors.

"I would say the culture of the staff is very positive, that disparity has been closed, and there is much more positive culture as far as people feeling like they can have opportunity and within the organization," Cummins said.
Recent Headlines
---